This post may contain affiliate links. Read my disclosure policy here.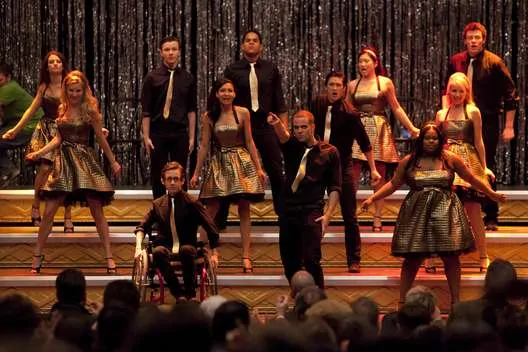 When I turned on my TV tonight to indulge in the Glee Season Finale, I was actually a little scared that the writers would tie up the show with a pretty bow that didn't belong. But of course, I didn't need to worry. The writers behind Glee definitely know what they're doing.
Before I go any further, If you haven't seen the Glee Season Finale that aired last night, Tuesday, June 8, stop reading and go watch it online… NOW! (For USA Viewers. For Canadians.)
Okay, now I trust you've seen the show and I'm not going to shock you with a spoiler.
So, tell me… wasn't it amazing? EPIC!
Why hasn't TV been like this all along?
Glee has redefined television and basically ruined all other shows for me. Nothing can compete. But tonight, Glee even outshone itself.
I think it was as close to perfect as I could imagine.
I love that as much as I wanted New Directions to win Regionals and Quinn to keep her baby, they didn't win and she gave up her baby. Because that's what would/should have happened.
I'm trying to imagine if I were one of the writers, if I would have done anything differently. And I can't think of a single scene I would change.
What about you? Is there anything you would have changed about the Glee Season Finale?
Also, I'd love to know what were your favorite moments?
My Top Five Favorite Glee Season Finale Moments
Don't Stop Believin'
I'm so happy that they came full circle with this over-the-top-inspiring song.

Quinn delivers her baby to the beat of Bohemian Rhapsody.
That is a long song, but still a far stretch for it to carry Quinn from water breaking to baby in arms. But who cares, right? It was THE best delivery in TV history.

Sue ruled this episode.
A sample of her brilliance…
In response to Will's, "I should shake your hand."
"Not unless you got some hand sanitizer. I've seen that car you drive. I don't want to catch poor." Sue

Love confessions x3
Finn.
Puck.
Will.
(Swoon.)

To Sir With Love
I've always loved this song and it couldn't be more fitting for our beloved Mr. Schu.
So tell me, would you have changed anything? What scenes did you love the most?
Written by Susan — Gleek and Mom Blogger
Tweet about #Glee with me @5minutesformom and @susancarraretto