This post may contain affiliate links. Read my disclosure policy here.
The only thing that can make Glee any better is seeing it live.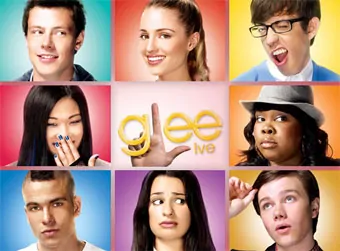 I wake up at 3am to catch my flight. But I can't complain. I am heading to see the Glee cast live on Tour in Phoenix, the opening night of their four city tour.
Ten hours later I land in and meet our contest winner, Carissa from My Everyday Miracles. Exhausted from our early morning flights, we each indulge in a quick nap and a dip in the pool, before we catch the LightTrain to the Dodge Theater.
We haven't even stepped onto the train before the Glee excitement begins to bubble. Two college girls overhear us talking about the Glee show and screech with jealousy. We talk Glee with them until the train comes and we find more Gleeks who can't resist raving about their favorite TV cast.
Soon we file into the Dodge Theatre, packed with Gleeks of all ages – yes, lots of moms like us in attendance!
The show opens with Glee castmate Harry Shue's dance group, LXD – Legion of Extraordinary Dancers, pumping up the crowd with their athletic dance moves. When Harry hits the stage for his solo number the Gleeks night truly begins.
But after LXD leaves the stage, we still have some waiting left. No problem though – to keep us satisfied between sets, the producers serve up Glee music, along with shots and quotes from the show on the two video screens. The show's brilliant one-liners are an integral part of what makes Glee so irresistible, and so reliving the moments as the quotes flash on the screen is time well spent.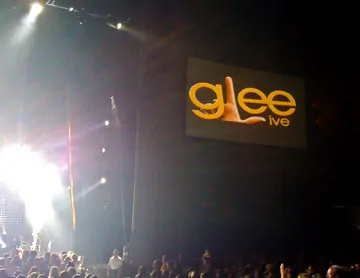 The show hasn't even started and we are surrounded with Gleek energy – and let me tell you, that is some powerful energy!
When we finally hear the first notes of Don't Stop Believing, the devoted crowd erupts in cheers.
I think all of us who love Glee are so sincerely grateful to be here, to experience the cast live. And it seems mutual. The cast's love and gratitude for the audience – and for their own dreams coming true – is just as palpable. The young singers seem almost as excited as the crowd is, their smiles beaming under the bright lights.
By the second song, My Life Would Suck Without You, every Gleek in the house is lost in Glee bliss. It is the show we love right in front of us, "as if our TVs just swallowed us up," Carissa describes.
Matthew Morrison, (Mr. Shue,) and Jane Lynch, (Coach Sue,) don't completely miss the show. They interact with the cast and the crowd through video on the giant screens.
The show hits all the favorite notes and moments.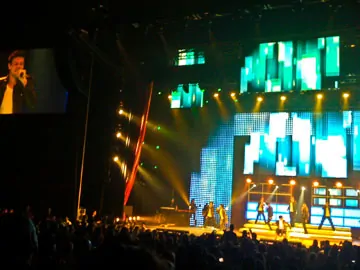 Heather Morris, (Brittany,) makes sure to entertain us with her monotone "wit."
Lea Michele, (Rachel,) belts out her leads with her Broadway-trained power voice and indulges the crowd as she weaves through singing, Don't Rain on my Parade.
The cast gets out into the crowd often with Cheerios and castmates dancing and singing down the aisles. In fact, I have an aisle seat and get to slap hands with Harry Shue (Mike), Cris Colfer (Kurt,) and Cory Monteith, (Finn.)
While grooving in his wheelchair, Kevin McHale, (Artie,) sings Dancing with Myself. I love his sweet spin on this Billy Idol classic, his gentle voice in sharp contrast with the original.
Amber Riley, (Mercedes,) sings Beautiful and while tonight she seems to lack a bit of the power we usually hear from her, there is no denying her talent.
And the crowd nearly loses it when Mark Salling, (Puck,) strolls out strumming his guitar, singing, Sweet Caroline. (Throughout the evening, it is for Puck the crowd screams loudest.)
We even get a chance to see Cris Colfer and the cast do the infamous Lady GaGa number, Bad Romance, with their outrageous costumes. Fabulous, let me tell you!
Vocal Adrenaline does two numbers, Rehab and Mercy. And while their dancing is fantastic, I am glad to see them go and get back to everyone's favorite show choir.
The final encore of the night is Somebody to Love. It is so hard to leave the theatre. The singers generously doled out hit after hit. But I am greedy and want more. I want a regular live-Glee fix.
It is a unique concert – just like the TV show is – where Neil Diamond, The Beatles and Madonna somehow fit together seamlessly.
It is Broadway mixed with rock concert.
It is happy. It is fun. It is Glee.
It is worth traveling a thousand miles and missing my babies at home.

And if you are a Glee fan, I hope you will somehow get your hands on tickets. The Glee Tour is a treat every Gleek deserves.
Written by Janice Croze, co-founder of 5 Minutes for Mom.
You get our feed, right?
The Glee Tour is sponsored by Dove. Our tickets and flights were provided by the Dove Glee for All campaign.