This post may contain affiliate links. Read my disclosure policy here.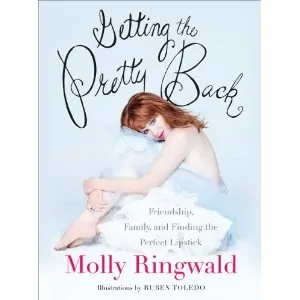 Molly Ringwald and I are about the same age. I didn't live out my teen years on screen as she did, but I did live out my teen years while watching her live out hers on screen.

In fact, in preparation for this feature, I went back and watched some of those Molly Ringwald teen movies that I haven't seen in ages. Read my Books on Screen column at 5 Minutes for Books and find out how almost-40-year-old me enjoyed looking back at 80's teen angst (and learn a bit more about Molly's new book).
She's not one of those teen stars who runs away from her past, instead she seems to embrace it. In fact, in her new book Getting the Pretty Back: Friendship, Family, and Finding the Perfect Lipstick she muses on her time as a teen superstar the same way that the rest of us would recall our first date or winning the speech tournament. I asked her, "What's it like seeing your teen years up there on screen? Do you think you'll be screening those movies for your kids?"
Molly Ringwald: I would love to watch the movies with my daughter, when she is ready. (I think we have a few years since she is only six!). I think the films are really special because they still speak to teens today, and have become a "rite of passage" of sorts. They don't seem to be going anywhere.
Me: How is your motherhood experience just like all of ours (us non-Celebrity moms)?
Molly Ringwald: I think that we all deal with the same issues no matter what we do. I am a mom who is juggling work and motherhood and trying to find the right balance in my life just like any other working mom out there. I still worry about making sure that my children get the right amount of nutrients and that they get to bed on time, so I would venture to say that we aren't all that different.
Me: How is your experience most different from ours?
Molly Ringwald: The only real difference is there is more public interest in what I do. People want my autograph, or photographers want to take pictures of me–which is still something that my daughter just doesn't quite "get".
Me: You book is called Getting the Pretty Back. Do you worry about the impact that the importance of "pretty" has on young girls? As a mom, how can we let them know that it's okay to want to be pretty, yet it's more important to be themselves?
Molly Ringwald: I explicitly state in my book that the way that I define pretty is not about an outward appearance, but rather about an attitude that we all seem to have when we are younger. I devote an entire chapter to this in the book so that everyone will know that I am not talking about physical beauty.
Me: My secret to "getting my pretty back" — feeling good about who I am and what I'm doing — is making sure I take time out for myself. I read voraciously, I love spending time with my husband watching TV on DVD, and I love treating myself to girls' nights out or in. What do you do to remind yourself that you are important and worth it?
Molly Ringwald: Exactly that. Taking time for myself, also making sure that my husband and I spend time together to remember that we love each other independently of our children. He sets up cooking classes and water-color classes. We have a date night at least once a week, if not more. I make sure that I take the time to work out (even though I'm not crazy about it) just to make sure that I keep fit because that helps me to feel strong and like I can take on the world. (Or at least my six year old daughter)!!
Leave a comment here if you'd like to win a copy of Molly Ringwald's book Getting the Pretty Back: Friendship, Family, and Finding the Perfect Lipstick. We'll announce the winner on June 5. The Giveaway is Closed.
Written by 5 Minutes for Mom contributor and book blogger Jennifer Donovan, who loves talking to other women, celebrities or not, about balance, motherhood, and friendship.
Disclosure: I received a copy of the book for review purposes.