This post may contain affiliate links. Read my disclosure policy here.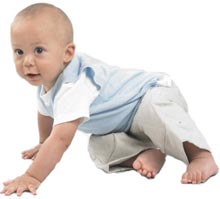 Comfy Crawlers are mom-invented pants that include "cushy knee, shin and rear pocket foam pads for crawling, scooting and toddling infants."
Click here to read our full review of these fantastic pants. We have two lucky winners who will each receive a pair of Comfy Crawlers.
But don't despair… all of you lucky 5 Minutes for Mom readers can get your tykes their own pairs of these must-have crawling pants at 30% off!
Gissy Bella is generously offering you each a 30% discount off your order.
Simply use the code: 5minutes
But hurry… that code is only valid until Oct 15th, 2007.
Okay… the two Comfy Crawler winners are:
#120 – Laura
#22 – "…And Miles To Go…"
We also have two winners for our Bitty Braille t-shirt giveaway.
These custom, handmade products introduce Braille to kids and are oh-so-cute.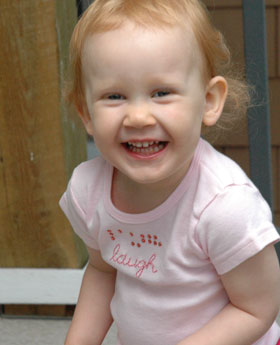 Again, two of you are getting a shirt for free… but everyone else can save on their end-of-summer sale. All the short sleeve tees are on sale for 25% off!
And the two Bitty Braille winners are:
#104 – Casual Friday Everyday
#227 – Tanyetta from Days Like These
Congratulations to all of the winners!
And for the rest of you, don't be sad for long… hop over and get your own youngster a pair of Comfy Crawlers at 30% off and a Bitty Braille t-shirt at 25% off.