This post may contain affiliate links. Read my disclosure policy here.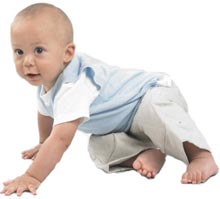 Exploring the world on hands and knees can take its toll… Especially these days with so many carpets being torn out and replaced by hardwood, laminate and tile flooring. That new floor may be easier to clean, and look so much classier, but ouch… that's hard on the knees.
Your precious little baby has just discovered mobility and he's out to discover the world — well at least the interior of your house — and he's not about to let sore knees limit his journey. But, if there were a way to soften the road for him, why not jump on it?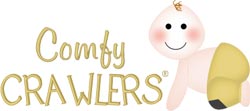 Fortunately for the rest of us, one smart-thinking mom named Marina came up with a solution…
Comfy Crawlers!
These brilliantly designed pants include "cushy knee, shin and rear pocket foam pads for crawling, scooting and toddling infants."
Comfy Crawlers are lovingly handmade in the US and are sold through Marina's company Gissy Bella.
The soft padding protects the delicate skin on baby's knees as she crawls on hard and uneven surfaces. And as baby begins to walk, all those tumbles are easier to handle when her knees and tush are lightly cushioned.
You can get more Inside Scoop about Marina and her comfy crawling creations in her write up in our Mom-Owned Stores directory.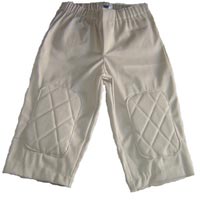 We're giving away 2 pairs of Khaki Comfy Crawlers! Each winner can request their desired size.
If you'd like to win a pair, please leave a comment. We'll draw two random winners on Friday, September 14th. This contest is open to both US and Canadian shipping addresses.
And for everyone who doesn't win,
Gissy Bella is generously offering you a 30% discount off your order.
Simply use the code: 5minutes
We trust your baby will love this softer side of crawling.