This post may contain affiliate links. Read my disclosure policy here.
Can you believe it's June already?
Our weather around here hasn't been acting like it, but summer is pretty much here.
So what does that mean for us moms? Well, besides scrambling to find ways to entertain our children, for many blogging moms, the onset of summer also means talk of BlogHer heats up.
Yes, a couple thousand blogging chicks are getting excited to hit New York City for BlogHer 2010 in August. And that means Twitter, Facebook and blog after blog after blog are going to be filled with pre-conference excitement.
Like last year BlogHer 2010 sold out months in advance and left many women wishing they'd bought a ticket earlier.
(Wanna know a secret? Janice and I actually procrastinated on buying our own tickets and we landed on the wait list. But thankfully, spots eventually opened up and we've got our tickets secured.)
But whether you're not going because you didn't get a ticket in time, or it's not in your budget or you've got babies that can't be left behind, all the BlogHer conference talk can sometimes turn many blogging mamas green with envy.
And we totally get that.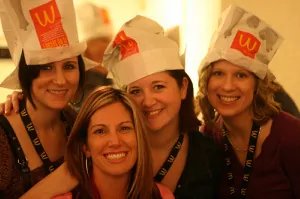 BlogHer and other blogging conferences are tons of fun to attend and missing out can be a drag.
But we really want to help you all enjoy the BlogHer scene virtually.
The best part of being at BlogHer is definitely creating stronger friendships with fellow bloggers and while doing that in person is such a treat, remember that what we all have in common is the love for BLOGGING. Yes, the good old virtual friend making sport of blogging.
So this year if you're not booked to be in New York for BlogHer 2010, don't let that keep you out of the BlogHer buzz. Join in virtually!
We'll be there again with video cameras and we'll bring you interviews and footage of all the excitement.
So to get us going for BlogHer 2010, we've saved a stack of video interviews we shot at BlogHer 2009.
In the following interview, Janice and I chatted with our great friend Audrey from Mom Generations. Watch the video to find out what we have in common with Audrey!
(And remember to follow Audrey on Twitter @audreymcclellan.)
We are so excited to see Audrey and many of our other blogging friends this August at BlogHer. We really hope you'll be there too… but hey, if you can't be there in person, remember, you're still going to enjoy it with us.
So tell us… will you be live with us in New York for BlogHer 2010 or will you join the fun with us virtually?
Thanks to our Sponsors
We were so thrilled to have Kmart Design as our sponsor for our BlogHer 09 video shoot.
Please help us thank Kmart Design for supporting the momosphere and helping us bring these video interviews to you.
Thanks Kmart Design!
Written by Susan, Mommy Blogger and Co-Founder of 5 Minutes for Mom
You get our feed, right?