This post may contain affiliate links. Read my disclosure policy here.
I was reflecting back on my last post here at 5 Minutes and thought to myself, "In order to harness the light one must find the light" which is what my last post featured. I felt quite poetic, like Ghandi perhaps, but for about a half a second and because I realized this post should have preceded my last. In order to fully utlize the light, you need to know how to find it.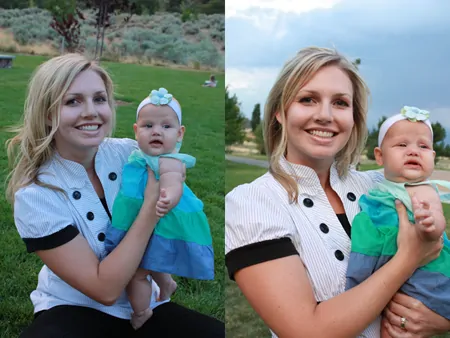 OH MY HECK! LOOK AT THE DIFFERENCE BETWEEN THESE TWO PHOTOS! WHAT DID YOU DO?
I moved about 10 feet. Well, Laura did. These shots are straight out of Laura's camera. All she did was move 10 feet and turn a different direction.  Light reflects off all sorts of surfaces. In this case, it was the metal roof of the pavillon, often it's sidewalks. Audrey Woulard is famous for working with natural alighting so she's an expert at finding the light. You can do this too. Put out your hand and see where the light is the most even and warm. People may think you're crazy, they may think you know what you're doing. It doesn't matter what people think, find the light and it will make a world of difference in your pictures.
One of the most important things you can learn to do when taking your pictures is learning to find the light. I was at a family shindig with one of my fabulous cousins doing the camera talk thing. As the sun was setting the light changed positions and in a matter of minutes where there was beautiful light, there was none to be found. So I said to Laura, let me show you a cool trick. I'm going to hold up my hand to find good light. I learned from Rodger Newbold, from the  Salt Lake Arts Center.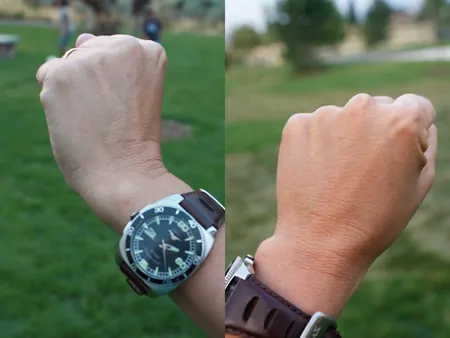 In one direction the light was bluish because of the shadows and in another area it was golden. Look at the two examples. Crazy! So hold your hand up to the light and and see where the light falls. If there are lots of shadows on your hand, move it (and yourself) around until you can find good even lighting. E-A-S-Y. Why spend time editing if you don't have to? Simple tricks like this can make your pictures look good in the camera and will save you work in the end.
Good luck!