This post may contain affiliate links. Read my disclosure policy here.
I love going to conferences, but the problem is I'm just too busy while I'm there and then even busier when I get home. So I record all these cool video interviews and then I never even have time to upload and publish them.
Like get this…
For the third time in a row, The Bloggess — YES, Jenny! — grants 5 Minutes for Mom the honor of a video interview and we take forever to publish it.
We're hopeless — as my mother would say. (LOL… True story… but don't feel too badly for us… she does love us. Really!)
Well, we are hopelessly spread too thin that is for sure.
Anyway, back to The Bloggess…
So, as Janice and I have told you before, one of our guilty pleasures is laughing along with Jenny, The Bloggess.
Whenever we write about Jenny, we try to warn you that Jenny is not for everyone. Her blog contains profanity and bizarre irreverence and does offend some people.
If you've met Jenny in real life, you're less likely to be offended by her blog as she is super sweet and you can't really imagine her meaning to be rude… She defies explanation.
This video interview will give you a taste of how sweet she is in real life. Listen as Jenny explains why she was wearing a crown during the Mom 2.0 Summit 2010.
If you recognize the voice behind the camera… that is Esther from Faint Star Lite and She Posts shooting the video.
The Bloggess Has A Question For YOU!
Jenny has a fabulously fun question for you all and you can record your answer over at Say It Face To Face.
She's wondering if you were a vampire…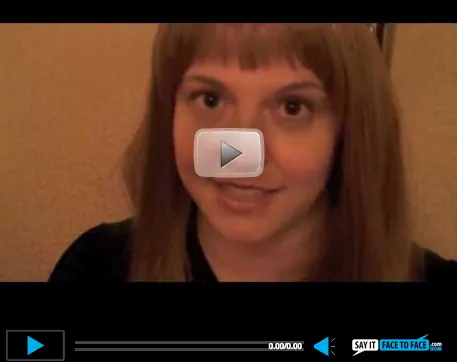 Please help us thank Jenny for joining us on camera… leave her a video reply at Say It Face To Face.
You can follow Jenny on Twitter @TheBloggess and read her column Good Mom/Bad Mom on the Houston Chronicle.

Written by Susan, co-founder of 5 Minutes for Mom.
You get our feed, right?