This post may contain affiliate links. Read my disclosure policy here.
My Dining Room Table
Accountability – wht an incredible tool! If I hadn't had the accountability of Tackle It Tuesday there is no way I would have tackled my scrapbooking disaster that covers my dining room table this week. I have procrastinated for months about cleaning it up, and this week would have been one more excuse.
But no – I had you ladies there, and I couldn't let you down. So I did it! I tackled and conquered.
One more disaster spot tackled one step closer to the sanity of an organized house. (I will always have projects to do I know – but my goal for the next few months is to restore to order what I have let fall apart due to my blogging habit.)

And – I am happy to report that the play room AND, most importantly, my kitchen table/office are still in good order! Yippee!
So here is my project – the dining room table where I had allowed my scrapbooking to creep up from my basement scrapping area. When I started blogging, I left the stuff on the table, collecting clutter. I would use the area to make cards, but I haven't done any pages since March. (If I had wanted to scrap, I would have had to clean it up – there was no room to work!)
Now everything is returned to the basement, waiting for me to get my house in order and then I can get back to scrapbooking at least a little bit.
My Project To Tackle
The Dining Room Table – Before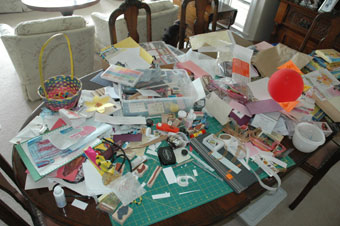 The Dining Room Table – After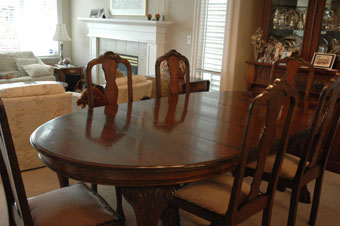 Join Us For Tackle It Tuesday
Each week on Tuesday, we are posting before and after pictures of a project or trouble area that we tackled this week.
I will link to any of you who are also playing along, so add a comment and/or email me. Find out more about Tackle It Tuesday here.
The project can be little or big – whatever you want. Basically, Tackle It Tuesday is about giving ourselves incentive, deadlines and satisfaction in getting our household tasks done.