This post may contain affiliate links. Read my disclosure policy here.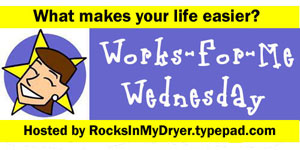 Susan says this isn't much of a Works for Me Wednesday…
But I think it is. So here it goes.
The other day I saw an ad for Philadelphia Cream Cheese featuring a new cream cheese with a swirl of jam in it. I chuckled because Jackson came up with this combination for his toast when he was three and it is still one of his favorites.
When he first suggested it, I thought it was kind of strange. But then I thought, "Well I put raspberry sauce on my cheesecake – so why not?"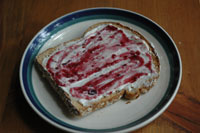 In these days of peanut free lunches, I think this is great alternative to the old peanut butter and jam sandwiches. It has some protein and substance and yet is quick and inexpensive.
I eat it too – it is sweet and yummy on warm toast.
Sorry if it was not the most original idea – but it works for us!
For more great "Works for me Wednesday" tips, visit
Rocks In My Dryer