Click Here to see the Most Recent Tackle It Tuesday participants.
This is raw, blogging vulnerability.
Some publish intimate details about their personal lives on the internet – but I am going to do something far more terrifying to me. I am going to photograph and publish the very corners, closets and piles of clutter and chaos in my house that I am most ashamed of – the very places I work so hard for no one to ever see.
Why? – Because I need some blogging incentive to get back in control of my house. And because I want to celebrate together the little steps of victory as other Tackle It Tuesday participants and I tackle each project, one by one.
Since I started blogging this spring, I have let things get of control and now it is time to get some order back in my life. I am going to tackle these many projects that are sucking the joy from my life. (They really are. I am not an organized person by nature, but when things are cluttered and crazy, I start to lose my mind too.)
A warning: for those of you compulsively tidy and organized people the images that I will share over the next weeks may be disturbing. I apologize. Hopefully it helps ease your pain to know that I am trying my best to tackle it.
So – are you joining us? Everyone is welcome! I need all the support and fellow tacklers as possible to help me through these difficult times.
Let's have some fun and celebrate our accomplishments together as we Tackle It Tuesday.
To Join Tackle It Tuesday
Please add the following banner to your tackle it post and/or link back to http://www.5minutesformom.com so that folks can find other participants.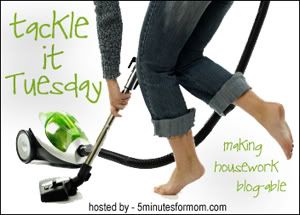 To use the banner, simply copy and paste the code below into your post.
Ok Ladies – have fun! And see you Tuesday!
P.S. — Remember your projects can be big or small. We are all so busy I know (especially on long weekends.) That is why we left certain tasks undone in the first place. So if you only have fifteen minutes to tackle something – No Worries! For example, you could find a drawer or a shelf in your house that needs some attention and then celebrate the order that you have restored in that little part of your world. Many weeks my projects will be just small steps in the greater goal of gaining control of my house.
Also, tackles are not limited to housework. Any task you need to accomplish can qualify for Tackle It Tuesday.
——————
Remember, to participate in Tackle it Tuesday simply add to your post the banner above and/or a link back to "5 Minutes for Mom". Then add your url to the "Mr. Linky" at the bottom of the current "Tackle It Tuesday" post here at "5 Minutes for Mom" and leave a comment.