This post may contain affiliate links. Read my disclosure policy here.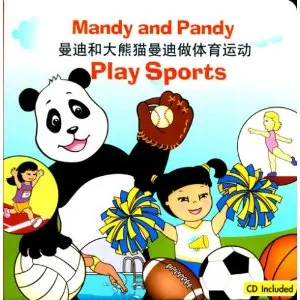 I am not quite as fortunate as Janice and Susan to have a French language immersion school as an option for my kids, but Kyle's Kindergarten teacher is fluent in three languages (English, Spanish,and Portuguese). Before teaching in his school, she taught English as a second language. Because of her interests and gifts, she incorporates a lot of fun and educational language activities. Kyle has learned many songs in other languages, including Jingle Bells in all three of the languages she knows. Each week the class learns to say "Good morning" in a different language. As a result of these fun activities, Kyle has taken an interest in foreign languages that I want to encourage as much as I can.
Mandy and Pandy Play Sports is a board book perfect for PreK to younger elementary students. The text is fairly simple, and each page features the story in English, then in Mandarin Chinese characters, and then spelled out phonetically in Chinese. There is a CD that goes along with the book. The first track was a sort of introduction (and a little odd to be honest), but the second track was a clear rendition of the story — first spoken in English, then repeated conversationally in Chinese. The subsequent tracks tell the story only in Chinese, and slower so that you could learn to speak it.
The story includes various sports from baseball, to football, to swimming, to volleyball, to soccer, to gymnastics, to track which increases it's appeal to kids interested in all sorts of activities. Oftentimes we only see one type of sport, but Pandy (the friendly Panda Bear), tells Mandy at the beginning of the book, "I enjoy playing many sports."
I like that it's a board book, because it's sturdy, even for the over-two set. The other amazing thing about the set is that the CD has an inset place to rest right inside the book cover. I hate that our other book and CD sets come in a vinyl case, and the CD just floats around in there, and inevitably gets separated. Bravo to the designers on this feature!
These really are a fun way to introduce your children to another language. After listening to it, my son was making Chinese-esque word sounds while he was playing. I asked him if he was speaking Chinese, and he said, "I don't know, am I?" Well, I don't know either, but how cool that he is taking it all in!
If your child enjoys Ni-Hao Kai Lan, this might be a fun add-on for him or her.
We have a copy of Mandy and Pandy Play Sports to give away to one of you (U.S. addresses only). If you'd like to win, leave a comment telling us which Mandy and Pandy book title you think would post interest you. You can also keep up with Mandy and Pandy by becoming a fan on Facebook.
We don't have a winner to announce, because the Bookish Board Games giveaway is still open through Saturday. Click over to win two games from I Can Do That! Games.
The winner of this book and CD set, and the winner of the Bookish Board Games will be announced in this column on Monday April 5.
You can also still enter to the Fireworks Over Toccoa sweepstakes through March 30 — 300 books will be given away.
Written by book blogger Jennifer Donovan, who manages 5 Minutes for Books and also blogs at Snapshot. A copy of the book was provided for review purposes.