This post may contain affiliate links. Read my disclosure policy here.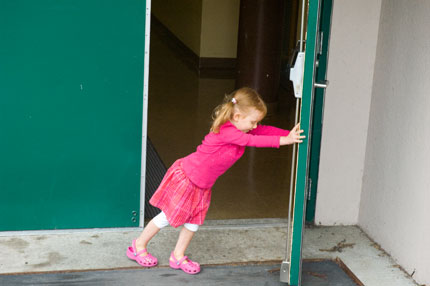 Public school, private school, french school, home school?
Decisions, indecisions, second guesses, worried messes.

(I've been reading a bit too much Dr. Seuss lately.)
So after hours of agonizing over my children's scholastic future, I registered Julia in French Immersion Kindergarten at the same school that her cousin Jackson attends.

Thrilled that we won the phone call queue lottery and secured her a coveted spot in the school of our choice, I began to relax that the decision was done. (We live in Canada and the government provides a limited number of French Immersion programs.)
But then at church on Sunday, I was chatting with another mother who also had a child entering Kindergarten. I mentioned my worry about Julia and her best friend Madison going to separate schools next year for Kindergarten. (Madison is going to the local public school just down our street and I've felt worried that Julia will be sad that she's not attending school with her neighborhood friends.)
The other mother said, "Oh don't you hate the new regulation of all day Kindergarten?"
A little surprised, I replied, "Oh, actually, I was kinda glad because of carpooling with my sister's boy. So you wish the schools weren't moving to all day Kindergarten?"
"Well, mine go to Christian school. And it's always been only 3 days, but full days, for Kindergarten. They aren't switching this year, but I'm not sure in the future. So I'm worried for my 2 year old when she gets there. She's my last and I don't want to miss that time with her."
I instantly shrunk, feeling like a bad mother. (I have been relieved at the move to full days so I could save on child care costs and have less carpooling time.)
I replied. "You're so lucky to have them go to Christian school. I wish I could send my girls there, but we just can't afford it."
And of course the kick in the gutt. "We just decided it was a priority and that is how we want to spend our money."
I felt like a horrible un-Christian parent who clearly squanders her money instead of securing her children's educational, social and spiritual future.
"Oh yes, it is so important, isn't it. Perhaps when our girls get to high school, we'll have enough money to send them there." I answered.
Then the final blow, knocked me over and I spent the next hour reeling from the hit. "But, it can be difficult to integrate them in at that age. High-school is so difficult and even if it is a Christian school, kids are still cliquish especially when they've been together since the beginning."
For the next hour, I sat at the back of Sophia's 2 year old Sunday School class (she cried when I tried to leave) and ran horrifying potential footage through my brain:
My girls, shunned by the upscale Christian crowd, lurred into drugs by the evils of public school and me guilty of it all. I imagined them at public school in French immersion for the primary years. I tried to imagine if they would choose to continue French immersion in the secondary years. What if they switched out and couldn't make new friends? If they always would feel like misfits.
I tried to imagine how they would be with friends and at school. Would they be shy and insecure? Would they be followers that fall into traps of peer pressure? Would they retain their faith even if their friends laughed at them?
What would happen to them? Would they be better off if I sent them to private school?
I watched my quiet, little Sophia sit in her Sunday School chair watching the other children. (We hadn't been to church in a while and so this was her first time in the 2 year old class.)
I watched, prayed and knew that I didn't really have a choice. There is no way we can afford private school and we're blessed to have her learn a second language.
I tried to talk myself out of my panicked guilt. There are advantages and disadvantages of all the choices.

The fact is we can't afford private school and we're lucky to have secured her a spot at a good French Immersion school a short drive from our home.
It will be sad that she can't walk to school with her neighborhood friends to the brand new school just blocks from our house.
And of course I'd love to have her at a Christian school, but we can't go into debt to pay for it. But she'll go to school with her cousins and learn a new language.
YOUR TURN: So where do your children go to school or do you homeschool? Did you have a tough decision? Do you ever wonder if you made the right choice?
Written by Susan, co-founder of the 5 Minutes for Mom Mommy Blog.
Get our feed so you don't miss out.
And of course, tweet with us.