This post may contain affiliate links. Read my disclosure policy here.
Meal times with my kids have got to be the most stressful times around our house. The reasons are numerous, but at least I can eliminate one of those issues — the plate! Thanks to Lavish & Lime, I don't have to worry about the safety of my toddler's plate!
With more and more health issues being contributed to BPA (a compound found in many plastics), I've become very hesitant to use plastic dishes with my girls. And, well, I'm a little too fond of my nice set of dishes to have them become victim to the old "watch me drop my plate on the floor" game my daughter enjoys so much! That is why I have become a huge fan of the Stainless Steel line of dishes and food containers from Lavish & Lime.
Recently we had the chance to try out their Stainless Steel children's divided food tray and we are loving it! It is completely non-toxic, making it safe for my toddler, and dishwasher safe, making it easy to clean!!! The plate is available in a fun square or round shape and the three sections are rounded with 1 inch deep sides to allow kids to easily push food onto their utensils…when they use their utensils.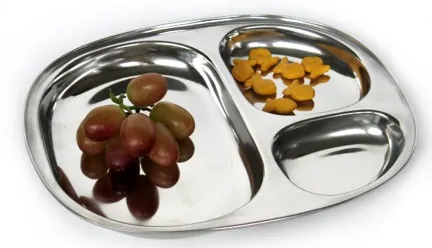 My daughter's favorite part is that, once she's cleared a section of food on her plate, she gets a little peek at herself in the reflective surface! Seriously, I never thought a plate would entertain a 2 year old so much!!!
You can purchase the Stainless Steel Children's Food Trays for just $16 at Lavish & Lime and, while you're there, don't forget to look around at the other amazing Stainless Steel food containers. I am really excited to pick up a few of the Stainless Steel LunchBots and Nesting Containers for our picnic lunches and snacks this summer!
Speaking of picnics and summer, check out these other great items from Lavish & Lime: the Envirosax Shoulder Bag just screams "fun summer outings" and my girls are going to flip when they see their sandwiches cut in the shape of animals and puzzle pieces with the Lunch Punch Sandwich Cutters!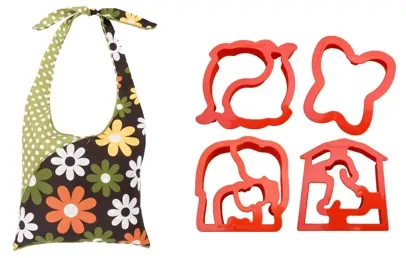 Ok, I'm off to do some online shopping and count down the days to warmer weather!!!
Now you can enter to win your very own gear from Lavish & Lime and start summer in an eco-friendly and kid-friendly way! We are giving one reader a $20 gift certificate to Lavish & Lime to do some of their own online shopping! To enter, simply visit Lavish & Lime and let us know something you have your eye on!
As always, you can earn even more entries:
Become a fan of Lavish & Lime on Facebook
Spread the word to your friends via your blog, twitter, etc.
**NEW** Start or Reply to any video conversation at Say It Face To Face. Then leave a comment with the link to the conversation on Say It Face To Face. Your video conversation or reply can be about ANY topic.
If you are already subscribed and are on our newsletter list, you qualify for those two additional entries. Go ahead and leave your additional comments below.
This giveaway is open to US and Canadian shipping addresses and closes on April 9.
I did receive a Stainless Steel Children's Food Tray in order to do this review and Lavish & Lime is providing the winner's gift certificate. Receiving products for reviews does not affect my opinions stated in this post.