This post may contain affiliate links. Read my disclosure policy here.
I don't know about you guys, but we love reading books around here. Furthermore, it's a real treat to play family board games in our home. But to combine the two activities? Well, to suggest such is to secure the enthusiasm of a certain little 3 1/2 year old.
Whether your kids are in preschool or have hit the teen years, playing board games together is a wonderful way to bond. When those games are based on books, it's even better. If your kids are really into Harry Potter or other books, they'll really get excited about playing a game with those characters.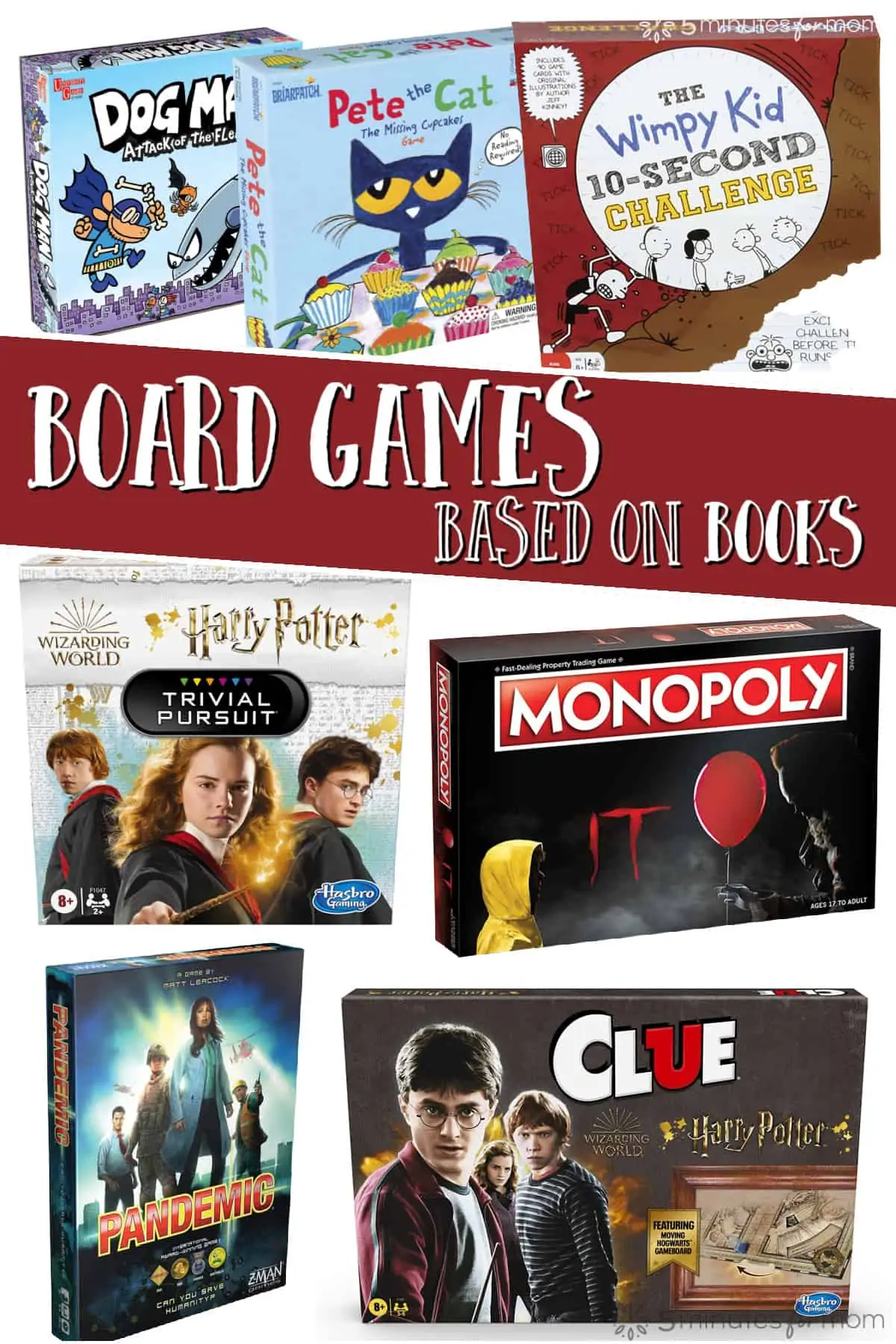 You can get all of these fun board games based on books, movies or TV shows on Amazon…
One of my son's favorite book-ish characters is Horton and when I showed him the "Horton Hears a Who – You to the Rescue! Game" he went bonkers.
It comes with a Horton "hat" that you wear on your head. You are given six clover, all different in color, to hide in your house. The goal of the game is to recollect all six clover. You accomplish this task with the help of a spinner which you hope will lead you to a "clover card." If and when you land on the clover card, you are to don the Horton head and following the intructions to a specific clover (and you have to remember where it is hidden!) The game is absolutely perfect for active toddlers as it directs them to flap, crawl and hop their way to the hidden clover. Then they get to attach the clover to their elephant trunk and bring it back to the board. Horton Hears a Who – You to the Rescue! Game is simplistic and straight forward in nature. Wear hat. Collect clover. Yet it is also imaginative and fun, giving children permission to be Horton and actively participate in saving the Whos! We were bit fans of this game.
Another book-ish game that we were recently afforded the opportunity to play is the Richard Scarry Busy Town game. This game, along with the Horton game, I might add, has won the Oppenheim Toy Portfolio Best Toy Award. It also bears the National Parenting Center's Seal of Approval. For that matter, it also bears my son's seal of approval which, quite frankly, I think counts more than the National Parenting Center's opinion! (At least, that's my opinion.) This game combines elements of I Spy ("Eye found it!") into a group game wherein all of the players are working together to make it to the picnic grounds before Scarry pigs eat up all the food! All of the players win together and, likewise, they all bear the possibility of losing together.
You use a spinner in this game as well to advance along the board which, by the way, is over six feet in length! You definitely need space to play this game, and you should expect to crawl around the board trying to "spy" the hidden items illustrated in a Richard Scarry scene. This is a game that mommy and daddy both played with the toddler and it made for a fun way to spend some time in play as a family. The directions are easy to comprehend and hunting for specific items helps keeps the adults engaged in the game as well!
I personally enjoyed playing these games with my son as a way to draw him into these books and stories which I enjoyed so much growing up and which he is now identifying with in his own way. It's fun to play with kids as well as read to them and so I'm happy to have had the chance to introduce them to you!
Book blogger Carrie comes by her book obsession honestly, having descended from a long line of bibliophiles. She blogs about books, and how she tries to draw her children into them, regularly at Reading to Know and Reading My Library and is a staff reviewer at 5 Minutes for Books.