This post may contain affiliate links. Read my disclosure policy here.
The best part of being pregnant and nursing was having no wretched MONTHLY CYCLE.
If you're a man, and you've just read that… you're likely already running away while shouting "TMI, TMI!" But, if you are still here, you are excused at this time. This post is for the sisterhood only.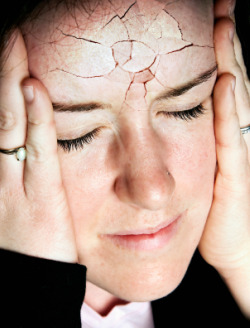 Girls, my head currently contains a bowling ball bashing from side to side and I'm simultaneously depressed and raging angry at absolutely nothing. In fact, a particular curse word has been under my breath all day. (Oh, okay, it didn't actually stay under my breath all day.)
The point here is I have a stay-out-of-my-way, but wait, I just-might-need-your-shoulder-to-cry-on case of PMS.
The worst of it is the headache. This absurd pain starts in my shoulders then forces its way up my neck and through my entire head to beat up on my temples and the inside of my forehead.
And this treat of a headache (I don't know if it's called a migraine or not) will be here for at least 4 days. Likely longer.
I admit, I complained when I was pregnant. I'm not a fan of being in that fattened up state. But what I did love was NURSING. The extra calorie burn, the oomph in my bra and the glorious lack of Miss Monthly Cycle. Well… at least for the first six months or so. Then, she started coming back. Slowly… not with a vengeance.
But, once my milk was dried and gone, her time came to haul me out back and beat on me in a most unladylike fashion.
I fought back with a prescription for The Pill which helps squelch some of her power, but it can't combat these inhumane headaches. (And that dear sweet pill seems to be making it extra difficult to keep off unwanted poundage.)
So I'm left trying to fight this headache with over-the-counter ibuprofen and wondering if I should retreat again to the doctor to add yet another prescription medication to my overflowing medicine cabinet.
Girls, please tell me… do you have headaches with your monthly cycle? What do you do to treat them? Do you take prescription medication? What other treatments do you use to help ease your PMS symptoms?