This post may contain affiliate links. Read my disclosure policy here.
If you need a beautiful photography backdrop for your home or photo studio, or if you have ever wondered how you can get the soft glow of blurred-out mini lights in the background of your photos without ugly wires showing, in this post, we show you how to make an easy photography backdrop with any mini lights and where to buy gorgeous, yet super affordable, sheer fabric…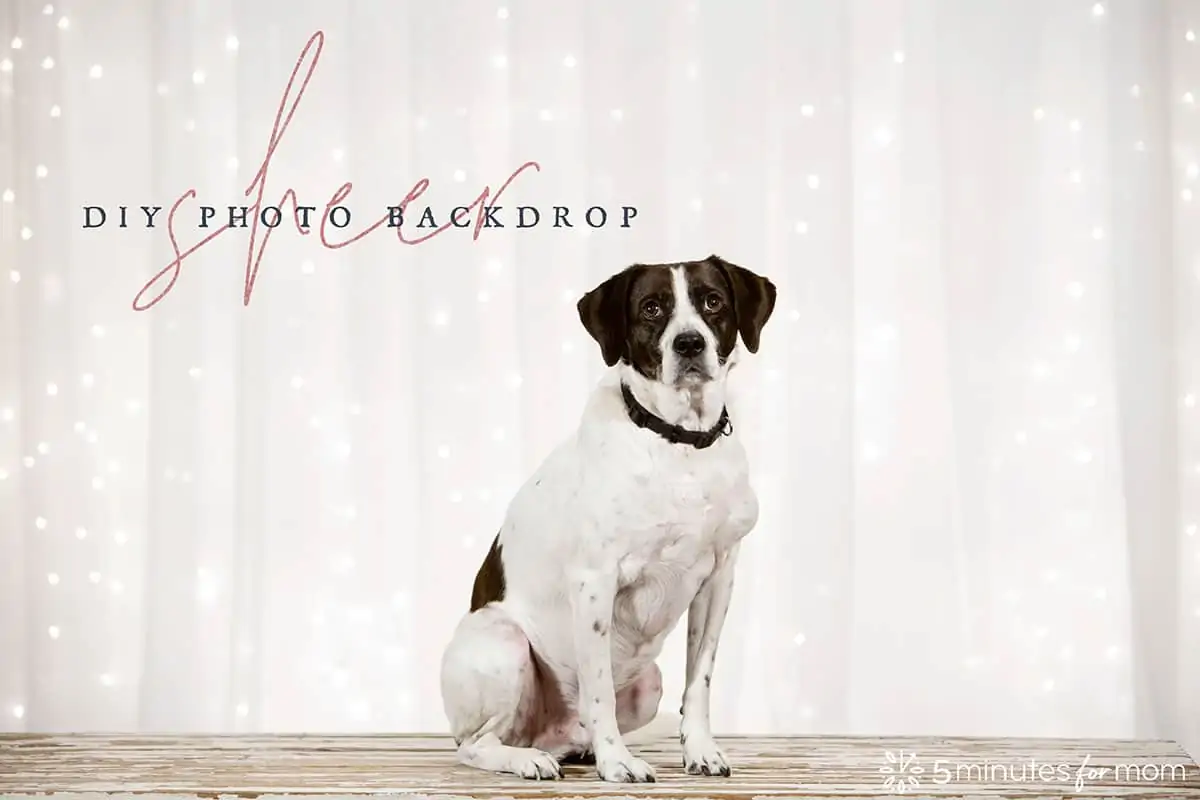 Whether you are a mom, a blogger, a photographer — or all three like I am — we all can use some new, easy, and inexpensive ideas for DIY photo backdrops.
I am always trying to come up with new photo backgrounds for all the different things I photograph, from product shoots to craft tutorials to food posts to family photos.
Creating smaller backgrounds for food and product shoots is a lot easier though than making full-size photo backdrops that can fit an entire family. There is a reason we photographers use heavy stands with huge 9-foot rolls of seamless paper — shooting a group of adults takes up a lot of space.
But what do you do if you want something different than a plain seamless background?
What do you do if you aren't a professional photographer and you don't HAVE a huge seamless background available?
What do you do if you want to set up a simple but beautiful photo backdrop at your house, party, or wedding?
How can you set up an elegant photo backdrop that works in any space and you can photograph with any camera, from an iPhone to a DSLR?

A Versatile DIY Sheer Fabric Backdrop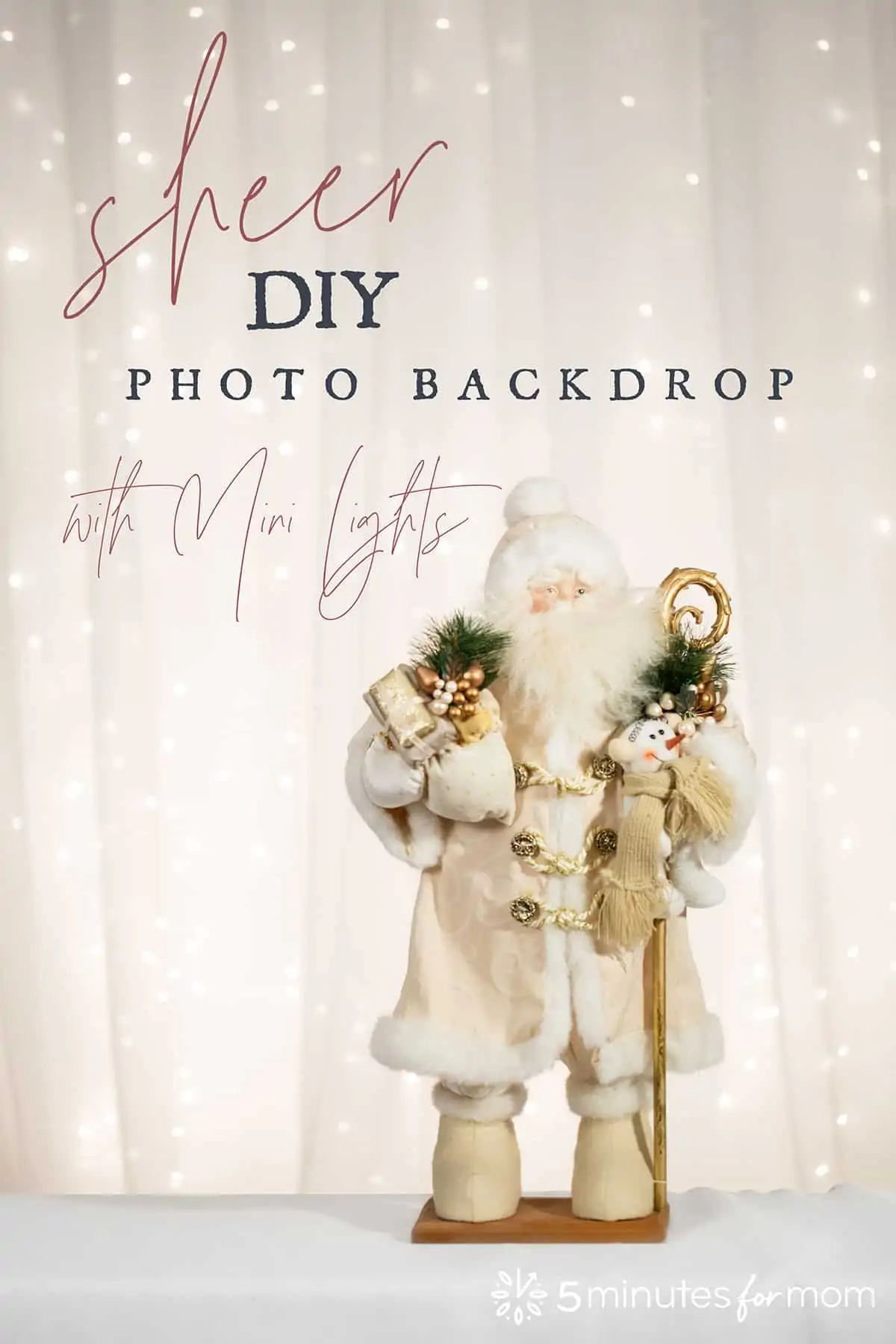 A couple of years ago, before I had repainted my son's old room and I was using it as my office/sewing room, I set up an easy DIY photo backdrop for some fun New Year's Eve photoshoot with our girls. It worked wonderfully to create a party atmosphere and a glittering background for our New Year's Eve family fun.
This year, for our family Christmas photos, I wanted to set up an easy photo backdrop that wasn't specifically "holiday" themed. I wanted to style some of our photos with a Christmas theme, but I wanted the majority of the shots to just have a lovely, subtle backdrop.
So when Fabric Wholesale Direct offered to send me fabric for upcoming projects and I noticed on their website that they sell 118″ wide voile for only $3.99 a yard, I got an idea — I would use their voile to drape over mini-lights that I strung up on my seamless white paper.
I love the look of blurred out mini-lights in the background of photos, but getting lights to show up on a light-colored background without seeing the ugly wires of strands of the lights can be challenging if you are photographing a group of people in a small space, if not impossible if you are taking the photos with a mobile phone.
But if you are able to cover up the wires with a sheer fabric such as voile or chiffon, you can have the beauty of the lights without the messiness of the wires!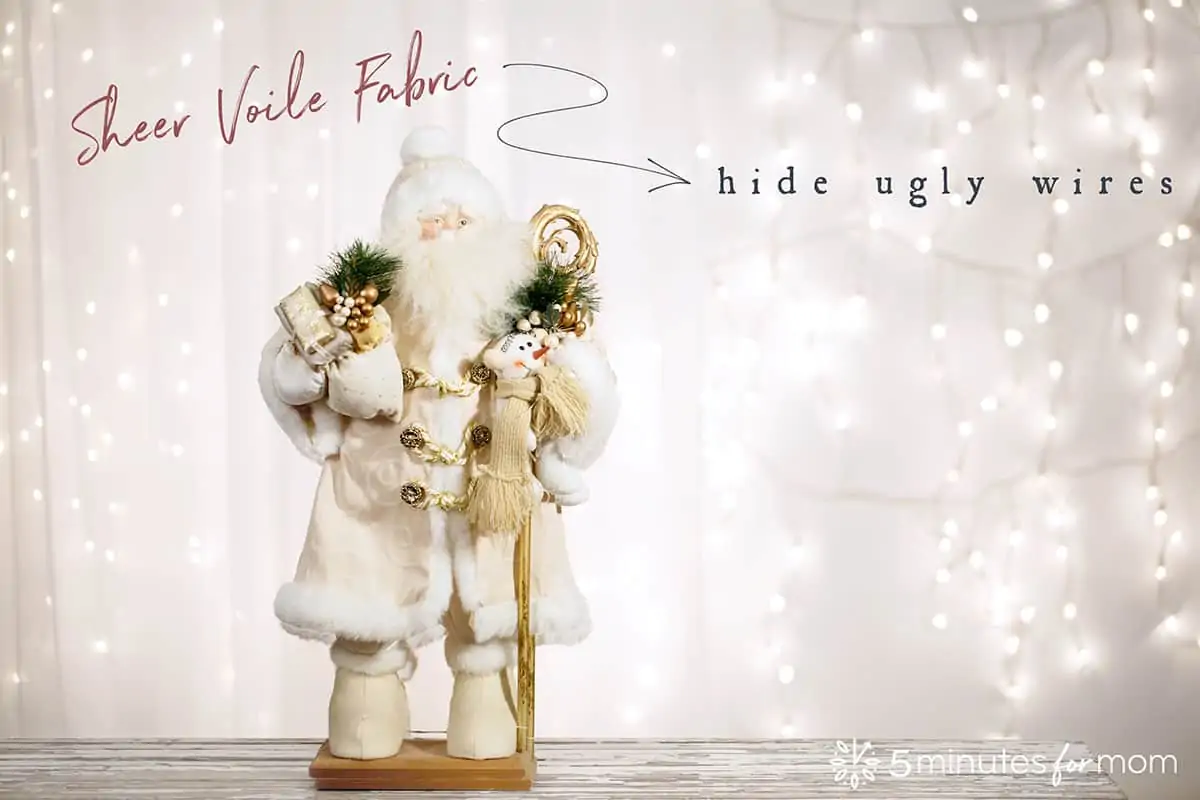 You can purchase sheer curtains for this trick – and I have done that in the past. But the quality of the sheer curtains I bought several years ago was lacking and I haven't used them in ages.
So when I saw FWD's gorgeous, super-wide yardage of sheer voile, I knew I had to test it out as a photography backdrop!
Whether I shot it with lights behind it, or just on its own, I knew their sheer voile would be a perfect, inexpensive option for all different kinds of photoshoots and photobooths.
So I asked FWD to send me some of the white voile and their silver voile to test out.
I am thrilled to report to you that all of the different fabrics that Fabric Wholesale Direct sent are fantastic!
(By the way, FWD sent me the fabric to use, but this post is NOT sponsored and my enthusiasm and recommendation are 100% my own!)
Before my fabrics arrived, I wondered how good they could be at such low prices. But when they arrived, all of the fabrics were wonderful.
FWD is able to offer great quality fabric at incredible prices because they manufacture and ship their fabrics themselves in their New York facilities — but you don't have to make wholesale orders! FWD sells to everyone, with no minimum orders.
Because I am in Canada, I had never shopped with FWD before. So I was elated that they offered to ship their fabrics to me in Canada.
If I lived in America, I would be ordering fabric regularly from FWD. I have total confidence in recommending them now that I have experienced a variety of their fabrics and their customer service.
How to Set Up and Photograph a Sheer Backdrop with Mini Lights
Setting up this sheer backdrop is similar to how I set up this DIY Photography Backdrop.
SUPPLIES
10 yards of sheer voile in white or your color of choice
Mini Lights — see below for details and links
string and/or Command hooks to tie up lights
white poster paper or seamless paper (optional)
Step 1 – Set Up a Seamless or Prepare a Plain Wall
The first step to getting your sheer backdrop ready is to prepare a large space to hang the lights and the fabric.
Because the voile fabric is sheer, what is behind the backdrop will partially show through.
If you have a plain wall that doesn't fight with the color of your fabric, then that makes things easier.
If you do need to cover up your wall, you can use a large white seamless backdrop if you have one.
But I realize that most people do NOT have a seamless backdrop and stands at their house.
No worries — you can cover your wall with white craft paper, poster paper, wrapping paper, or whatever you have on hand.
Since you will be draping fabric in front of the paper, whatever is covering the wall doesn't have to be perfect. The seams where the paper connects won't show through.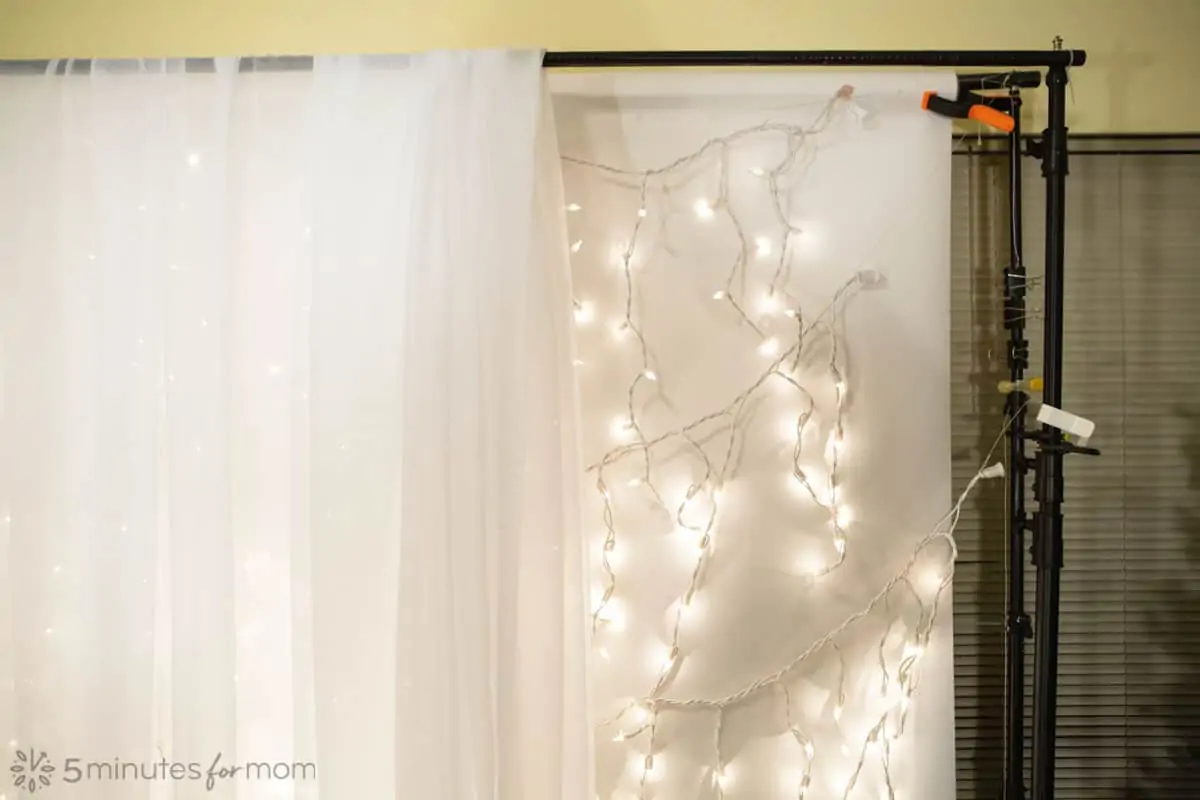 If you don't have a wall that will work, you could set up your backdrop in a large window and use any existing curtain rod to help hang the lights and drape the fabric.
Step 2 – Hang Lights
After setting up your seamless/wall/window area, the next thing you need to do is hang your lights.
The best part of using the sheer voile fabric is that you can use whatever mini-lights you have available. The fabric will hide the wires!
Since I had a bunch of outdoor icicle lights that I wasn't using anymore, I used those for my backdrop.
They were made for outdoor use and have large, ugly wires, but the voile covered them perfectly.
(I used two layers of voile to cover my thick wires. If you are using fairy lights/twinkle lights, you may want to use only one layer of sheer fabric on top of the lights.)
Because I had the icicle-style of mini lights, with strands coming down from one main wire, I could hang four strings horizontally across my backdrop. I used 4 strings of 12 ft icicle lights.
I used string to tie up my lights to my backdrop stand.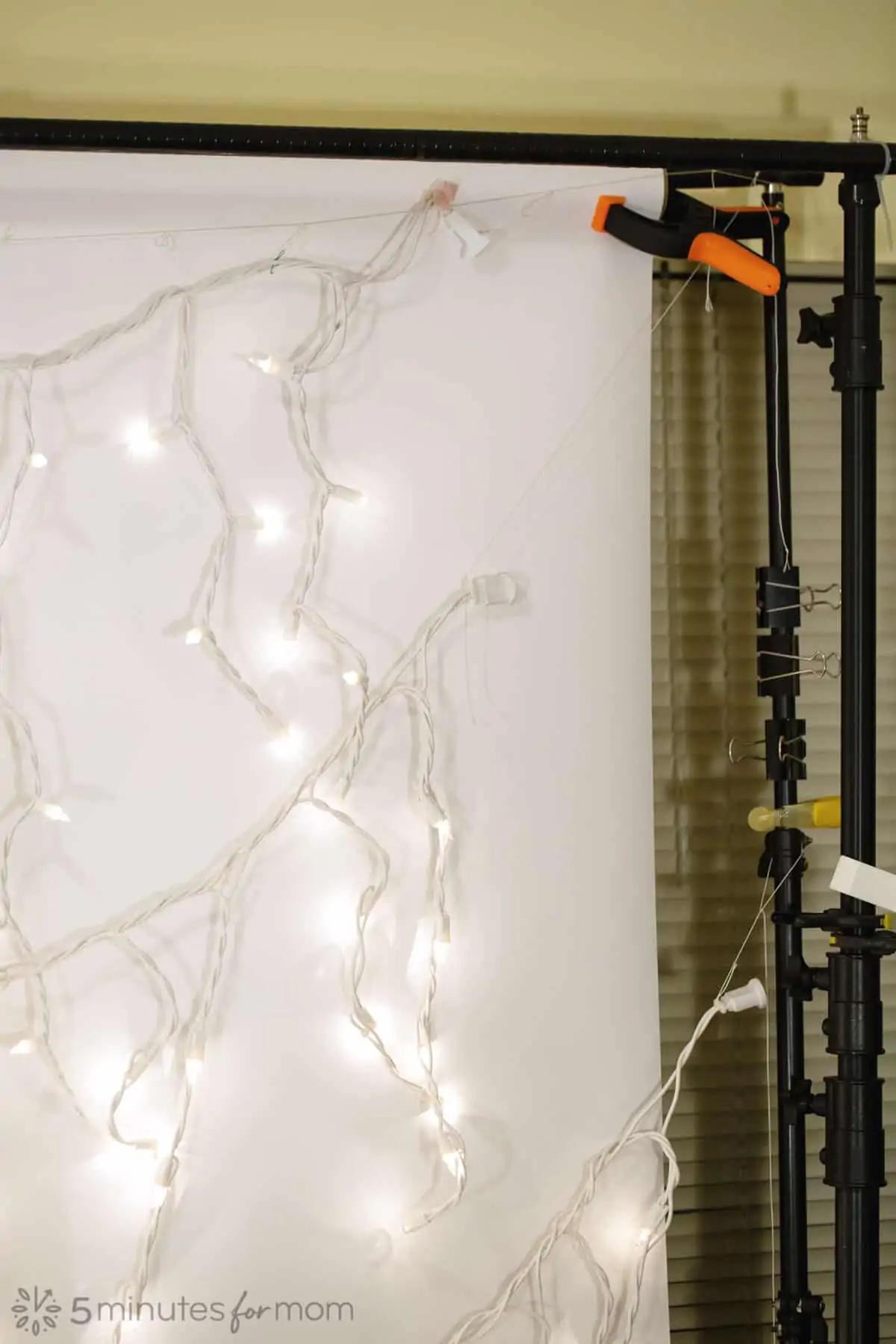 If you are using regular strings of lights, then you can hang them vertically, so they dangle from the top down to the floor. You will probably need around 40-50 ft of regular mini lights.
If you don't have any mini lights available and you need to buy some, you can get some inexpensive LED curtain lights from Amazon.
The best part of using a set of curtain lights like these twinkle lights is that they are lighter and will be easier to hang if you don't have a backdrop stand.
You can use a few removable Command strip hooks to hang the lights on the wall, spacing the Command hooks a couple of feet apart, depending on how heavy your lights are.
If your lights are not already attached together like the curtain lights, you can tie a fishing line, or a rope, string, etc., across the wall, attaching the ends on Command hooks or hooks that you have secured in the wall studs or the ceiling.
Step 3 – Drape Voile
Before you hang the voile fabric, measure your space and determine how long you want your voile strips to be.
My seamless backdrop is 9 feet wide and I had my stands set up around 7 ft high and I wanted my voile fabric to pool a little on the floor.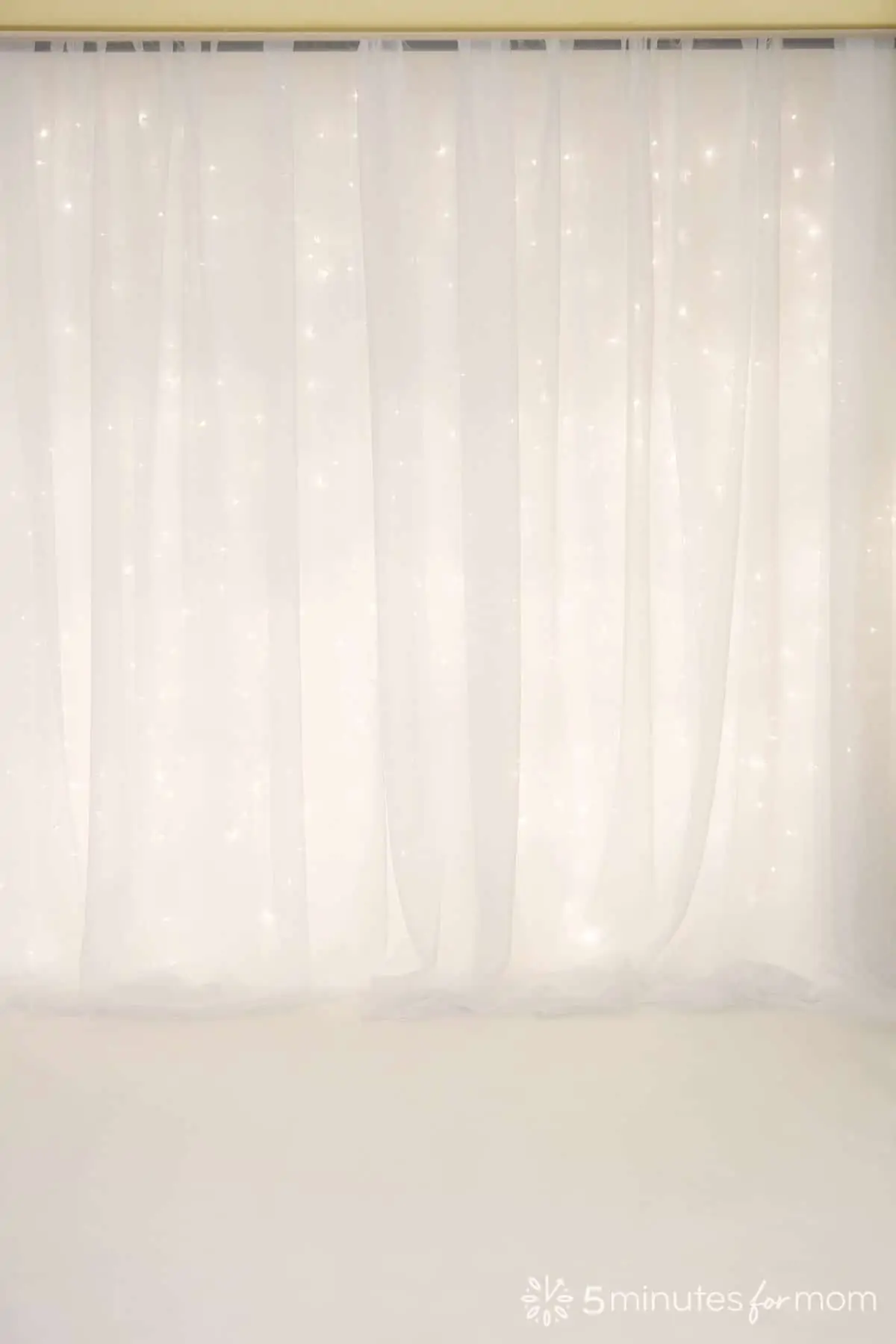 The super-wide sheer voile fabric from FWD is 118″ wide, which is about 9.8 feet.
Since I wanted my fabric to drape like curtains, I decided to cut two strips of voile, each one 15 feet (5 yards) long, so that the fabric can hang over the backdrop stand/curtain rod/fishing line, giving me two layers of fabric, each 7 1/2 feet long.
So, I had TWO strips of voile fabric, each measuring about 9.8′ x 15′, which gave me "curtains" that made two layers and, draped and pooled, nicely covered my 9′ x 7′ backdrop.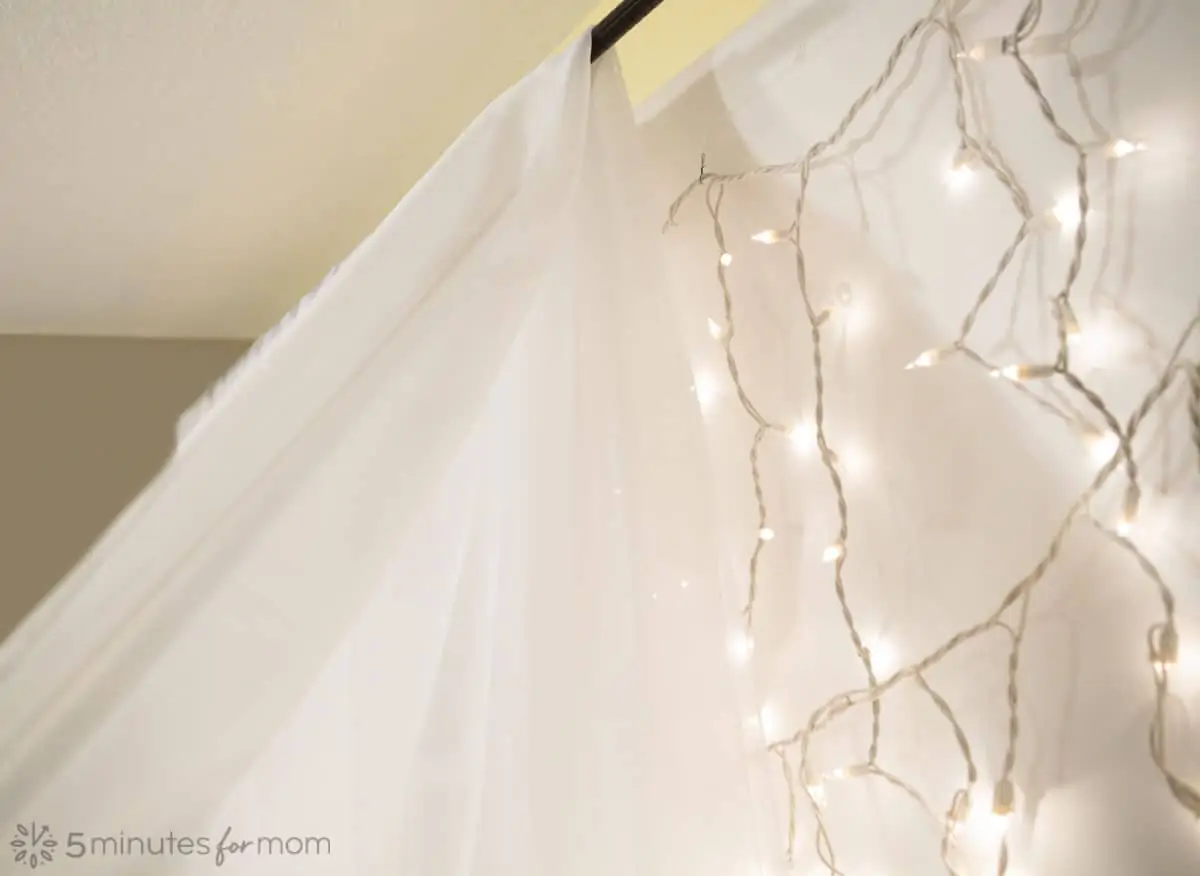 To hang the fabric, drape it over a backdrop stand, curtain rod, or some string/fishing line that you hang to command hooks or hooks that you have secured in the wall studs or the ceiling. If you need to secure the fabric, you can use clamps, large binder clips, or even safety pins to secure it.
Step 4 – Place Subjects 5 Feet from Backdrop
When photographing with this backdrop, make sure you are shooting with a shallow depth of field (an aperture around f/2.8 – f/5) and have your subject stand around four to five feet from the background.
Also, in order to have the light from the mini-lights show in the photos, use constant lights (not flash or strobe) or just the ambient (available) light in the room.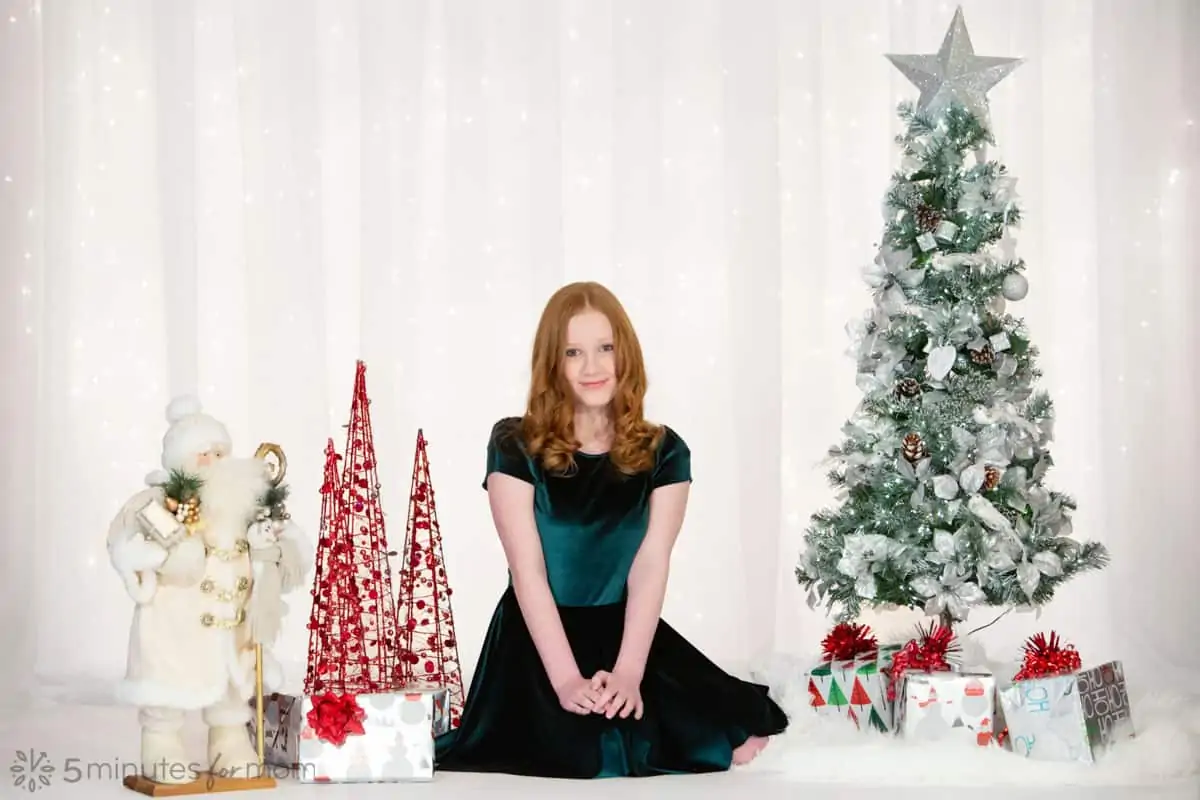 If using flash, raise your ISO and use as little light from the flash as possible.
Since I had our strobe lights set up, I used the constant light from the modeling lights on the strobes. I also put my camera on a tripod, increased my ISO, and shot with as low of a shutter speed as possible, considering I was shooting a dog and kids that were moving around a bit.
ALTERNATIVE OPTION
If you want to shoot with your strobes or flash, the sheer voile fabric also works beautifully as a background when shooting with strobes or flash. The draping, flowing voile fabric offers an appealing alternative to a regular paper seamless backdrop.
For this photo below I have turned off the mini lights behind the voile fabric and I am shooting with my strobe lights.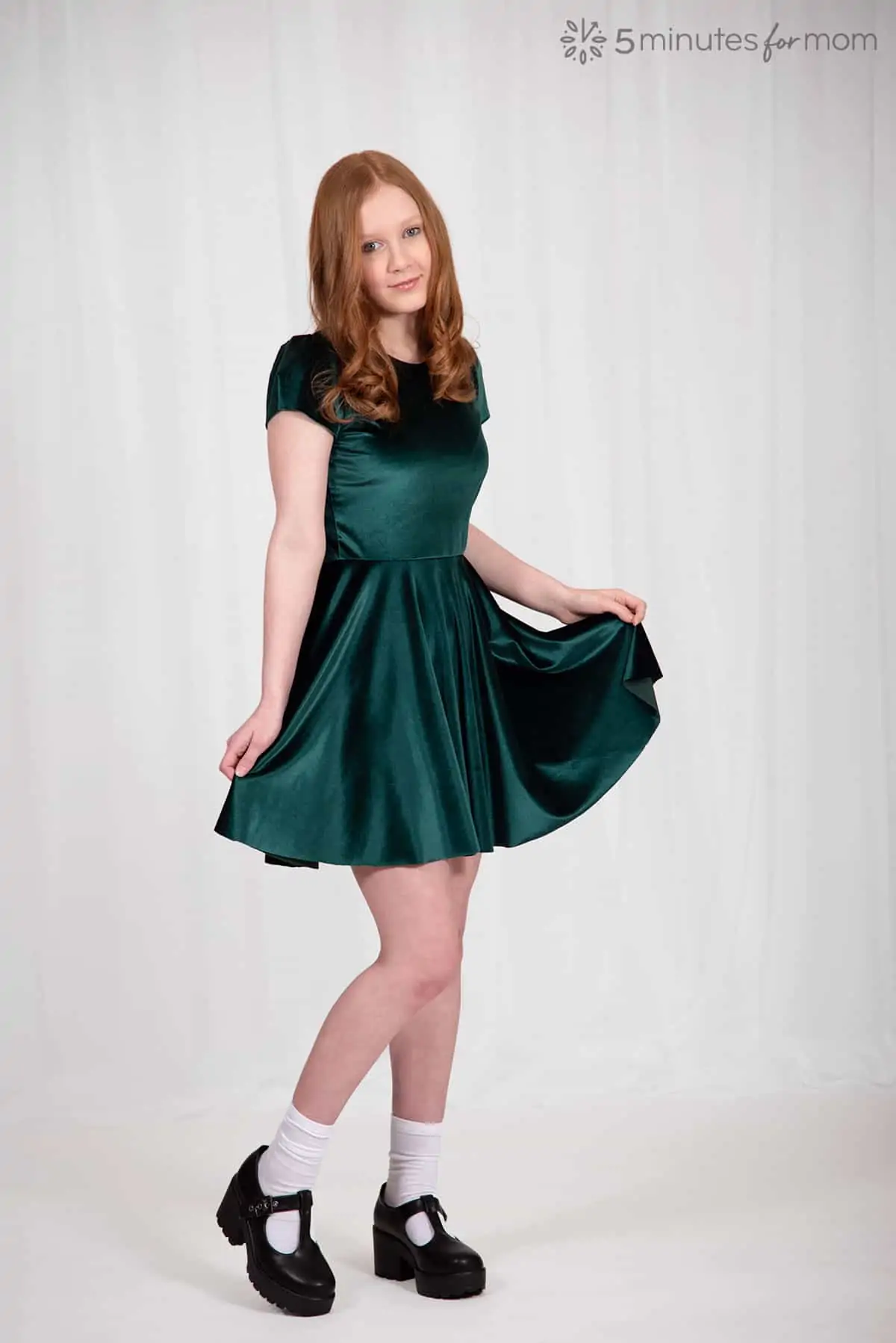 You can use different colors of voile for different looks, using just one color at a time or draping two or more colors together.
I had planned to use silver voile for our Christmas shoot as well. But the silver voile had a slight bluish/greenish hue to it and because I had sewn a silver matte satin dress for my niece for the shoots, I was concerned that the two different tones of silver might fight with each other.
The silver voile looked great during my test shots though and I definitely plan to use it as a backdrop in the future.

Written by Janice Croze, co-founder of 5 Minutes for Mom
Talk with me: @5minutesformom and Facebook.com/5minutesformom
Pin with me at pinterest.com/5minutesformom