This post may contain affiliate links. Read my disclosure policy here.
Are you dreaming of a beach vacation? I sure am. While it may be a while before I personally get to travel, I'm relieved that some parts of the tourism industry are able to start safely reopening.
We're working with Beaches Resorts to spread the word about the steps they are taking to protect guests. This post is sponsored, so extra thanks for reading and sharing.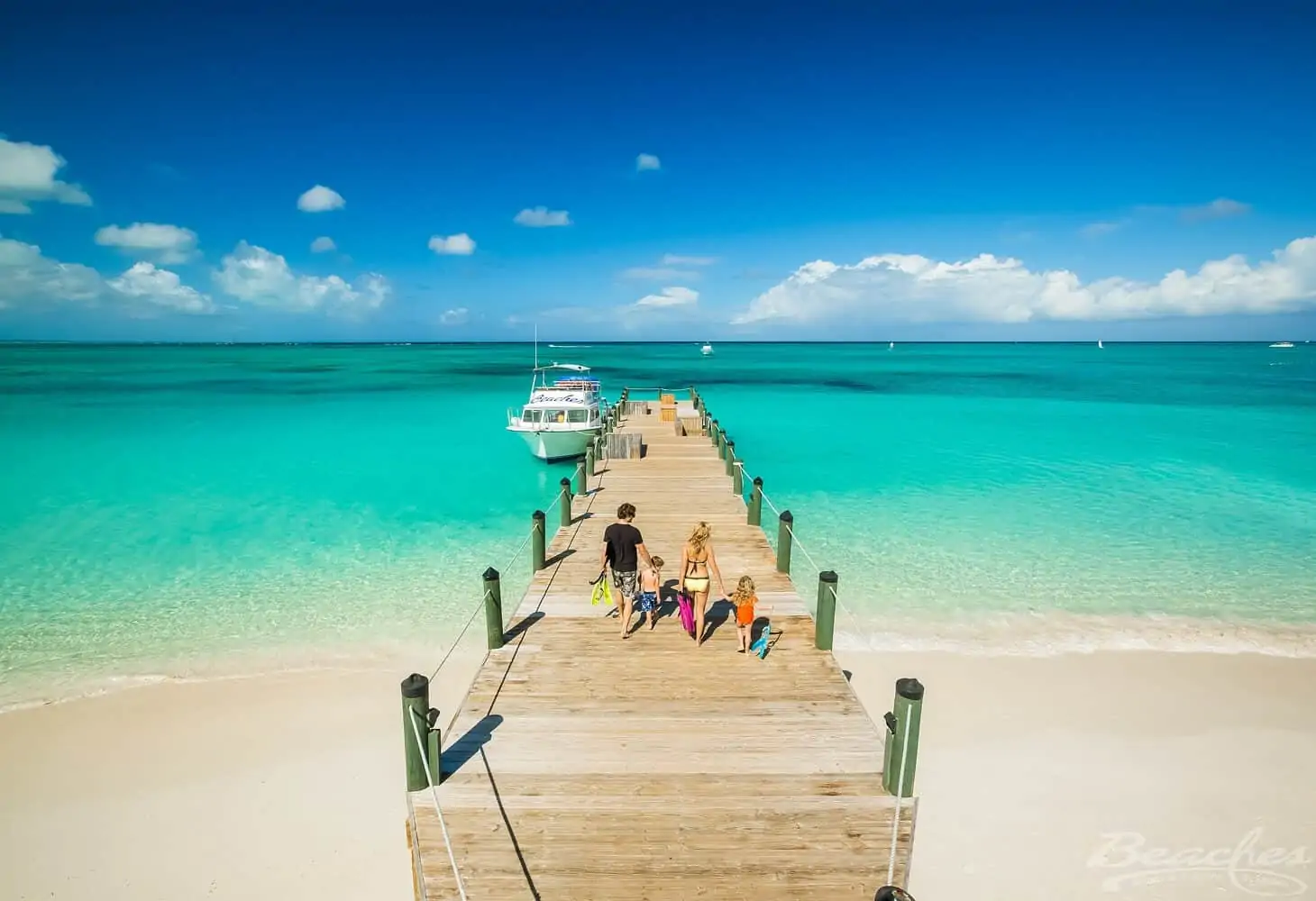 When this forced travel hiatus finally ends, I expect many of us will be excited to jump on a plane and fly into the sunshine.
The exact time when each of us can start traveling again will depend on various factors… including where we live and where we want to visit. And we'll also need to consider our personal risk factors as well as those in our family or workplace.
The most important thing is that we all do our part to stay healthy and reduce the chance of catching or spreading COVID.
But if you're healthy, low-risk, and you live in the USA, you may be able to travel to certain tourist destinations such as Turks & Caicos as long as you follow the rules set by both the US government and the Turks & Caicos government.

Canadians Need To Wait A Little Longer
Canadians are not supposed to travel internationally for the near future. Recently, Prime Minister Justin Trudeau has asked us to avoid non-essential travel and warned that new restrictions could be put in place at any time.
Even though we Canadians may need to wait a bit longer to get our vaccines and start traveling again, it will happen eventually. We just need to have a bit more patience.
Renewed Hope For Tourism
We all know that the travel and tourism industry has been severely hurt from the pandemic and it's hard to imagine how many families are affected from the loss of work.
While it has been necessary for countries to close their borders to slow the spread of COVID, some countries are opening up again with new travel restrictions and requirements.
Many hotels and other businesses, that had been forced to close for several months, are carefully reopening with strengthened safety measures in place.
For example, Beaches Resort in Turks & Caicos opened recently to allow a reduced number of guests who must follow strict protocols.
What You Need To Know
If you live in the USA and you have a NEGATIVE COVID test result, you may be able travel to Turks & Caicos as well as Jamaica.
You can find the current travel requirements on the Beaches website, but you'll also want to check for updates on government websites.
Check your state and local travel recommendations and requirements as well as those for your destination. Each country has different restrictions and steps you must follow for entry. So you need to be sure to check the exact requirements when you book your trip and again in the days leading up to your departure.
Here is an idea of what you can expect when traveling to Turks & Caicos…
You need to have Medical/Travel insurance that covers COVID-19 medical costs.
You will be required to complete a health screening questionnaire and TCI Assured Travel Authorization form.
Before you leave the USA, you need to get a COVID test with a NEGATIVE result and bring the printed results with you. (The results must be within 5 days of entering Turks & Caicos.)
Before you leave Turks & Caicos, you need to get another COVID test with a NEGATIVE result and bring the printed results with you on your return to the USA. (The results must be within 3 days of entering the US.) Fortunately, if you stay at a Beaches or Sandals resort, the COVID test will be given at the resort free of charge by medical professionals.
When you return to the US, you must follow the testing and quarantine rules listed on the CDC website. At the time of writing, you are required to get tested 3-5 days after travel AND stay home for at least 7 days after travel. If your test is positive, isolate yourself to protect others from getting infected.​​ Avoid being around people who are at increased risk for severe illness for 14 days.
Safety First
Governments and individual businesses are using travel restrictions and rules such as COVID testing to allow the tourism industry to carefully pick up speed again.
Beaches resorts have also added "additional protocols and guaranteed cleanliness standards to ensure heightened health and safety measures for guests seeking peace of mind in the Caribbean."
Guests can feel confident knowing Beaches resorts have…
dedicated Quality Inspection Teams and environmental health and safety managers at all of their resorts to make sure every procedure is in place to protect every guest and team member. That even extends to their supply chain.
upgraded their full-service medical stations with appropriate equipment and supplies needed to address new protocols. They are staffed daily with a registered nurse and 24/7 on-call medical personnel.
a private airport lounge reserved for Beaches guests only. Upon entering, guests will be given hand sanitizer, complimentary mask and gloves.
private airport transfers with a reduced the number of guests transported to ensure proper social distancing. In addition, every driver will be wearing a mask and gloves and will be provided with sanitizer for use by each guest. Vehicles will also be re-sanitized after every trip.
an 18 touch point practice of cleaning that provides elevated hygiene practices to keep guests healthy, safe and content.
Remember that the top priority is keeping everyone safe, so travel requirements and restrictions can change at any time. And of course, when you're traveling, make sure you're wearing a well fitted face mask and carry hand sanitizer with you to keep your hands clean at all times.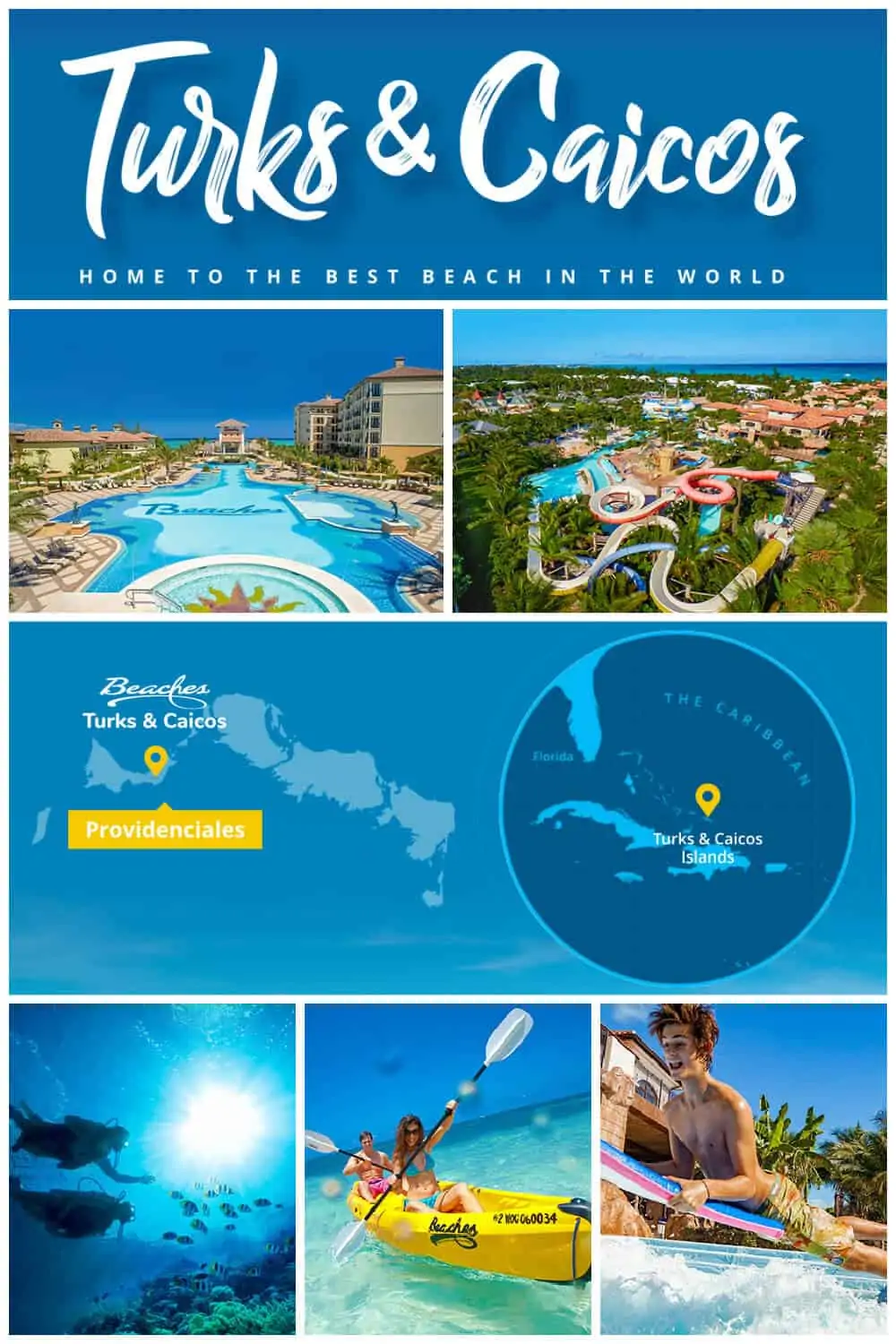 A Vacation for the Entire Family
Whenever it is time for your family to travel again, consider a Caribbean getaway.
If you were one of the lucky ones who didn't lose your job or have your business fail during the pandemic, then you may find yourself with extra savings now thanks to a year of feeding and entertaining your family at home.
I can't think of a more fun way to use such savings than taking my family on an all-inclusive beach vacation where I could relax in the sunshine and my kids could have fun safely elsewhere in the resort.
While I've treasured the extra family time we've had being together 24/7 for the last year, I could really use some alone time in the sunshine. And my kids desperately want to have fun with other kids their own ages.
I'm dreaming of it right now… an all-inclusive resort on an exotic beach with soft, white sand and clear, blue water. Can you imagine???

Honeymoons and Anniversaries
Of course, Beaches is for couples too. The scenic isle of Providenciales provides the ultimate getaway location with 12 miles of white sand beaches. And when everything is included, you can truly relax together by the pool, on the beach, or swimming in the ocean.
There's no better way to spend time together than at this romantic resort.
If your wedding plans were interrupted this year, perhaps treat yourselves to an amazing honeymoon.
Or if you're already married, a trip to Turks & Caicos would be a phenomenal idea for celebrating your anniversary.
Whether you're searching for a romantic getaway or a fun family holiday, take a look at Beaches Resort in Turks & Caicos and start planning your trip.
Disclosure: This post is sponsored which helps us bring you quality content.
Written by Susan Carraretto, co-founder of 5 Minutes for Mom
Talk with me: @5minutesformom and Facebook.com/5minutesformom
Pin with me at pinterest.com/5minutesformom