This post may contain affiliate links. Read my disclosure policy here.
Everybody is talking about the KonMari Method of Decluttering. Have you read Marie Kondo's books or seen her Netflix show? It's clear that the KonMari method is truly changing lives everywhere!
But if you're like many busy moms who want an organized house, but you're too overwhelmed to start, we're here to help. The biggest challenge of decluttering an entire house is that it takes TIME. And the KonMari Method takes even more time than your usual tidy-up.
So our friend and contributor Paige McEachren is here today to show you how can use the trendy KonMari method of decluttering even though you're a super busy mom.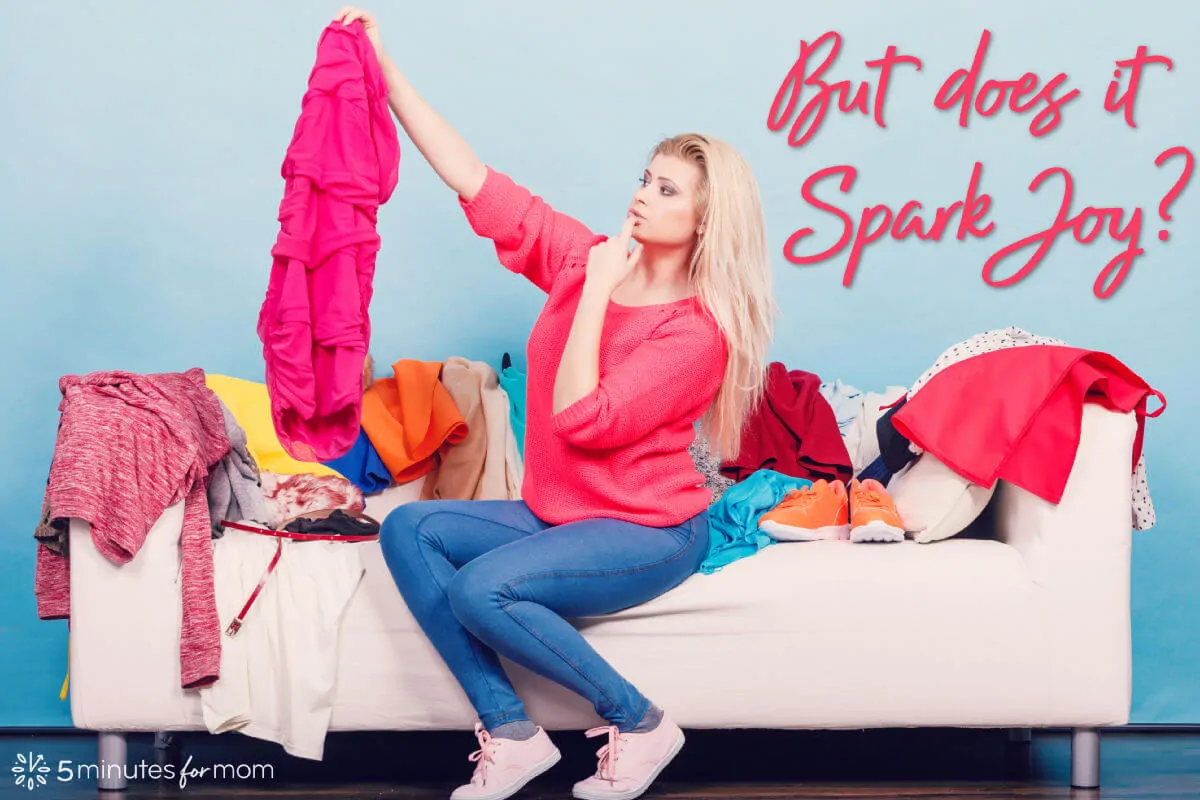 After seeing a friend post photos of rolled towels, tidy drawers and garbage bags she was getting rid of, I had to learn more about the KonMari method of decluttering. I had to check out the Netflix hit Tidying Up With Marie Kondo.
Marie Kondo is the author of The Life-Changing Magic of Tidying Up: The Japanese Art of Decluttering and Organizing and companion book, Spark Joy: An Illustrated Master Class on the Art of Organizing and Tidying Up.
The books aim to be the savior of busy moms everywhere with a step-by-step guide to tidying which makes organizing your stuff possible.
Basically, the KonMari method of decluttering takes the emotional attachment we have to belongings and offers the notion that you only keep things that 'spark joy'.
Rather than going room by room you declutter by category. You gather together all items of one category (clothes, books, papers, kimono or miscellaneous and sentimental items) and hold each item to see if it sparks joy. If it does you keep it. If not, you thank the item and either give it away, recycle it or throw it out.
After binge-watching the series, I was determined to try to make it work in my house. I realized a few things that can make the KonMari decluttering possible for busy moms.
1. Categories are a great way to declutter
The reality is we have stuff everywhere. You stick things in drawers or corners as you leave the house running to sports events or school activities, with the best intention of getting back to them later. Let's be honest. You are a mom who probably is hardly ever alone in the house since before having children. When you do have a moment, the last thing you want to do is declutter your home.
Marie Kondo's categories give you a systematic way to go through EVERYTHING in your home. Bringing everything together in one spot shows how you have spread things throughout your home. It also lets you see collectively how much you have. This makes the 2-part process of discarding and then organizing manageable.
2. Create Your Own Categories
When I first gathered all my clothes, I was shocked. Where did all these clothes come from? I could not believe I had collected so much.
It was overwhelming and to be honest I thought I would never get through it all. But I did. I had to, it was all on my bed and floor.
Pro Tip: If you're trying on clothes to see if they still fit, be sure to put on whatever undergarments and shapewear you'd normally wear under that item. A dress that might feel too tight or revealing at first may look stunning whent you're wearing the best shapewear for muffin top.
After having accomplished going through all the clothes (which took me longer than I thought), I knew I couldn't do that with every aspect of my life.
Instead I found it better to break it down. For the rest of 'clothes' I made sub-categories of jewelry, scarfs, shoes, purses, etc. And I tackled each one separately.
I had my husband take our kids out sliding while I went threw jewelry. When my kids were watching a movie or playing a game, I did another category.
The great thing is since you're cleaning, kids generally leave you alone because they don't want to get dragged in to help.
3. It's About Respect
It seems funny at first to thank every item before you get rid of it, but it's a wonderful idea.
Taking the time to recognize that you no longer need something is important to the process. After thanking multiple versions of the same shirt, I will no longer continue to buy that same style.
In a funny way you feel better about letting it go. But it's also about respecting your belongings and practising gratitude.
I feel this is the big underlying message of Marie Kondo. Her entire process makes people aware how they have more than they need and do not take use half of what they have.
You can also focus on how your old possessions will go on to spark joy in someone else when you donate them to a good charity.
4. Decluttering Doesn't Mean Getting Rid of Everything
There is already so much mom-guilt out there, it was nice to see no shaming in the Netflix show "Tidying Up."
No matter what your reason, or if you already have five of something, if an item sparks joy Marie says keep it.
Of course, it is all based around the theory that you start with the easiest and least sentimental items to truly understand what 'joy' is for each person. You leave the sentimental personal items for last, when you have a better understanding of joy.
Marie wants you too look at what you want to keep and take into your future life, rather than what you are getting rid of. This makes looking at baby clothes easier to donate once you know you're done having kids.
5. See Everything at Once
With the KonMari method of decluttering you spend a lot of time with the organizing aspect of folding clothes.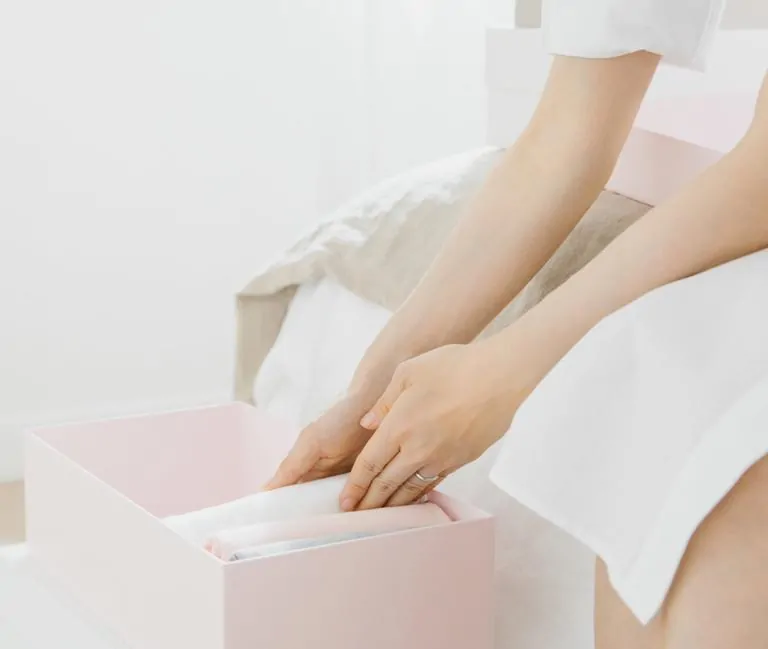 Marie has such a unique folding technique. You fold and stack the clothes vertically in the drawer. The premise is that when you open a drawer or closet you can see everything in it at once.
As a mother of a pre-teen boy, I love this idea. Especially since my son has been wearing the same 4 t-shirts (out of 40) for the past few months. Once I took the time to go through every item and made my kids fold everything with me, we both had a better appreciation for the method.
When we went through my sons clothes, we discovered that 10 shirts he hadn't worn, because they were at the bottom of the pile, no longer fit.
My son now loves being able to open his drawer and see every item at once. Let's see how long it stays organized. Perhaps Marie Kondo's next book will be how to get your kids to keep their stuff decluttered. It'll be another best seller!
Written by Paige McEachren.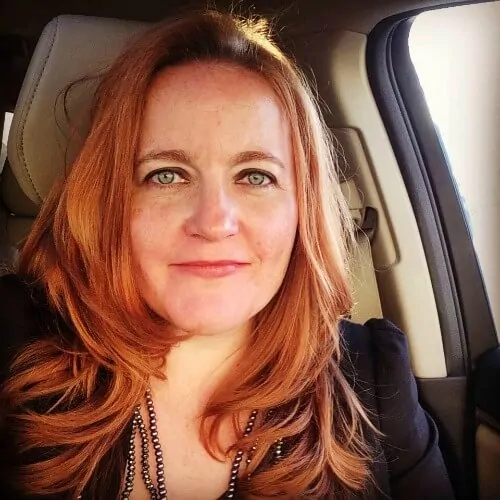 Paige spent over 20 years working in corporate communications for world-leading technology, health care and pharmaceutical companies. In 2015, she decided to leave the professional workplace to stay home and help her young kids navigate life with ADHD and dyslexia. When not taking care of her kids (3 including her husband), she loves to plan family vacations, struggles with the love of baking and wanting to be healthy, challenges herself to try new things and if lucky, finds a bit of quiet time. She shares her tales of a disordered life on her blog www.pieceofpie.ca.
Pin it for Later