This post may contain affiliate links. Read my disclosure policy here.
Shapewear should make you look and feel good… but how can you feel good when it's bunching and rolling down revealing horrible creases of back fat? If you're looking for the best shapewear for muffin top, I've got fantastic news for you!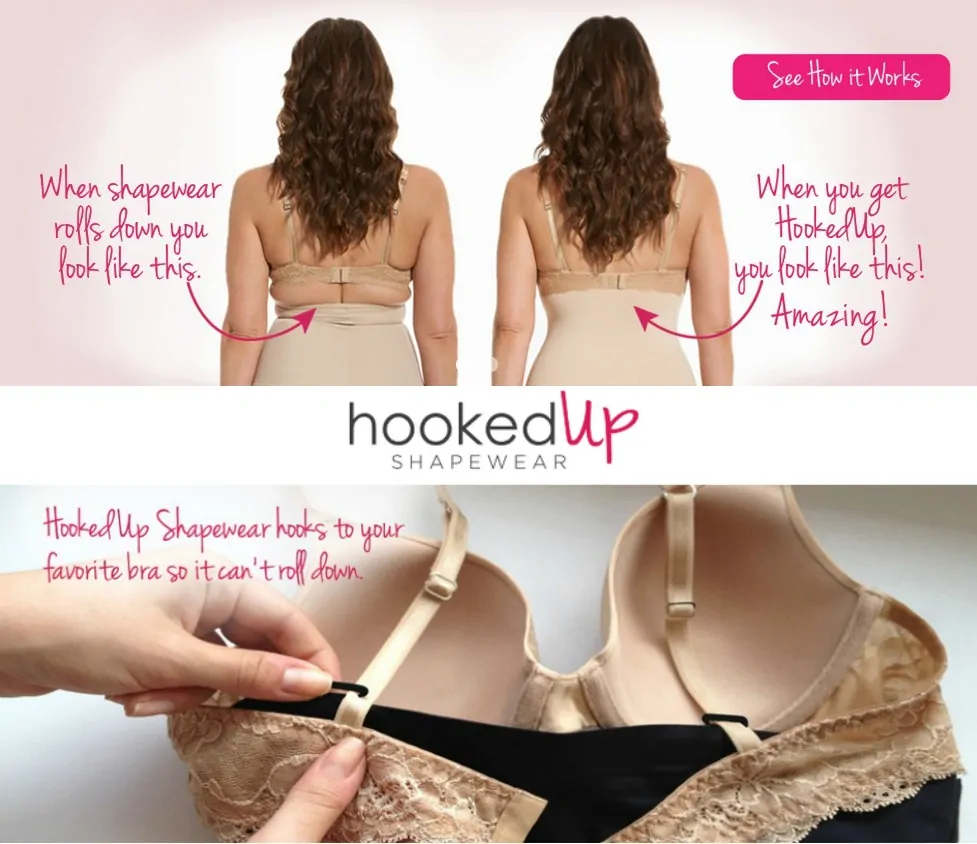 I first discovered HookedUp Shapewear in 2015 AFTER I had returned from the Mom 2.0 Summit in scorching hot Arizona. During the trip I was cursing my shapewear each time I hopelessly tried to tug it up only to have it roll back down a few minutes later.

(What you don't see in the photo below is that right before it was taken, I was literally tugging at my shapewear, trying to pull it up because it had rolled down.)
If ONLY I had been wearing HookedUp Shapewear…
I would have been comfortable if I hadn't had to keep pulling up my shapewear every time it rolled down. I decided then that next time I would be "HookedUp".
Best Shapewear
Are you like me and carry your extra weight around your belly? Do you hate the back fat that shows around your bra?
I hate my muffin top and back fat. But until I found Hooked Up Shapewear, I usually didn't bother wearing shapewear because I found that it would always roll down and end up making my muffin top and back fat look even worse.
Thankfully, there is an amazingly simple solution! Hooked Up Shapewear HOOKS TO YOUR BRA so that it can't roll down.
Yes, HookedUp Shapewear has a patent-pending design that hooks to your bra so that you don't have uncomfortable roll-down and pinching as you do with other brands of shapewear.
I also love that unlike other shapewear, it is cut in an hourglass shape — instead of a circular pattern which creates a tubular shape that can make you look rounder. (Which is NOT what we want!)
HookedUp Shapewear gives you that firm compression fit and smooth silhouette you want while still letting you breathe and sit comfortably.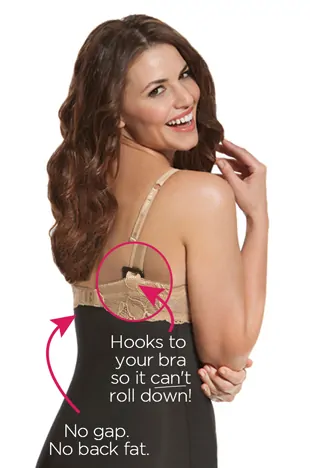 I am thrilled to say that I have actually tested out the High Waist Shaping Slip and it really does work!!!
It was simple to put on… as the video says, you just hook it to your bra straps and step into it as you would a one-piece bathing suit.
I was surprised by how easily it hooked to my bra and that it definitely did not roll down at all… even when I tried reaching and stretching my arms up and down.
But, I am sorry… I'm not brave enough to show you photos of me wearing it. I may blog about a lot of stuff, but I'm not keen on posing in my underwear. LOL
I love that there is no gap between the bra and the shapewear… so no fat can bulge out. It gives firm control while still letting you breathe and move comfortably.
This is officially my favorite shapewear. I am hooked!
Yes, pun intended. 😉
Since I shared the first version of this post in 2015, we've had an incredible response from readers who are all thrilled to have discovered best shapewear for muffin top and back fat that does NOT roll down.
As it turns out, we're all tired of our shapewear rolling down. So if you haven't yet tried Hooked Up Shapewear, e about check it out now. I think you'll agree that it is the best shapewear for muffin top.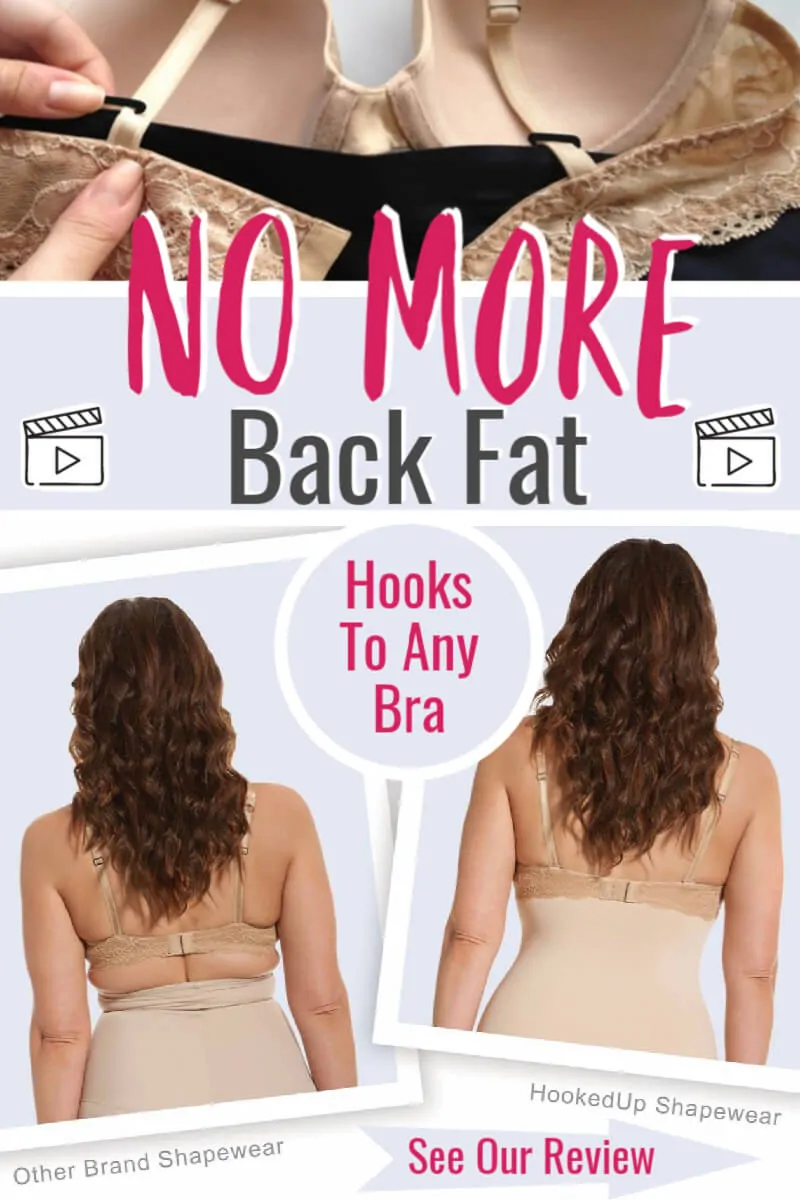 UPDATE: It's now 2022 and it seems HookedUp Shapewear is no longer available on the Montelle Intimates website as it used to be. At the moment, we can only find it for sale here on Amazon.
Disclosure: I received a sample item and this post includes affiliate links, but my opinions are always my own.
Written by Susan Carraretto, co-founder of 5 Minutes for Mom
Talk with me: @5minutesformom and Facebook.com/5minutesformom
Pin with me at pinterest.com/5minutesformom