This post may contain affiliate links. Read my disclosure policy here.
It's back to school time! We're here to help you make fun and easy school lunches for your kids. Check out these delicious and simple back to school lunch ideas that don't include sandwiches.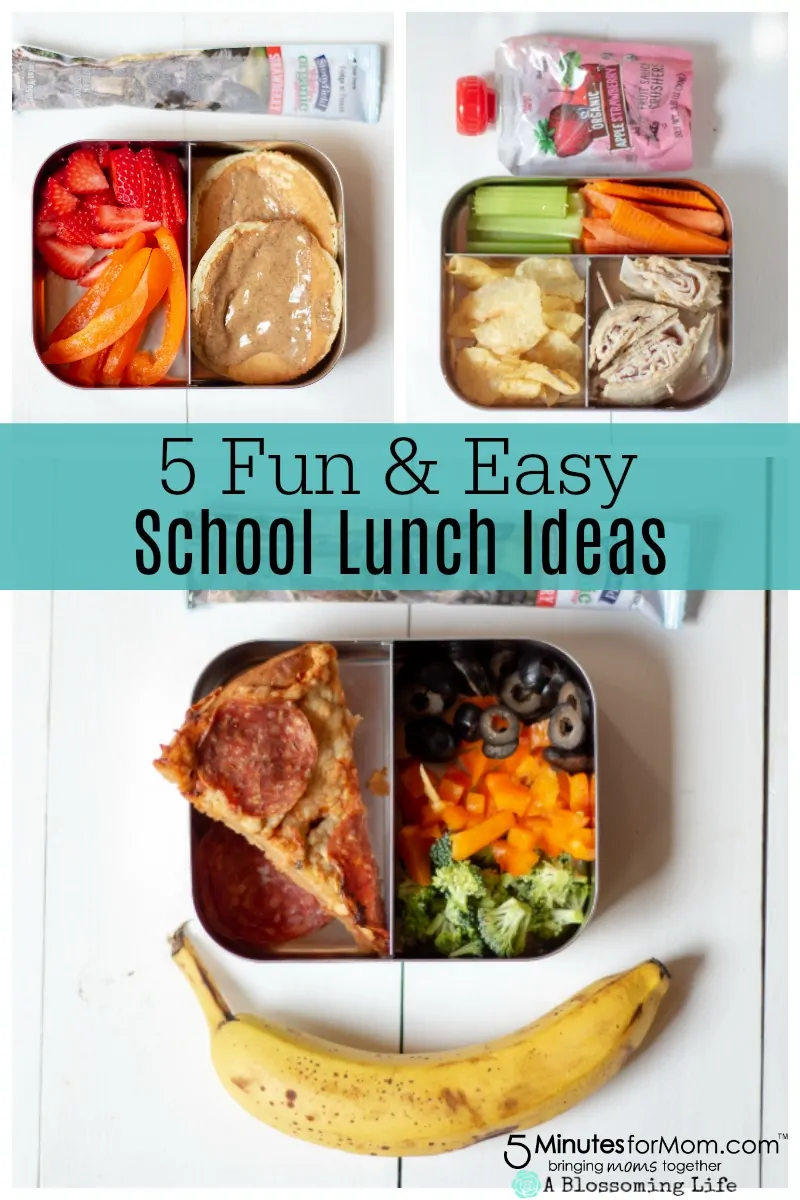 It's just about time for back to school! Where the heck did the summer go? Seriously though, it went by in a flash!
School lunches can become really boring and not so fun, so we thought we would give you a few ideas to keep it fun, healthy, and not so redundant.
Here's the thing… mornings are hard and the last thing you want to do is create really difficult lunches. Who has time for that? So all these school lunch ideas we are sharing are going to be easy. Remember that you don't need to make extravagant lunches for your kids. It is all going into their belly anyway. Give yourself some grace.
Every year, I see a meme go around about school lunches. First week of school the kids get amazing lunches with adorable notes… last week of school they get a apple, bag of chips and some chewing gum. A little extreme, but it can feel that way right? So these are simple enough to make that you won't get tired.
When planning lunches I always try to include a starch, protein, fruit, vegetable and fat. Proteins and fat help keep your child fuller longer and fat helps with brain development, so I always try to add healthy fats.
A few ways to make school lunches simpler:
Don't make everything from scratch.

Use store-bought guacamole or hummus : dips/spreads can make lunches more fun, flavorful, and less boring.

Use leftovers! Make extra pancakes, waffles, pasta, chicken, etc to add to school lunches.

Prep and keep things on hand in the freezer like pancakes, quesadillas, pre-cooked pizza etc.

I also like to keep yogurt in the freezer to easily pop into lunches and they will be thawed in time for lunch.

Keep lunch supplies in one handy spot. Place all lunch boxes, containers (lunch bots are my favorite plastic free container), and even shelf stable food in baskets in the pantry making it more convenient to make lunches.

Pack lunches the night before so you're not rushing around throwing lunches together in a rush.
5 Fun and Easy School Lunches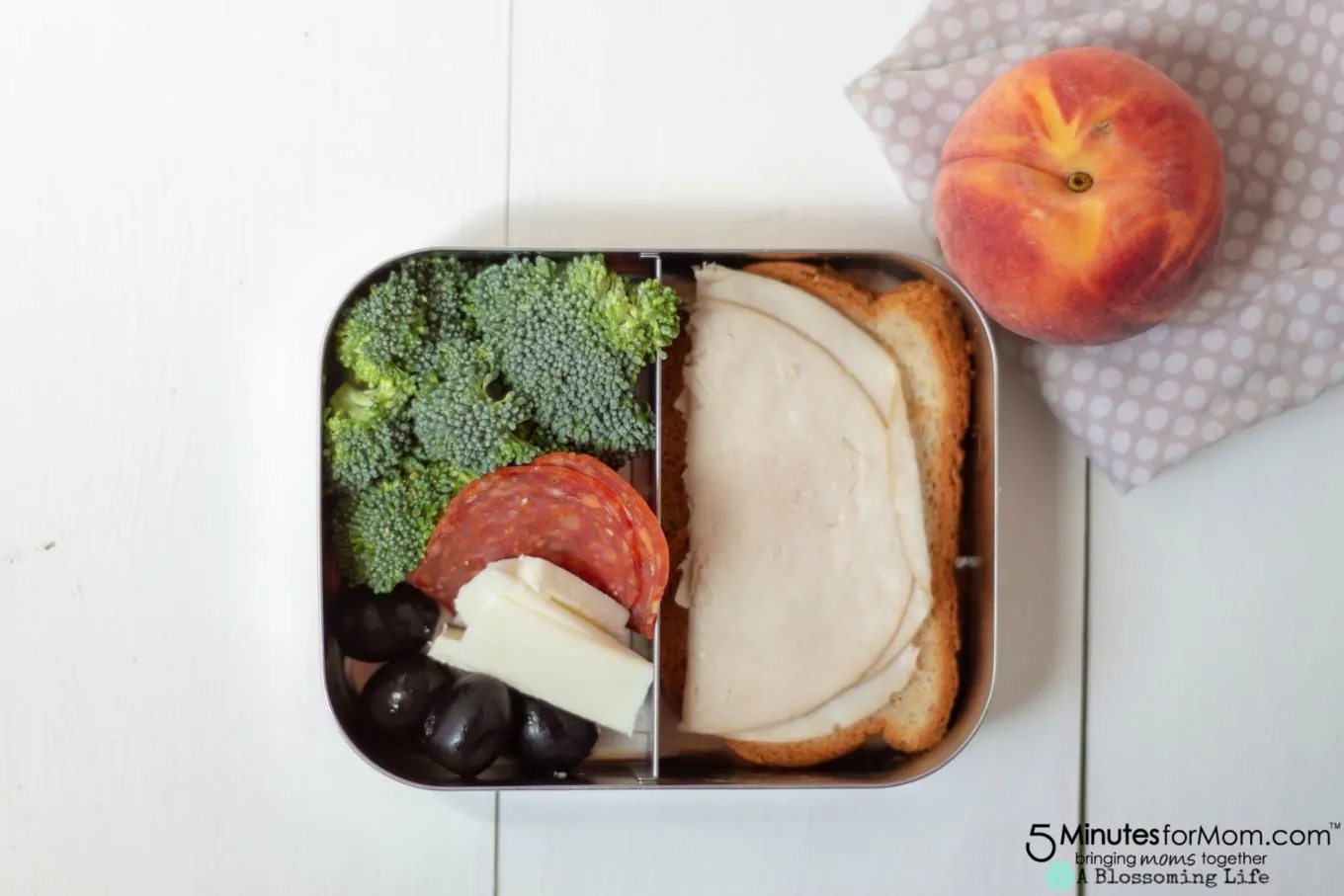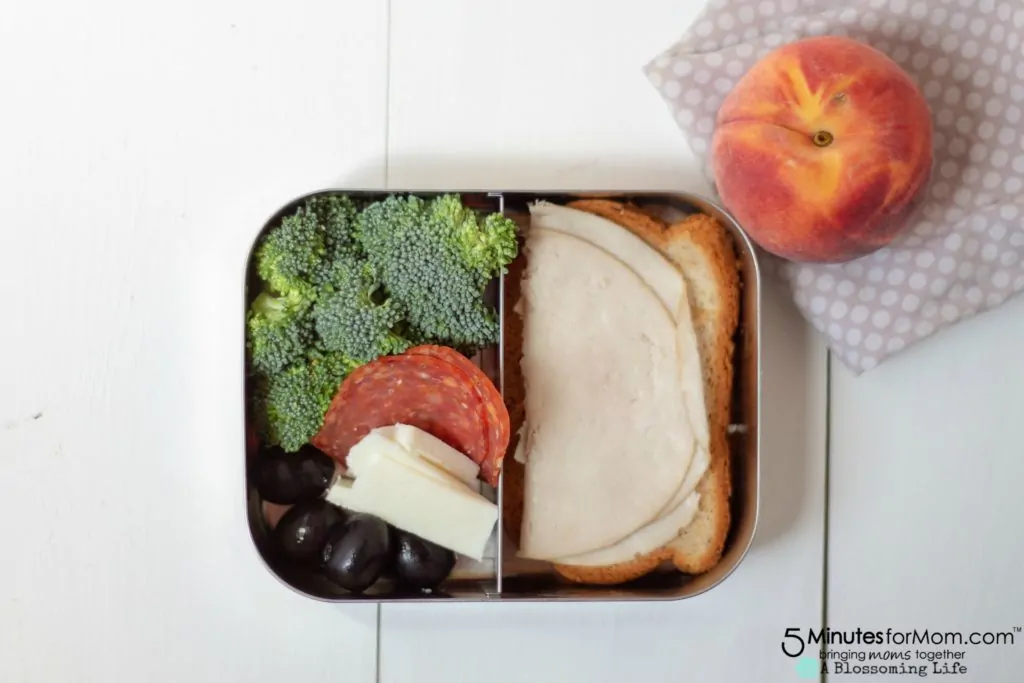 1. Turkey Monsters with toast, olives for eyes, pepper smileys and broccoli for hair paired with a peach. I placed everything on the side so the child can create their own turkey monsters. Add a note to tell them to create a funny face.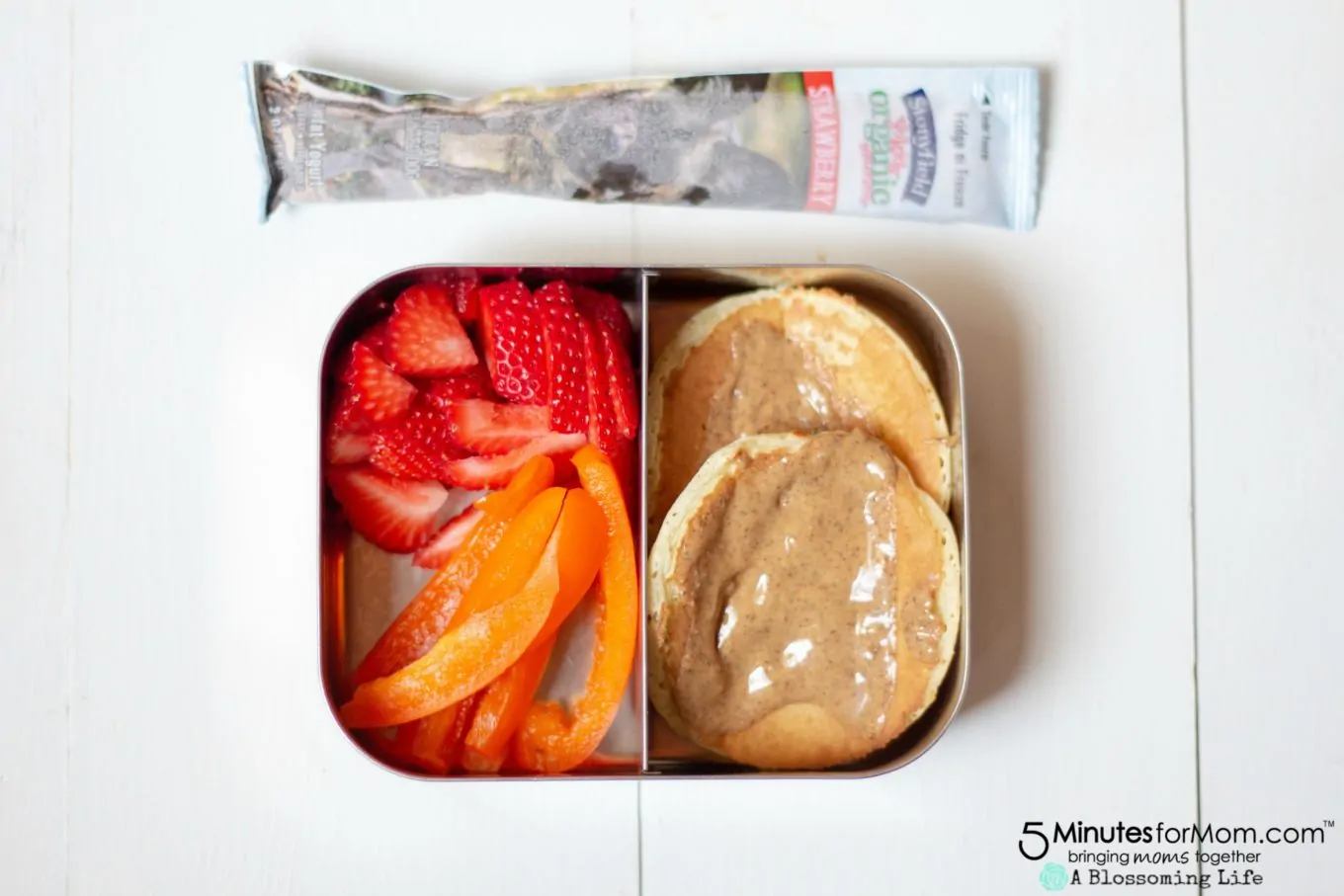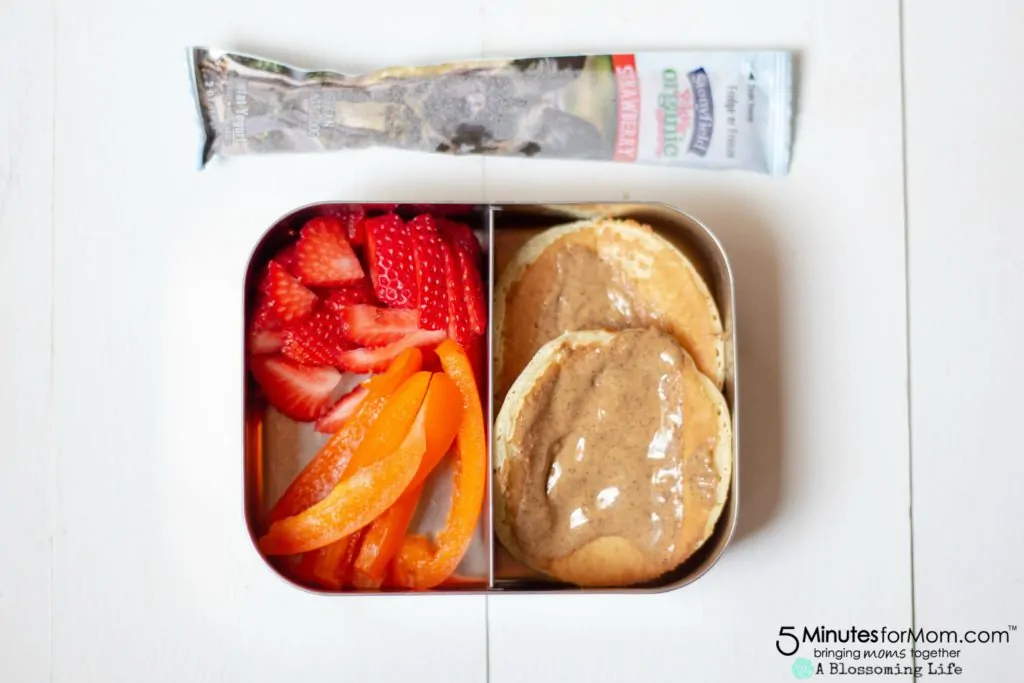 2. Create You Own Pancake (or waffle) Tacos with pre-made pancakes or waffles (homemade or store-bought), nut butter, yogurt, and toppings like sliced strawberries, berries, etc. with carrot sticks, celery or sliced peppers.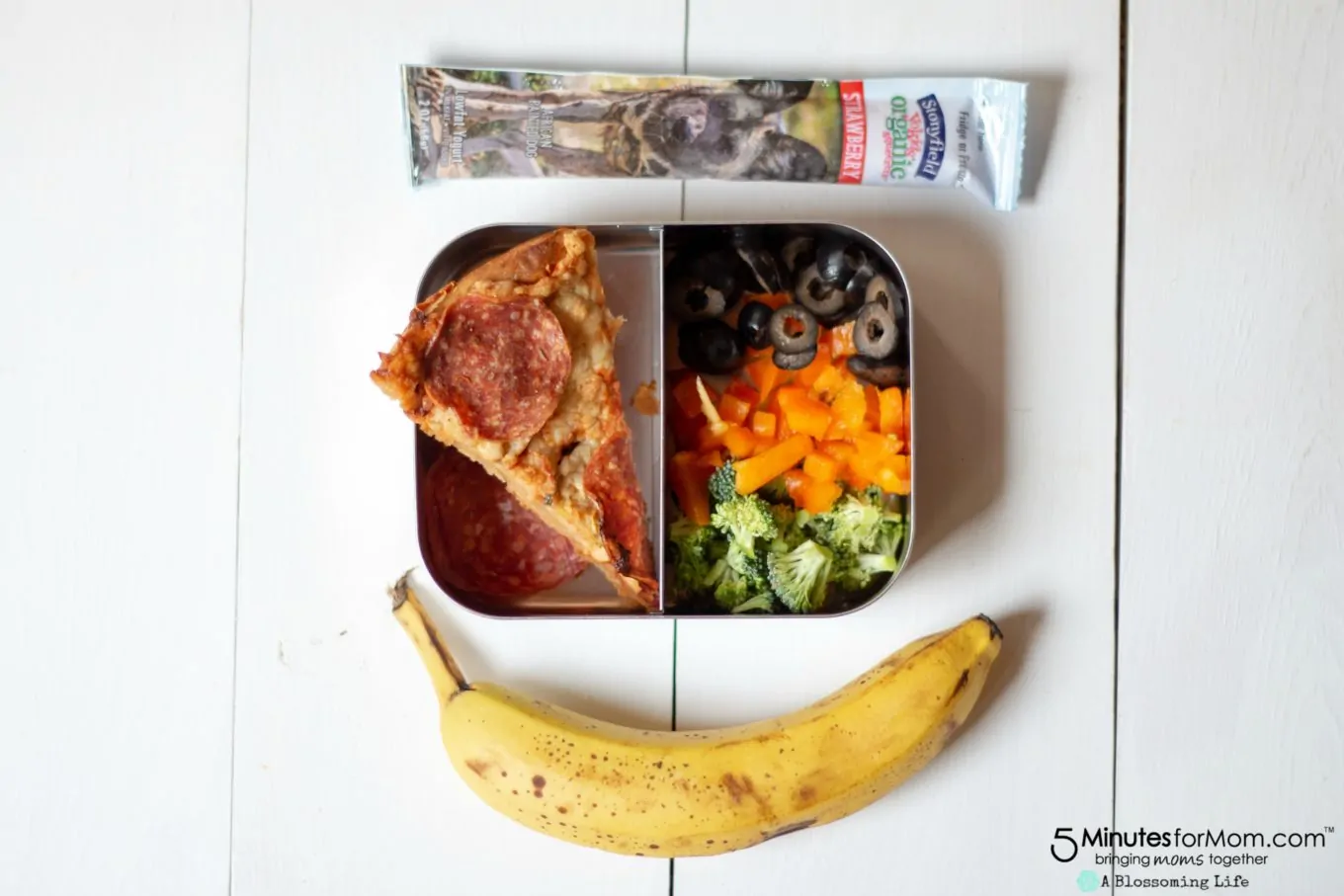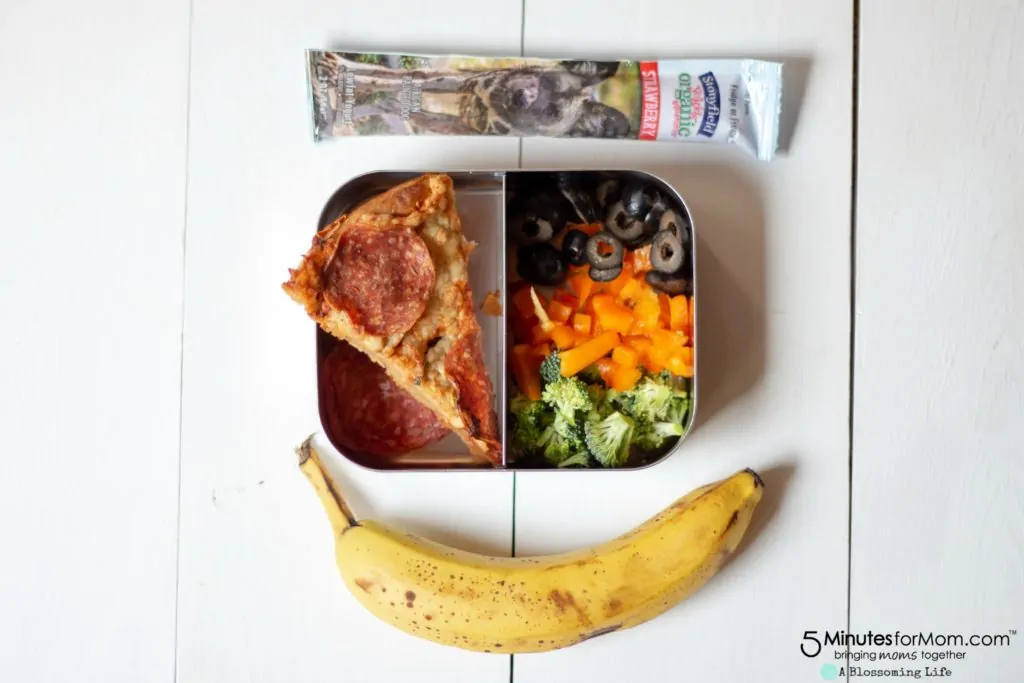 3. Top Your Own Pizzas – a classic take on the Lunchable, but here I utilize homemade leftover pizza that has already been baked and placed extra toppings (olives, peppers, broccoli) on the side so kids can add more toppings themselves. Paired with yogurt and a banana.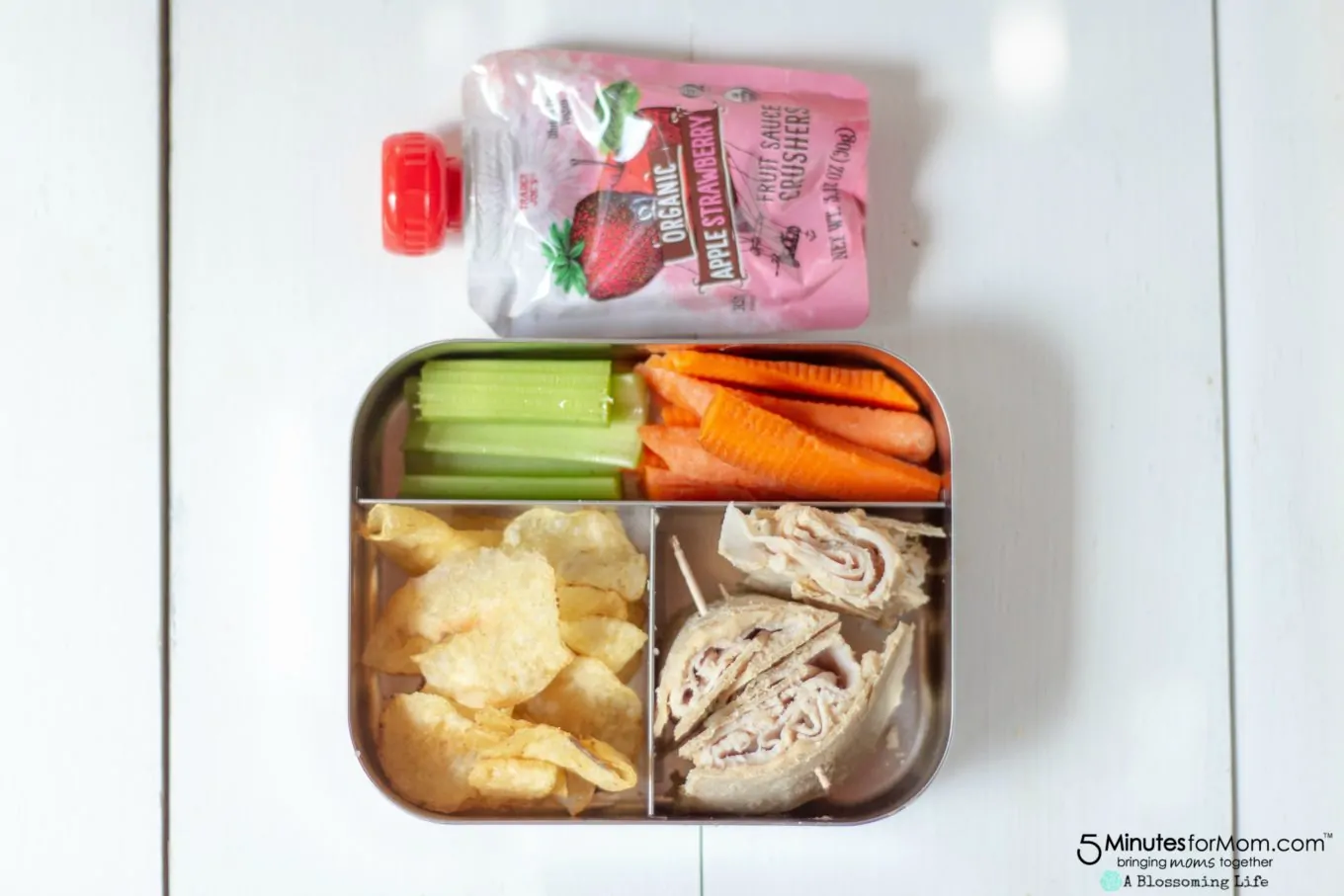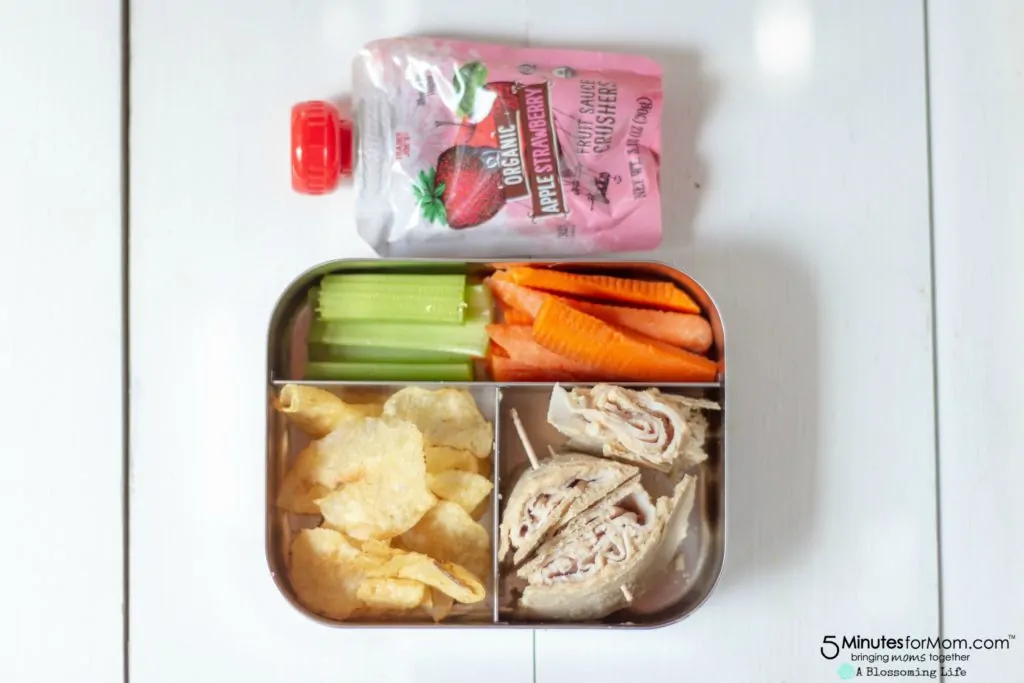 4. Turkey pinwheel with hummus (or guacamole) and cheese paired with celery, carrots, chips, and a applesauce pouch.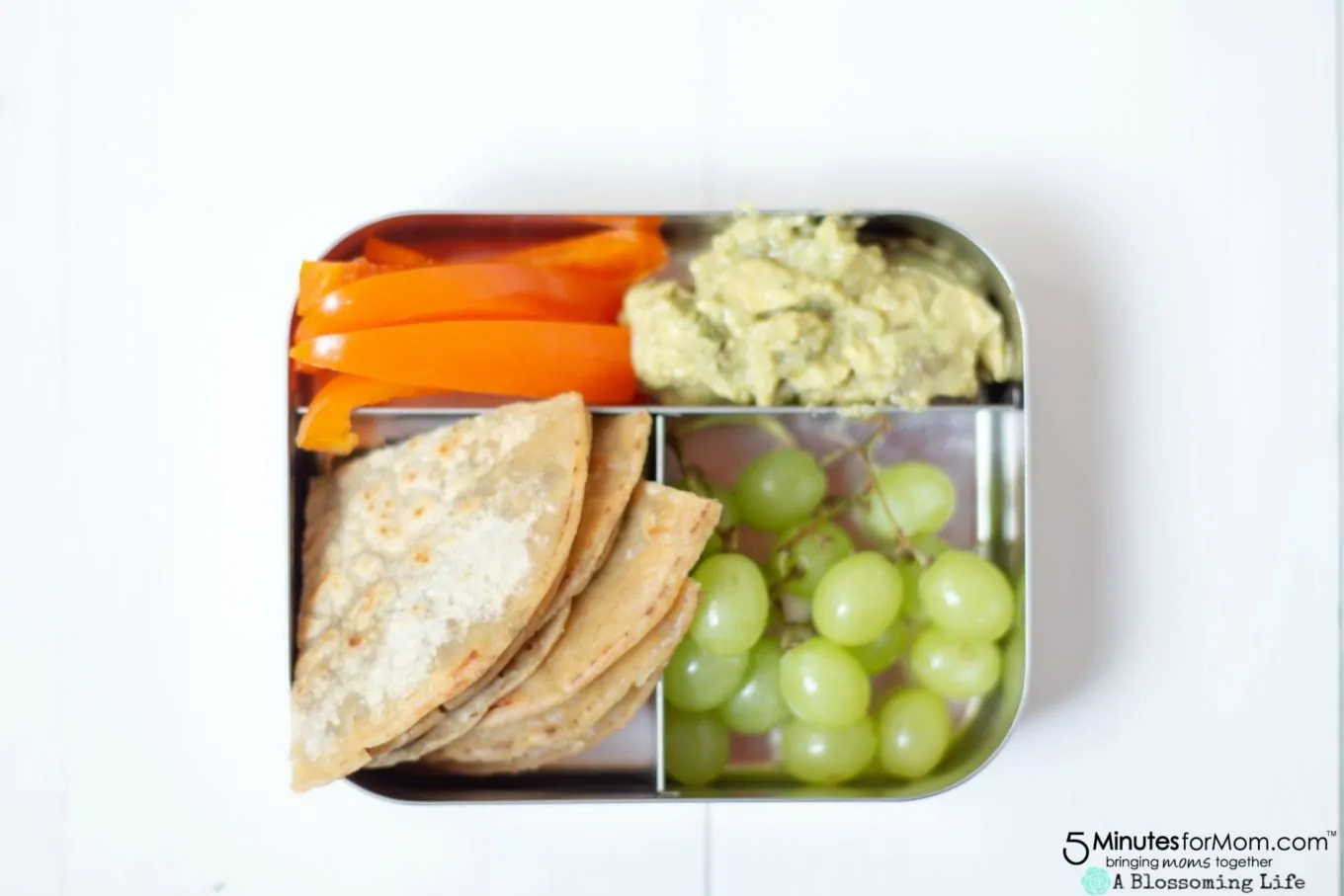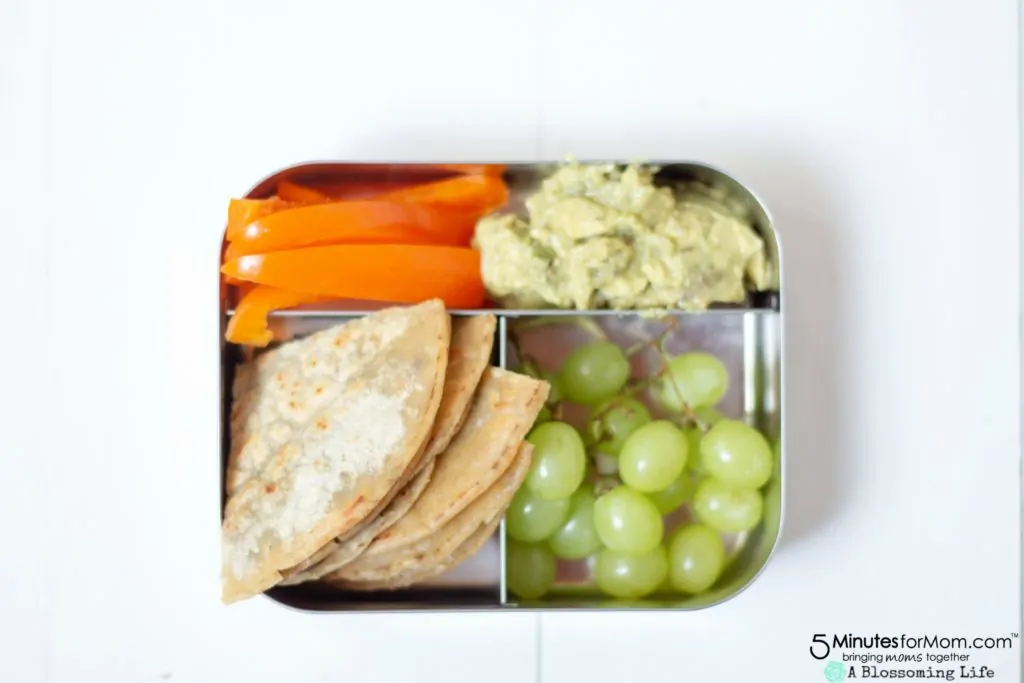 5. Black Bean And Cheese Quesadilla – You can actually prep these ahead of time and stick them in the freezer. Include extra toppings, guacamole, salsa, a veggie (like peppers) and of course a fruit.
Another take on these would be to do a apple or pear cheese quesadilla. Apples and pears with melted cheese is so good.
15 More Ideas For Easy School Lunches
Pasta salad with cheese and veggies with an apple
Pesto chicken pasta with watermelon.
Veggie pitas – place your kids favorite veggies in a pita with some ranch and leftover chicken or lunch meat (optional) with cantaloupe.
Grilled cheese- with carrot sticks, and grapes.
Yogurt parfaits – yogurt with granola and toppings. Use low sugar toppings and add nut butter for protein.
Soups – With a thermos you can keep soups hot until lunch. Include some bread or crackers with and apple for a whole meal.
Peanut butter (or nut butter) and banana wraps with pepper slices.
Veggies and dip with crackers and fruit.
Beans and Rice with veggies and an applesauce pouch.
Muffins with nut butter, yogurt, strawberries, and a veggie.
Spring rolls with rice noodles, veggies, and meat with a pear on the side.
Kabobs with veggies, leftover meat, and cheese with a plum on the side.
Cheese and lunch meat with carrots, peppers, celery and berries.
Hard boiled eggs, salad, and a peach.
Chicken, bean, cheese, and rice burritos, with a fruit.
I like the idea of just throwing a few ingredients together and letting kids get creative with their own lunches. These types of easy school lunches can be more fun for them to eat while they are at school.
Allowing them to help make something also helps that want to actually eat the food you packed.
What are your favorite school lunch ideas?
More Healthy Eating Ideas For Kids