This post may contain affiliate links. Read my disclosure policy here.
My kids go back to school next week and that means I need to get back in the lunch making groove… Thanks to Snack Pack for sponsoring this post.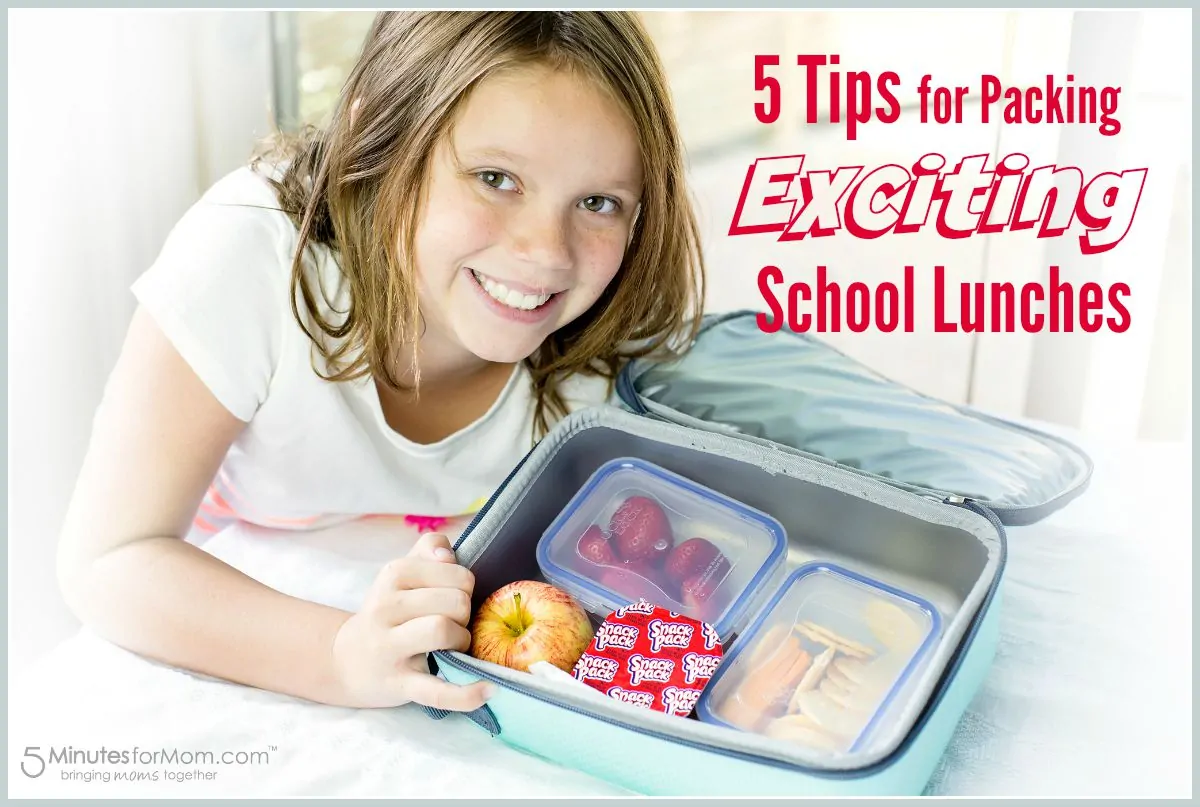 When it comes to parenting challenges, feeding my kids is right up at the top of the list.
With one extremely picky eater seven year old daughter and one ravenous teenage son, I feel like I am in a constant loop of preparing meals and snacks, trying to get kids to eat, and cleaning up after. Then hit repeat. With barely a moment to breathe between.
My daughter would prefer to live on milk, popcorn, and any form of sugar, and my son inhales food faster than I can stock it in the refrigerator.
So making school lunches that my daughter will actually eat and lunches that will fill up my son and keep him going all day is quite a challenge indeed.
I have to tailor their lunches to their individual tastes and appetites.
Livvie's lunches are smaller and gluten free because she is borderline celiac.
Jackson's lunches are much bigger, with hearty soups or sandwiches and extra fruit and protein filled snacks such as string cheese.
Sometimes we get into a school lunch rut and I am desperate for some help to pack exciting, healthy, and delicious school lunches.
When those times hit, here are a few things I do to get us out of the rut and into better school lunches…

1. Get Inspired
Making school lunches is one of my least favourite chores.
But, since feeding my children is a requirement of parenthood, I can't hold up a white flag and surrender my duties.
So, if I have to do a task, I might as well try and have some fun doing it and get a bit creative.
Now, don't get me wrong, I am not suggesting that every lunch you pack needs to have fruit carved in the form of your child's favorite anime character or that you should feel inadequate when you look at Pinterest photos of bento lunches that could grace the cover of a magazine.
But, clicking over to Pinterest and reading bloggers ideas about what they pack in school lunches can get you and your kids inspired for a new school year of lunch making duty.
If your kids love Pinterest like my daughter does, you can even get them to make their own board of lunch ideas and get them more involved in making their own lunches.
2. Steal Another Kid's Lunch
Okay — of course don't get your child to actually steal another child's lunch.
But get them to "borrow" some ideas from them.
I ask my kids what are other kids eating in their lunches that they would like to try.
Sometimes it can help me to find new foods that my kids are interested in trying or items they wished they had in their lunch that I had simply not thought of buying.
3. Think Outside the Sandwich
My daughter is not only an extremely picky eater, last fall she was diagnosed as borderline celiac.
So making traditional sandwiches is really not an option for her. (And she refuses to eat gluten free bread.)
While my teenage son does love a ham and cheese sandwiches with lettuce, tomato and mustard, I feel terrible if I make him the same thing every day.
So, I try to think outside of the sandwich.
I send foods such as soup, cheese and rice crackers, pita bread or wraps with cream cheese, cereal and milk, or plain yogurt with fresh fruit. (If your child won't go for completely plain yogurt, you can add some jam or mix half plain and half flavoured yogurt together. Olivia prefers her yogurt plain, but my son likes it when I add a bit of jam to his.)
4. Have a Fun Food Option
Kids just wanna have fun!
We all appreciate a tasty treat. To spice up your kids interest in making (and eating) their lunches, keep a selection of fun foods that you and your kids have both agreed upon.
Your kids can choose from this stash to add one treat to their lunch.
One fun food idea are Snack Packs.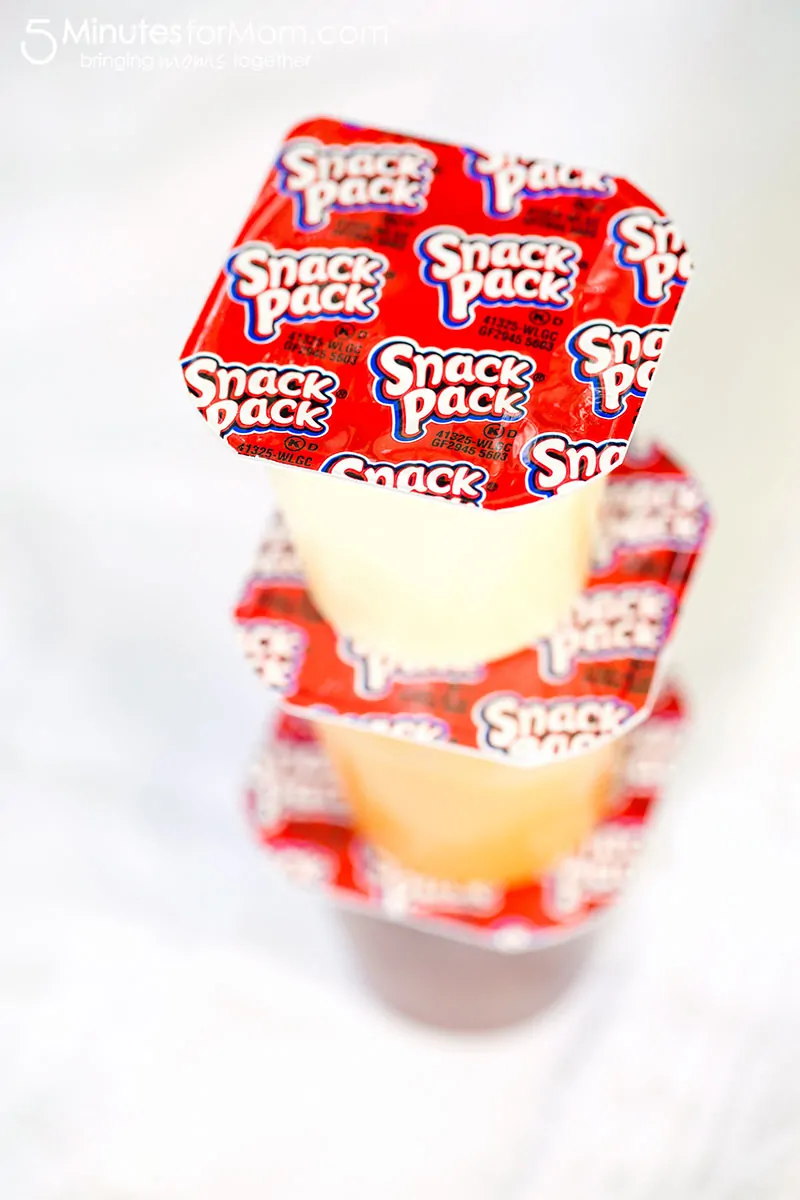 Not only are Snack Packs convenient and delicious, but they are gluten free and contain no preservatives and no trans fat.
And now, with their easier to open lid, kids can easily open their Snack Packs at school or on the go.
5. Update monthly
We all get bored eating the same things.
Every month or so, brainstorm some new lunch ideas or items with your kids to keep things interesting for everyone.
In general, I avoid grocery shopping with my kids.
But when I am in a food rut and need some help with new ideas for their lunches, I take one of them to the store with me and we brainstorm together.
Good luck with your back to school lunch packing — and please share with me your lunch making ideas and tips. I am always looking for more ideas and inspiration…
Check out the Snack Pack website and Facebook page for fun recipe and snack ideas.
PIN FOR LATER…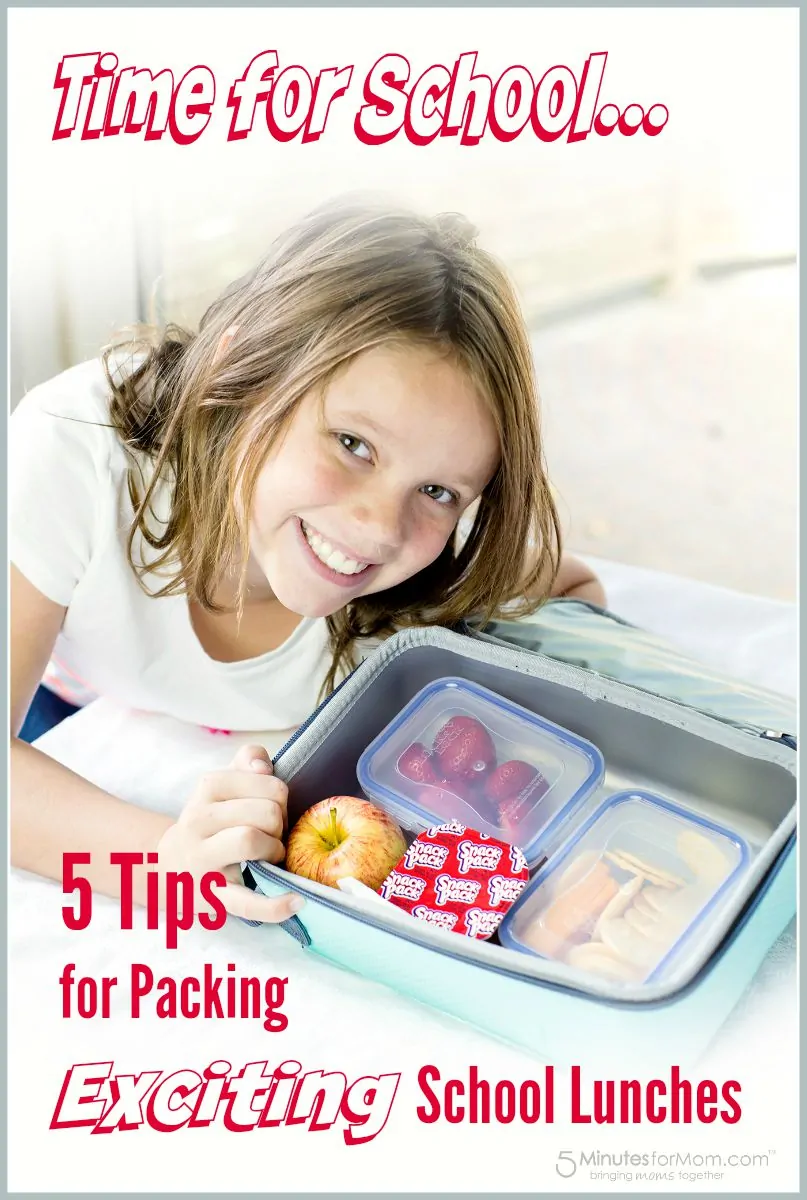 Disclosure: This post is sponsored, but my opinions are always my own.
Written by Janice Croze, co-founder of 5 Minutes for Mom
Talk with me: @5minutesformom and Facebook.com/5minutesformom
Pin with me at pinterest.com/5minutesformom