This post may contain affiliate links. Read my disclosure policy here.
Have you seen fun photos of people posing on scenes of sidewalk chart art? Chalk photography is all the rage and we are going to show you how you can create easy chalk art using spray chalk with your kids. Thanks to Testors for sponsoring this post.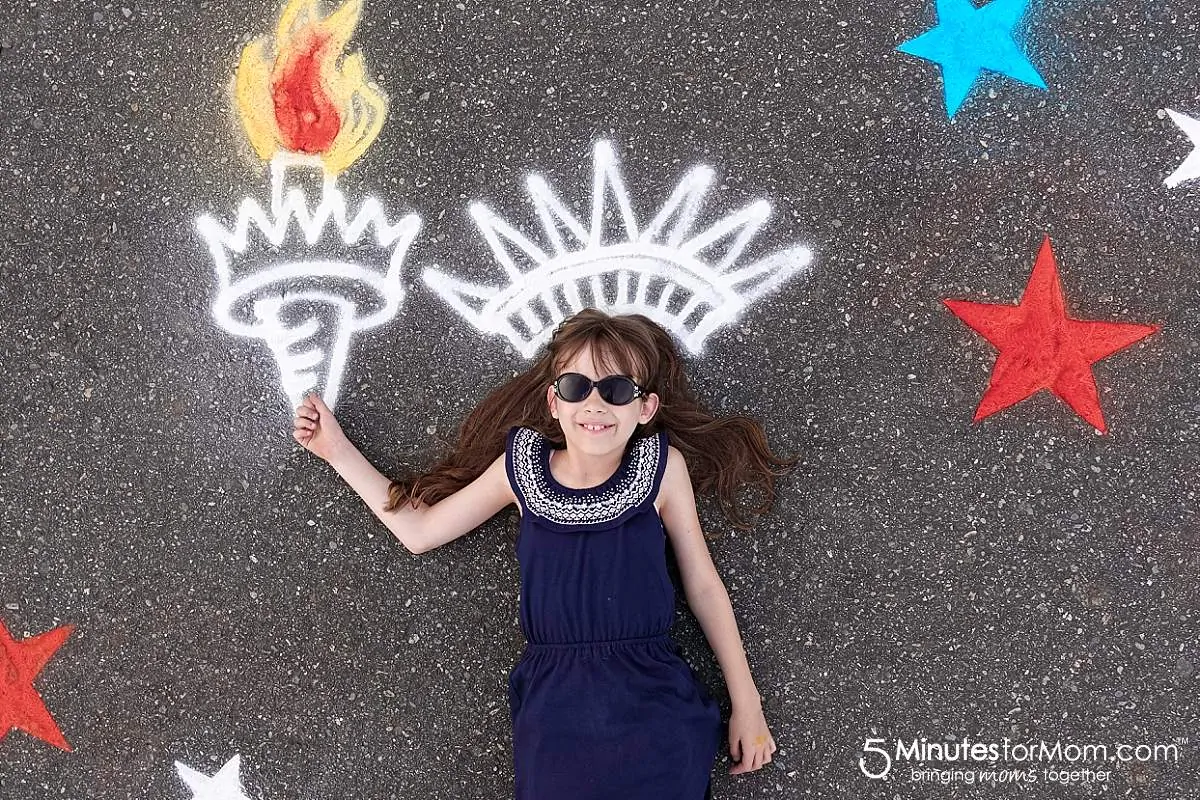 Did you know that you can SPRAY chalk?!? Yes, when you want to make easy chalk drawings, you can skip the regular sidewalk chalk and grab some SPRAY CHALK instead. As we showed you in our earlier post about Spray Chalk Fun, Testors has created a brilliant replacement for traditional sidewalk chalk. And you can see more details on how to spray chalk an American Flag here.
Spray chalk is so fun to use and it is perfect for older kids and teenagers who have may think they have outgrown playing with sidewalk chalk. And spray chalk creates bright and bold colors which is fantastic for chalk photography.
Watch how easy it is to make chalk photography with spray chalk…
With the new Spray Chalk from Testors, you and your kids can quickly and easily create fabulous artwork even where sidewalk chalk can't go because Testors' Spray Chalk works on cement, asphalt, grass, sand, and even snow! Yes, your chalk photography scenes can have so many different backgrounds.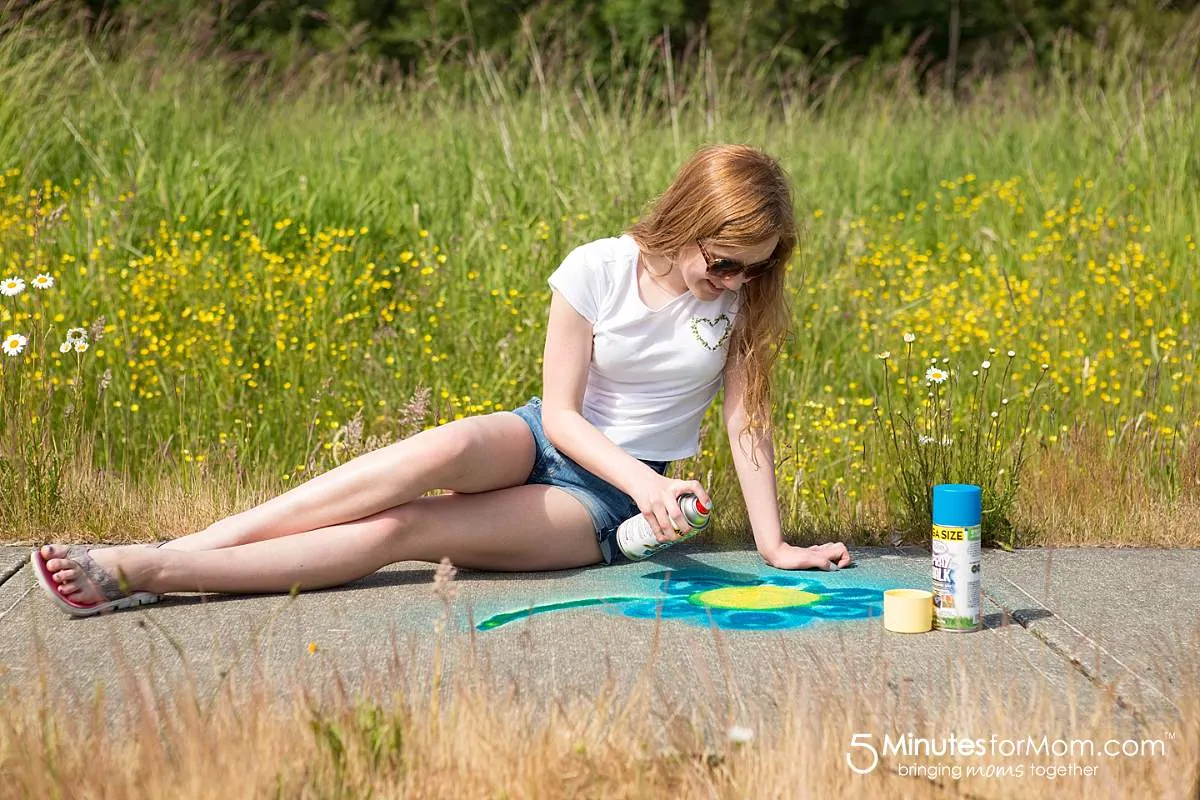 Since it sprays on like spray paint, you and your kids can whip up games to play outside like 4 square, hopscotch, mazes, art contests, and more. Check out our earlier post to see how to make spray chalk racetracks.
Kids can have art contests, create cities and streets for their cars and toys, decorate sand castles, and anything their wild imaginations can come up with.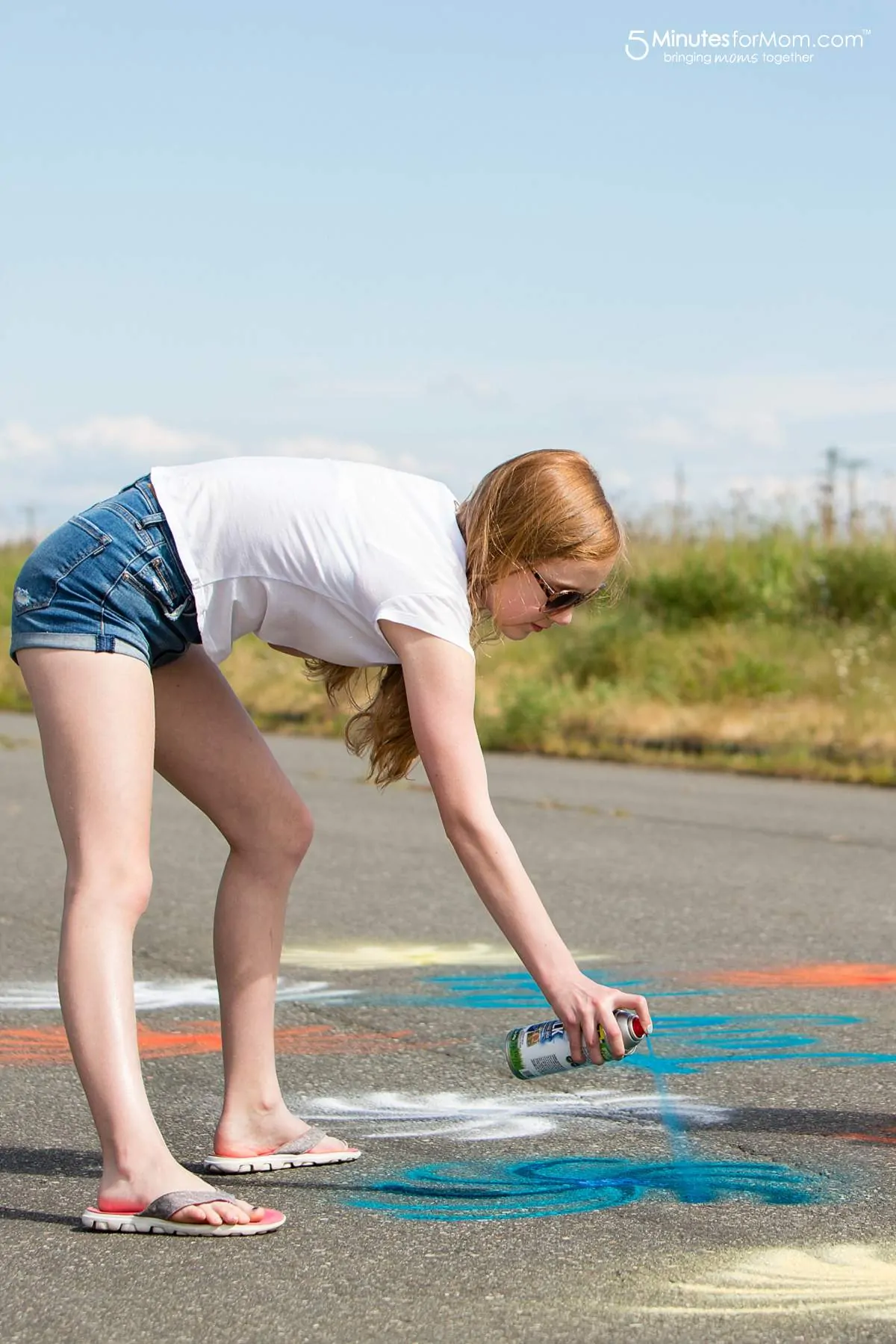 Tweens and teens can push their artistic boundaries and see what amazing works of art they can spray.
And it all washes off in the rain or fades away in the summer sun.
Have You Tried Chalk Photography?
Have you heard of "chalk photography?" It is basically creating an image with chalk on the ground and then photographing it with subjects in the scenes.
Spray Chalk is perfect for "chalk photography."
Your chalk photography scenes can be as simple as a child holding a flower or a bunch of balloons to as elaborate as creating an entire scene with room for multiple people to pose.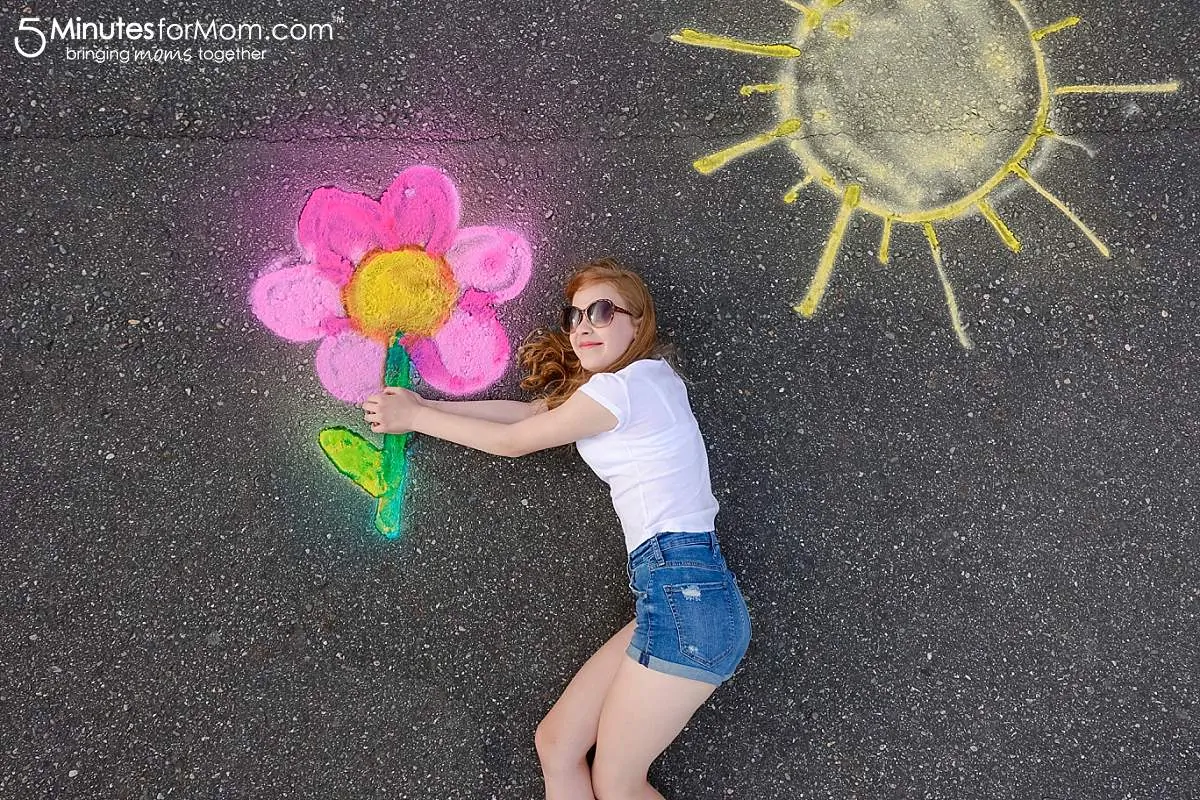 Testors has released a Patriotic set of colors just in time for Fourth of July summer celebrations.
So we tried out some Americana scenes with our girls.
Fireworks and Sparklers July 4th Chalk Photography Scene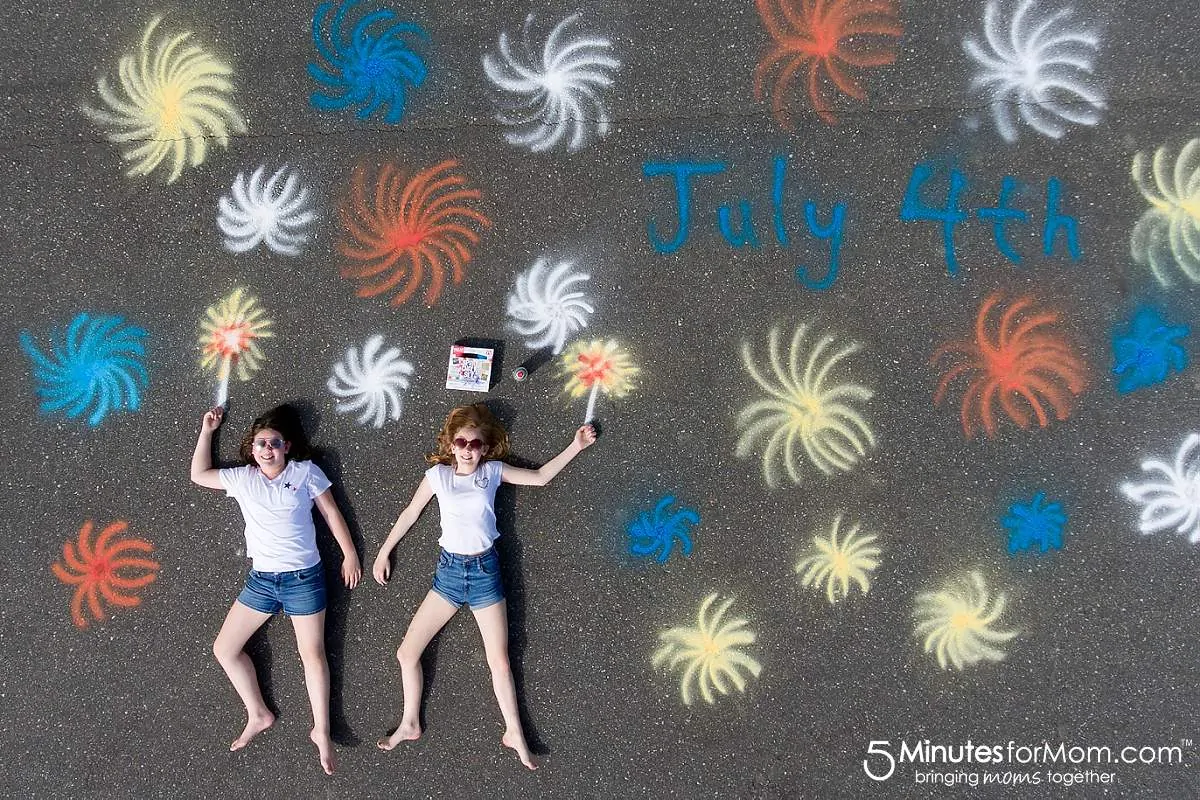 Stars and Stripes Scene Chalk Photography Scene — featuring the American Flag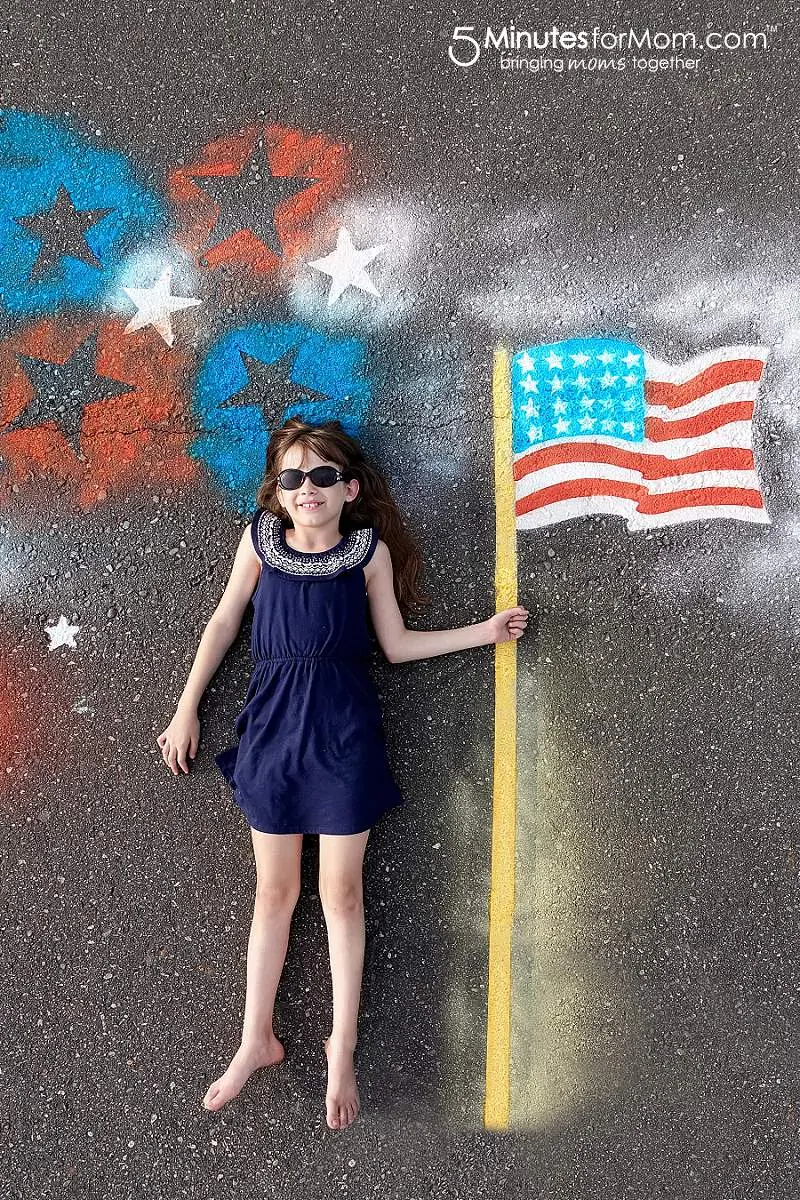 Statue of Liberty Chalk Photography Scene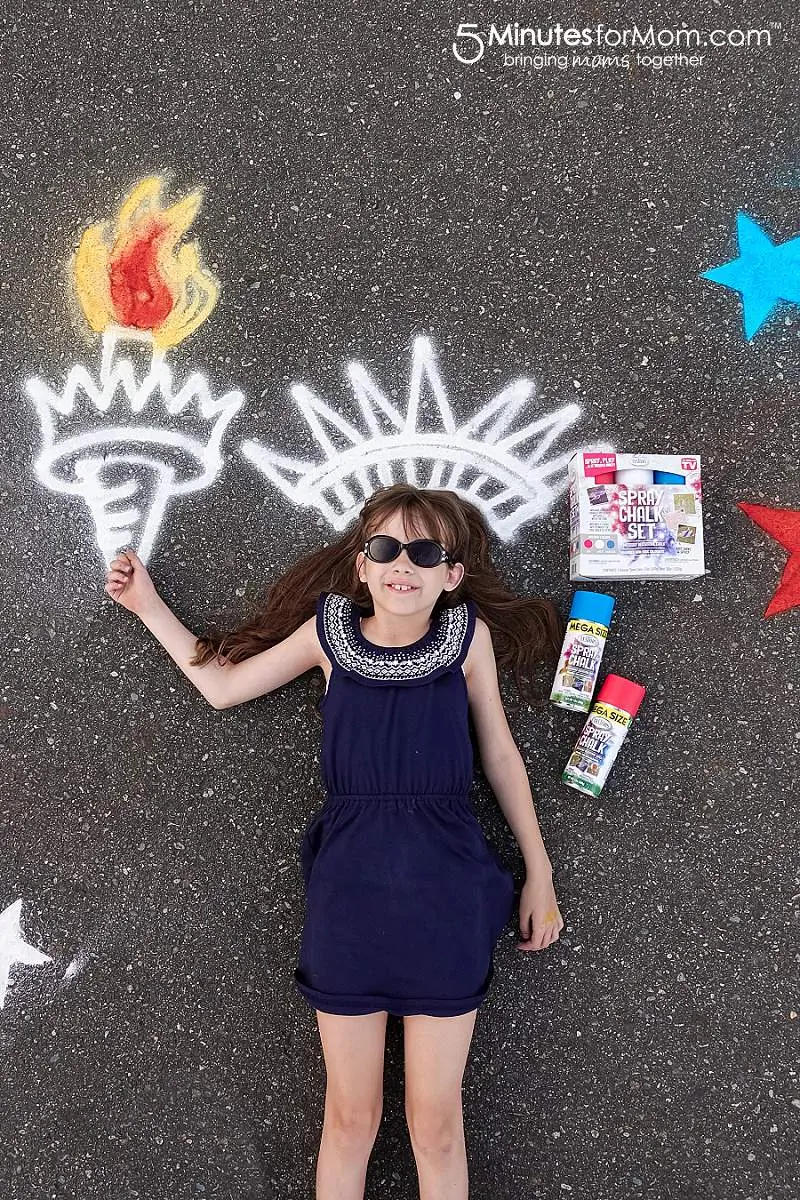 How To Make A Chalk Photography Scene…
1. Find a Safe Space and Mark Your Subjects Position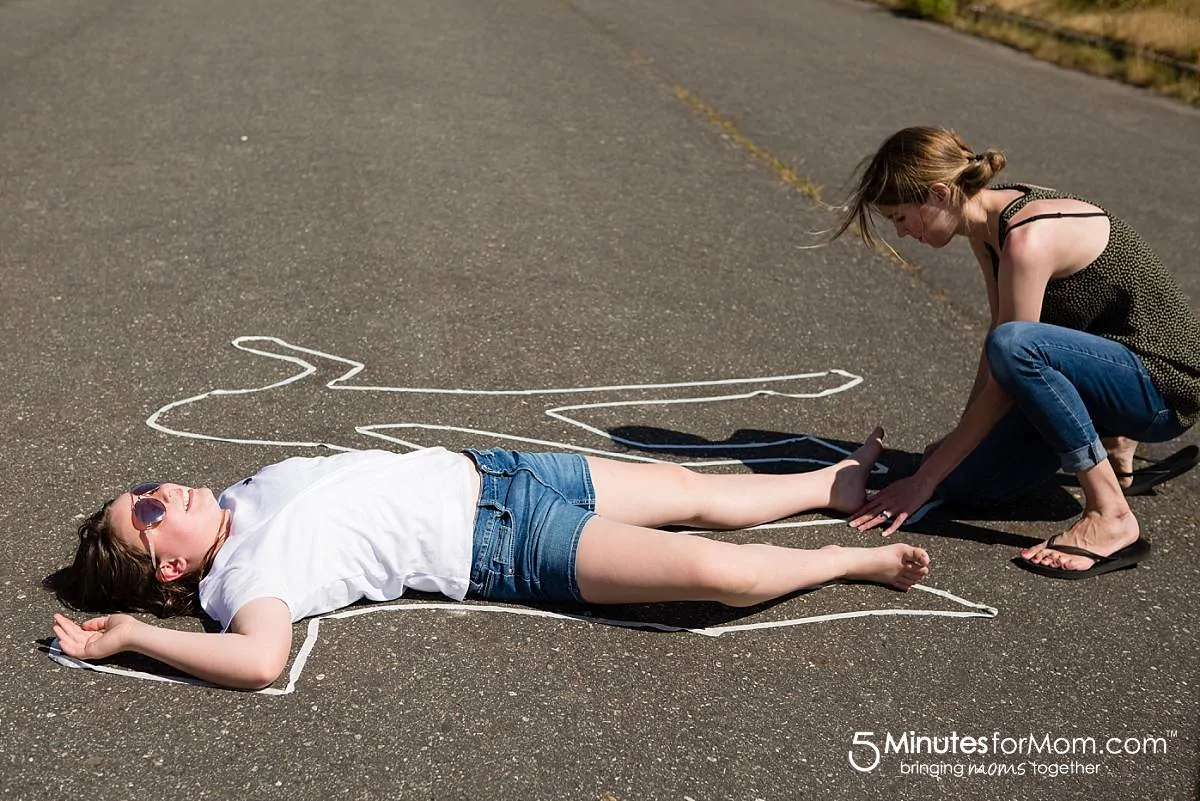 After you dream up your perfect chalk photography scene, find a traffic-free space, driveway, sidewalk, lawn, etc.
Get your subjects to lie down and mark their positions with masking tape.
2. Start Spraying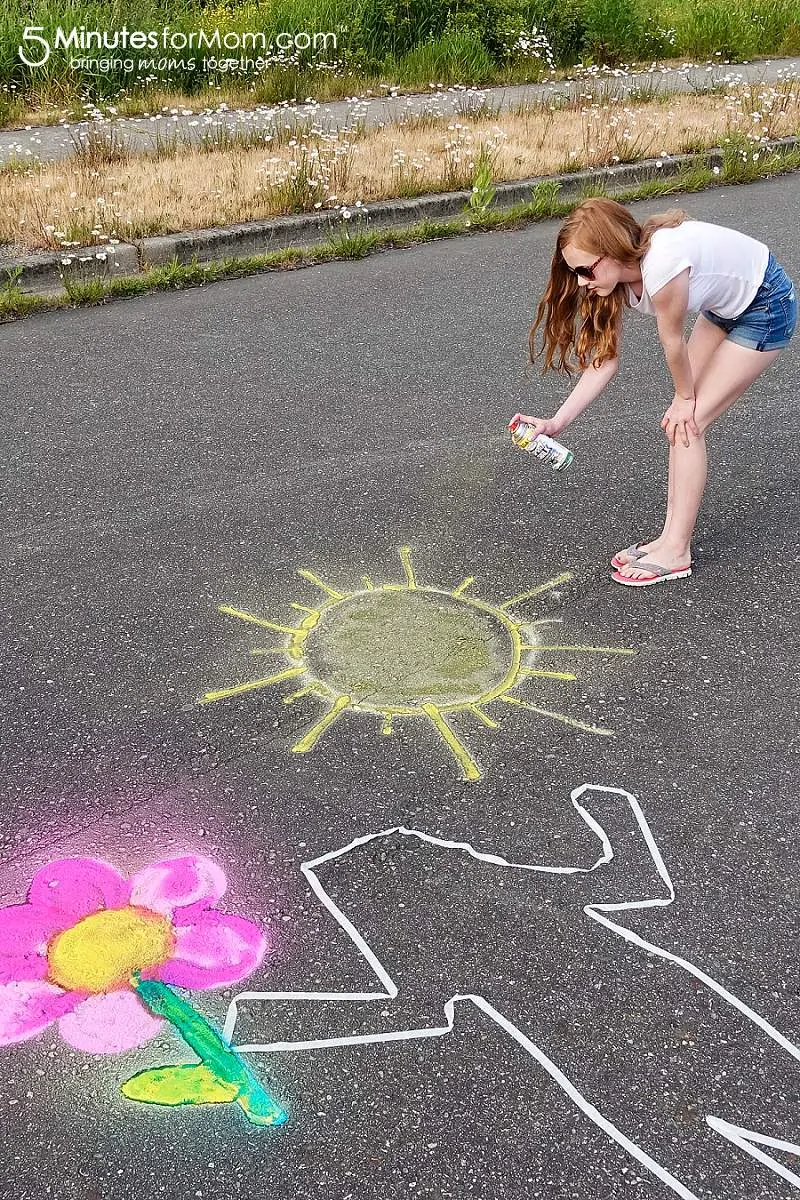 Once you know what you are drawing and where your subjects will be in the finished scene, you can start spraying.
Keep in mind what you want your end photograph to look like and how much your camera will capture.
SPRAY CHALK TIP:
Spray chalk works well with templates to create incredibly easy chalk drawings. Simply draw and cut out templates from heavy poster paper from the dollar store.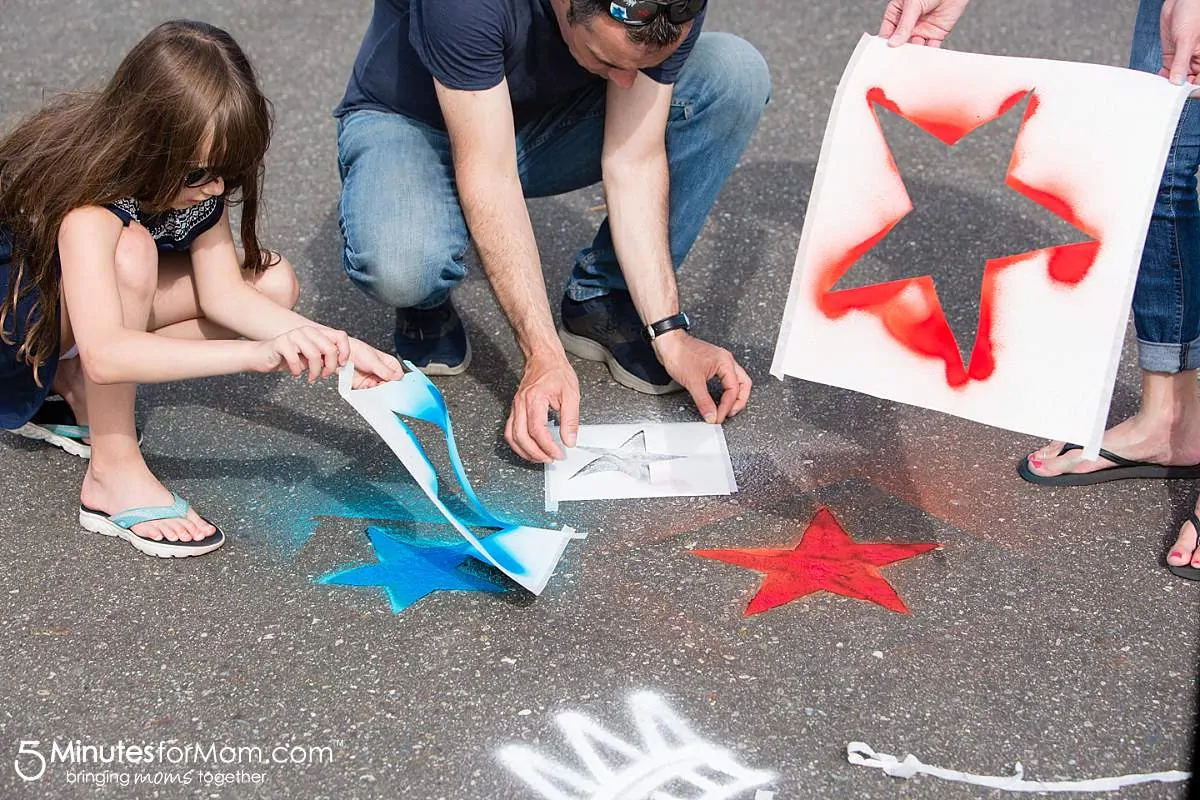 We made star templates…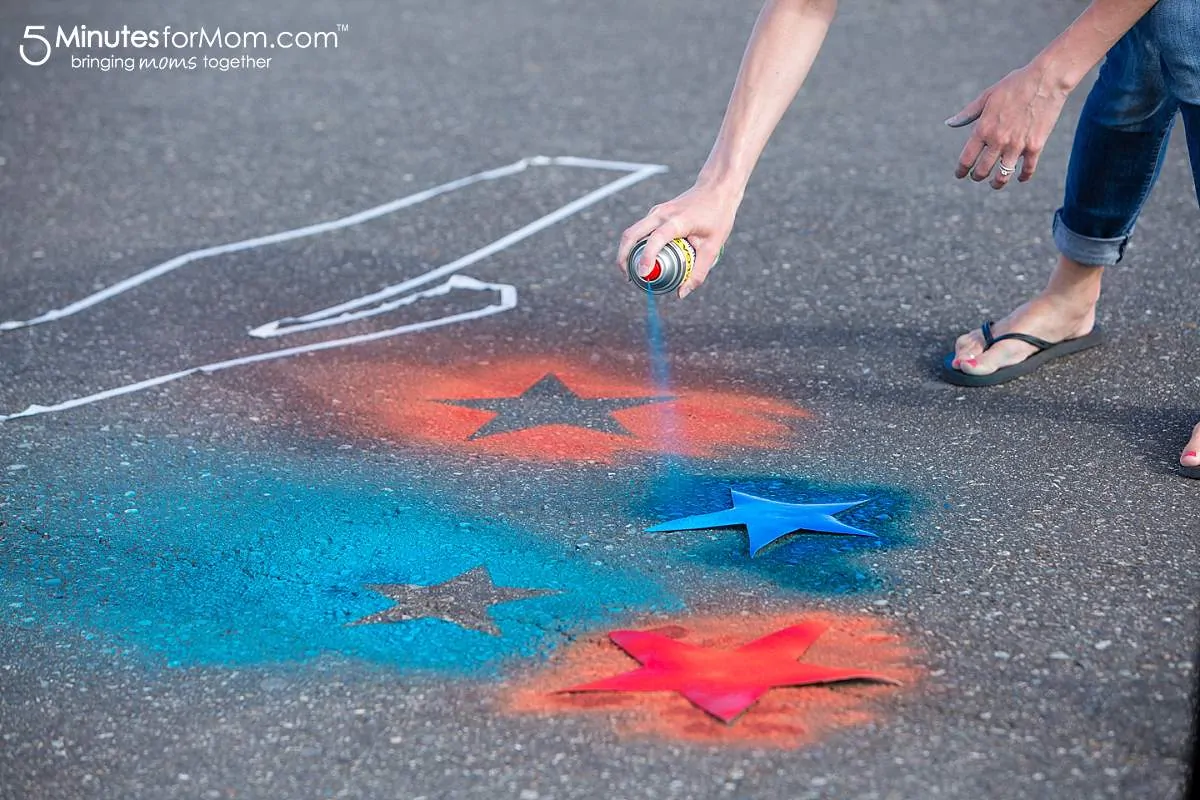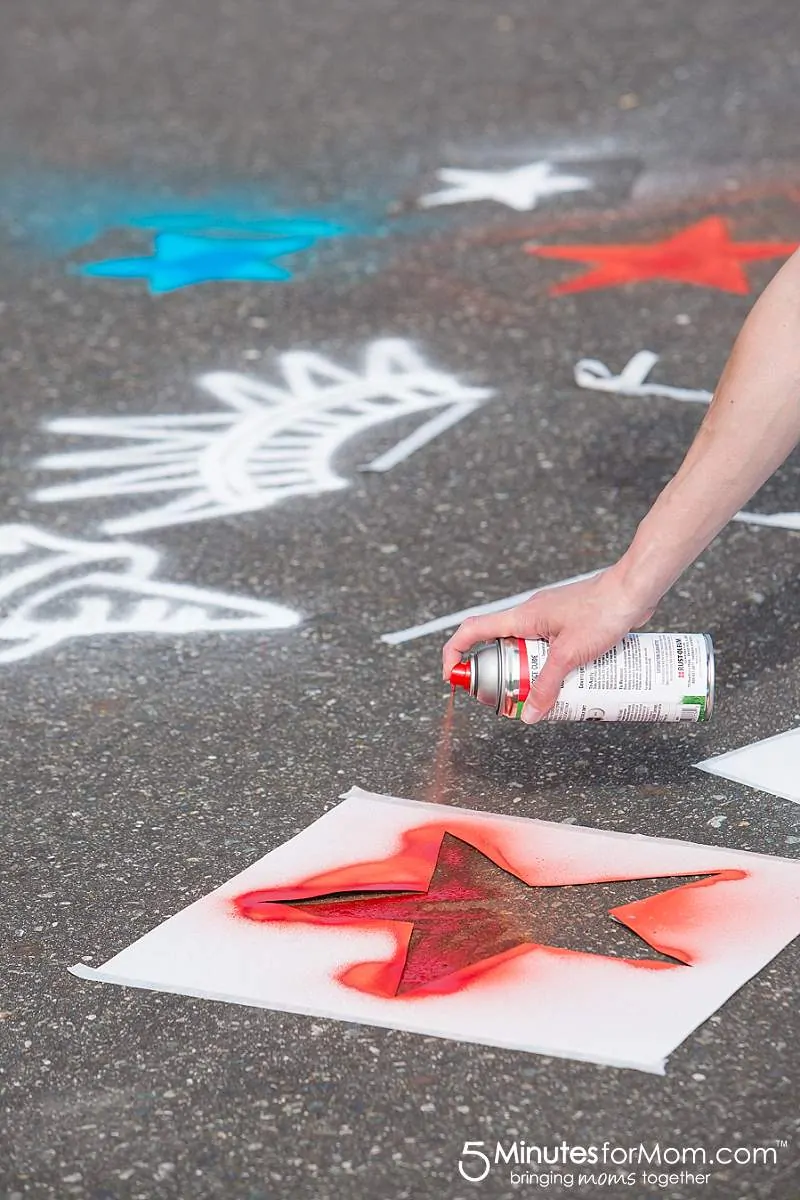 … and we made an American Flag using three different stages of templates.
Check out this other blog post for our American flag template.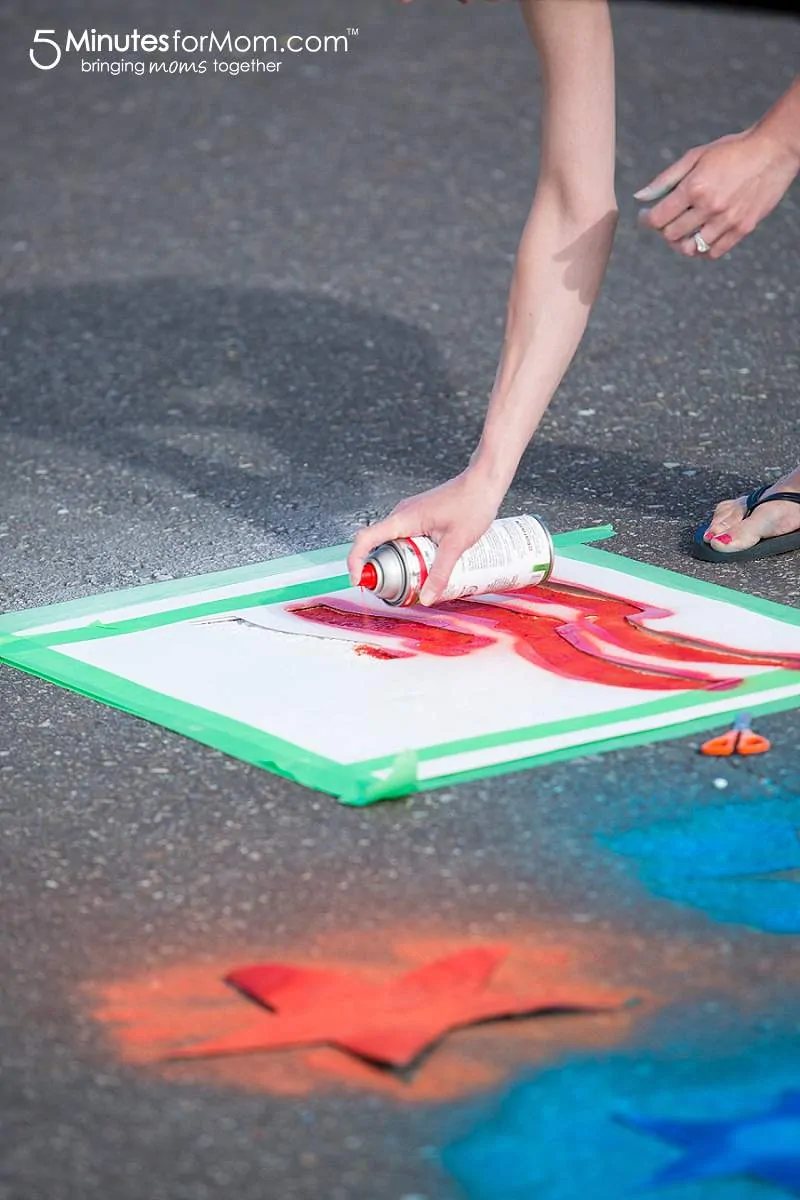 3. Get Subjects in Position and Start Photographing
Once your artwork is complete, it is time to document the magic.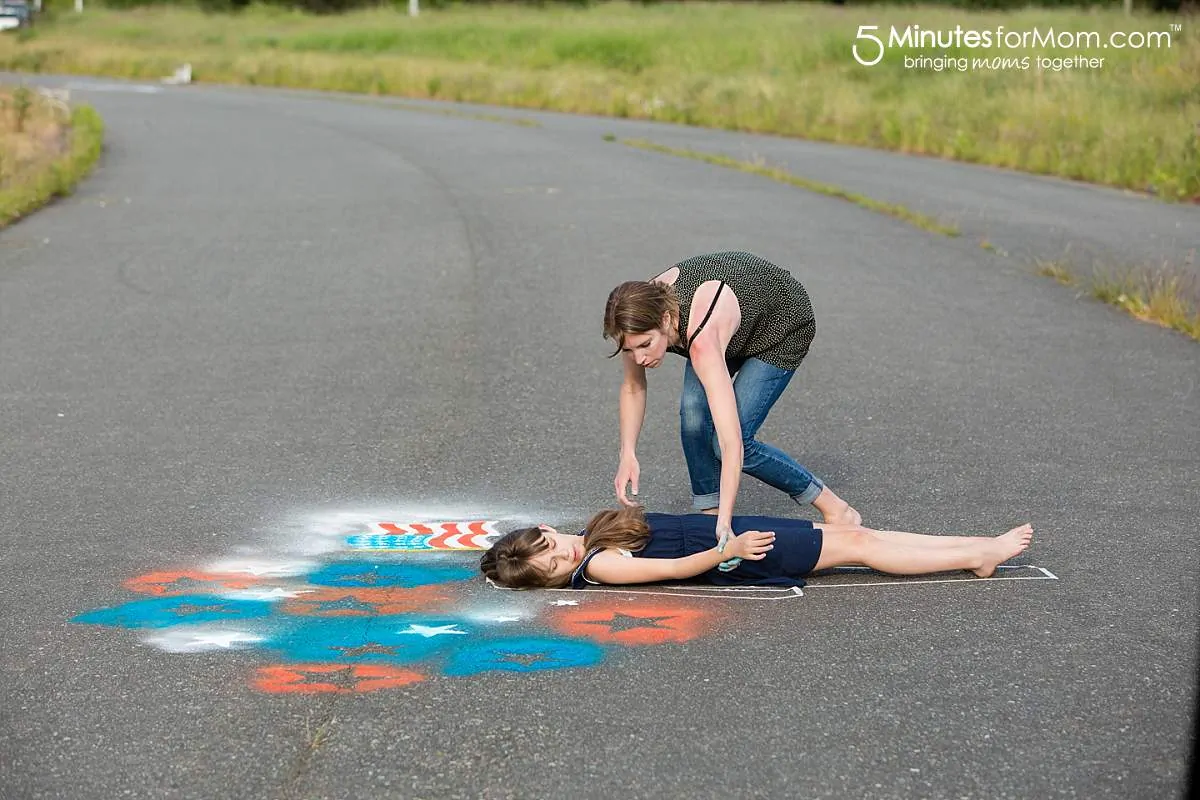 Get your subjects back in position, remove the masking tape and start photographing.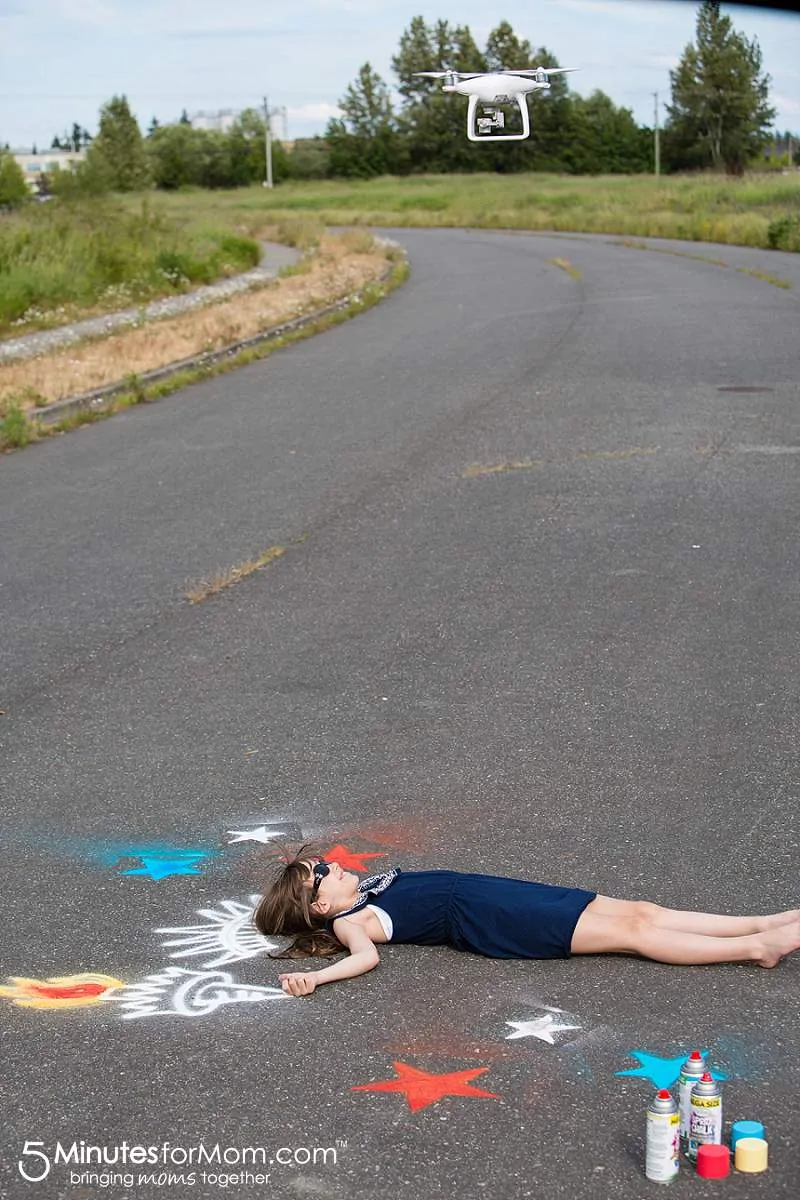 PHOTO TIPS:
To capture your chalk photography scene, you usually want to get the overhead shot.
You can shoot chalk photography with your mobile phone, a Go Pro or any camera with a wide-angle lens.
To get above your subject/scene, you can use a ladder and/or use a boom or selfie stick for extra reach.
After, you can remove the ladder or your feet from your image with editing software such as Photoshop. If you don't have Photoshop, you can use free photo editing software such as PicMonkey to remove unwanted objects.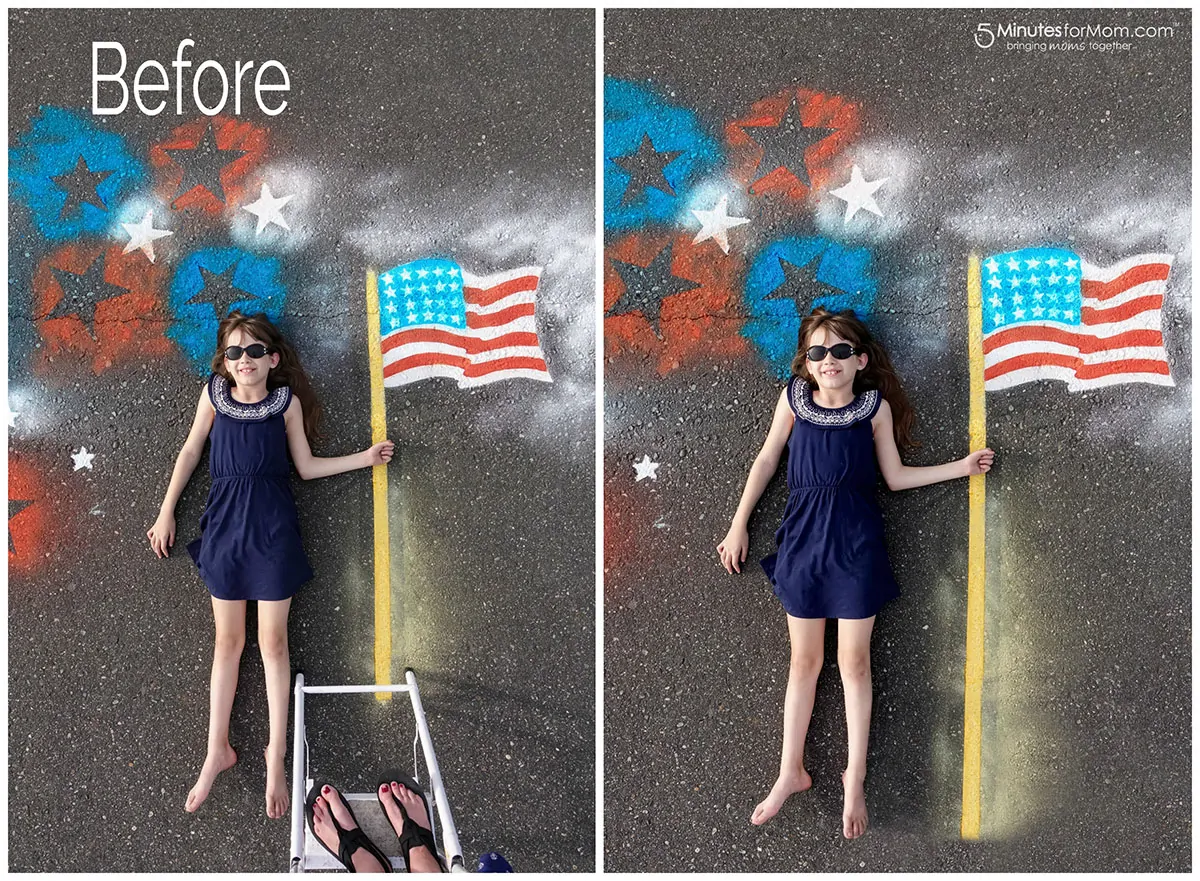 If your image is warped slightly because you are shooting with a wide angle lens and/or you are shooting at an angle, you can use transform and liquify tools in your editing software to get things back in shape.
And if you want to get up really high and photograph a really big scene, you can also do what we did, and call up that friend who has a DRONE…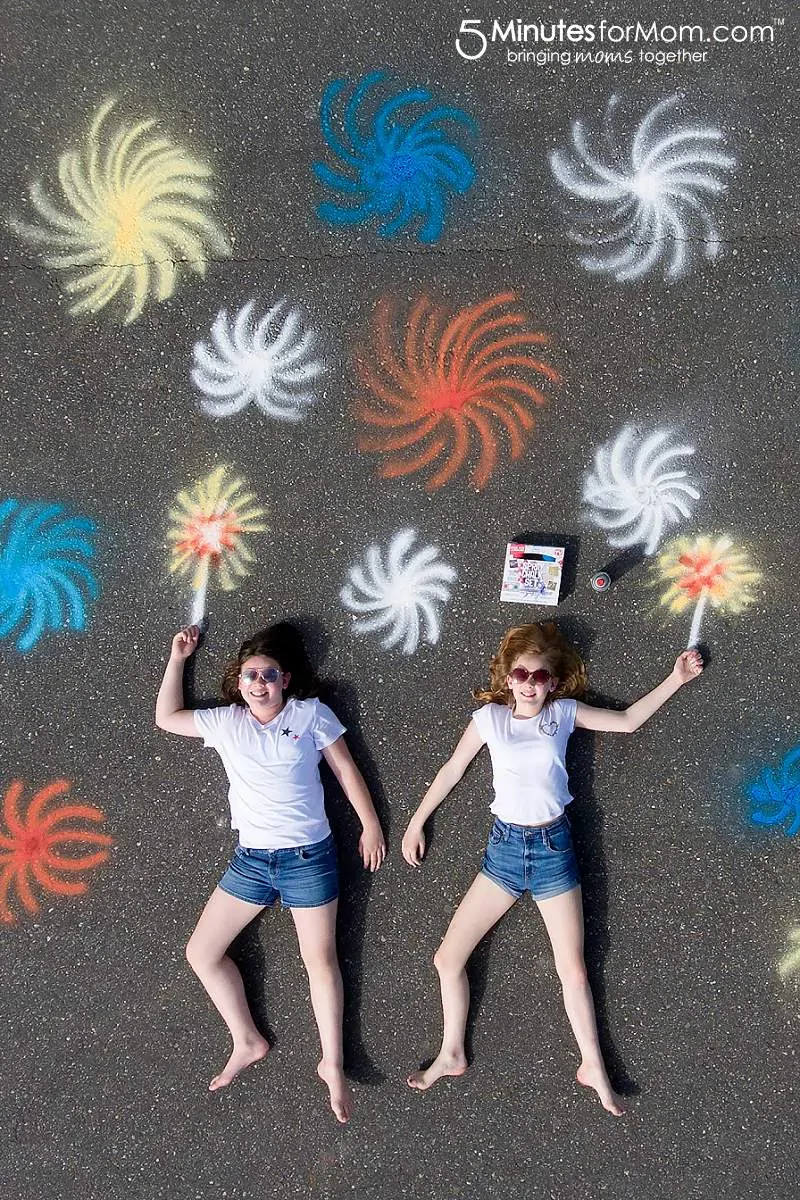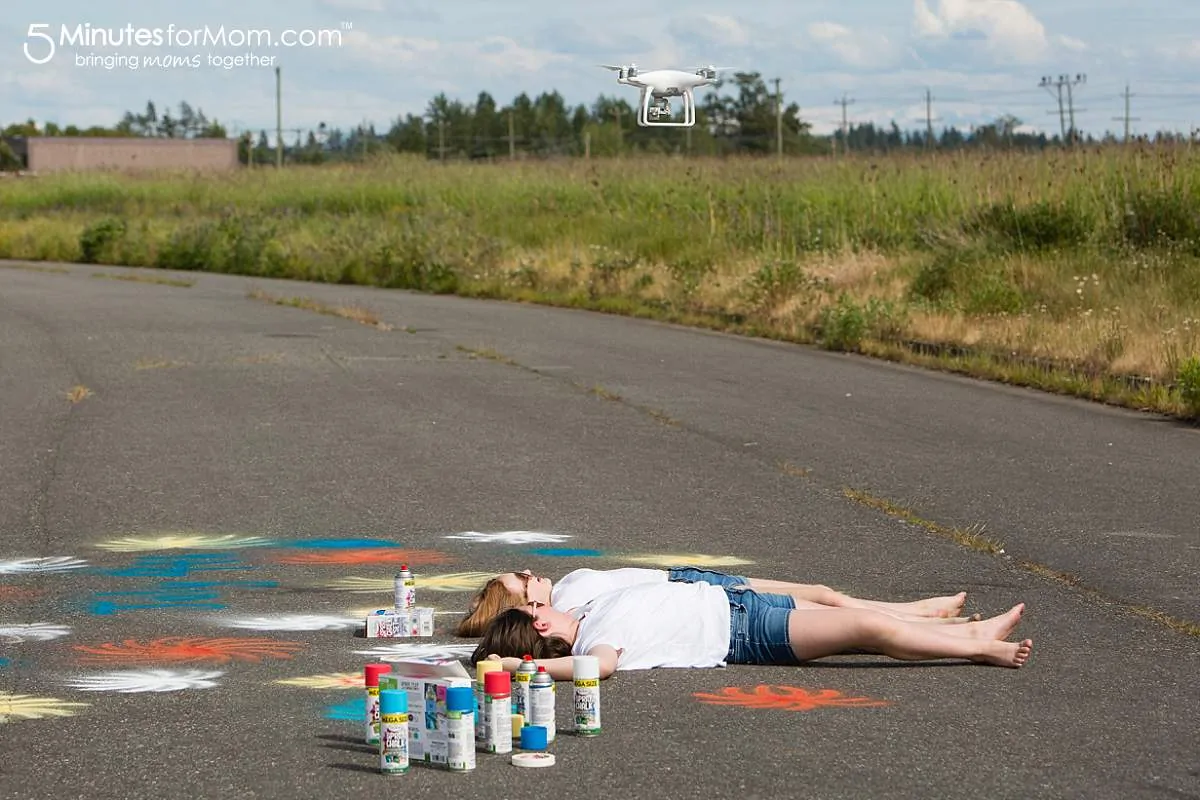 We hope you have a blast creating some outdoor artwork this summer and that you're inspired to get your kids making their own easy chalk drawings. Let us know what you are creating and share links to any photos or posts you make. We would LOVE to see your spray chalk art.
Don't Miss This…
Be sure to check out how to make a race track with spray chalk…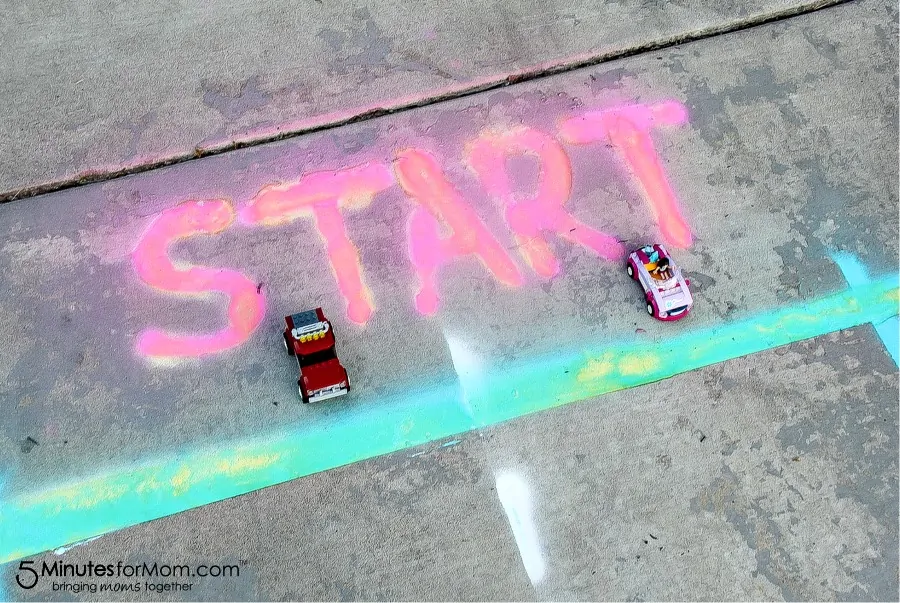 Disclosure: This post is sponsored by Testors. Thanks for reading and sharing. We published the first version of this post on June 20, 2018. We've updated it to share with you again.
Written by Janice Croze, co-founder of 5 Minutes for Mom
Talk with me: @5minutesformom and Facebook.com/5minutesformom
Pin with me at pinterest.com/5minutesformom