This post may contain affiliate links. Read my disclosure policy here.
This grilled chicken wrap recipe is perfect for an easy dinner. It takes just minutes to make and tastes so darn good. I have taken my favorite chicken salad, topped it with creamy, Dijon dill dressing, sprinkled it with my favorite herbs and grilled it in a soft spinach tortilla. It is delicious comfort food that is fast to make and healthy to eat.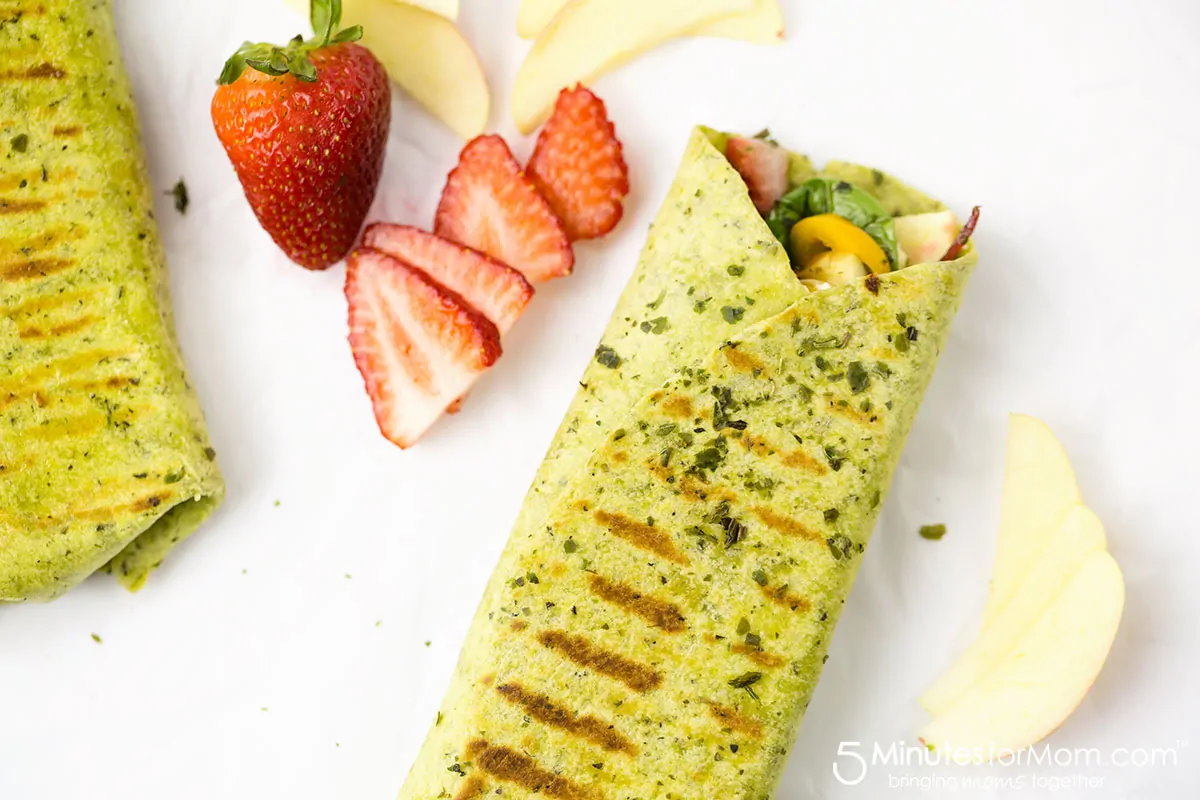 Easy Dinner
In less than fifteen minutes dinner is on the table…
If the dinner rush is making you crazy, grab some leftover chicken or a rotisserie chicken from the grocery store, and whip up these chicken salad wraps. But don't leave your wrap cold. Nope. You are going to take that wrap and grill it!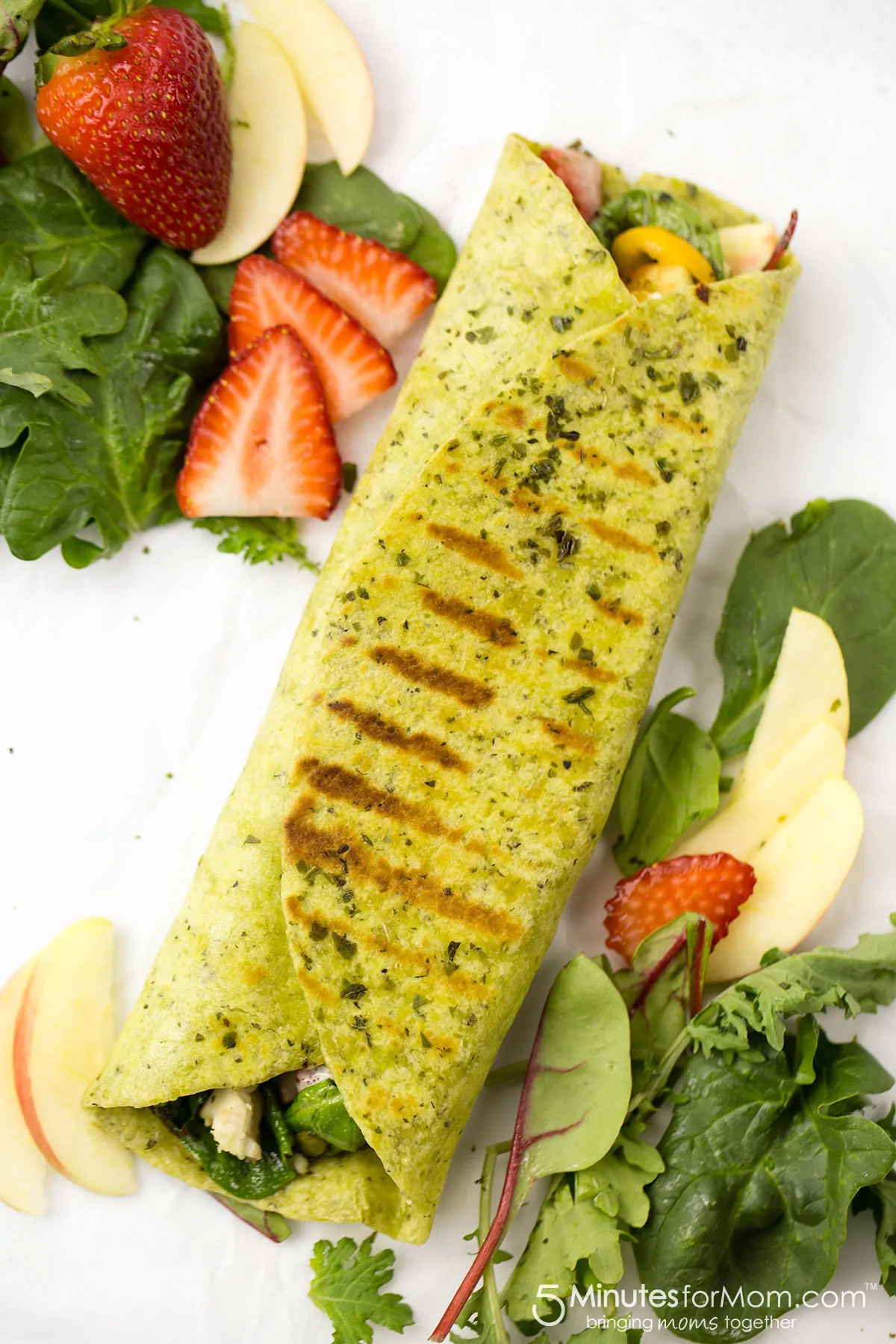 Around my house, we like our sandwiches and wraps drizzled with olive oil, dusted with herbs, and grilled till they are hot and toasty. It makes a sandwich or a wrap a MEAL.
When it comes to wraps and salads, anything goes. That is the best part of a salad — whatever is in your fridge and whatever fits your mood, you can throw it in.
I pretty much could live on huge dinner salads. While I love all sorts of easy dinner recipes, my favorite healthy dinner that is quick to make is a big salad. I spread out a big plateful of greens and then load on chopped veggies, seeds and nuts, chicken or sliced steak, berries, maybe some cheese, and my homemade vinaigrette. Dinner is healthy and totally fills me up.
But since everyone else in the house doesn't want to eat a big salad every night, these grilled chicken wraps are the perfect easy dinner solution. Grilled wraps are kid-friendly, healthy, and super fast to whip together before we run out the door for the next sports practice or game.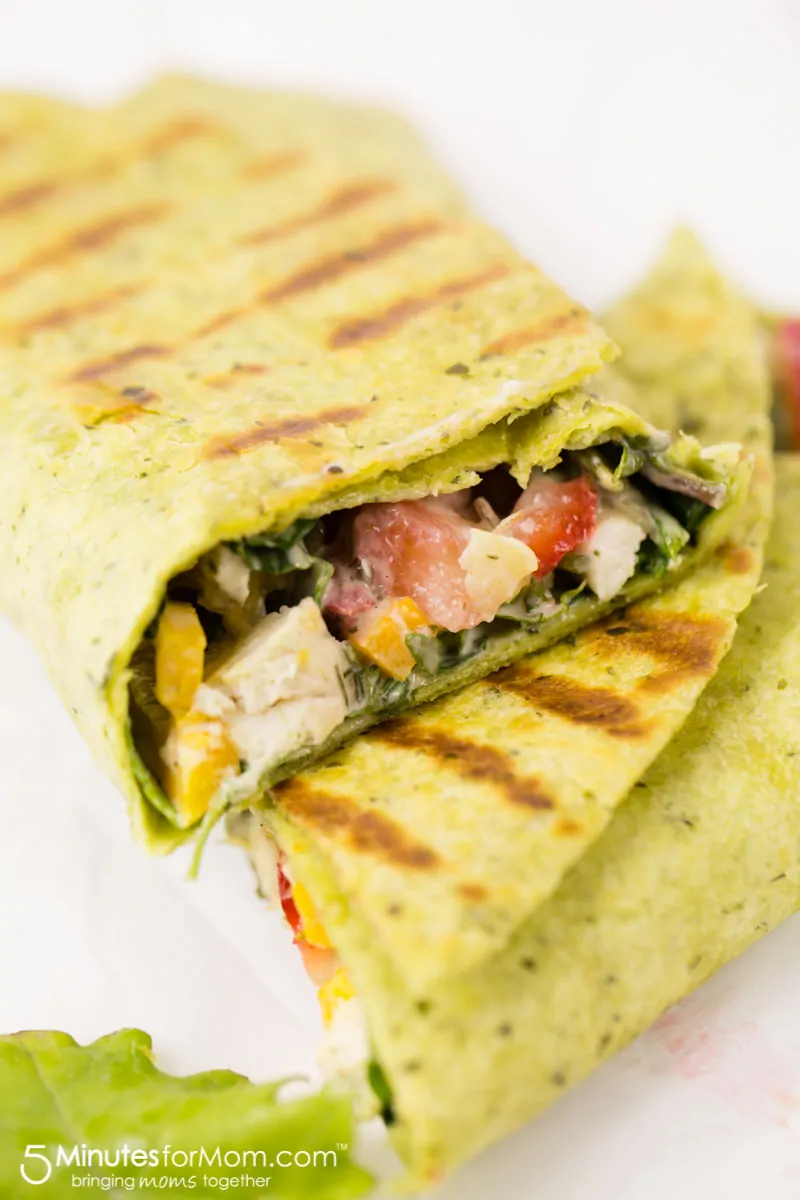 I am an evangelist for sweet and salty salads. I always want to pair something sweet like berries or apples with something salty like roasted seeds and nuts.
In my dressings, I usually amp up the flavor too, using tangy apple cider vinegar and/or lemon juice with lots of flavorful herbs and some coarse salt. But if you want a more simple dressing for picky eaters, you could make this easy ranch veggie dip.
How To Make A Grilled Chicken Wrap
So for this grilled wrap, I am using some of my favorite go-to salad staples: spinach, strawberries, apples, peppers, walnuts, pumpkin seeds…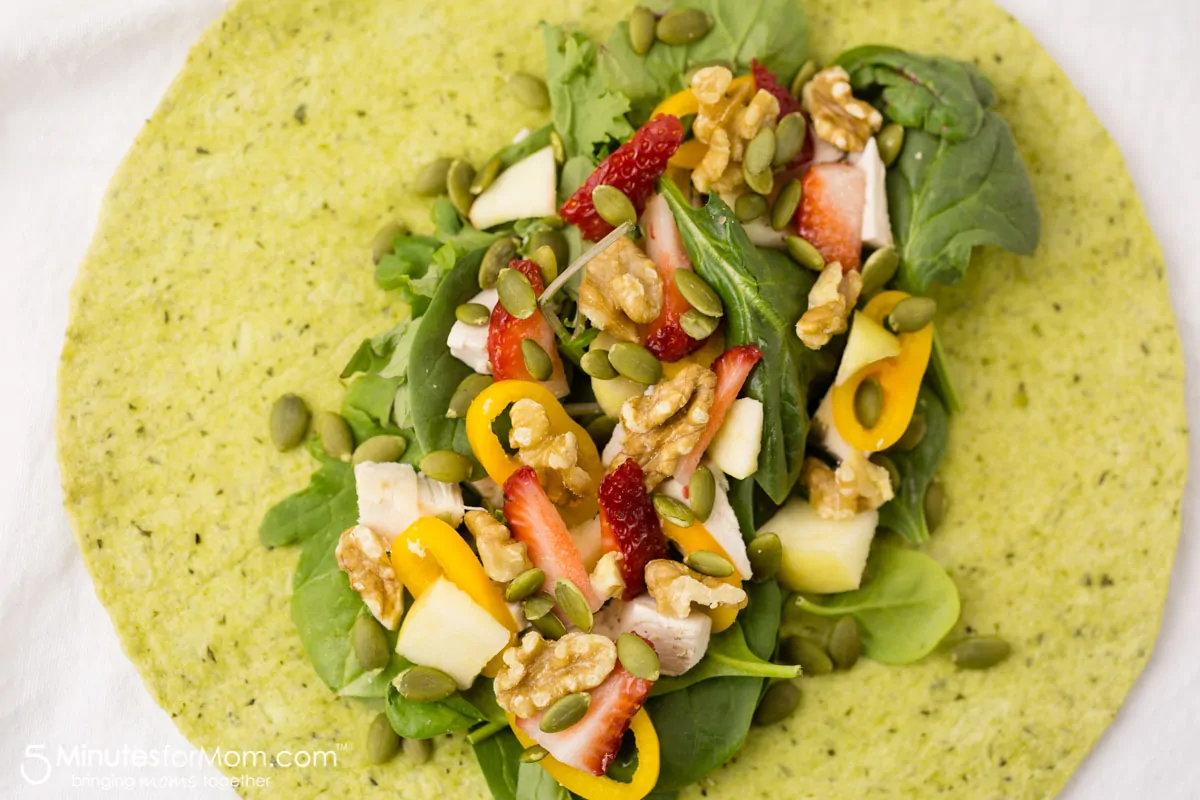 Oh — I almost forgot extra dried herbs. I love lots of herbs — for this wrap I am using an Italian herb blend and extra basil…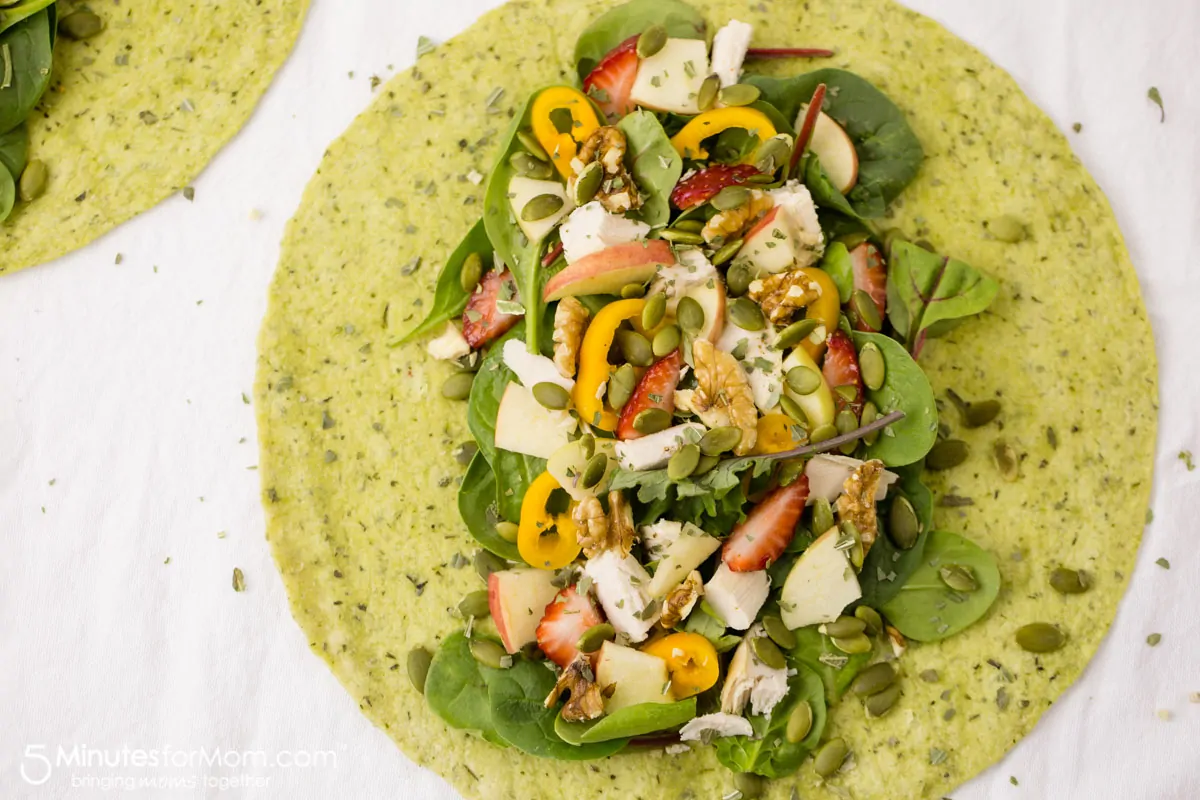 Doesn't that just look good enough to eat right now…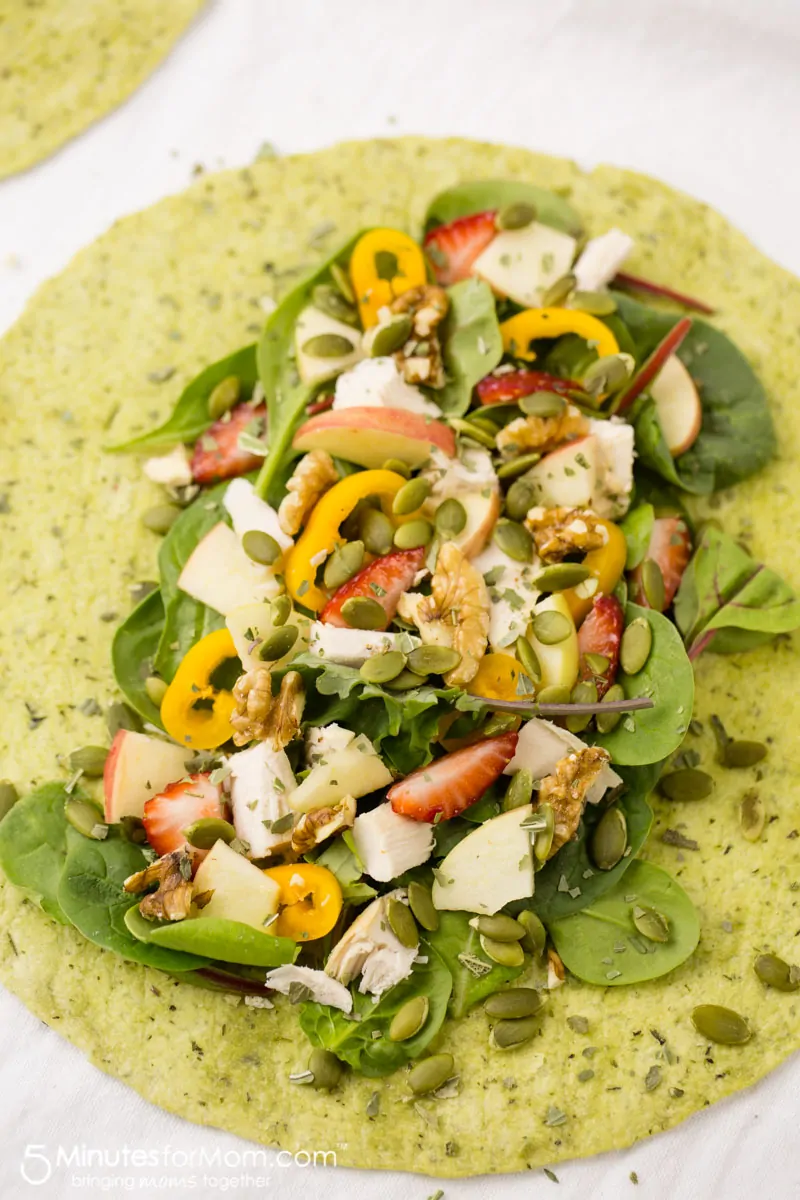 But wait — we need some dressing…
Time to mix up a creamy, tangy, Dijon dill dressing. In this dressing, there is olive oil mayonnaise, Dijon mustard, dill, basil, lemon juice, and some coarse salt.
I also suggest adding some paprika and turmeric too.
Whatever suits your mood. Herb it up.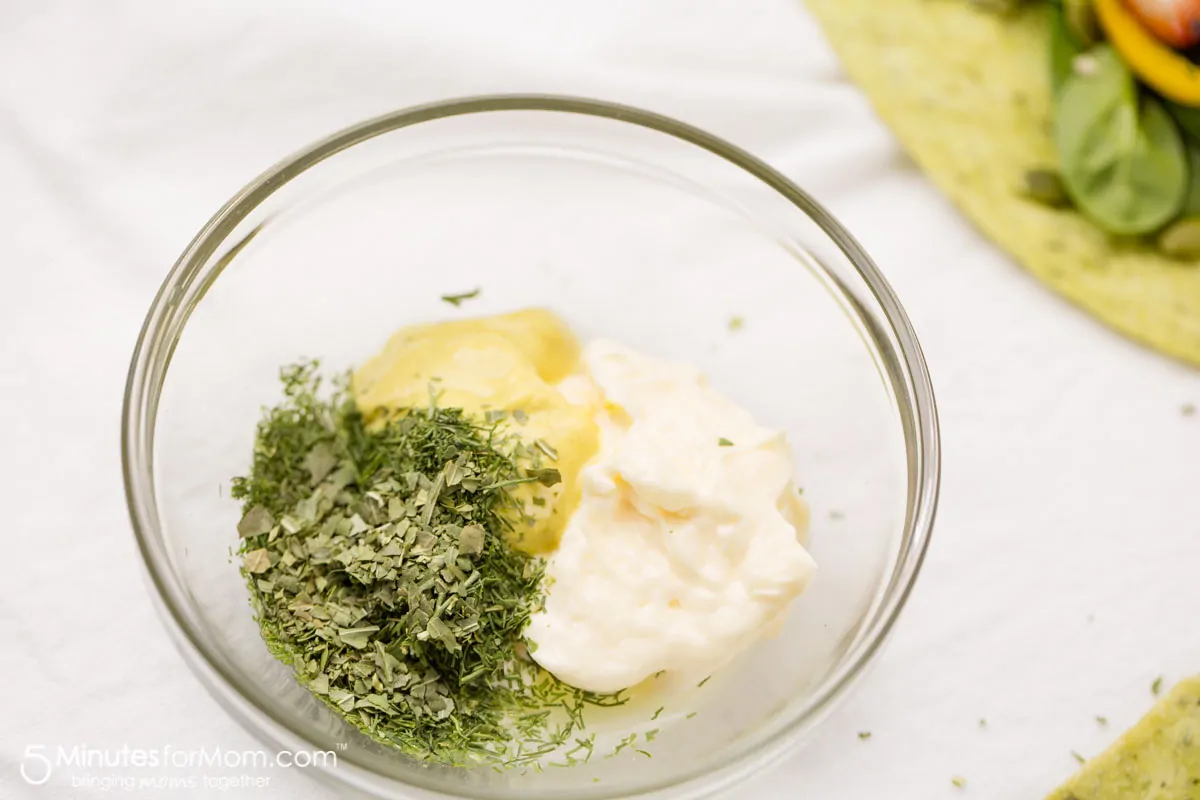 I am very generous with my dressing on this grilled chicken wrap…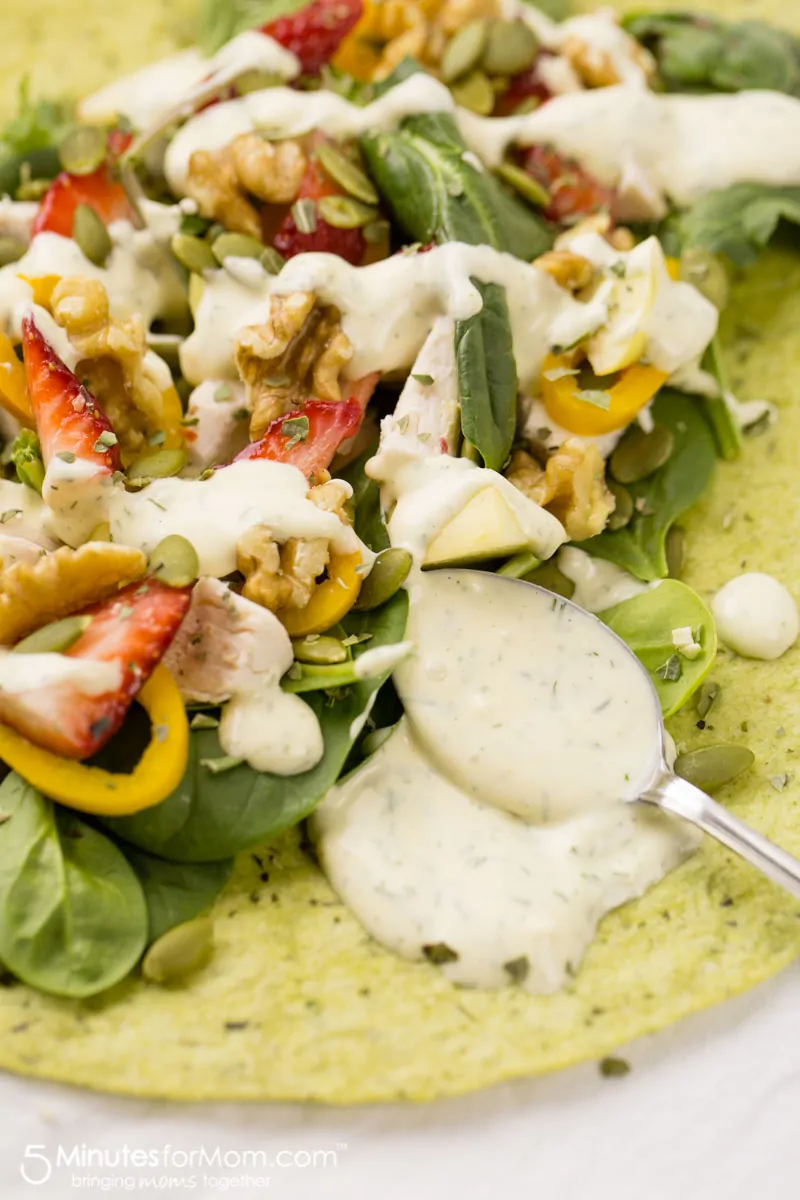 Then I grill my wraps with olive oil and dried herbs until they are toasted and hot through…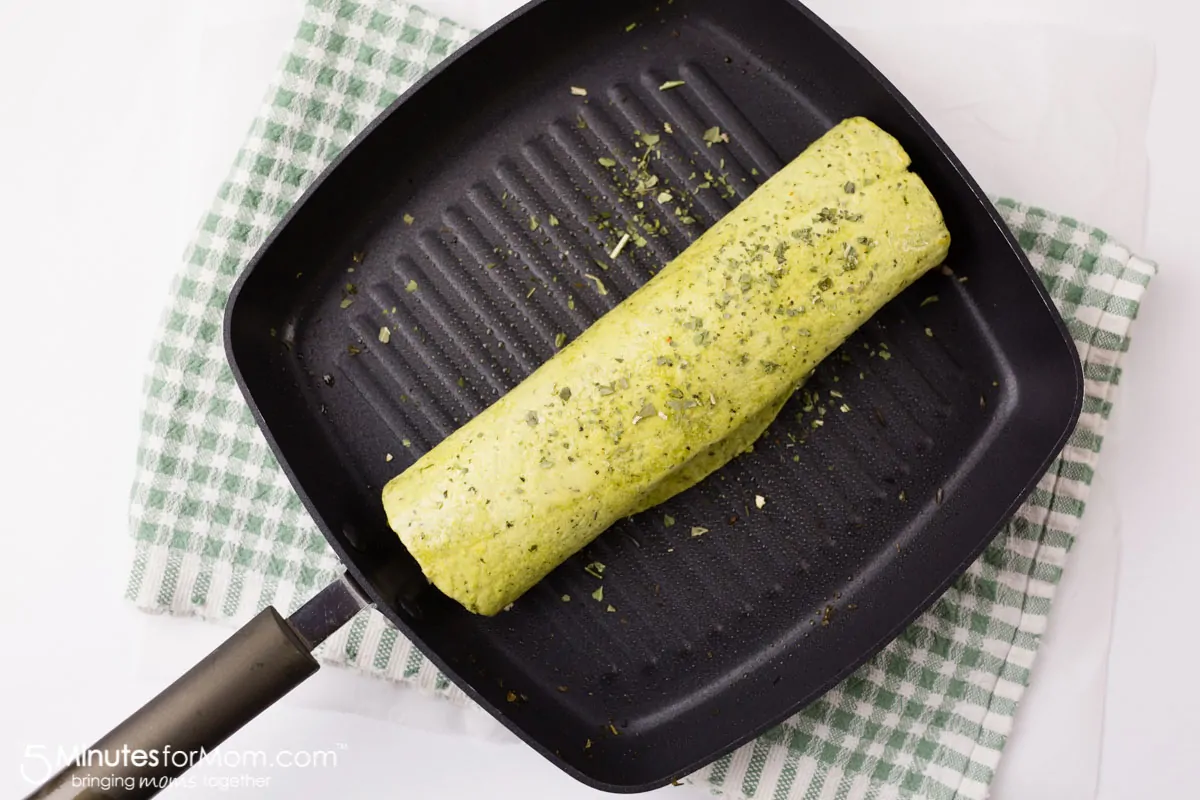 You can use an olive oil spray, if you have one on hand, to evenly coat your wrap. Or just drizzle with olive oil.
I also always add some dried herbs to the oil in my pan when I grill sandwiches and wraps.
It adds to the flavor and the aroma and makes me extra excited for that first scrumptious bite.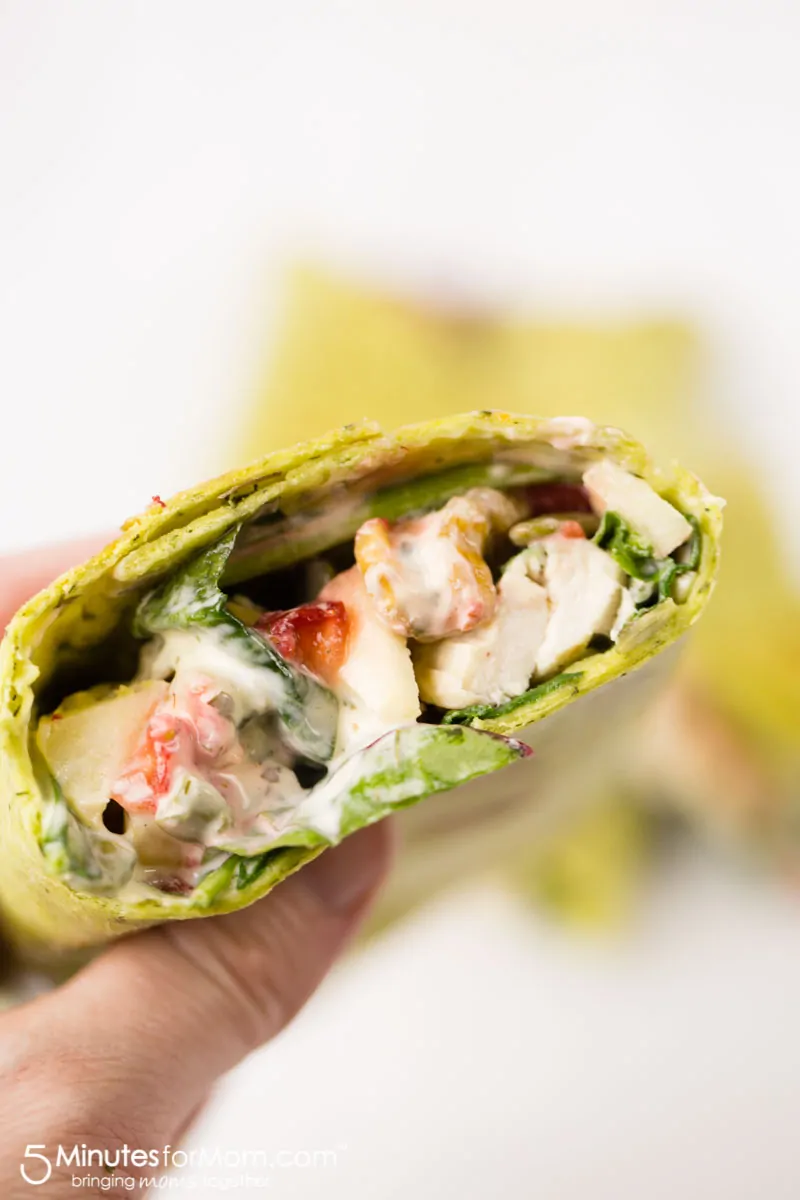 Grilled Chicken Wrap Recipe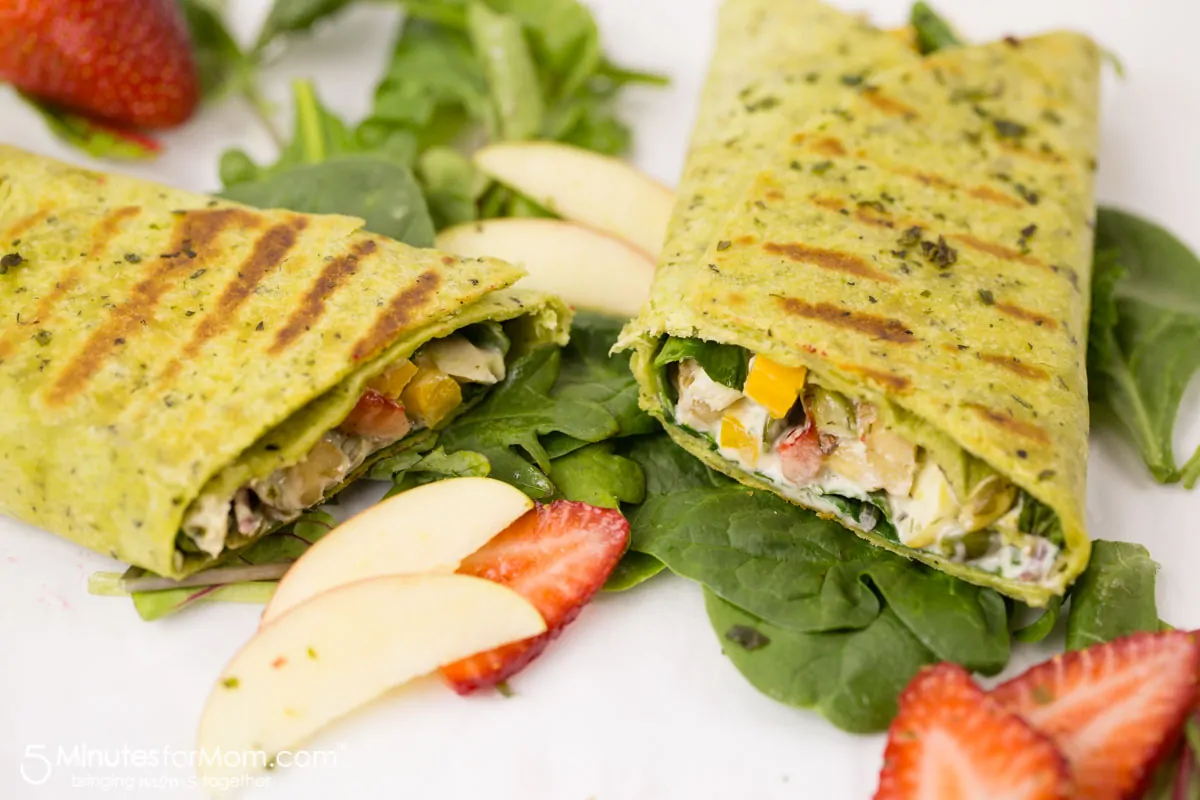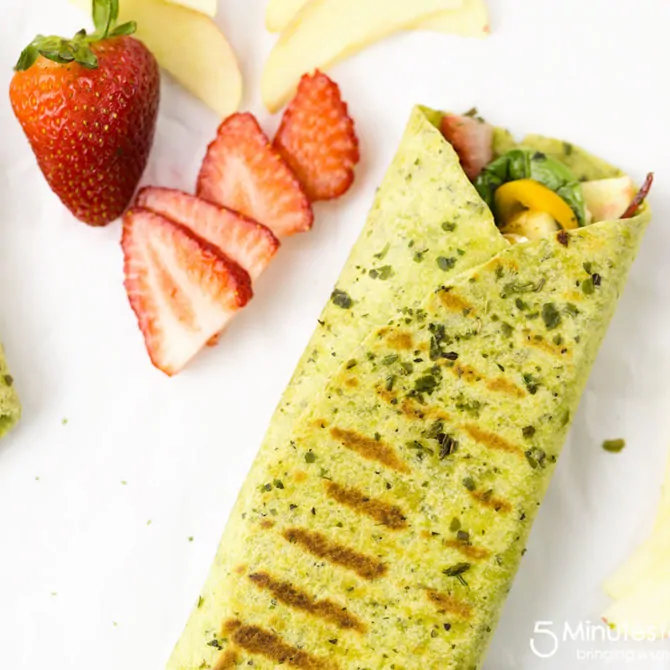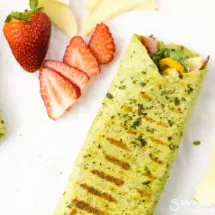 Grilled Chicken Wraps with Spinach, Strawberries and Walnuts
This grilled chicken wrap takes just minutes to make and it tastes so darn good. I have taken my favorite chicken salad, topped it with creamy, tangy dijon dressing, sprinkled it with my favorite herbs and grilled it in a soft spinach tortilla. It is delicious comfort food that is fast to make and healthy to eat.
Print
Pin
Rate
Ingredients
Chopped or sliced cooked chicken you can use grilled chicken, rotisserie chicken, or whatever you have on hand
Flour Tortillas I used spinach flour tortillas
Spinach or Mixed Greens
Peppers chopped
Apple chopped
Strawberries sliced
Pumpkin seeds or seeds of choice
Walnuts large chop or walnut pieces
Herbs - Italian blend basil, or your herbs of choice
For Dressing:
Mayonnaise I used olive oil mayonnaise
Dijon mustard or mustard of choice
Herbs - dill basil (also suggest paprika and turmeric)
Lemon juice
Salt and pepper to taste
Instructions
On a flour tortilla make a generous pile of spinach or mixed greens

Add chopped chicken, peppers, apple, and strawberries

Sprinkle with pumpkin seeds, walnuts, and herbs

Drizzle with dressing (alternatively, you can spread the dressing on the tortilla before adding salad ingredients)

Roll wrap - you can either roll the wrap with ends open or fold in the bottom and top and then roll up from the sides

Spray pan with olive oil spray or drizzle with olive oil and sprinkle with additional herbs

(You can also spray the wrap with olive oil as well if you choose)

Grill wrap on medium heat in pan until lightly toasted and hot through

Serve immediately
Pin it for Later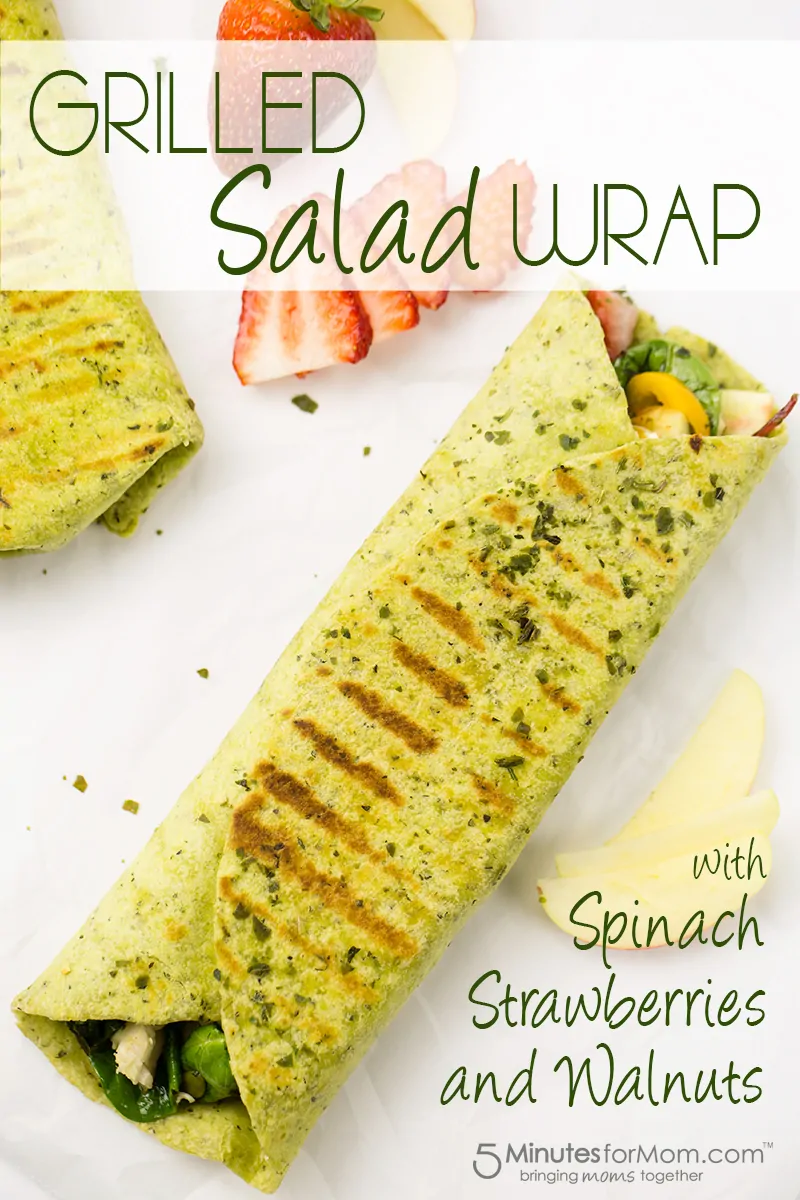 Another Easy Dinner Recipe Your Kids Will Love
Here is another simple recipe that is great for weeknight dinners that your whole family will enjoy… Easy Fresh Tomato Soup Recipe with Parmesan Baguette.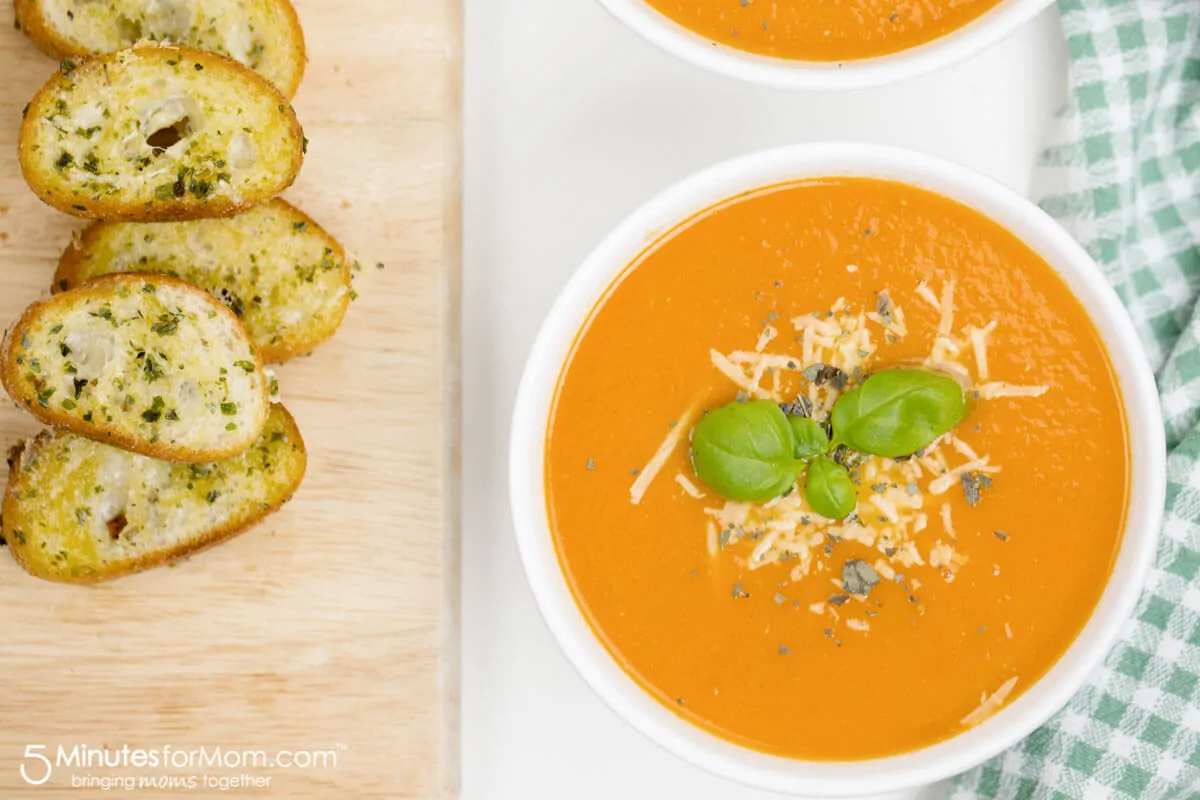 Written by Janice Croze, co-founder of 5 Minutes for Mom
Talk with me: @5minutesformom and Facebook.com/5minutesformom
Pin with me at pinterest.com/5minutesformom