This post may contain affiliate links. Read my disclosure policy here.
A quick and versatile pasta salad that can be made hot or cold using Barilla Gluten Free Rotini or your favourite pasta. This recipe for Gluten Free Rotini and Spinach Salad with Tomato, Zucchini and Red Pepper tastes so delicious, your family will never know that it's gluten free. Thanks to Barilla for sponsoring this post.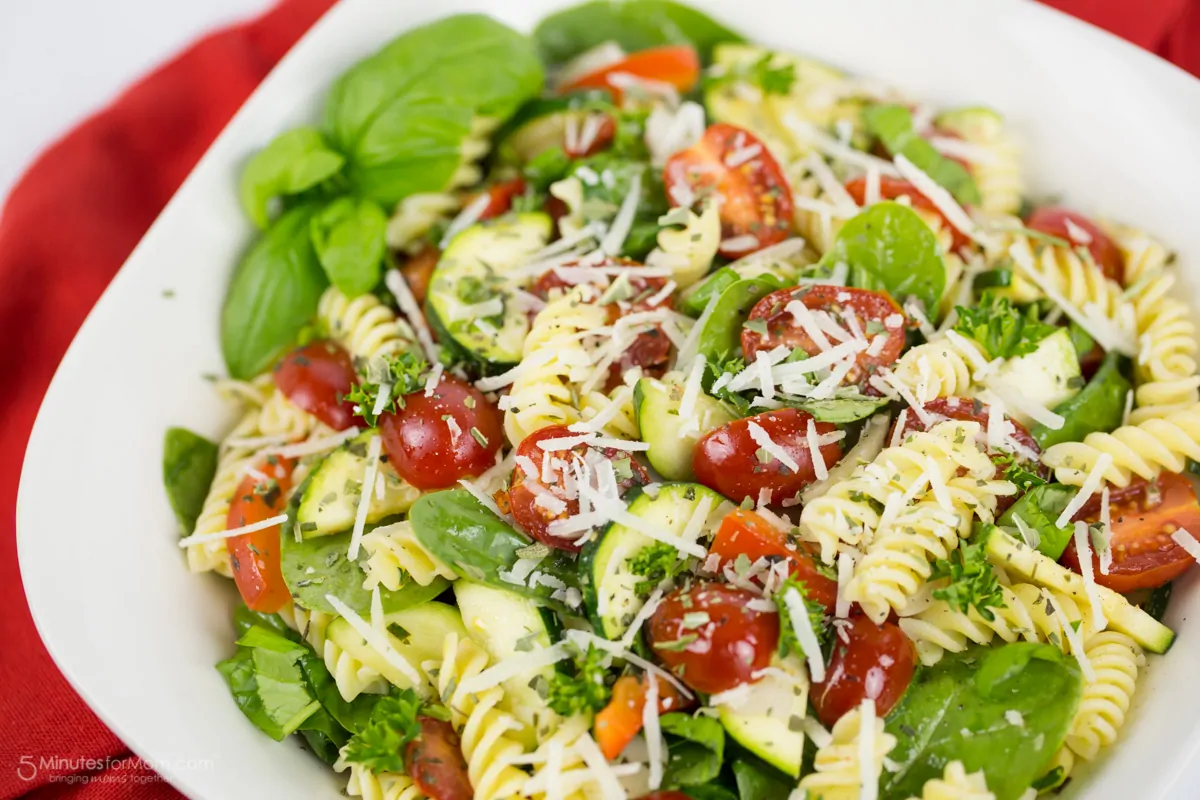 I have INCREDIBLE news — if you are gluten-free, you can now love pasta again!
I simply can't stop raving about the NEW Barilla Gluten Free Pasta because it is life altering. Seriously.
If you or a family member is gluten free, you have probably been subjected to less-than-palatable gluten-free pasta.
Over the last few decades, I have gone gluten-free for different periods of time. Then a few years ago, my daughter was diagnosed as borderline Celiac, so I have had to spend months mastering gluten-free baking.
As I conquered living without gluten, I learned about how critical it is to have the correct BLEND of gluten-free flours when baking.
Too much rice flour and you will have a sticky, yucky mess. Too much coconut or almond flour and your cookies will crumble apart before they make it into your mouth. And the list goes on… (I wrote a post about how to make the perfect gluten free flour blend. Check it out if you are baking gluten-free.)
The key is to have the right mix of flours, benefiting from the different properties of the varieties. Then, you can truly make some gluten-free masterpieces.
And thankfully Barilla is well versed in blending flours.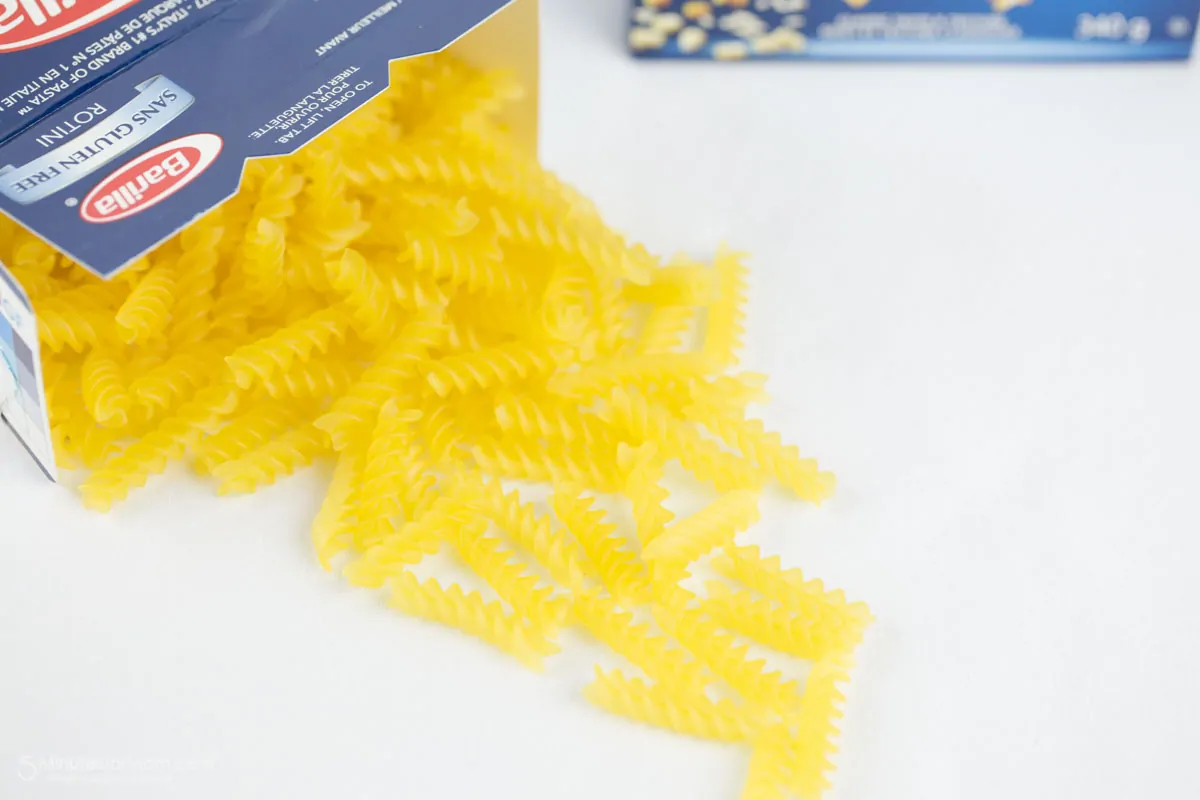 Barilla's NEW Gluten Free pasta line is a blend of rice and corn flours. And let me say, they have got their blend RIGHT!
I promise you — if you make the new Barilla Gluten Free Pasta and your family and friends can tell the difference, I will be shocked.
So now, if you are going to a party or having friends for dinner and one person is gluten free, you do NOT need to make a separate pasta salad that is gluten free. Everyone can eat the SAME salad. I am not kidding! It is THAT life altering!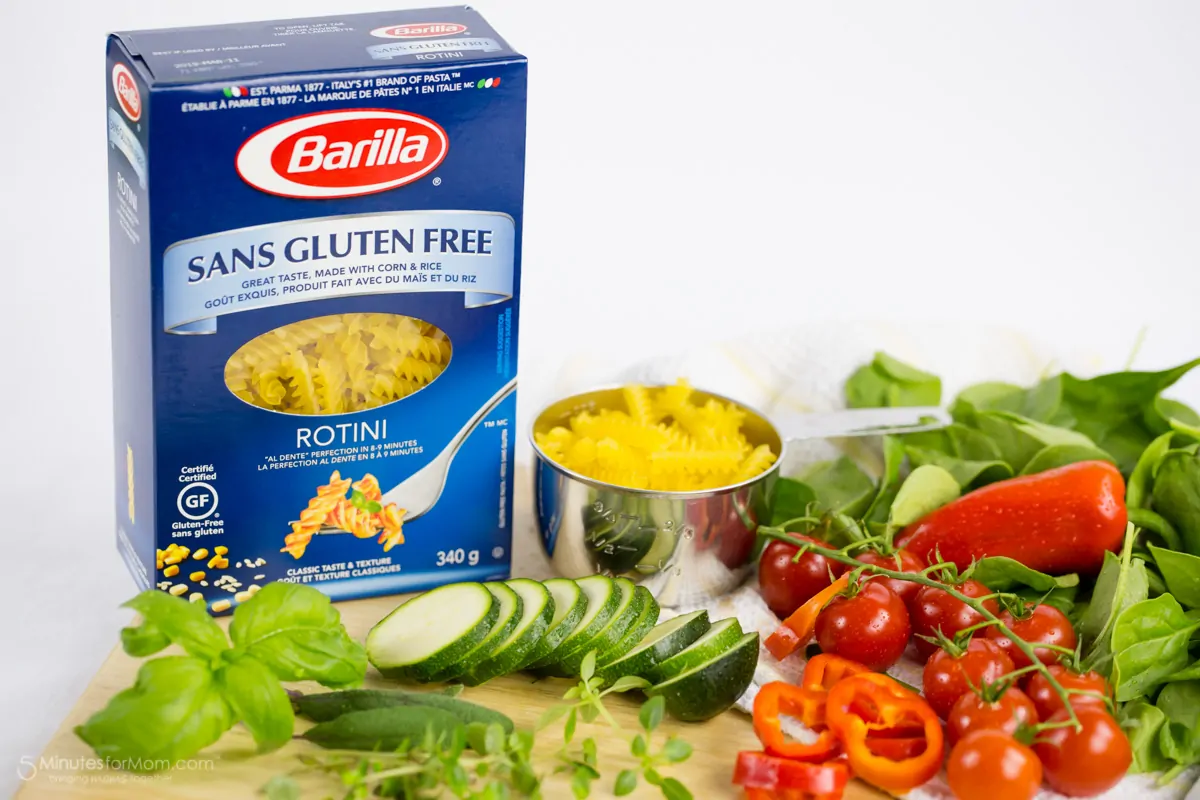 Before my wonderful mother-in-law passed away, she was the hostess for most of the extended family dinners and celebrations. My sister-in-law was gluten free and my mother-in-law always had gluten free variations of every dish for her.
She would make gluten free pasta salad, gluten free cookies, even gluten free tourtiere, just for my sister-in-law.
I wish my mother in law had had the chance to use the new Barilla Gluten Free Pasta — she would never have had to make separate pasta dishes. We ALL could have eaten the Barilla Gluten Free and no one would have been the wiser!
This week, I am participating in Barilla's Gluten Free Challenge, going gluten free for one week and sharing my journey with you, in order to help draw attention to the challenges faced by those living with Celiac disease.
So all week, you can find me in my kitchen having fun creating gluten free recipes featuring Barilla Gluten Free Pasta. A few days ago, I posted a mind blowing Gluten Free Spaghetti with Artichoke and Pistachio Pesto Recipe. If you haven't seen it, make sure you click over. The pistachio pesto is fabulous.
Honestly, I would love for you to give me your feedback after you try the new Barilla Gluten Free Pasta line. What do you think? Can you tell the difference? Do you like it just as much, or almost as much, as your regular pasta?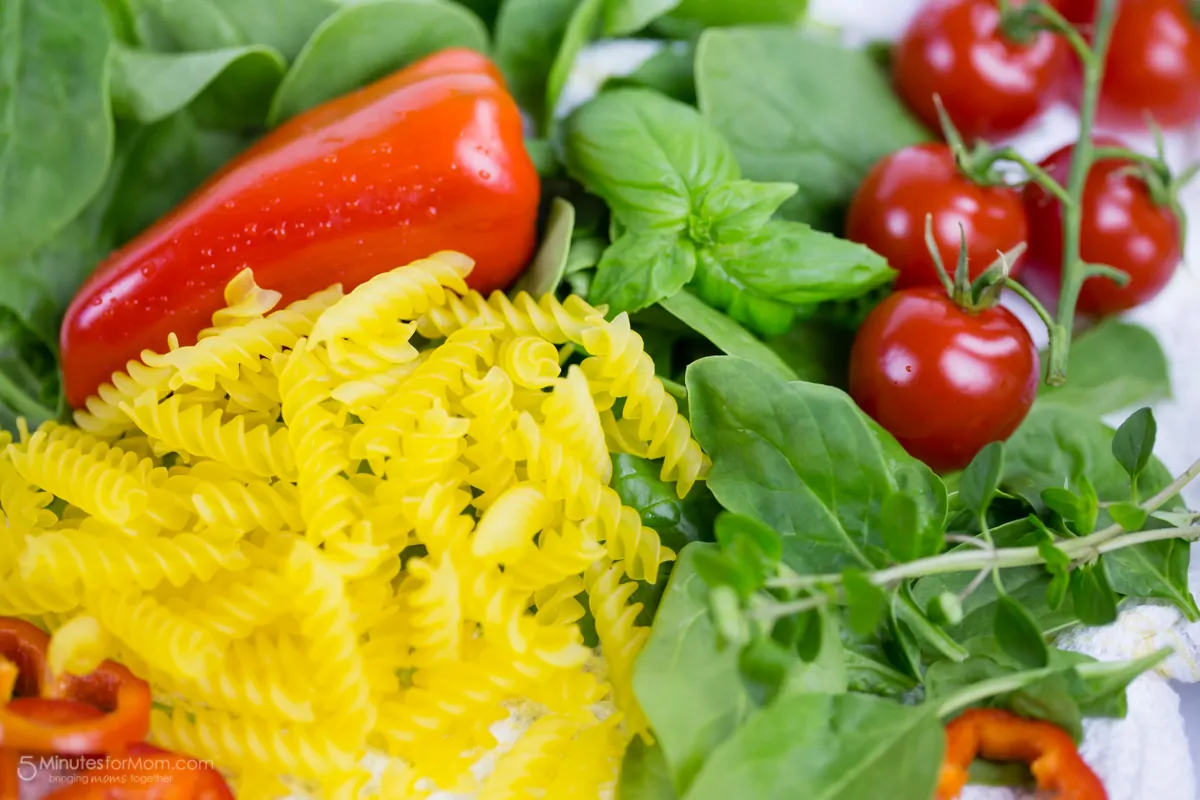 Gluten Free Pasta Salad — Hot or Cold
Okay — now that we have covered the thrilling news that the gluten free pasta in this salad is undetectable, let's get down to the details of how I made this particular pasta salad.
This pasta salad is a variation of my favourite go-to dinner that I whip up for myself at least a couple times a week. The foundation of this meal is my love of fresh herbs, olive oil, and cherry tomatoes…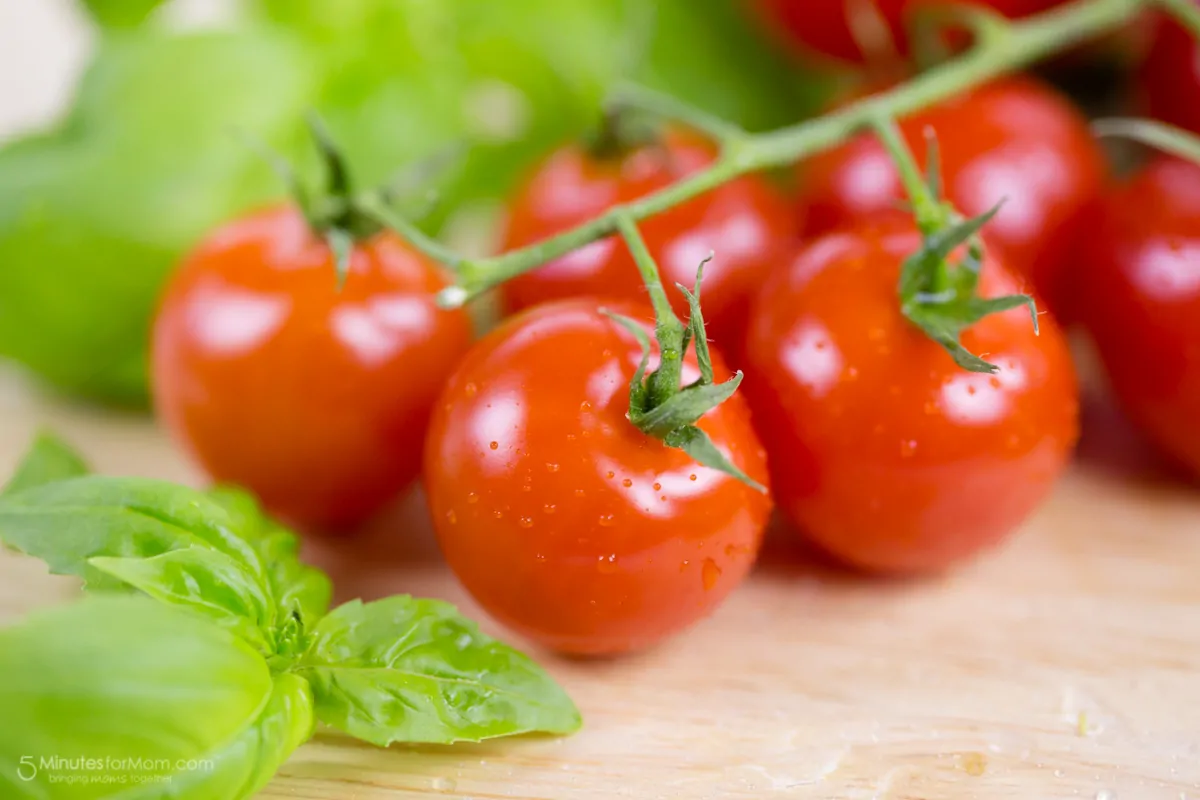 While I usually add some cooked chicken breast, left-over chicken or from a rotisserie chicken, this time it is just a vegetarian salad.
Basically, I fire up a pan, add some olive oil, lots of aromatic herbs, (if I don't have fresh, freeze dried herbs substitute fine,) cherry tomatoes, peppers, and whatever other veggies I have on hand. I cook it till the chicken is browned and the veggies are just tender. (When I am using leftover cooked chicken in my hot salad, I always add the chicken first to get that browning before I add the veggies.)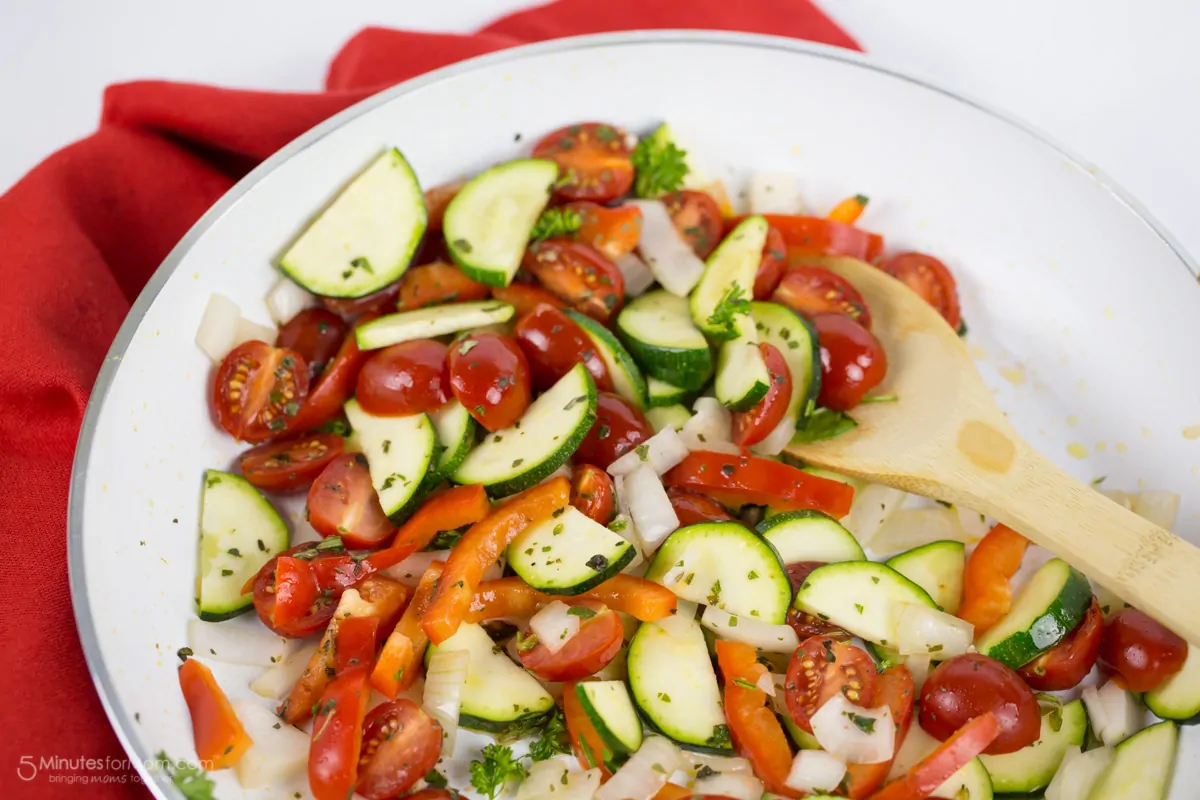 Sometimes I will just serve it up over a bed of fresh spinach and top with walnuts and grated Parmesan cheese.
If I serve it that way, then after I put it on my plate, I whip up some dressing in the frying pan, which is what I did for this recipe.
To the hot pan, I add olive oil, a couple dashes of apple cider vinegar, some white wine (optional), salt and lots of herbs, both fresh and dried. Often I also add in some Dijon mustard and some grated Parmesan cheese.
Other times, instead of serving over raw spinach, I will add cooked rice and then add some spinach in at the last minute of cooking, just enough to wilt it, similarly to how I made this recipe but with pasta instead.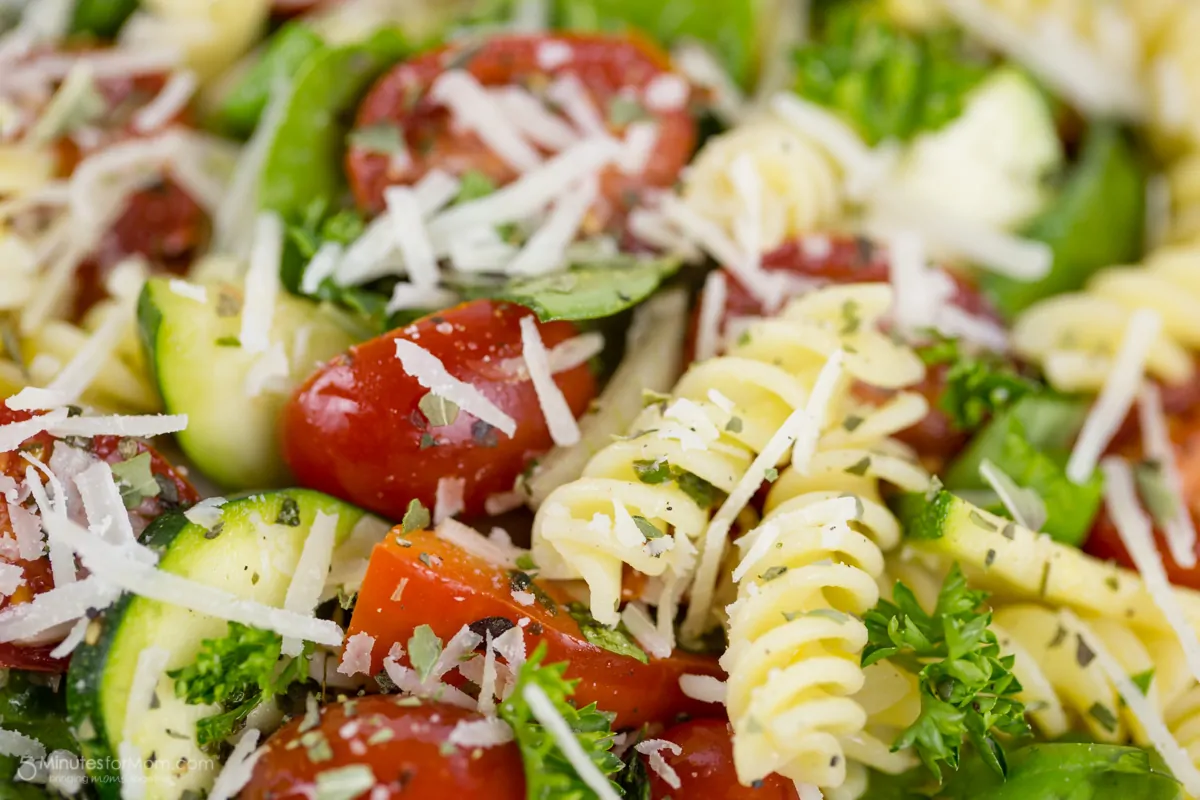 For this dish, I made it a hot pasta salad, using zucchini and served it hot.
But if you are taking it as a dish to a party and want it to be a cold pasta salad, rinse pasta with cold water and mix in the veggies and spinach raw. You can substitute the cooked zucchini for raw cucumber and/or broccoli.
Gluten Free Rotini and Spinach Salad with Tomato, Zucchini and Red Pepper Recipe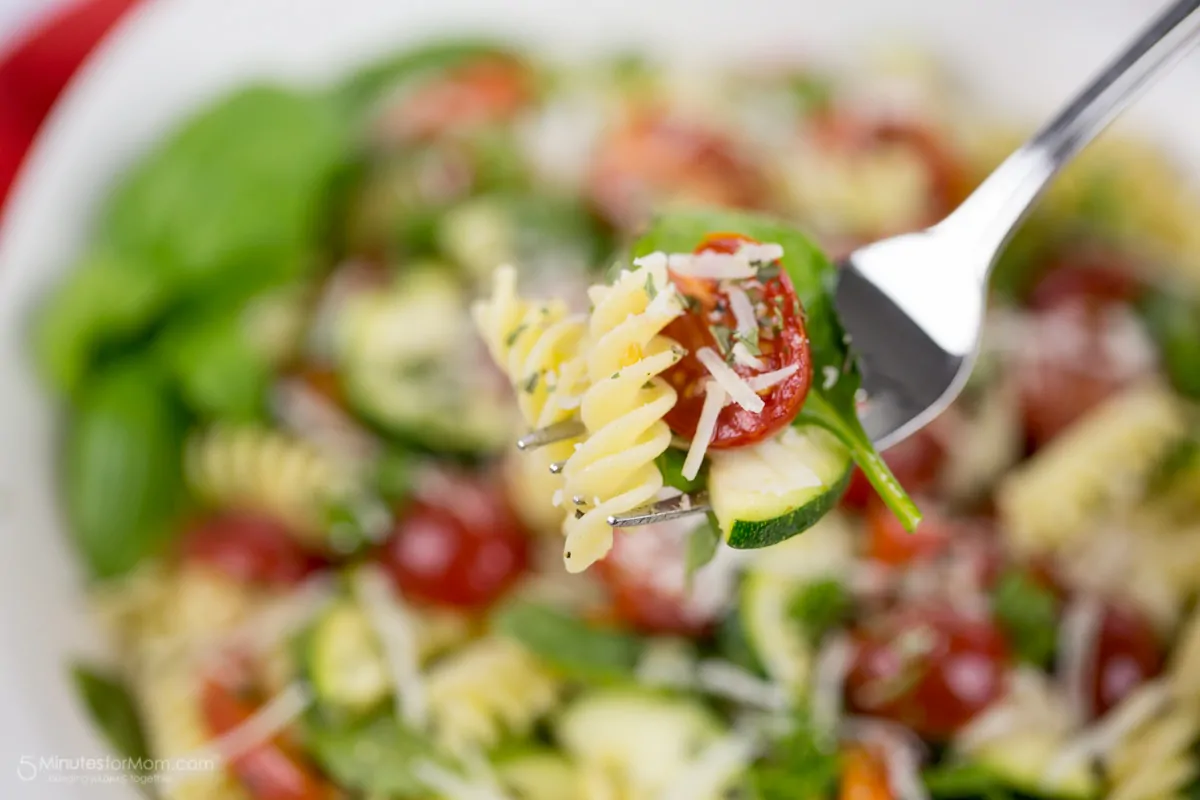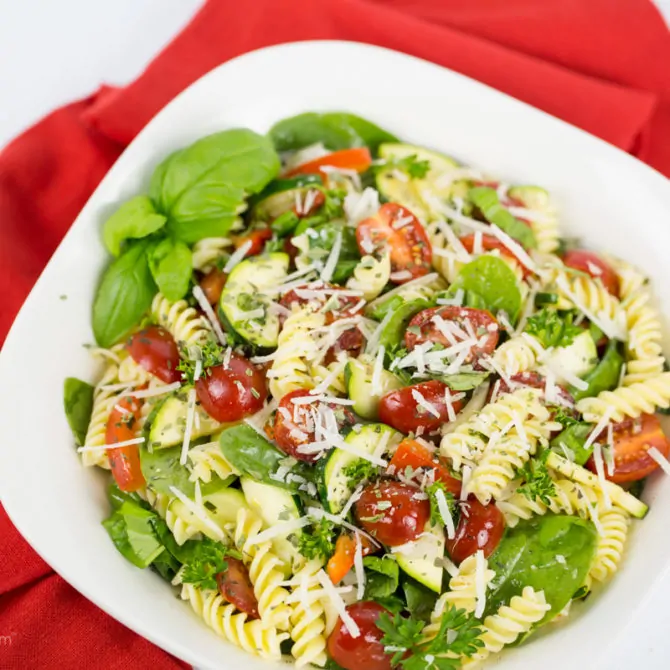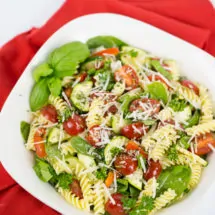 Gluten Free Rotini and Spinach Salad with Tomato, Zucchini and Red Pepper
A quick and versatile pasta salad that can be made hot or cold with Barilla Gluten Free Pasta or your favourite pasta.
Print
Pin
Rate
Servings: 3 -4
Ingredients
2 cups uncooked of Barilla Gluten Free Rotini - or your pasta of choice
6-8 tablespoons of extra virgin olive oil
1 tablespoon of apple cider vinegar
2-3 dashes of white wine optional
2 dozen cherry or grape tomatoes - sliced in half
1 small zucchini sliced
1 red pepper sliced or chopped
1/2 white onion
3-4 cups of packed fresh spinach
3-4 tablespoons of grated fresh Parmesan cheese or Romano or Asiago
1/3 cup chopped walnuts optional
1 teaspoon of Dijon mustard optional
Fresh herbs of your choice - basil thyme, sage, rosemary, or parsley
Dried herb mix - Italian
Salt and pepper - to taste
Instructions
In a pot of boiling salted water, add 1 tablespoon of olive oil and cook pasta according to package directions.
FOR HOT PASTA SALAD:

While pasta cooks, in a frying pan over medium heat, add 2 tablespoons of olive oil and finely chopped fresh herbs and dried herbs (whatever you have on hand and to taste)

Add onions and veggies - but NOT the spinach - cook until just tender

Add salt and pepper

Add spinach, stir and wilt for one minute

Into a large bowl, combine cooked pasta noodles with veggies and spinach mix and toss gently

In the empty frying pan, stir together 3-4 tablespoons of olive oil, 1 tablespoon of apple cider vinegar and 2-3 dashes of wine (optional)

If desired, add 1 teaspoon of Dijon mustard and mix well

Add fresh and dried herbs, salt and pepper to taste

Pour dressing over pasta salad and sprinkle salad with grated Parmesan cheese and walnuts (optional)

Garnish with fresh basil, parsley or other herbs

Serve immediately
FOR COLD PASTA SALAD

In a small bowl, make the salad dressing

Mix together olive oil, apple cider vinegar, wine (optional)

Add Dijon (optional), herbs, and 2 tablespoons of grated cheese

Whisk until well combined

Add salt and pepper to taste

In a large mixing bowl, add chopped veggies, herbs and spinach

When pasta is cooked, run under cold water until cool

Pour pasta into the mixing bowl with veggies and toss until well combined

Sprinkle with herbs, salt, pepper, remaining grated Parmesan cheese, and walnuts (optional)

Serve immediately or refrigerate until serving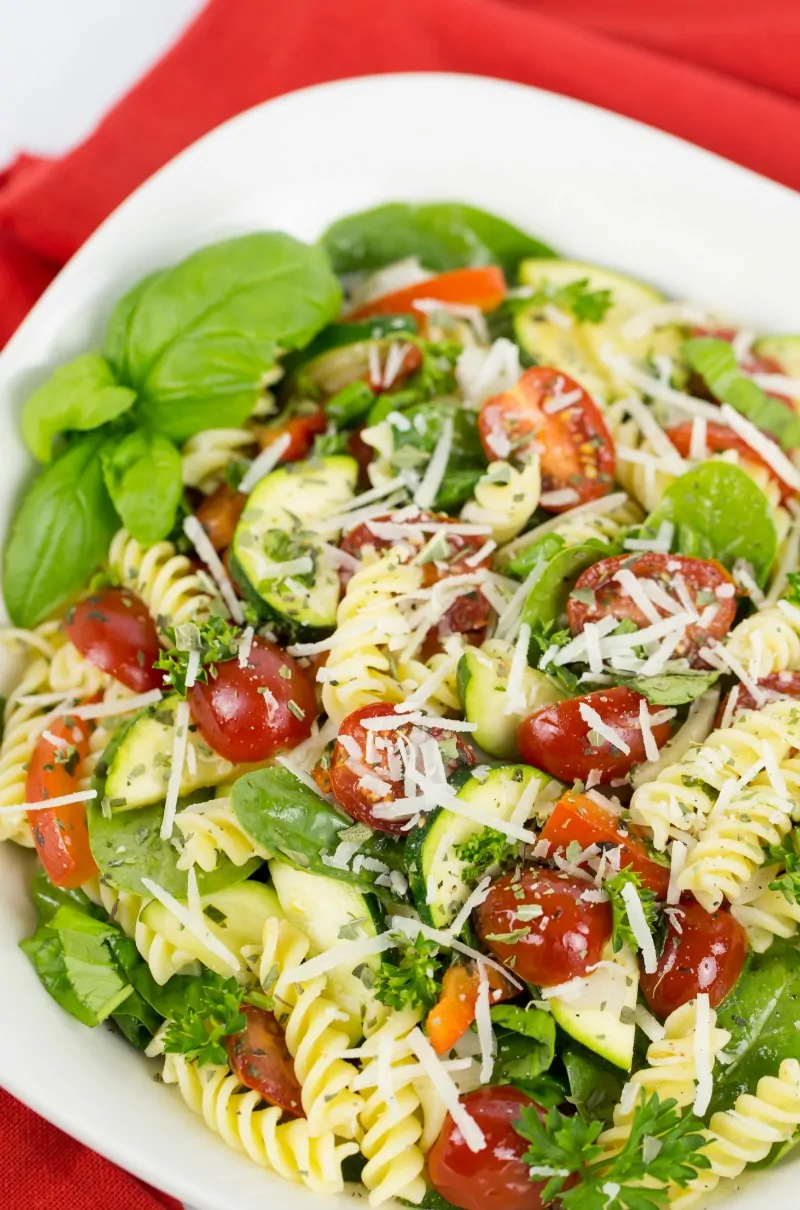 Disclosure: This post is sponsored, so extra thanks for reading and sharing.
Written by Janice Croze, co-founder of 5 Minutes for Mom
Talk with me: @5minutesformom and Facebook.com/5minutesformom
Pin with me at pinterest.com/5minutesformom
Pin it for Later