This post may contain affiliate links. Read my disclosure policy here.
What is in your pets food is important — but have you ever thought about HOW those ingredients are gathered? Thanks to Petcurean for sponsoring this post.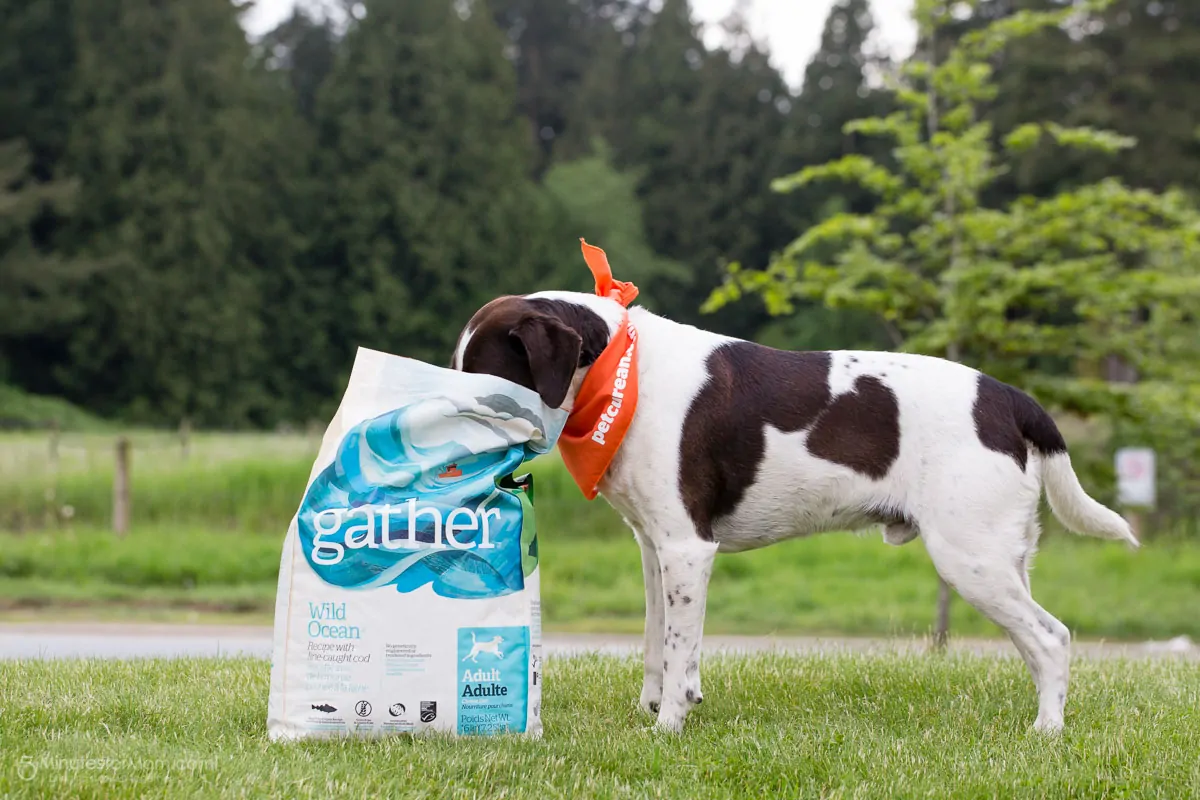 Dig in — it's organic!
It took me awhile, but I eventually discovered what was upsetting the gut of my rescue pup, AJ. As I have mentioned here before at 5 Minutes for Mom, from the advice of a neighbour and the input from our vet, I discovered that my dog's skin issues and loose stool issues were coming from an intolerance to his food.
Once I put him on premium, grain-free dog food, his problems resolved. (Interestingly, if I even feed him treats that have grains or other difficult to digest ingredients, he will develop rashes and loose stools.)
So, at my house, we are camp "grain free" when it comes to dog food. We LOVE Petcurean — and AJ has told us he is a die hard fan of all of the flavours that he has tried so far.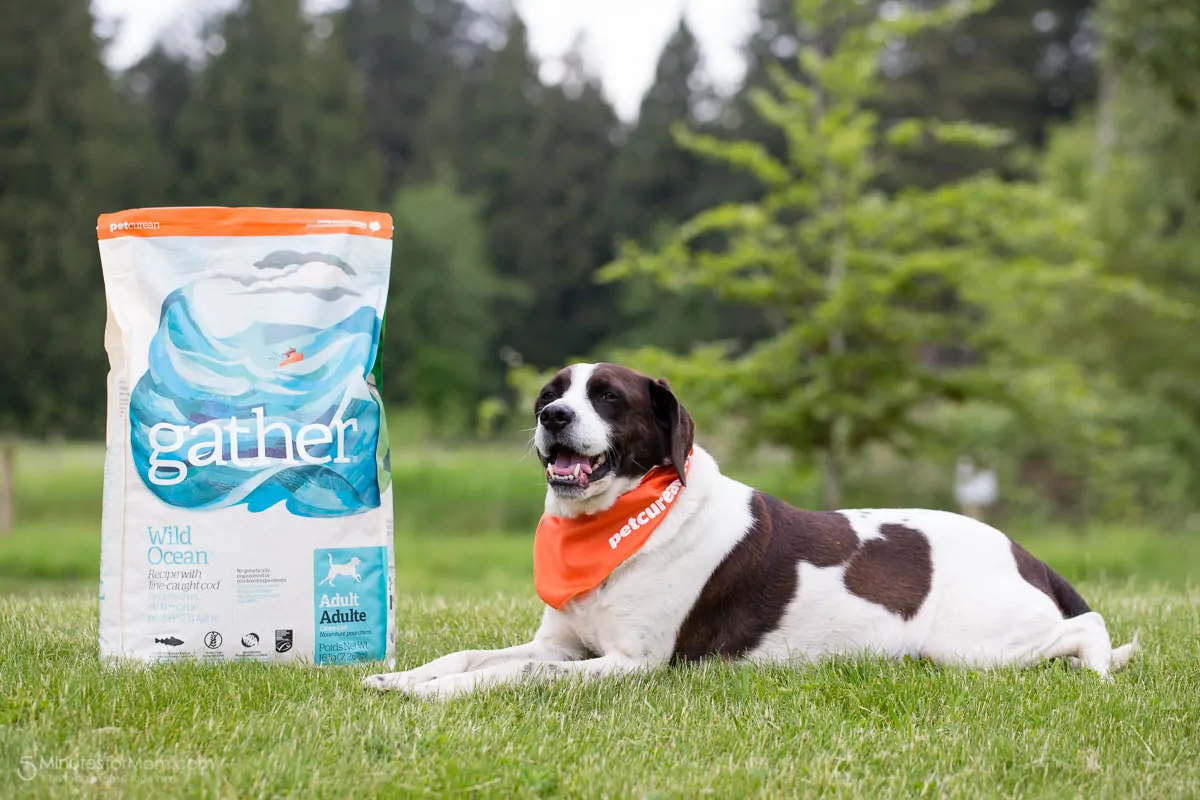 While the ingredients in our pets' food are essential for the optimal health of our pets, it is also important to consider HOW those ingredients are sourced…
Now, I understand if you are thinking, "Hold up, now I need to feed my PETS organic food?!?" I agree, organic food is expensive and buying organic for our own food is hard enough.
But, the great thing about more and more of us consumers opting for organic options is that means more and more businesses and farms are striving for healthy, sustainable organic practices. And the more popular it becomes, the more options we have.
It is a holistic thing — it isn't just about the food we put in our mouths. Buying organic is about how we look after the earth that provides for all of us and how we help preserve and protect it for our children and their children.
Do I shop exclusively organic? No. But I do my best to purchase organic as often as possible and I try to pay attention to where and how ingredients are sourced.
When a company is working hard to ensure they are producing their products with ethical and sustainable practices that makes me a loyal customer — and that is one of the reasons I LOVE Petcurean and their new line GATHER.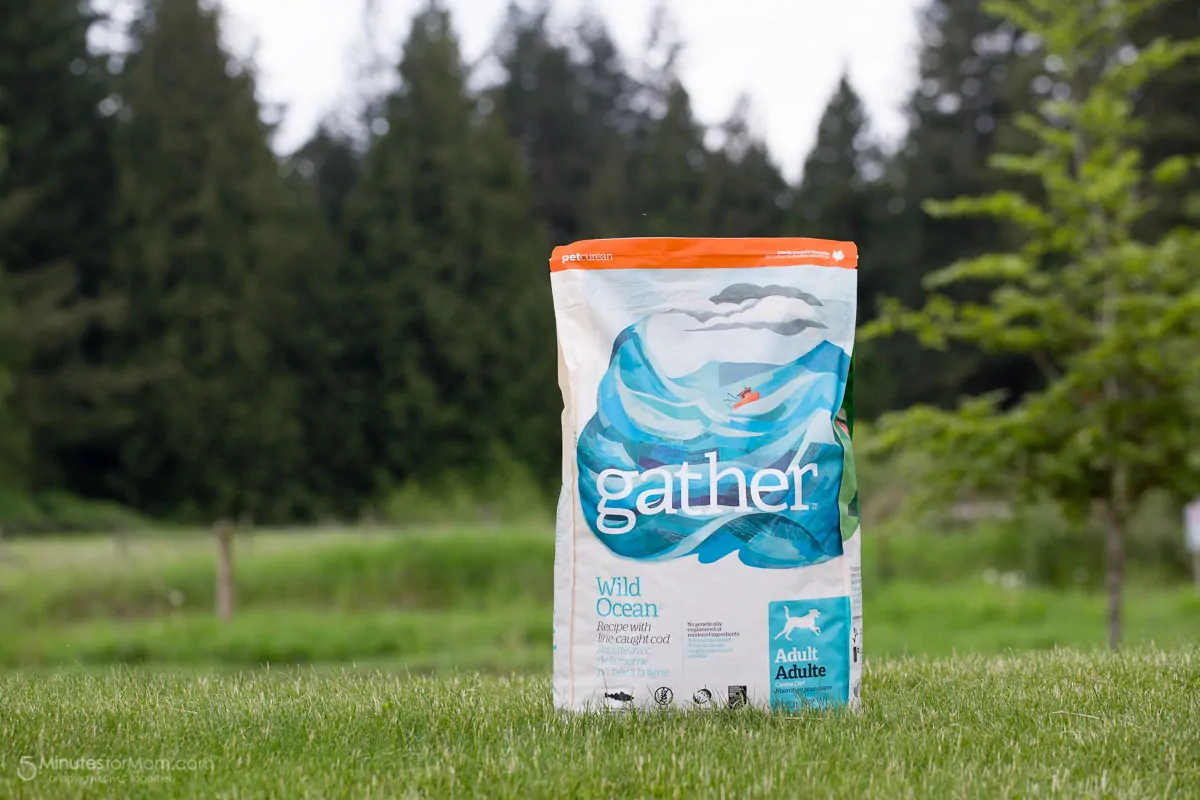 ABOUT GATHER:
With the knowledge that consumers are increasingly demanding sustainability, transparency and organic ingredients in their pet food, and scrutinizing more than ever for quality and safety, Petcurean created GATHER. GATHER is a new category of pet food crafted from certified, organic, non-GMO and sustainably produced ingredients. The recipes are perfectly blended and balanced to provide dogs and cats with premium quality, natural nutrition and are free from rendered ingredients.
GATHER comes in three varieties for adult dogs:
WILD OCEAN Line-Caught Cod, FREE ACRES Organic Free-Run Chicken and ENDLESS VALLEY Vegan
And one for adult cats:
FREE ACRES Organic Free-Run Chicken Recipe
CERTIFICATIONS:
Pet food certifications are used in the food industry to provide information to consumers about the way in which a food is produced. Certifications are developed by governments or independent organizations which establish the certification's 'standards'. These are the documents that describe the criteria a food producer must meet in order to become certified. To become certified, food producers must undergo a highly detailed audit by an accredited company that determines whether the certification standard is being met. The certification cannot be used by the food producer until the auditor determines that all of the relevant criteria on the standard are fulfilled. To maintain certification, most certification bodies require an annual re-certification audit.
GATHER™ dog and cat recipes have received three different food certifications to provide transparency about the ingredients that have been carefully selected for these diets: Organic, Vegan, Marine Stewardship Council. Find out more here.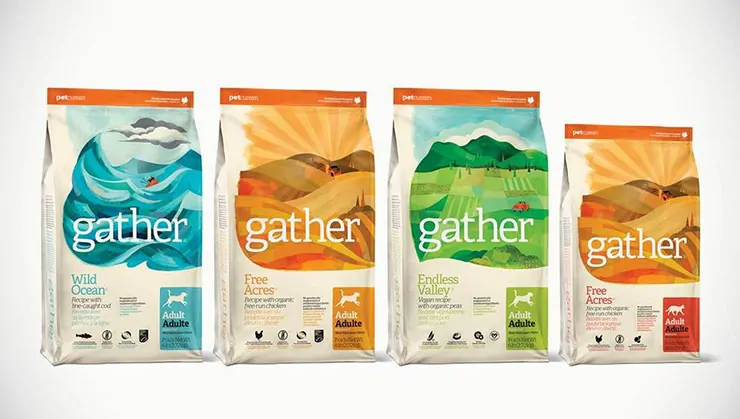 FARMER/PRODUCER PROFILES:

GATHER Wild Ocean & Free Acres: Petcurean is always thinking and talking about pet nutrition, formulations and ingredients for their premium-quality pet foods. Excited by all the benefits of krill, they include it in two new GATHER recipes; Free Acres ™ and Wild Ocean™ for dogs. Their producer partner is Aker Biomarine, certified by the Marine Stewardship Council (Aker Biomarine's extraordinary sustainability practices were critical in their decision to partner with them). The krill in GATHER is fished from the oceans surrounding Antarctica, using proprietary Eco-Harvesting™ technology. This prevents by-catch (fish and animals other than krill) and brings the live krill onto the ship where it is processed immediately to ensure maximum freshness.

GATHER Wild Ocean: Catching cod by longline is one of the most environmentally-friendly and sustainable methods of fishing used today. A particular school of cod can be located, identified, and brought on board, without the damage to the ocean floor associated with some net fishing. Individually-hooked fish are handled carefully, and the minimal by-catch of fish other than cod are released, live. These are just a few of the reasons Petcurean chose Alaskan Leader Fisheries LLC to supply them with their Alaskan Leader® brand cod for their GATHER Wild Ocean Recipe. Alaskan Leader, family founded and family run (just like Petcurean), operates out of Dutch Harbor, Alaska. The fish they provide for GATHER Wild Ocean is the same Alaskan cod that's sold in supermarkets and served in fine restaurants.

GATHER Endless Valley & Free Acres: Farmer Direct is a farming co-operative based in Saskatchewan, Canada. Their 60+ strong family farms grow certified organic oil seeds, oats, lentils, beans, wheats, ancient grains and peas to the Canadian Organic Regulation, USDA National Organic Program and the European Union Organic Standards. The farmer-owners in the cooperative have been stewards of the land for generations. In fact, a number of the families have been farming the same land for over a century and were practicing organic agricultural techniques before organic certification was even available.

GATHER Free Acres Organic Free-Run Chicken: When Petcurean was creating their new GATHER Free Acres recipes for dogs and cats, they wanted to have certified organic chicken as a primary protein source. Their search for the ideal partner took them across North America. They spoke to many producers, inspected their farms and finally decided on a family-owned and operated company in Northern Indiana known as Miller Poultry, who've been around since 1942. The folks at Miller provide Petcurean with a reliable, consistent source of USDA certified organic, free-run chickens that are raised in smaller flocks on Amish family farms.

These "broiler quality" chickens are fed an all-vegetable, antibiotic-free diet with no animal by-products, animal fats or artificial coloring. They also have access to the outdoors and three living enhancements that include things to perch on, hide behind and run through. Miller Poultry strictly adheres to the humane treatment policies defined by the Whole Foods animal welfare spokesperson, Temple Grandin. They don't de-beak their chicks and use both male and female chickens. Miller has invested heavily in "Where Food Comes From", a program that allows them to trace every bird to the specific farm where it was raised. And although chicken production is a water-intense process, they capture and treat all the water they use in the harvesting process, and then spray it on croplands surrounding their plant.

This remarkable-quality organic chicken with USDA/MOSA/BRC/GAP certifications is the single source poultry protein in GATHER Free Acres recipes for dogs and cats. It's a perfect meat source, in that it's a high-quality protein which supplies all essential amino acids; it's a source of omega 6 fatty acids and a source of essential vitamins and minerals, in particular niacin, vitamin B6, phosphorus, potassium, and selenium.
Save $5 on any bag of GATHER™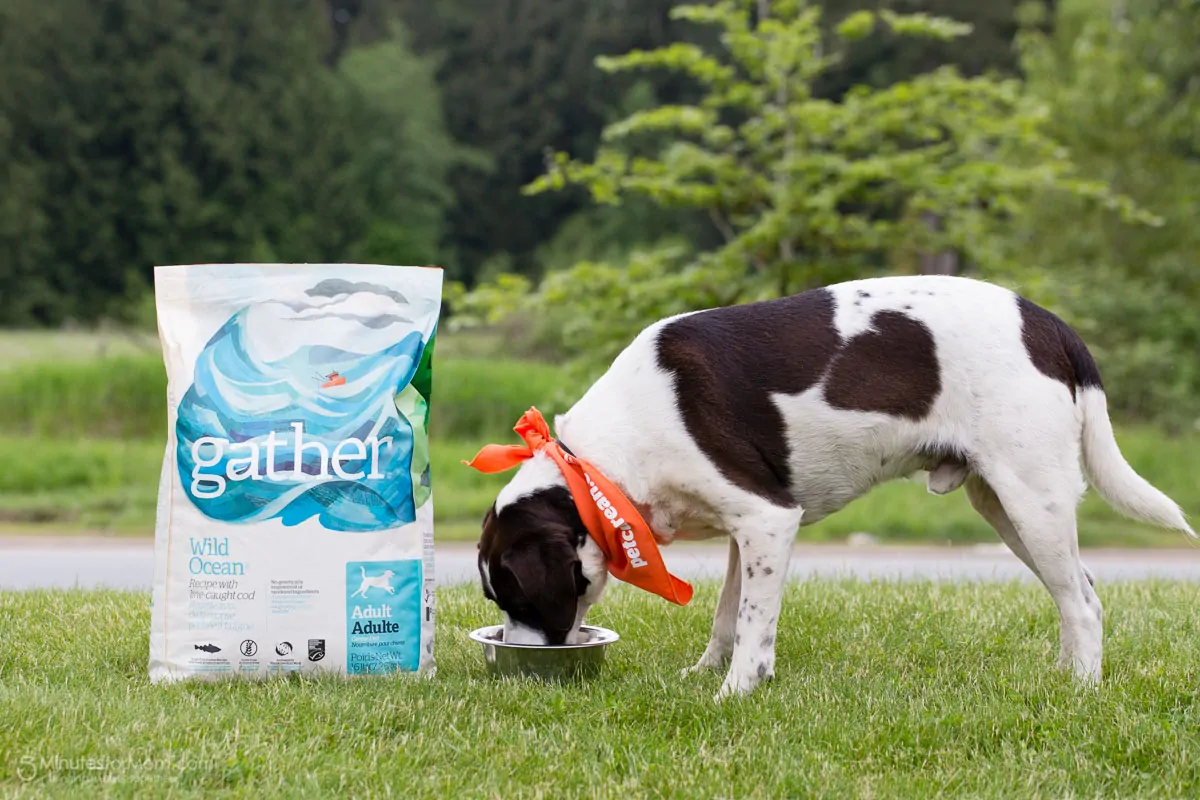 If you want to check out GATHER for your pet, jump on over to Petcurean and grab a coupon for $5 off any bag of GATHER.
Simply fill out a form to receive an electronic coupon that you can print at home and redeem at your pet specialty store. This offer is only valid in the USA and Canada.
Giveaway
Two lucky winners will each receive a coupon for a FREE 16 lb bag of GATHER dog food.
Please leave us a comment telling us a little about your dog… what's his/her name and breed, how old he/she is, etc. Then complete the entry form below.
Open to both US and Canada.
Pin it for Later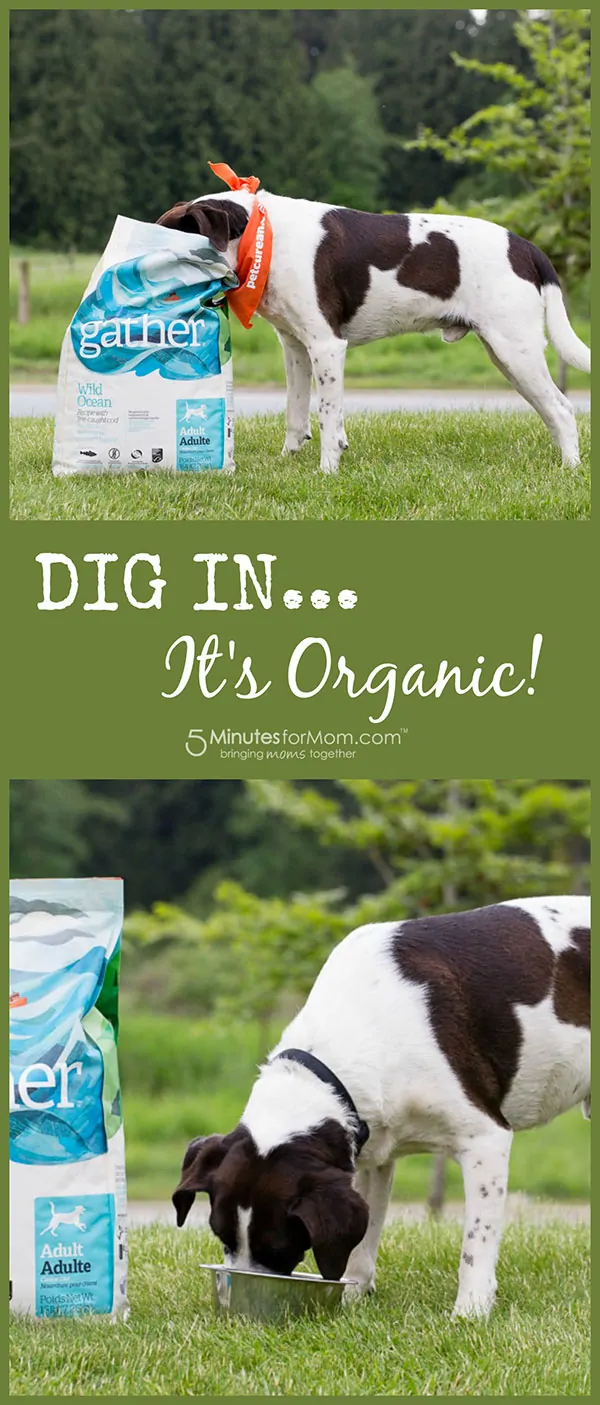 Disclosure: This post is sponsored, so extra thanks for reading and sharing.
Written by Janice Croze, co-founder of 5 Minutes for Mom
Talk with me: @5minutesformom and Facebook.com/5minutesformom
Pin with me at pinterest.com/5minutesformom