This post may contain affiliate links. Read my disclosure policy here.
With the incredible new Gluten Free Spaghetti from Barilla and this to die for Artichoke and Pistachio Pesto sauce, your family and friends will never guess this meal is gluten free! This post is sponsored by Barilla — but my opinions and the fact that I just ate two bowlfuls of this pasta is all on me!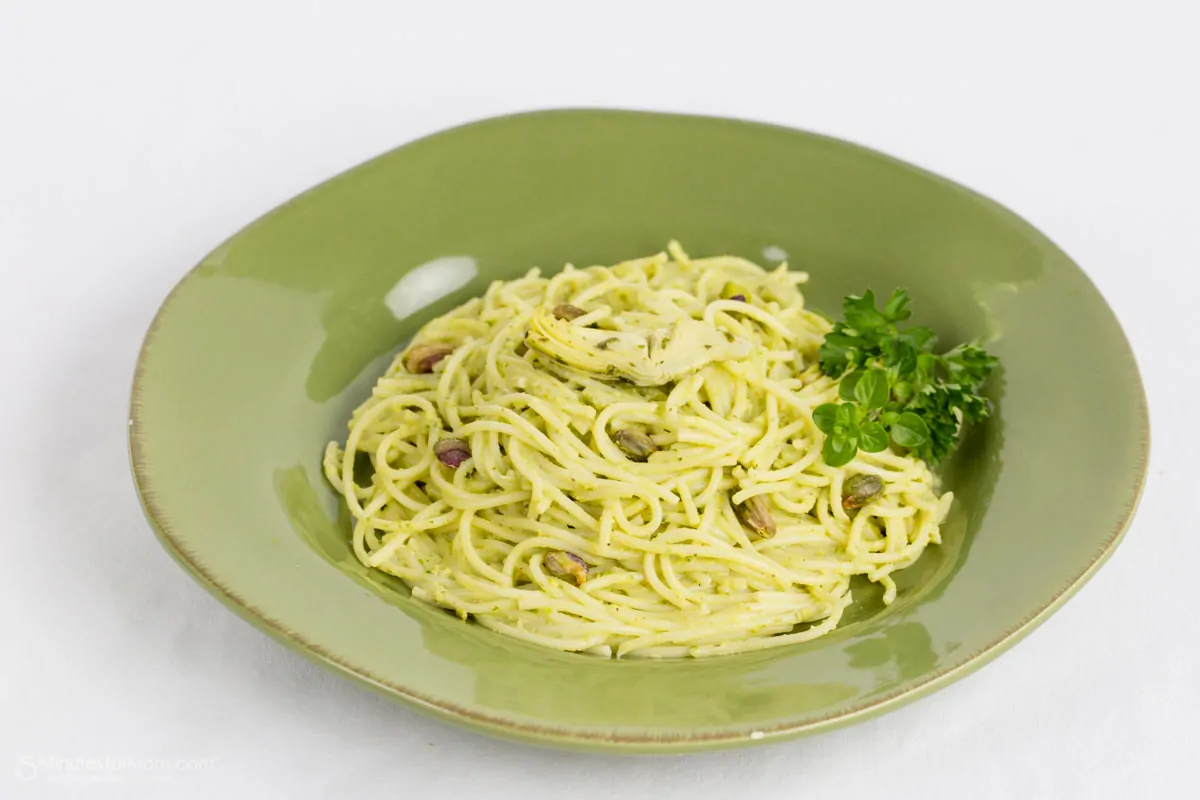 I could not believe it.
When Barilla sent me over a box full of their new line of gluten free pasta along with a challenge to go gluten free for a week, I never imagined I would LOVE their new gluten free pasta THIS much.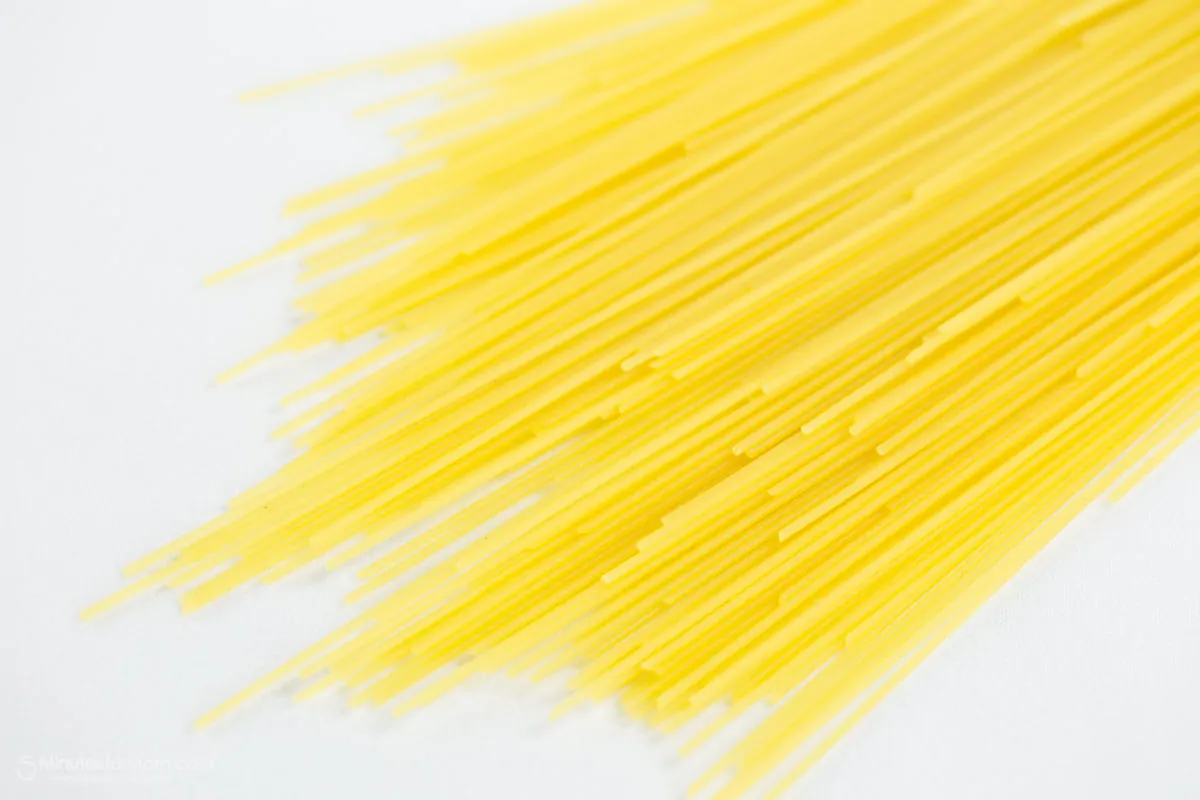 It really does have the "great taste and texture you expect from Italy's #1 pasta brand." They are NOT exaggerating. I had to check the pasta box while I was eating my spaghetti to make sure I hadn't accidentally used one of my regular Barilla boxes from my cupboard.
And, as if the pasta wasn't exciting enough, I made it with this Artichoke and Pistachio Pesto recipe from their website and it is crazy good.
I am not sure if I can communicate how decadent it tastes — the artichokes, the Romano cheese, the pistachios… Oh my word. I must admit, I ate MORE than my fair share when I put down my camera.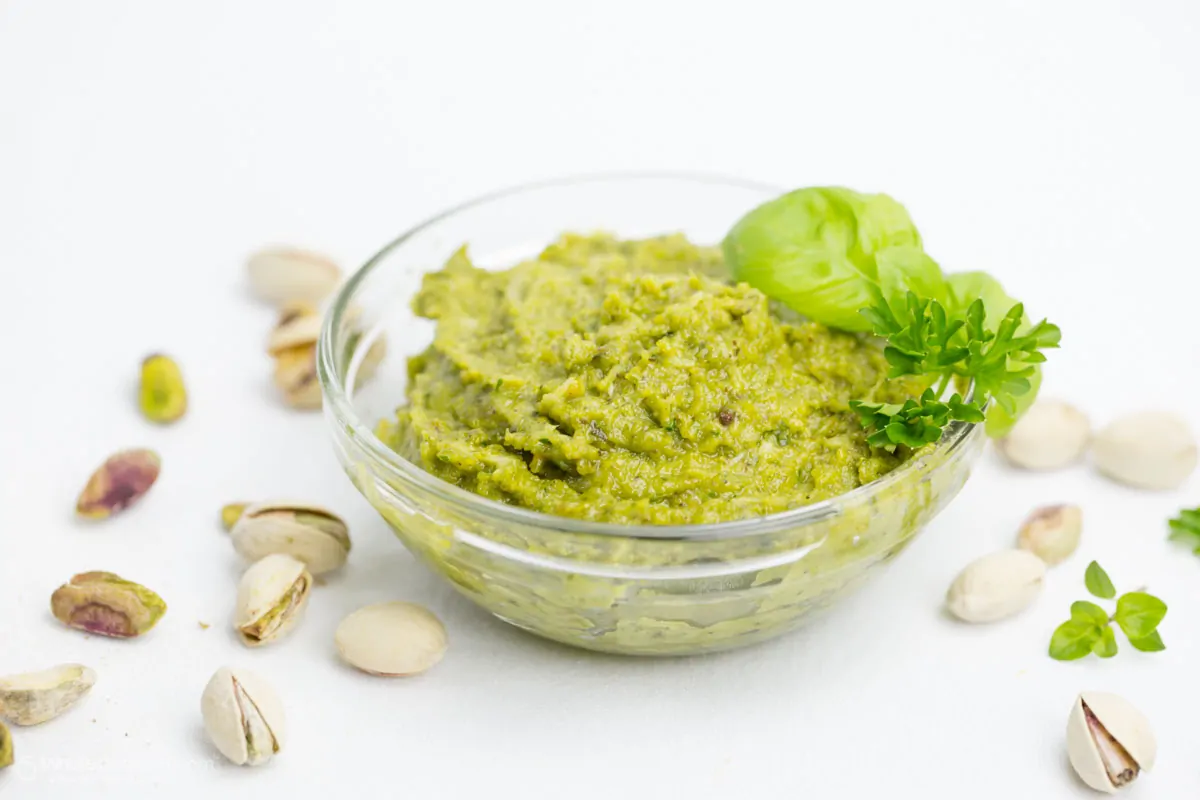 If you are a pistachio fan like I am, this pistachio pesto is definitely a recipe you will want to revisit over and over. I am going to try it with a myriad of recipes in the future.
May is Celiac Awareness Month
Did you know May is Celiac Awareness Month?
Even if no one in your family is Celiac, you probably know someone who is. More than 330,000 Canadians (about 1 in 100) are affected by Celiac disease.
My daughter Olivia is borderline Celiac — which means that her tests have come back with numbers that are just at the beginning of the scale for diagnosing the disease.
At this point, her doctors have told us that she can eat gluten and that we will test her again as she gets a bit older.
Meanwhile, we try to keep her gut healthy with probiotics. I have had Olivia on infant/child probiotics since she first started on solids as a baby. If she doesn't take probiotics regularly, things do not go well in her gut.
I would rather Liv doesn't eat any gluten, considering her body is showing some signs of intolerance. But she is such a picky eater as it is, that I have given in and let her eat some gluten. (She heard the doctor tell her it was ok for her to eat gluten at this point. So she insists on eating it.)
But now that Barilla has this NEW line of Gluten Free Pasta, my pasta problem for her is solved!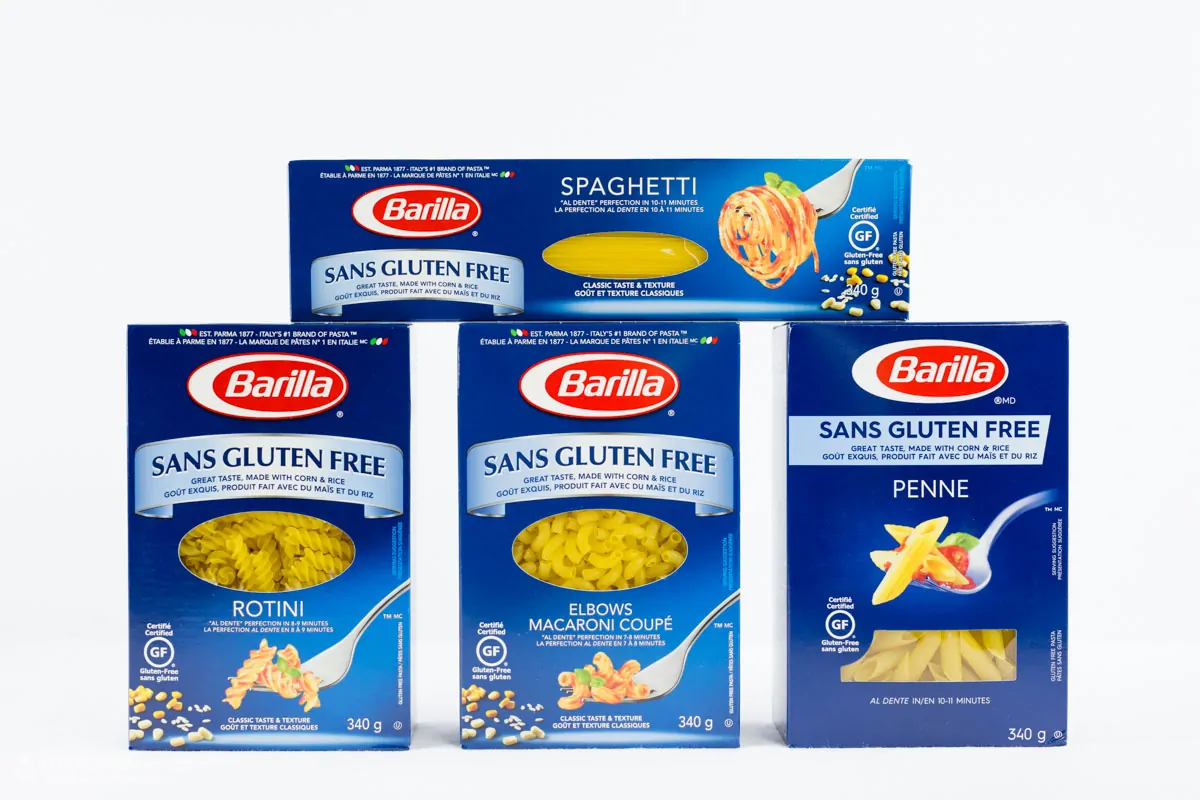 With their new blend of rice and corn flours, the taste and texture of the Barilla Gluten Free pasta is just as good as their regular pasta.
This month, Barilla asked me to join in their Gluten Free Challenge, going gluten free for one week and sharing my journey with you, in order to help draw attention to the challenges faced by those living with the disease.
Of course I was ready and willing to help with this great cause. I love the chance to bring attention to those struggling with Celiac disease. So I am handing over the gluten and you will find me in my kitchen whipping up some gluten-free meals this week.
Gluten Free Spaghetti with Artichoke and Pistachio Pesto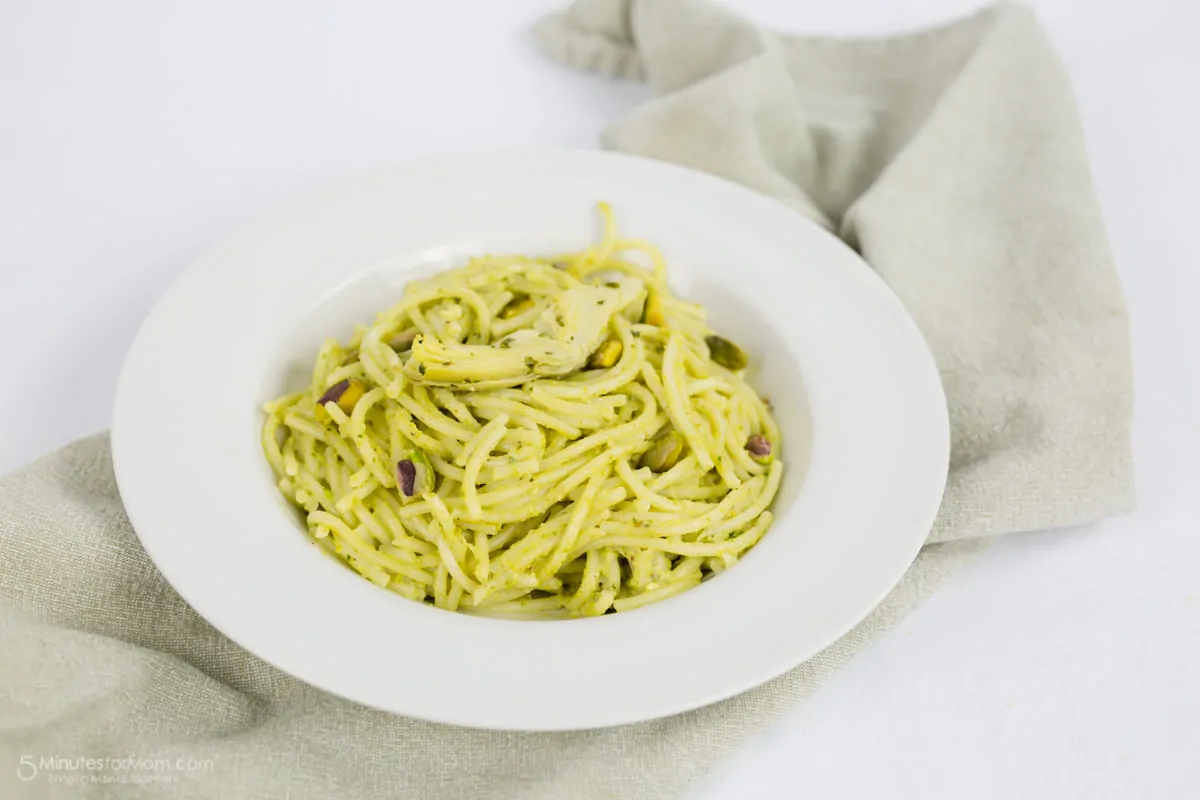 As I said in the beginning of this post, I am more than a little excited about this pasta dish.
It is delicious!
I found the recipe on Barilla.ca — they have a ton of incredible pasta recipes. You definitely want to check out the Barilla recipes to add some new authentic Italian recipes to your dinner recipe repertoire.
I made a few changes to the original recipe.
Instead of using only fresh parsley in the pesto, I used some fresh parsley, fresh basil and fresh thyme.
I couldn't find frozen artichokes and so I used canned artichokes. While I did brown them as per the recipe, if you are using canned artichokes they don't need to be cooked. So feel free to skip this step and be that much closer to digging in.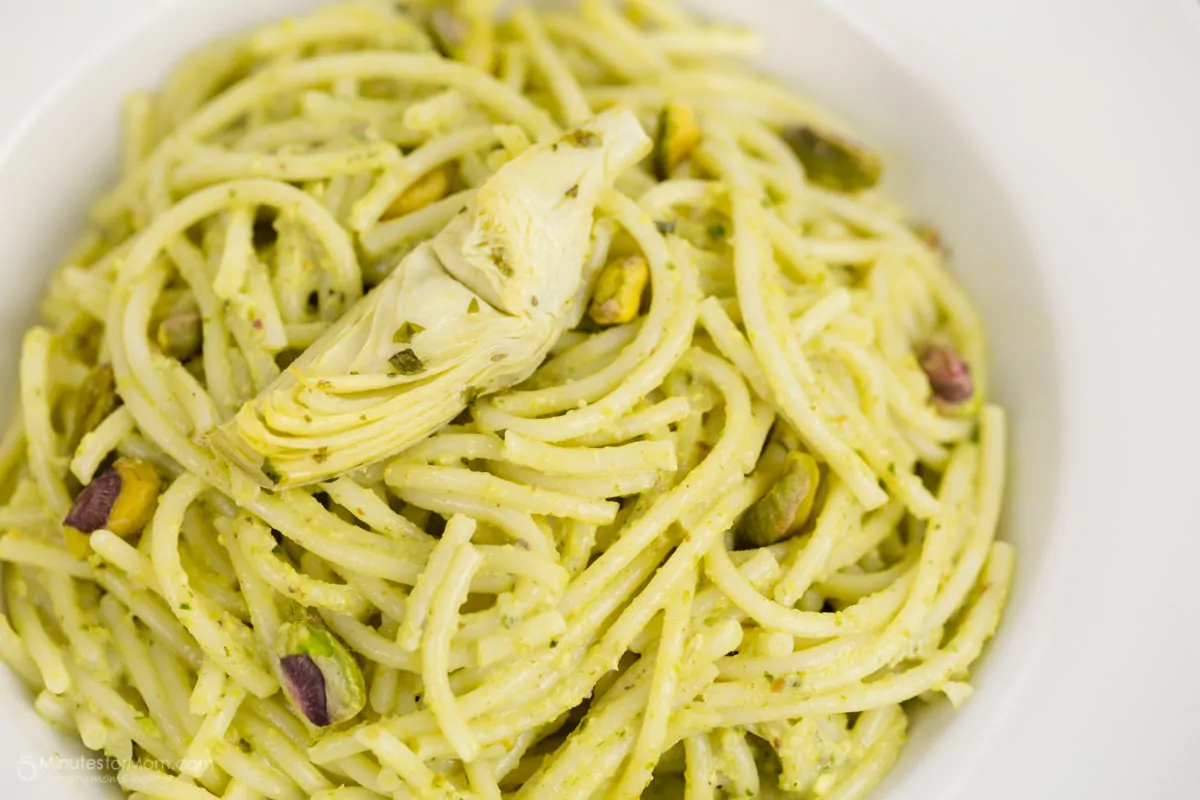 I found that the pesto was a bit thick and clumped when mixing into the pasta even after adding some of the reserved pasta water to the pasta. So I would suggest mixing in a few tablespoons, or up to a quarter of a cup of the hot pasta water, into the pesto before tossing with the pasta noodles.
Also, make sure to top your pasta with freshly grated Romano cheese. I forgot to add the grated cheese when I was taking my photos, but when I started eating I remembered. And the sprinkles of cheese just takes it over the top.
Oh – and if you don't have Romano cheese on hand, no worries. You can substitute the Romano with Parmesan or Asiago cheese.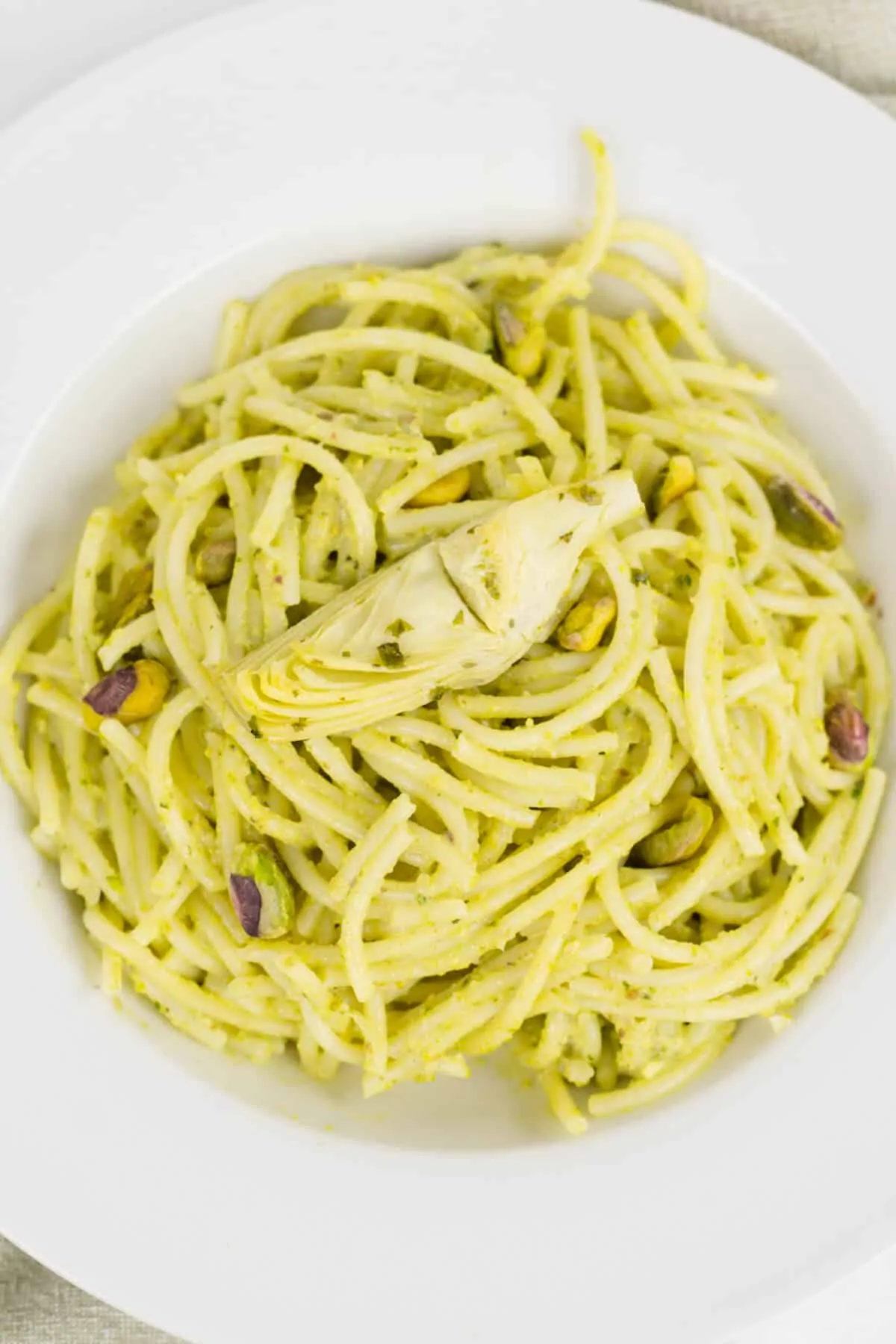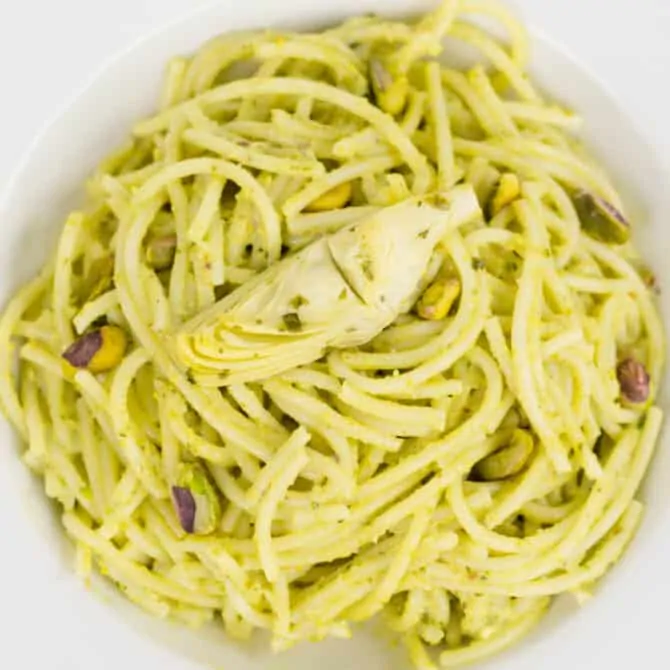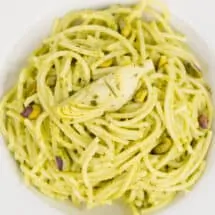 Gluten Free Spaghetti with Artichoke and Pistachio Pesto
With the incredible Gluten Free Spaghetti from Barilla and this to die for Artichoke and Pistachio Pesto sauce, your family and friends will never guess this meal is gluten free!
Print
Pin
Rate
Servings: 4 -6
Ingredients
1 package Barilla Gluten Free Spaghetti or your pasta of choice
6 pieces - quartered artichokes canned or frozen
7 Tablespoons Extra virgin olive oil
1/2 cup unsalted pistachios
1 clove garlic
3 Tablespoons Romano cheese or substitute with Parmesan or Asiago
1 Tablespoon packed fresh parsley
1 Tablespoon packed fresh basil
1/2 Tablespoon packed fresh thyme or any of your favorite herbs
Salt and pepper
Instructions
Bring a large pot of salted water to boil, add one tablespoon of olive oil and cook pasta according to package instructions.

While pasta is cooking, over medium heat, saute artichokes in 1 tablespoon of olive oil until browned and cooked. If using canned artichokes, you may skip this step.

Set artichokes aside to cool.

In a blender or food processor, process pistachios, garlic and herbs until well crumbled and combined.

Add grated cheese and process once again until combined.

Add artichokes and remaining 5 tablespoons of olive oil.

Pulse a few times for a well combined but coarse consistency.

Season with salt and pepper.

When pasta is cooked, drain pasta RESERVING 1/2 cup of pasta cooking liquid.

Mix 1/4 cup of pasta cooking liquid into pesto and then and to pasta.

Toss pasta and pesto, adding remaining pasta liquid only if necessary.

Serve with freshly grated Romano cheese and garnish with fresh herbs, pistachios and artichokes.
Pin it for Later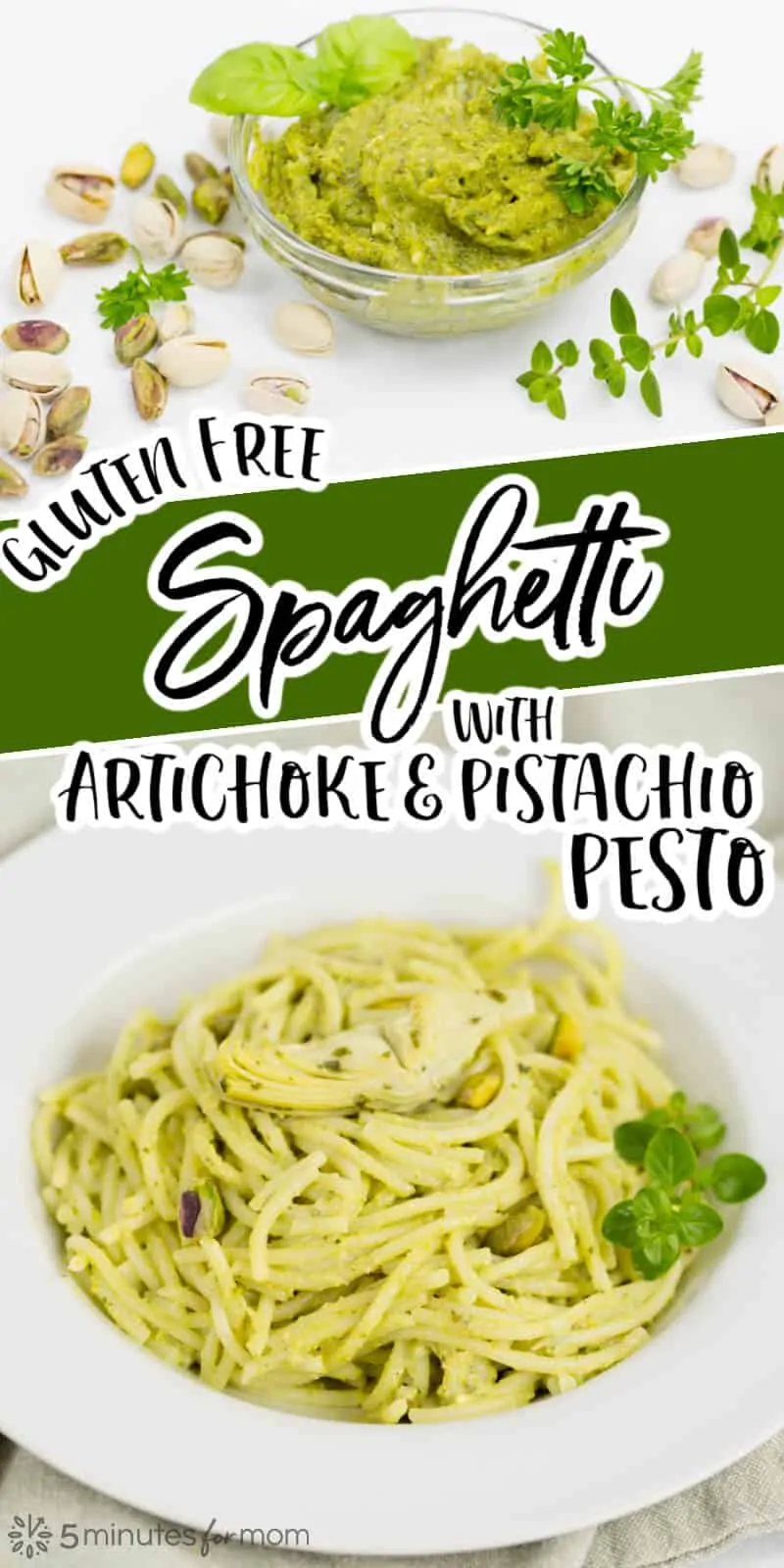 Disclosure: This post is sponsored, so extra thanks for reading and sharing.
Written by Janice Croze, co-founder of 5 Minutes for Mom
Talk with me: @5minutesformom and Facebook.com/5minutesformom
Pin with me at pinterest.com/5minutesformom