This post may contain affiliate links. Read my disclosure policy here.
Lit is a memoir by Mary Karr. It's one of those books that grabbed a hold of me as soon as I started reading it, but one which I can't quite put my finger on why. This is Mary Karr's story of following in her alcoholic mother's footsteps, and her very long recovery to get sober. It's the story of how a woman is changed by work, her dreams, marriage, and motherhood. It's a story of fractured families who somehow hold together.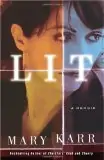 Mary Karr is a poet, and while this memoir is all prose, she definitely demonstrates a mastery of language and the ability to tell a story. She shares all her missteps in a way that is at once detached and honest — almost as if she's a reporter telling her story in a detailed, yet objective way.
Her observations about people (and herself) are absolutely dead-on:
"Don't think he spoke to me this way often. He didn't, which is why — unfairly — it sticks" (p. 138 ARC).

"The other couples look so blithe. They plead academic poverty but drive swanky cars and live sweatered in cashmere" (p. 167 ARC).
After several attempts at recovery, Karr finally takes the advice of AA to get help from a higher power. She reports this transformation in the way of the skeptic that she was, without any presupposition that everyone should follow her path. Even while sharing her encounters with God, she uses a heathen's language that would be shocking to any "church lady" reading her story. I think it's somehow this dichotomy and unadorned honesty that makes her story ring so true.
If you enjoy memoir, Lit is a good one. If you are interested in reading about one person's recovery from addiction, then this is one you're sure to like.
Watch Mary Karr share her thoughts about writing (and living) Lit on the amazon product page.
One of you (U.S. and Canadian residents) can win one copy of Lit: A Memoir. Just leave a comment here, and check the 5 Minutes for Books column next week for the winner.
The winners of 100 Q&A About Anorexia are #2 Ellen C. and #4 Simone.
Jennifer Donovan, book blogger, manages 5 Minutes for Books and blogs at Snapshot.

**Thanks to the publisher, Harper Collins, for the review copy of the book and the giveaway copy.