This post may contain affiliate links. Read my disclosure policy here.
Yesterday was one of THOSE days. My kids were filled with an exuberant amount of energy, while I was completely drained. They ran around like crazy, fought each other continually, screamed louder than ever before and completely forgot how to obey.
I thought about retreating to my room to curl up into the fetal position and have myself a good cry. I even considered getting into my car and just driving away from everything for an hour or so. I wanted a break. I wanted silence. I wanted to be alone.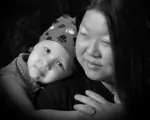 But instead, while my three children tore up the room around me, I opened up my laptop and did some blog hopping. First I headed over to check in on Anissa. I immersed myself in her husband's words. I cried with him, celebrated with him and prayed with him for his sweet Anissa.

I then headed over to NieNie Dialogues and followed a link to an incredible feature that the Arizona Republic is doing on Stephanie. Her story is being told in such shocking detail and it is seriously so moving, awe-inspiring and convicting.
And I realized that I had three healthy, energetic children running in circles around me. This was our time, our moment.
Sure, I could still run to my room to cry about how hard my day seemed, or I could grab their darling hands and join them in a game of ring around the rosie. I could laugh with them, play with them, pick them up and tickle them.
I could also comfort them, love on them and enjoy their kisses.
It's all a matter of perspective! These two women, Anissa and Stephanie, are MY INSPIRATION!
Where is your perspective and inspiration coming from today?
Written by 5 Minutes for Mom contributing editor, Erica.