This post may contain affiliate links. Read my disclosure policy here.
You've enjoyed your pots of colorful flowers all summer long, and had veggies like tomatoes that were so fresh and flavorful that it's going to be hard to eat those store-bought ones during the Winter months. But what do you do now, to prepare for next year?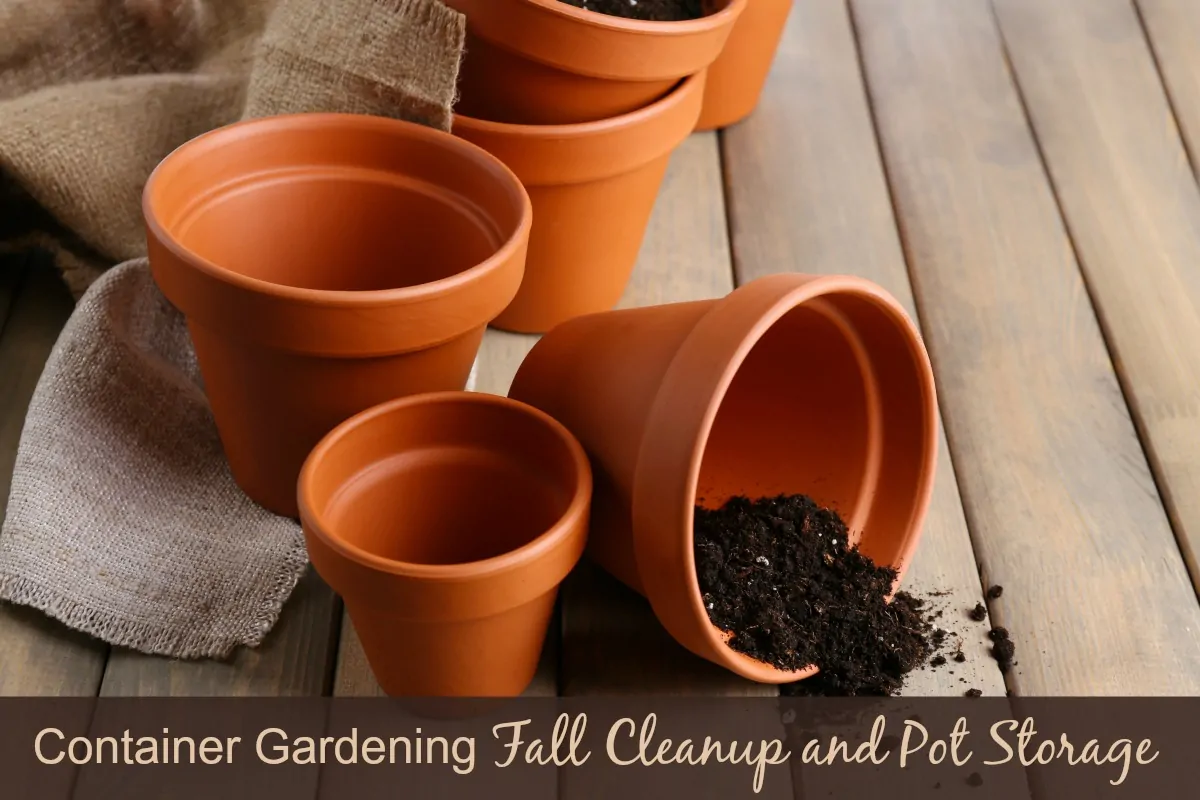 Earlier this year we shared a 4 Part Container Gardening Series including…
Part 1 – Planning your Containers and Space
Part 2 – Deciding what to Plant
Part 3 – Tools and Supplies You Need For Container Gardening
Part 4 – Keeping Your Container Gardening Pots Looking Their Best

Now it's time to talk about Fall Cleanup and Pot Storage…
First, take stock of what you have. Depending on the number and size of pots you have, you may want to divide the following task over several days, or at least a couple of weekends. Prepare your plants to be overwintered one day; discard or transplant plants for indoors on a second day, and leave the end-cleanup for a final day.
Perennials can be overwintered in their pots, if they are properly cared for. This will be different in various parts of the country, depending on how cold it gets in your area, and how long the cold weather lasts. In the Southern US, you might have to watch for the occasional cold night and cover the plants. In the Northern states, where Winter lasts for several months, you may have to move your containers into a garage or shed for protection from freezing.
It's best to contact your local garden center on how to handle specific plants in your area. They will know what your weather is like from year to year, and they must protect their own plants, so they can advise you on what steps need to be taken.

For annuals and vegetables, their life cycle should be just about completed. Remove the dead plants and discard them, unless you have space for a compost pile. Herbs may be divided and moved to a sunny windowsill for the winter. It's nice to have some fresh Parsley or Basil to freshen up your cold weather cooking.
You'll want to empty the soil from your pots, and if you used any filler in the bottoms, separate it and discard. Check each pot's soil for any pests that may be lurking; if it is free from parasites, place it in a large container to use next year. Discard any soil that is questionable.
Next, clean your pots. Use a bleach solution to sanitize and disinfect them. Scrub any moss, algae or dirt from the pots. Once cleaned, let them dry. When they are dry, stack them with a couple of layers of newspaper between them. Store until next year.
Clean the areas where you had your containers around the house. Now is also a great time to make some notes about what you planted, what you liked, what worked, what didn't, etc. Perhaps you grew some green beans, but you need to plant more to actually get a usable amount. Maybe the front entry was too shady for the bright marigolds you planted there. Make notes, so you can have an even better garden next year.
It's never too early to start thinking about next year's garden. Whether you are planting in the ground or containers, there is always something you can do. A great early Spring project, especially if you like lots of color and fragrance, is to plant flowering bulbs. They can be started in the coldest part of winter, and don't need protection from the cold.
As soon as the first warmer days occur, you'll see beautiful blooms of daffodils, hyacinths, and tulips brightening your space. Ranunculus are very pretty rhizomes that are easy to grow and come in a wide range of colors. These flowers will be finished blooming by the time you are ready to start your summer garden.
Before you know it, spring will be here again, and the cycle will start all over again.
Read our complete Container Gardening Series…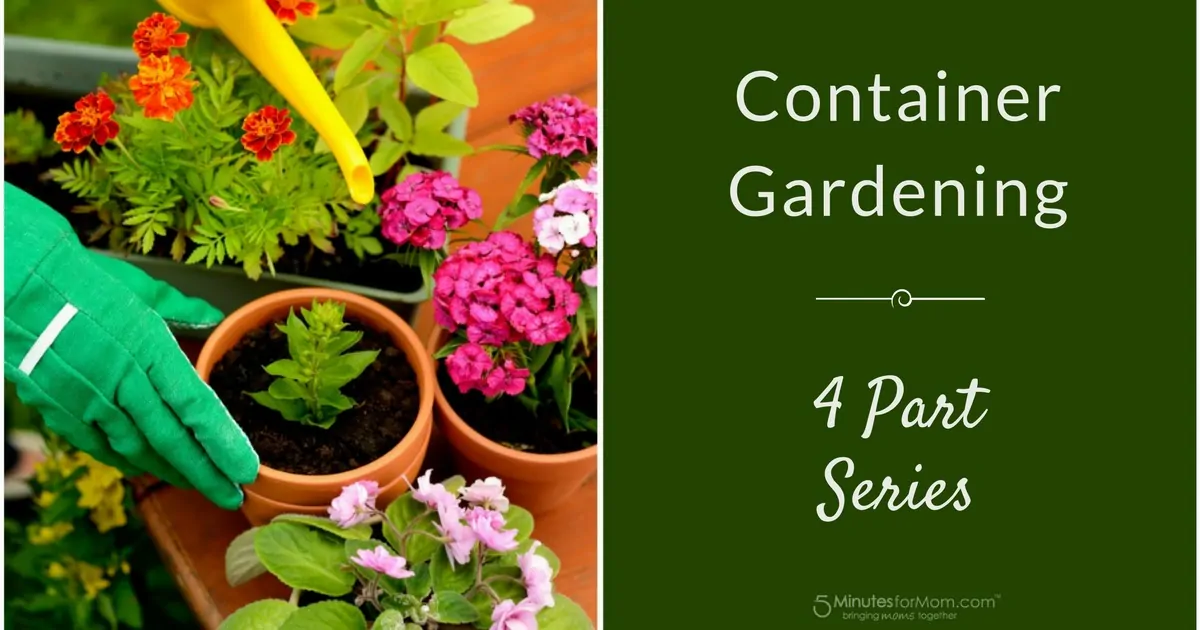 Part 1 – Planning your Containers and Space
Part 2 – Deciding what to Plant
Part 3 – Tools and Supplies You Need For Container Gardening
Part 4 – Keeping Your Container Gardening Pots Looking Their Best

Pin it for Later

Written by the team at 5 Minutes for Mom
Talk with me: @5minutesformom and Facebook.com/5minutesformom
Pin with me at pinterest.com/5minutesformom