This post may contain affiliate links. Read my disclosure policy here.
Hello! Anna here with information on Phillips Sonicare Series 2 toothbrushes. This post is part of a sponsored campaign and I was compensated for my time, all opinions remain my own.
Up until a few months ago I had never had an "electric" toothbrush. I used the good ole manual brushes. However, when I chose to take the plunge and get an electric toothbrush I didn't purchase one that was very high quality, and though I'm sure it did a better job than my elbow grease can do, the batteries wore down quickly and little did I know that the brush actually worked slower and slower while the batteries were dieing.
When I was given the opportunity to review the Phillips Sonicare Series 2 Sonic Toothbrush I said a resounding yes. And let me tell ya, this toothbrush is awesome.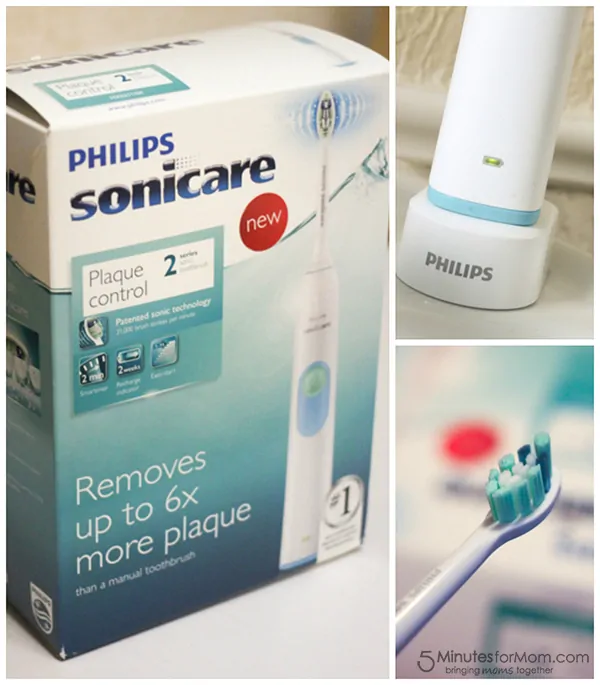 One of the first things I noticed was the head of the brush was small. Noticeably smaller than my other brushes. And at first I didn't think I'd like it but once I started using it I actually loved it. The smaller head was much easier to brush with and didn't cause any sort of discomfort at all. This brush is MUCH more powerful than the others I'd been using. And since I take an oral powder inhaler, I can get a lot of build up on the backs of my teeth, so having a powerful toothbrush will help me keep that at bay.
After using the Phillips Sonicare Series 2 Sonic Toothbrush for a few days I now see what everyone is talking about. This toothbrush with patented sonicare technology is much better at getting and keeping my mouth clean. I am definitely going to keep using this one and I really want to get my husband and kids on board too. Especially my kids. The smart-timer is perfect for kiddos who want to brush too quickly and think harder and quicker bushing is better than softer and longer. What a great practical Christmas gift.
The Phillips Sonicare Series 2 Sonic Toothbrush has patented sonic technology with 31,000 brush strokes per minute. That's quite an arm workout! The brush also features a 2-minute smart timer, the toothbrush automatically turns itself off after 2 minutes, which meets Dental professionals recommendation on how long to brush. Another great feature is the Easy-Start. This feature gently increases power over the first 14 brushings to ease you into the Sonicare experience. This feature can be activated or deactivated if you aren't new to the Sonicare experience.
Other features:
Removes up to 6x more plaque than a manual toothbrush.
Alerts you when you are brushing too hard.
2-Color battery charge indicator.
2 Weeks of battery life
How would you like to win a $1000 Walmart Giftcard from Phillips Sonicare? Enter the sweepstakes below.
Disclosure: This post is sponsored by Lunchbox. I received a product to review and was compensated for my time. As always all opinions are my own.