This post may contain affiliate links. Read my disclosure policy here.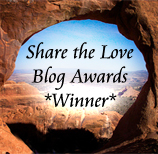 Gosh girls – we are just so honored! 5 Minutes for Mom just won the Share the Love Blog Awards for "Woman Power! — Best Representative of Women."
Thank you so much for voting for us! And – thank you for making 5 Minutes for Mom such a great representative of women online. We love that, through our blog, we can show off all your incredible work and bring you traffic and exposure.
Head on over to visit all the other winners and runners-up and make sure you stop by IzzyMom, the runner-up for "Woman Power."