This post may contain affiliate links. Read my disclosure policy here.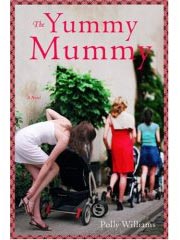 Have you heard about the British bestselling novel The Yummy Mummy
? It was just released here in North America last month.
Since our goal is to bring the best of all-things-mommy, I decided to give this one a read.
By the end of the prologue, I could understand its popularity. The writing seemed fresh and the story had grabbing power.
As I got to know 'Amy Crane' and her friends, I recognized that the women most likely to relate to this drama would be those who enjoyed a swinging-single style of life before their babies monopolized their time.
Although most new moms would likely relate to how overwhelmed and inadequate Amy feels, I imagine that some women – like myself – may have had an entirely different experience and outlook on the first year of mommyhood. And my guess is that some women may actually feel a bit insulted by Amy and her 'Yummy Mummy' friends. Personally, I felt a little offended by the stereotypes tossed about and Amy's judgmental attitudes about various types of moms. Although Amy did grow and change throughout the novel, I felt that throughout most of the story, I didn't really like her very much.
But as in life and as in this book, we're all different and we're not likely to connect with everyone we meet just because we have motherhood in common. And so I can understand why some women love The Yummy Mummy
, but I was just not one of them.
So I'm curious… Have you read it? If so, what did you think?