This post may contain affiliate links. Read my disclosure policy here.
We're thrilled to announce a fabulous Twitter Party about Gratitude and Convenient Gifting This Holiday Season! The event is sponsored by a revolutionary new gift card app called Wonder.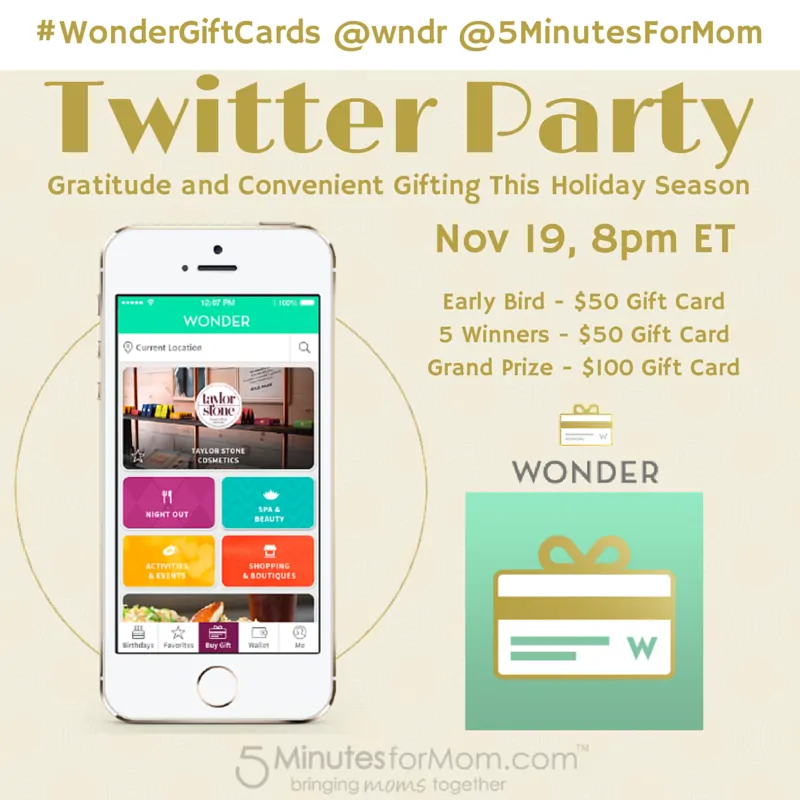 #WonderGiftCards Twitter Party
Join us to get the holiday season started with a fun, fast-moving Twitter Party celebrating all we're thankful for, how we show gratitude and how we can make holiday shopping even more convenient with a new type of gift card.
And the best part… the prizing are eGift Cards that you can choose to apply to almost ANY store in the USA. Keep reading…
[Tweet "RSVP Now #WonderGiftCards – Nov 19, 8pm ET #TwitterParty @5MinutesForMom @wndr"]
Twitter Party Details
Gratitude and Convenient Gifting This Holiday Season
Date: Nov 19
Time: 8 pm Eastern / 7 pm Central / 5 pm Pacific
Hashtag: #WonderGiftCards
Party hosts to follow:
@wndr
@5minutesformom
Prizes:
The Wonder app is currently US based so only US residents are eligible to win.
During the Twitter Party…
5 Winners each will win a $50 eGift Card redeemable at ANY Merchant in the US*
1 Grand Prize Winner will win a $100 eGift Card redeemable at ANY Merchant in the US*
Before the Twitter Party…
1 Early Bird Prize Winner who RSVPs below and tweets about #WonderGiftCards will win a
$50 eGift Card redeemable at ANY Merchant in the US*
*These prize eGift Cards can be used for ANY merchant of your choosing—retail store, restaurant, etc through the Wonder app.
It can be from a national brand or a local favorite (how cool is that?). You will receive a notification via email or text from Wonder and the gift will be waiting for you in your wallet in the Wonder App. To redeem it, simply download the app and link the eGift card to your credit card. Then when you are ready to use your gift card, you just pay as usual at the merchant with your linked credit card. It's that easy and convenient.
Also, everyone that downloads the app and registers will receive a $5 promotional code.
*Note that you need to have a valid credit card to redeem the gift.
Panelists to follow:
(Compensated panelists are not eligible for prizing.)
@brettbmartin
@zipporahs
Community Panelists to follow:
(Community panelists are volunteers and eligible for prizing.)
@EstelleSErasmus
@ciera_nitkowski
@gymcraftlaundry
What Is Wonder?
Wonder, a new and innovative way to send and receive gift cards. Stored on your credit card, Wonder gift cards can never be lost or forgotten.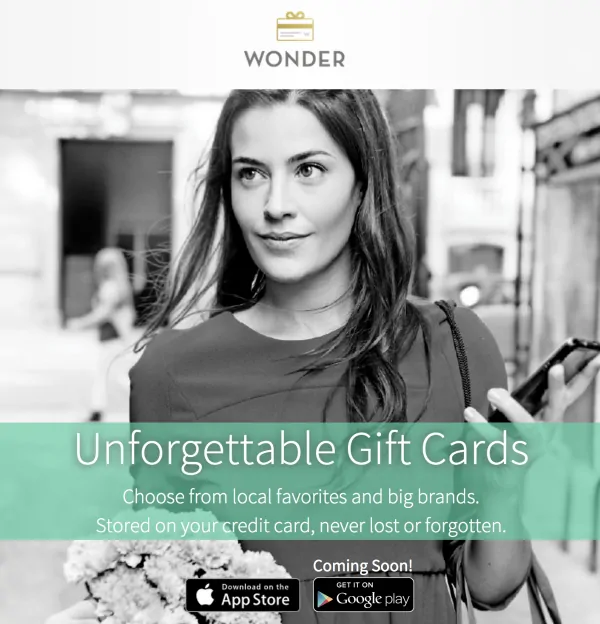 Simple, Convenient, Easy: Quite simply, with Wonder, your credit card becomes your gift card. All you need is your smartphone and a credit card to get started and gifts can be sent in less than five minutes from your phone.
Hassle-Free Gifting: Wonder takes the hassle out of keeping track of your gift cards because all your gift cards are organized in the Wonder App. You can finally ditch the plastic. No more bulging wallets. No more time wasted searching for where you stashed your gift card.
Personalization and Options: No need to play grocery store kiosk roulette. With 2 million merchants –from national brands and local favorites– in its marketplace, Wonder has created a new opportunity for consumers to get something for everyone on their gift list whether the recipient is around the corner or across the country.
Spread the Wonder, Spread the Joy… Holiday Shopping Made Easy
Wonder can accommodate your entire holiday gift list, whether someone is near or far, likes a big department store or a specialized local boutique. And its perfect for any last minute gifting needs because gift cards can be purchased instantly.
Watch how easy Wonder is to use…
Wonder helps you get back to enjoying the spirit of the season by spending less time navigating the parking lot at the mall, the line at the checkout counter and the endless search for a gift for that hard-to-buy person on your shopping list.
A Little More About Wonder…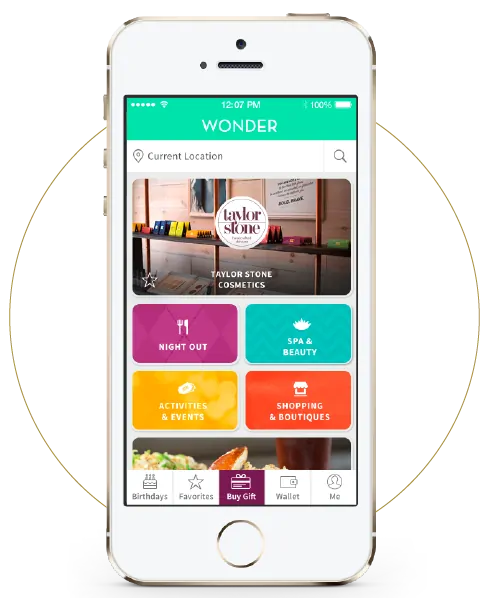 The personal profile you create lets friends and family know which shops and boutiques you prefer from a national retailer to the French bakery around the corner that makes your favorite macaroons. Wonder helps guarantee you get a gift card from a place you really want.
Unlike other traditional gift card offerings, the Wonder e-gift card never expires. And a GPS reminder tells the gift recipient when they are nearby the merchant so they can redeem their e-gift at their convenience. Redemption made easy.
With Wonder's Gift For Good program gift givers can choose to donate to their favorite cause, local charity or school when they purchase Wonder gift cards.
How It Works
To redeem gift cards, recipients accept a gift via the Wonder App through their phone and then simply pay as usual with their credit card. Nothing ever has to be presented or shown to the merchant at the time of purchase.
Support for Android and debit cards coming soon.
Download the Wonder Gift Cards app by searching for Wonder Technologies on the Apple store today.
RSVP for Chance to Win an Early Bird Prize
If you will be joining the party, RSVP below and Tweet Now with #WonderGiftCards so we know you are coming and we can follow you! We'll send you an email reminder the day of the party. You'll also be entered to win the Early Bird Prize…
$50 eGift Card to redeemable at ANY Merchant in the US*
*These prize eGift Cards can be used for ANY merchant of your choosing—retail store, restaurant, etc through the Wonder app.
Prizing eligible to US residents only. We apologize to our Canadian friends, but Wonder will soon be available in Canada.
Add your Twitter Handle below…
Example Link Text: @5minutesformom
Example URL: https://twitter.com/5minutesformom
Thanks for RSVP'ing… we're thrilled you'll be joining us. Please also click below to send out a tweet.
[Tweet "RSVP Now for Early Prize #WonderGiftCards – Nov 19, 8pm ET #TwitterParty @5MinutesForMom @wndr"]

Disclosure: This Twitter Party is sponsored by Wonder Technologies.
Written by Susan Carraretto, co-founder of 5 Minutes for Mom
Talk with me: @5minutesformom and Facebook.com/5minutesformom
Pin with me at http://pinterest.com/5minutesformom/