This post may contain affiliate links. Read my disclosure policy here.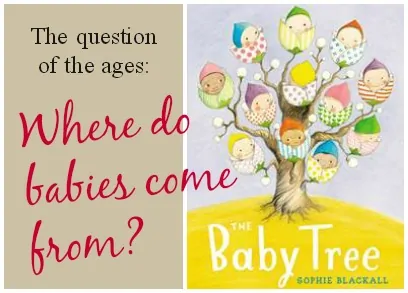 It's a universal experience for parents, the first time your child asks the classic question: Where do babies come from? In the new, absolutely adorable picture book by Sophie Blackall,
The Baby Tree
, a young child hears a wide variety of answers to this question. After his parents tell him that there will be a new baby in the family, the boy mulls over this question and decides to ask a bunch of people, including his babysitter, his teacher, his grandpa, and even his mailman! The answers he receives are all over the place, so the confused boy decides to ask his parents after all, who finally help him understand the real story of it all.
My eight-year-old daughter was only 18 months old when her little brother joined our family, so I'm not exactly sure what she thought of it all. After reading this delightful book together, we chatted a bit about the book and what she used to think about how babies originated. Take a look:
We took our cue for the giggly conversation from the official book trailer video, which my daughter has loved watching a few times now. (My younger son, too, though he was a bit camera-shy when it came time to make our own video!) Get ready to giggle along, too:
Head over to my full review post on 5 Minutes for Books to hear more of my thoughts on this new picture book. I can tell you that as both a parent and an early childhood educator, I'm giving it two BIG thumbs up!
Also, be sure to:
· Visit the author's website
· Follow Penguin Kids on Twitter and Facebook
Enter to Win
I'm happy that one of you (U.S. only) can win a copy of this book. Use the widget below to log in one or more entries.