This post may contain affiliate links. Read my disclosure policy here.
Dawn, 5M4M contributor, recently attended a press junket for the movie Blended. Expenses for her travel and lodging were covered by Warner Bros. Pictures, but all opinions expressed here are wholly her own.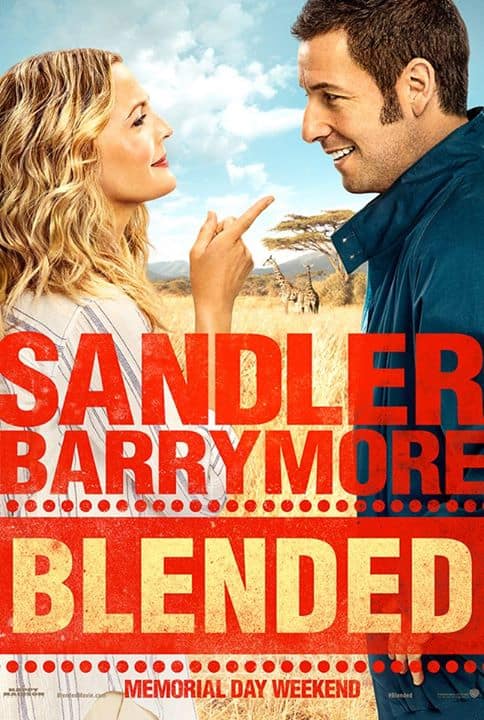 To me, Adam Sandler and Drew Barrymore go together like peanut butter and jelly, a perfect pairing. Back in 1998, their on-screen chemistry was first demonstrated in The Wedding Singer, and in 2004, audiences delighted in seeing them again in 50 First Dates, which just happens to be on the shortlist of my favorite funny movies of all time. They must have heard the clock ticking, because they've paired up again, another decade later, for the upcoming Blended, releasing Memorial Day weekend. I recently had the opportunity to see the movie and participate in a parent blogger junket with the hilarious stars of the film.
Now, I'm just going to say it right up front- I am a long-time fan of Adam Sandler's signature goofy comedic style, so I was beyond thrilled for the chance to meet him. I'm not going to say that I made a complete dork of myself expressing my fandom, but I did come pretty close. That's okay, though, because I got the sense that both he and Drew Barrymore are exactly the kind of people who can appreciate a little comedic dorkiness!
That something special
Watching Drew and Adam interact during the junket was no different than watching them on screen together– a whole lot of charm, chemistry, and laughter. As they reminisced about partnering up for their first movie together, the looks that they shared expressed a comfortable and tender friendship, and it was easy to understand how they always manage to work so well as a duo on film. With every question that was asked of them, they laughed and answered together, often breaking in to finish a sentence in the way that good pals do.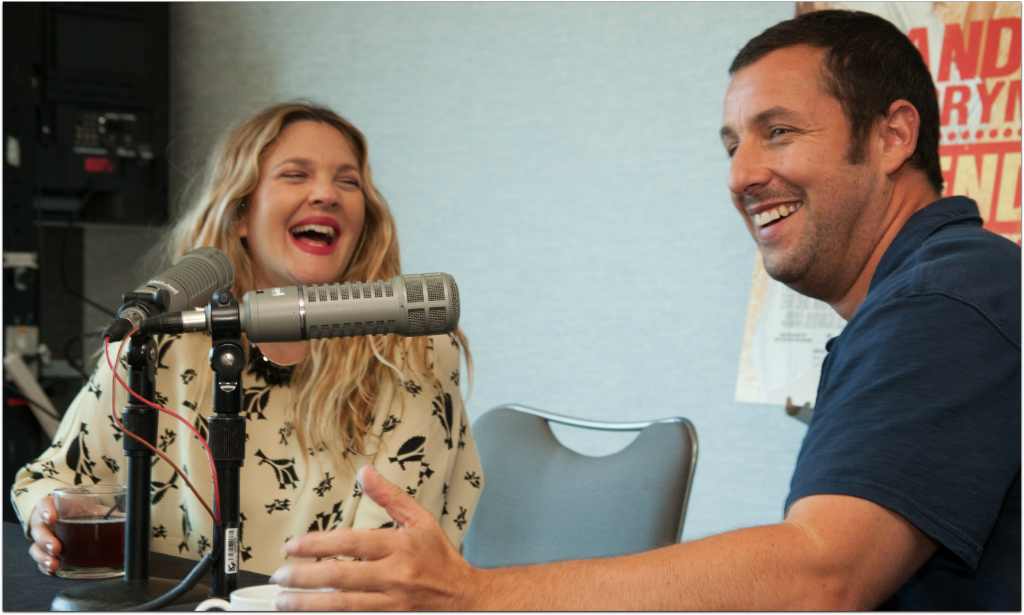 When asked how they decided to make another film together, they spoke about how it all first started:
Drew Barrymore:  I mean, why not? I always joke that I call Adam, well when we first met I called him, because I know that we're supposed to partner up.  I just know it in my heart.  And I stalked him until he accepted the ways.  And then, he is always–.

Adam Sandler:  –It wasn't that hard by the way. But, it was pretty much, Drew Barrymore wants to have lunch with you.  I go, all right.

Drew:  Well, that's good. That's nice.  And then, he found, or presented, because it was his project, The Wedding Singer.

Adam:  Yes.

Drew:  And I knew reading it, I was, that's it.  That's the one. And Adam really, really cares, and scrupulously as a producer and a great writer, really makes sure that the script is tailor-made for us, and has all the things, like our strengths, or things we want to try, or things we want to put in it, or fun set pieces where you're, like, I get to do that?  Oh my gosh, this is so fun.  Okay.

And then, when we found 50 First Dates, I actually sat down to a typewriter and I wrote him a letter crying.  And I was, like, I know this is the one.  I know it.  I know it.  I know it.  And then he got the letter.

Adam:  And I said I better do this, or something bad is going to happen.

Drew:  I guess it was received well because we did the movie.  I never questioned it to be the letter or not.

Adam:  Anything you ask for I do by the way.
Playing parents on screen
Seriously, they couldn't have been more fun to chat with, and with their third movie together, it's obvious to see how their personal experiences can shine through on screen. Both are parents, with Drew just welcoming her second child less than three weeks before the junket! In this film, their characters' lives as parents are the focus, and mixed in with the expected goofy and slapstick humor are tender moments that revolve around the parenthood experience. Both Drew and Adam spoke about how they related to ideas expressed by their characters in the film:
Adam: It felt great about making this movie.  It's about respect for parenting and being a good parent, and a respect for putting your kids first, and being true.  It's hard.

Drew:  I remember when I read it, one of my favorite lines in the movie is on their date night towards the end of the movie, and he says you're a good mom.  And she looks at him and she says you're a good mom, too.  Sorry.  I actually texted him that yesterday.

Sandler:  Yes, you did, for Mother's Day.
Another ten years?
Knowing how much I love seeing them together on screen, I couldn't help but ask them if we'd have to wait another ten years to see it happen again. (I may have flashed my uber-dork badge when I said, "We want to see you grow old with her," to Adam Sandler. Thank goodness I had the good sense not to sing it!) After nodding and chuckling a bit at my reference to The Wedding Singer, they both answered in a way that left me with some hope for a shorter break before the next one:
Drew:  Well, we were thinking maybe, like, I don't know.  Can we afford every 10 years?

Adam:  Yes.  I know, we're not sure how long we got.

Drew:  Someone asked us earlier, could we see us doing an On Golden Pond.  And then, Adam said, with more jokes, yes. Which I liked.

Adam:  We should.

Drew:  Yes. And doesn't she call him an old poop in the movie?

Adam:  Yes.

Drew:  You old poop.  I'm good to go. I think we should speed it up a little bit.

Adam:  At least every six.

Drew:  Yes.  Exactly.  Six years goes by so fast. I had two kids since we had the idea for this one!
Are you excited to see them together up on the movie screen again? Check out the trailer for Blended right here, and connect with the film through social media. Be sure to read about our interview with the hilarious Wendi McLendon-Covey, too, where she also shares some funny stuff about her current hit show The Goldbergs!
Blended opens in theaters on May 23, 2014.
Visit the Official Website
Like on Facebook
Follow on Twitter, Google+ and Tumblr
#Blended