This post may contain affiliate links. Read my disclosure policy here.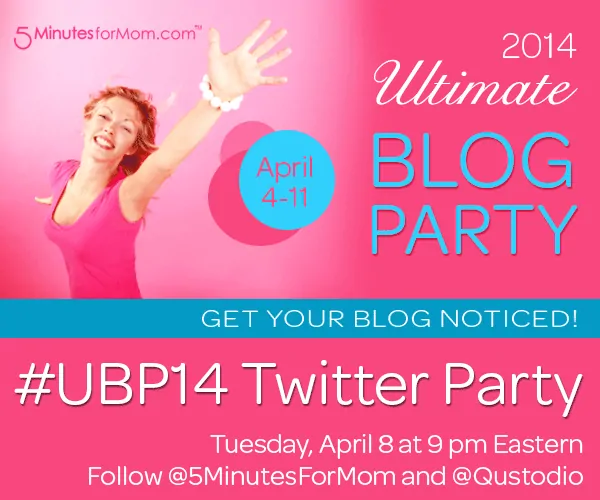 The Ultimate Blog Party TWITTER PARTY is brought to you by Qustodio…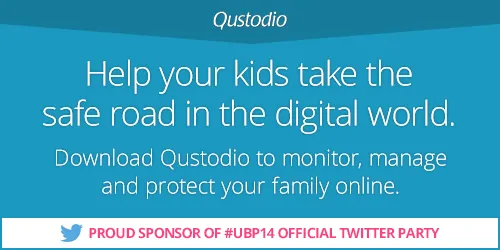 UBP Live Events
During the week long Ultimate Blog Party 2014, we have two LIVE events… this #UBP14 Twitter Party on Tuesday April 8th and a Google Hangout on Air on Monday April 7th.
Both of these live events start at 9 pm Eastern and run for 1 hour.
Twitter Party Details:
Topic: "Balancing Blogging, Family Life & Privacy"
A Twitter Party to share ideas and helpful tips for blogging parents as well as talk about digital parenting and online safety tips.
[Tweet "Join #UBP14 #TwitterParty Apr8,9pmET to talk Blogging, Family Life and Privacy spon @Qustodio"]
When: Tuesday April 8th from 9:00pm until 10:00pm Eastern
Where: Hashtag #UBP14 on Twitter
Sponsor: @Qustodio
Panelists: Stacie H Connerty @StacieInAtlanta and Michelle Sutter @PowerbyMomBlog
Prizes:

2 year subscription to Qustodio Premium for up to 10 devices/children.
10 Winners
Value: $89.95 Each
Description: Qustodio is the must-have digital parenting tool for your modern family. Ensure that your child benefits from all of the education and entertainment the Web offers without worrying about the dangers lurking behind the screen. Qustodio Premium makes digital parenting easier by allowing you to set time limits, monitor social networking activities, block dangerous apps, and receive detailed activity reports so you're always informed about your child's online behaviours. It's the peace of mind you've been missing!
No RSVP Required for Twitter Party – Just join the conversation on Twitter with #UBP14.
Ensure you follow @5MinutesForMom, @Qustodio, @StacieInAtlanta, and @PowerbyMomBlog
What Is The Ultimate Blog Party?
If you're not sure what the Ultimate Blog Party is all about, find out here.
Get your #UBP14 Blog Badges Here.
[Tweet "Join @5MinutesForMom @Qustodio @StacieInAtlanta @PowerbyMomBlog #UBP14 #TwitterParty Apr8, 9pm ET"]
Remember to RSVP for the Full #UBP14 Event
This Google Hangout is just part of the #UBP14 event. You don't want to miss anything. Sign up to receive important reminders and prize information before, during and after the party…