This post may contain affiliate links. Read my disclosure policy here.
I confess — I love meatloaf. It is the perfect meal when I am starving at the end of a long day. There is something so comforting about it.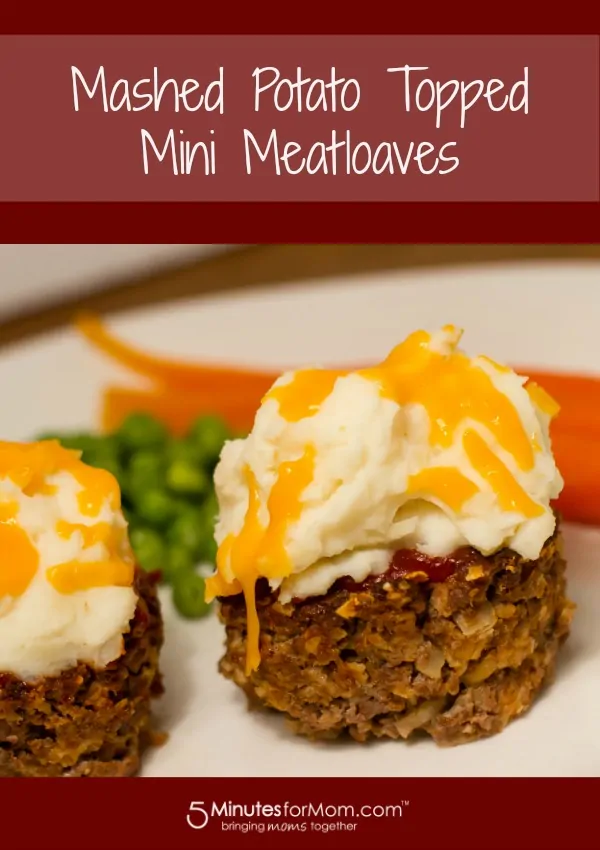 I also love that it is an affordable and easy meal to make. A handful of ingredients, a quick stir, and in the oven it goes. But, I don't love that it takes an hour to cook. I often can't afford an hour for baking when I have hungry kids waiting.

So the other day, I got inspired when this mini meatloaf recipe popped into my inbox from Kraft Canada. (I am on the Kraft email list because I love their simple recipe ideas delivered daily.)
Cooking meatloaves in muffin tins is now my new go-to method for making meatloaf. Not just because it is cute and fun to have mini meatloaves, but because it reduces the cooking time from 60 minutes to 20 minutes! And, even better, the meatloaf is well cooked throughout and you don't have to worry about burnt or dried out edges.
I decided to change up the Kraft recipe a bit, and instead of using the Kraft Stove Top as they suggested, I stayed with my usual meatloaf ingredients, adding oatmeal, ketchup, barbeque sauce, and of course an egg and some salt too.
Their fun idea of topping the meatloaves with mashed potatoes sounded great. I skipped the parsley in mine but added the cream cheese as they suggested. The Kraft recipe called for gravy, since I do not like gravy with my meatloaf, (I am a ketchup with meatloaf girl,) I swapped out the gravy and sprinkled grated cheese on top of ours.
To melt the cheese, you can top the meatloaves with the mashed potatoes and then return to oven on broil to melt the cheese. I simply served two mini meatloaves on each plate, topped with the mashed potatoes, sprinkled the cheese on top, and then popped them in the microwave for 20 seconds to melt the cheese. Then I added the cooked vegetables to each plate and served.
I hope these Mashed Potato Topped Mini Meatloaves are a hit with your family too! Kids are the best testers and my son enjoyed it so much, he scored the leftovers for dinner the next day.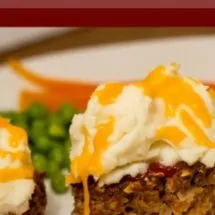 Mashed Potato Topped Mini Meatloaves
Mini Meatloaves are not only fun to serve and taste moist and delcious, but they reduce the 1 hour baking time for meatloaves to only 20 minutes!
Print
Pin
Rate
Servings: 4
Ingredients
1.5 ibs of extra-lean ground beef
3/4 cup Quick Oats
1/2 cup ketchup set aside 1/4 for glaze
1/2 cup barbecue sauce
1 egg
1/2 cup finely chopped onion
2 large potatoes
2/3 cup of cream cheese
1 clove of garlic optional
1/2 cup grated cheese for topping
Instructions
Pre-heat oven to 375 F

Peel and cut potatoes

Add potatoes to pot of salted water and bring to boil

Allow to cook in a gentle boil for 20-30 minutes, or until tender

Remove from heat and drain

Mix in cream cheese and minced garlic (optional)

While potatoes are cooking, set out large mixing bowl

Add ground beef, oats, 1/4 cup ketchup, 1/4 cup barbecue sauce, 1 egg, and 1/2 chopped onion.

Stir until well combined

Add to well greased muffin tin - makes 8 muffins

Bake at 375 F for 20 minutes or until no longer pink in the middles and 160 F

(Optional: About 15 minutes into baking, glaze tops of meatloaves with a mixture of ketchup and barbecue sauce and return to oven)

Once cooked, remove mini meatloaves from over and top with mashed potatoes and sprinkle with cheese. (Optional: melt cheese by broiling for 2-3 minutes or simply popping in the microwave for 20 seconds.)
Find More Recipes
Look for more tasty ideas in these Food Blog Posts and on our Recipes Pinterest Board.
Written and photographed by Janice, co-founder of 5 Minutes for Mom and owner of Janice Croze Photography.