This post may contain affiliate links. Read my disclosure policy here.
Have you ever made your own avocado yogurt dressing? If not, try this easy and delicious recipe.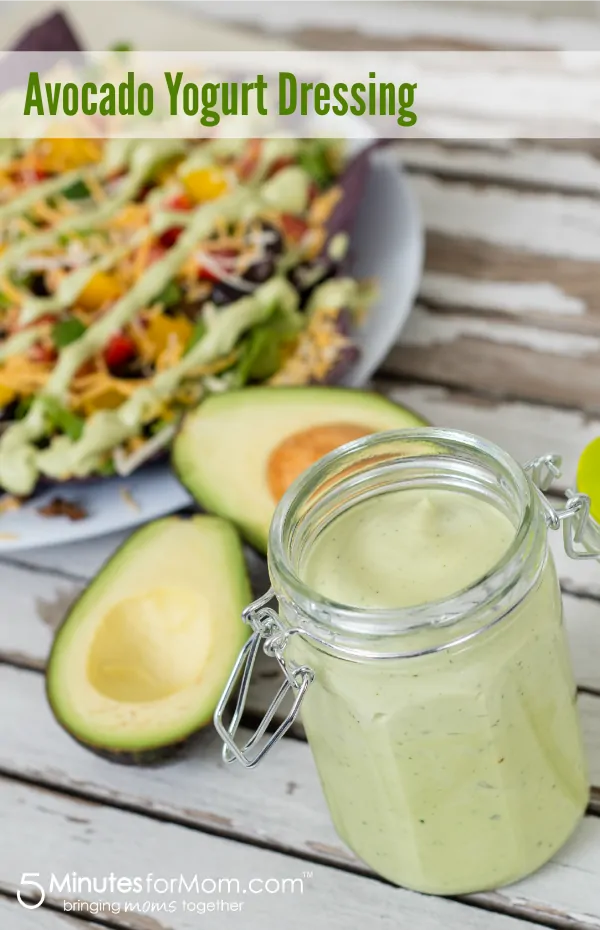 Avocados are staples in Susan and my houses. They were one of our kids' first foods and we all eat them regularly — pretty much daily. We eat avocados in our salads, sandwiches, and burgers. I love to smash them up for fresh guacamole too. We even eat avocados by themselves, sliced with a dash of salt and a splash of lemon.

This avocado dressing or dip I created brings together some of my most favorite things — fresh salad dressing, fresh herbs, (I keep plants growing on my window sill,) and avocados. I used my beloved Ninja Ultima Blender to quickly blend together my ingredients. You can use a food processor or blender to make your dressing or dip.
To make your salad dressing thinner, increase the amount of milk. If you want to make a dip, reduce the milk, adjusting to your preferred consistency.
I kept mine quite thick and drizzled it across the taco salads we had for dinner. I didn't have an extra squeeze bottle handy at the time, so I just used a Ziploc bag with the corner cut off, just like you would for icing.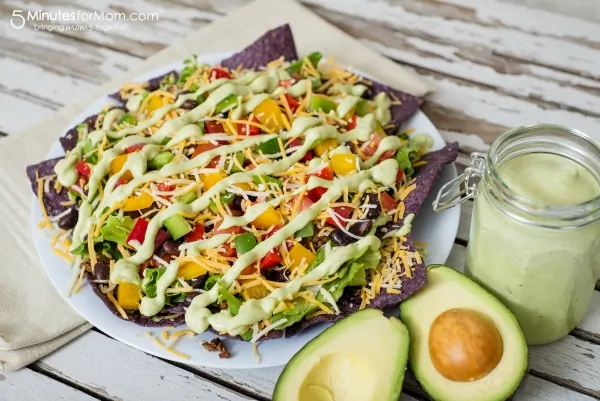 I then used some of the dip later that evening when we had some late night nachos with the left overs from dinner. This avocado yogurt dip is the perfect addition to a loaded up plate of hot nachos.
I kept the dip in an air tight jar and the next day I removed the top part that had browned and used the rest in some chicken wraps. Three delicious meals all from one versatile dressing/dip.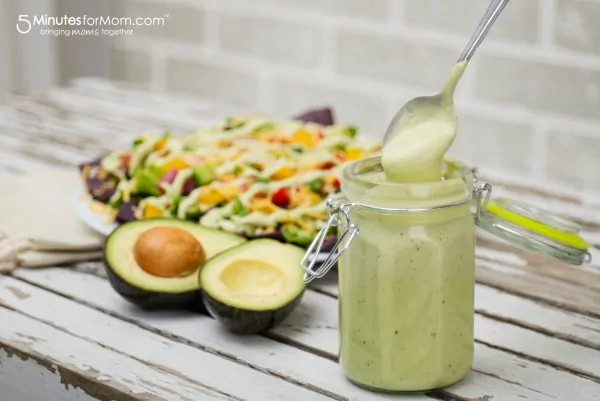 If you are looking for a quick and delicious way to liven up your salads, nachos, wraps, or sandwiches, you want to whip up a batch of this avocado yogurt dressing.
The next time you head to a party, why not bring a bowl of avocado yogurt dip with chips or veggies. The crowd will love you for it — such a fresh break from the usual dips and guacamole.
If you're entertaining, pair this mouth watering avocado dip with our Ultimate Berry Mojito.
Avocado Yogurt Dressing and Dip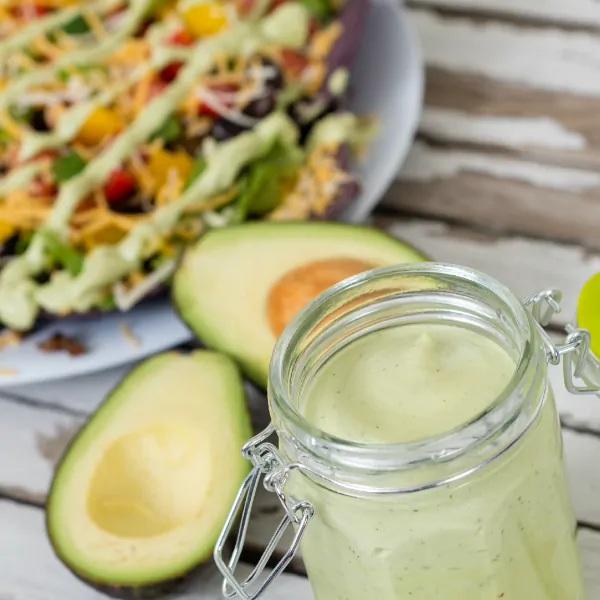 Avocado Yogurt Dressing and Dip
This avocado yogurt dressing with fresh mint is a quick and delicious way to liven up your salads, nachos, wraps, or sandwiches.
Print
Pin
Rate
Ingredients
1 avocado
1/2 cup Greek yogurt
1 lime juiced or 2 tablespoons lime juice
1/4 - 1/2 cup buttermilk or milk increase or decrease according to desired consistency
2 tablespoons extra virgin olive oil
2-5 fresh mint leaves or sprigs or 1 teaspoon dried mint
2-3 fresh parsley sprigs or 1/2 teaspoon dried parsley
salt to taste
pepper to taste
Instructions
Combine all ingredients in blender or food processor and mix until well blended.
Written by Janice Croze, co-founder of 5 Minutes for Mom
Talk with me: @5minutesformom and Facebook.com/5minutesformom
Pin with me at pinterest.com/5minutesformom