This post may contain affiliate links. Read my disclosure policy here.
Written by 5 Minutes for Mom contributor Michelle of Honest & Truly! who is writing this review on behalf of M.O.C. Woodworks. We were compensated for this post, but all opinions remain our own.
I cook. A lot. And that means that I need my kitchen tools handy.I have ceramic containers on my counters that hold my spatulas and other not sharp gadgets, but my knives have always lived in a drawer with plastic knife guards.Where we're living now, we have no drawers in the kitchen (don't ask), and so all my silverware and knives and other less often used gadgets live in a hutch I had the foresight to pack that resides just outside my kitchen.It's no fun to walk over and back every time I need a knife, and the plastic covers make me nervous.I have the perfect solution now, with a wall mounted wooden magnetic knife board from M.O.C. Woodworks.

With small children in the house, I've always been slightly uncomfortable with my knives in drawers, though I'm lucky that my kids are well-behaved enough to stay out of drawers in the kitchen when I've told them to.That said, the covers I have for my knives in the drawer are far from perfect. They don't fit the knives exactly, which means that a tip or end sometimes slips out as the plastic slides on them. I do my best to ensure that they're sharp side down in a little container, but they don't always stay that way. Not only are they hard to get to, but I'm afraid I'm going to cut myself on them.
For years, I've wanted a magnetic knife rack to hang in my kitchen. My knifes would be easily accessible, and I'd know that they aren't getting dinged up in a drawer, too. Aside from that, it's a "sharp" (pun intended) look to have matching shiny knives hanging in the kitchen almost as a decoration. The M.O.C. Magnetic Board is the perfect solution for me; it works great for small spaces with limited storage space, which describes my life right now.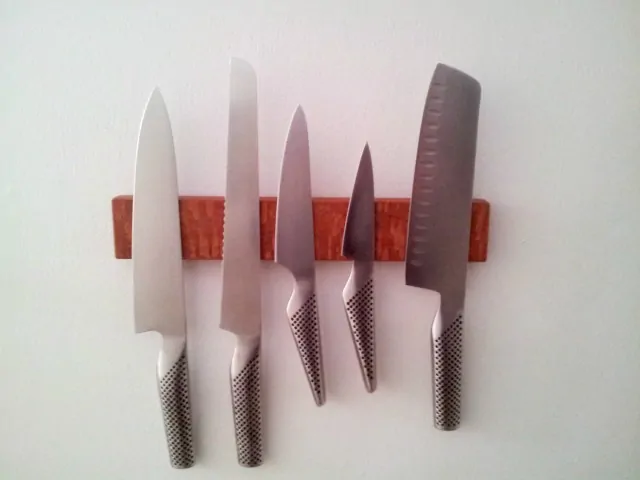 It is small, at 12 inches long, but it has a powerful magnet, and I am able to easily fit my five main knives with room to spare. The magnetic knife strip easily mounts flush to the wall, so pulling off my knives doesn't move or jar it to where I would be concerned that other knifes will fall. I love that it comes with clear instructions and all materials needed to mount the magnetic board. It was a quick and painless process to get it mounted, and if I need to move it in the future, the board lifts off and can be remounted elsewhere.

I do wish the board were a little larger to hold more items, plus I would feel more comfortable with it mounted in studs (the anchors are 10 inches apart on the board), though the board comes with drywall anchors and wood screws that keep your magnetic knife board securely attached to the wall. And while this is technically a knife board, the strong magnet works for a variety of other purposes. If I had enough money, I would love to purchase a series of them to make rows along a wall and affix little tins with my spices on them for easy access. This is also perfect by a door to hold keys in place or in your shop to hold tools you're using for a project or even in the bathroom to hold your grooming tools.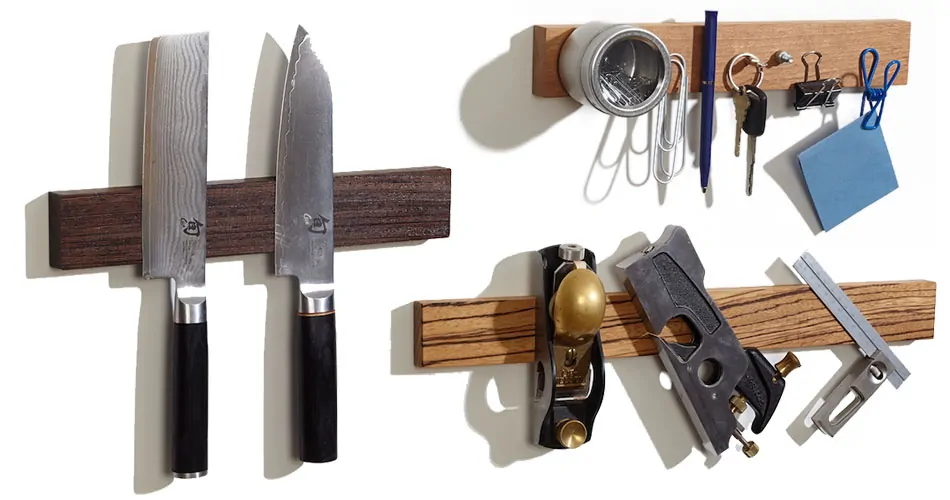 The magnetic knife holder comes in a variety of woods so that you can find one that best suits your style- cherry, maple, walnut ($45 apiece), mahogany ($50), lacewood, zebrawood, and wengewood ($55 apiece). The woods are beautiful, and it was interesting to see some of the woods I had never heard of before, they are hardwoods perfect for this application and make a real style statement that fits your life!
Michelle may never stop running around Chicagoland, but she always makes time for the important things in her life – her wee ones, cooking, reading, and spending time with friends – and of course, writing. You can see what she's up to on her blog Honest & Truly! or on Twitter where she tweets as @HonestAndTruly.