This post may contain affiliate links. Read my disclosure policy here.

Jennifer D., 5 Minutes for Books editor and 5M4M contributor, here to share some nostalgia and offer a special giveaway. This is part of a sponsored campaign, and I received samples as well, but as always, my opinions are my own.
When my children were toddlers and preschoolers, board books were a staple in our home. I am still inexplicably drawn to them, and they are my go-to gifts for new babies and first birthdays (and 2nd and 3rd for that matter). The sturdiness and smaller size of board books means that they are totally safe for little hands. I always kept some in the car and in their cribs as well as in baskets around the house.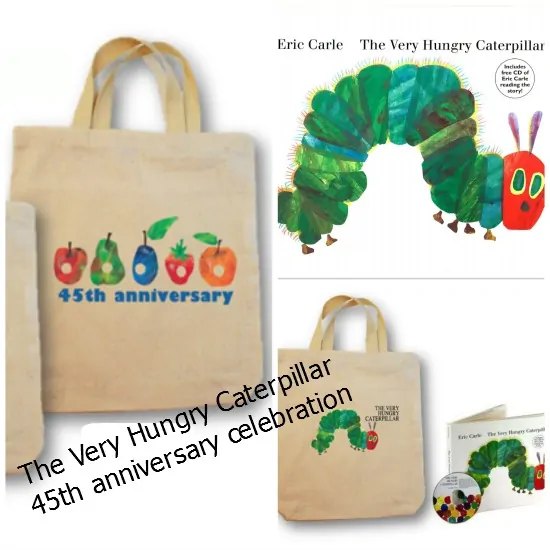 Eric Carle's
The Very Hungry Caterpillar
is one of the handful of books that has special memories for me. Since I am under 45, I remember the book from my own childhood and rushed to share it with my children. It's one of the books that I buy for brand new moms, and I much prefer the board book version.
I love Eric Carle's artistic style. I think the bright colors and the textures are so eye-catching, to children and adults. The text is generally repetitious, but in a great way — pleasing and familiar to children and not annoying to the adults reading and re-reading. But my absolutely most favorite part? The actual holes that the caterpillar chews through the things he eats. I can't resist putting my fingers right on the perfect missing circle, nor could my children.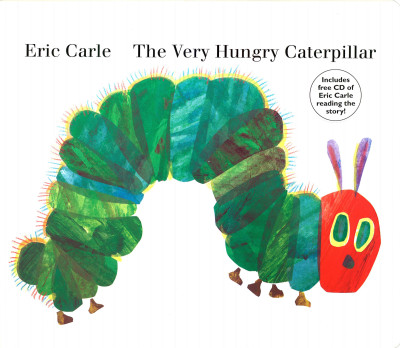 There are a handful of books that I remember sharing with my children and actively await sharing with my grandchildren. Eric Carle's books are definitely in that category, so I'm so proud to help celebrate the 45th anniversary of The Very Hungry Caterpillar.
2014 marks the 45th anniversary of Eric Carle's pre-school classic, The Very Hungry Caterpillar. The anniversary will be officially celebrated on the annual "Very Hungry Caterpillar Day" which takes place every year on the first day of spring (March 20th).
Since its publication in 1969, 36 million copies of the book have sold worldwide and it has been published in 55 languages. That year the book was also named one of the best children's books of the year by The New York Times, and it has since become a beloved, must-own classic. Today, every 30 seconds, somewhere in the world, a copy of this book is sold.
Eric Carle is acclaimed and beloved as the creator of brilliantly illustrated and innovatively designed picture books for very young children. He has illustrated more than seventy books, many best sellers, and more than 100 million copies of his books have sold around the world. In 2002, Eric and his wife Barbara opened The Eric Carle Museum of Picture Book Art in Amherst, MA, a 40,000 square foot space dedicated to inspiring a love of art among children by introducing them to picture book art by renowned artists from around the world.
Enter to win
I am happy to be able to offer a very special 45th anniversary edition of the book which comes with a CD of the story read by Eric Carle himself! You will also receive a limited edition tote.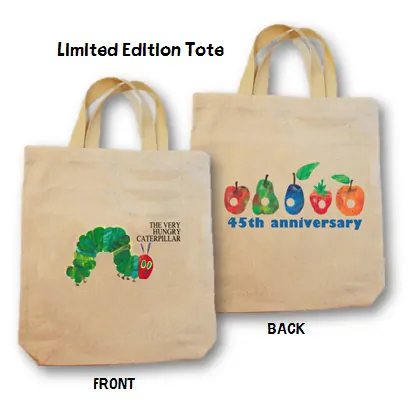 Follow the instructions in the widget to enter. Start off by leaving a comment telling me your favorite Eric Carle book.
Get Social