This post may contain affiliate links. Read my disclosure policy here.
Guardians of the Galaxy trailer debut on last night's episode of Jimmy Kimmel Live on ABC. If you missed it you can view the trailer below.
About the movie
Marvel's "Guardians of the Galaxy" finds space adventurer Peter Quill the object of a bounty hunt after stealing an orb coveted by a treacherous villain, but when Quill discovers the power it holds, he must find a way to rally the quartet of ragtag rivals hot on his trail to save the universe.
Marvel's "Guardians of the Galaxy," which first appeared in comic books in Marvel Super-Heroes, Issue #18 (Jan. 1969), stars Chris Pratt, Zoe Saldana, Dave Bautista, featuring Vin Diesel as the voice of Groot, Bradley Cooper as the voice of Rocket, Lee Pace, Michael Rooker, Karen Gillan, Djimon Hounsou, with John C. Reilly, Glenn Close as Nova Prime Rael and Benicio del Toro as The Collector.
GUARDIANS OF THE GALAXY opens in theaters everywhere on August 1st!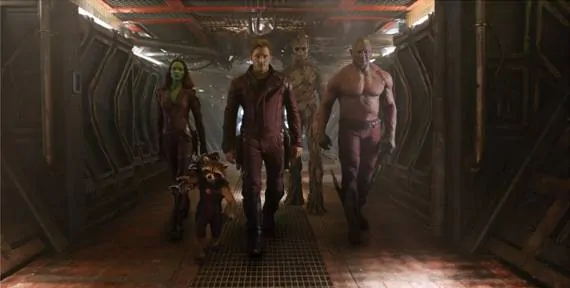 Like GUARDIANS OF THE GALAXY on Facebook: www.facebook.com/guardiansofthegalaxy
Follow GUARDIANS OF THE GALAXY on Twitter: https://twitter.com/Guardians