This post may contain affiliate links. Read my disclosure policy here.
To our Canadian friends, this one's for you! Check out this fabulous educational TV show for your kids and enter to win $500 in educational toys. This is a sponsored post.
There are many television shows out there for kids.
Most can occupy your child for a time with songs or funny characters, but how many of them actually involve and even feature your child?
What's Your News, a CBC Kids' allows your child to be a part of a television show that is all about kids. CBC's "What's Your News?" is an award-winning children's series that brings pre-school children all the news from their very own pre-school worlds. The news comes from kids growing up in Canada's many diverse communities from Thorncliffe Park in Toronto to Iqaluit in Canada's far north.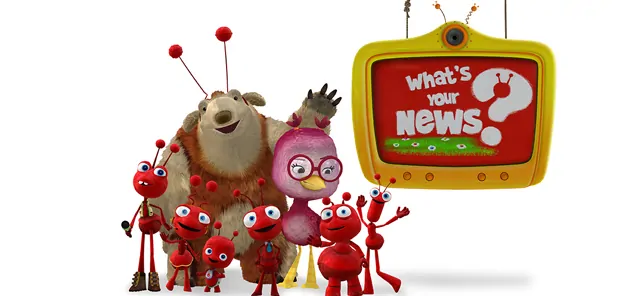 In its second season on CBC, a Canadian network, What's Your News? has created a show that follows the standard news format and puts ants in charge!  These tiny anchormen cover the world of kids' news and even include weather and traffic updates, all from the perspective of a preschooler
From the arrival of a new pet, to a child's personal talent, or the simple activity of visiting the park, all of What's Your News? stories are real and relatable for kids. This real news from pre-school children does not use professional actors and was co-created and producer by Larry Mirkin, whose history in children's television dates back to his work on Fraggle Rock with Jim Henson.
The show's entertaining characters of Grant, an ant, and Antony, an anteater who thinks he's an ant, field calls from children who share their news.
Filled with fun headlines each show highlights photographs of real children, who have supplied this news. In every episode, What's Your News? also shows videos of real stories (not interviews) sent in to the studio by children who watch the show. What could be better than watching a show where your own child can be featured? Imagine your kids creating their very own news! Across Canada there are kids doing just that.  
Visit the What's Your News? website to learn more or catch some episodes online.
$500 Prize Giveaway
CBC wants to reward one Canadian viewer with a $500 gift certificate to educational kids' toy store Mastermind Toys!

Hi! I'm Jenny! I blog at www.thesweetstuff.blogspot.com all about my home, family (husband and sweet baby girl), being a mom, crafting, cooking, my faith in God, and more. I love the outdoors, living in a small town on the Central Coast and being a mom!