This post may contain affiliate links. Read my disclosure policy here.
Upon moving our daughter from her crib to her big girl bed, we were faced with new challenges. Falling asleep began to take longer. as our daughter became aware of many new distractions. As an infant, sound machines worked well to accelerate her sleep, but this new toddler stage required a different type of sleep aide.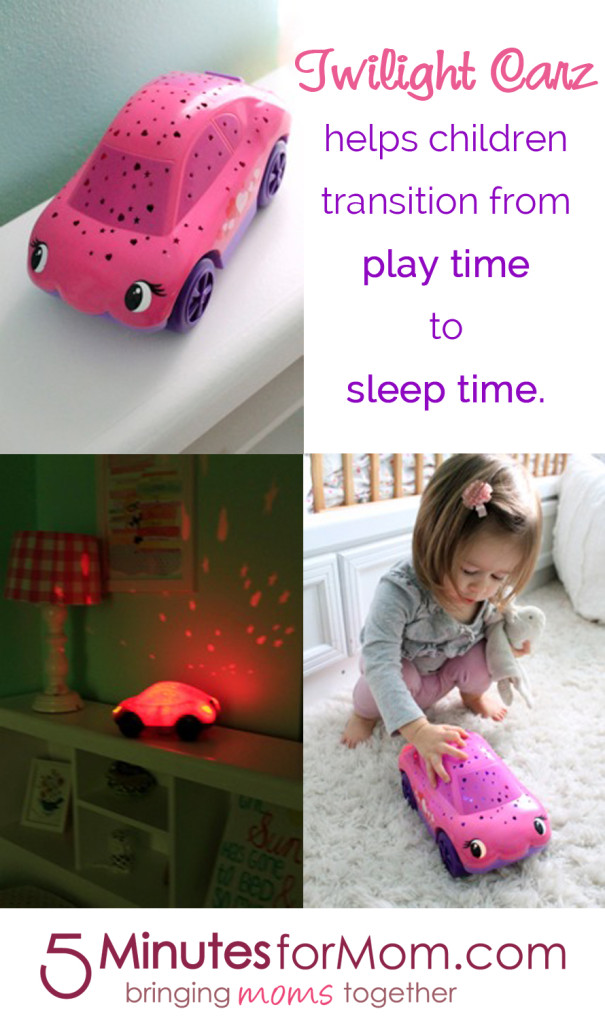 Then we discovered the Cloud B Twilight Carz!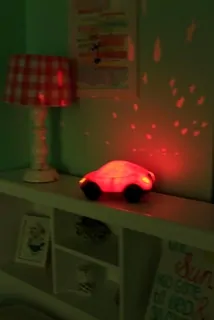 Created for even the most restless sleeper, this adorable racecar's purpose is to accelerate the deepest dreams.  A toy by day with their fully functioning wheels, the Twilight Carz help transition children from play time to sleep time.
This darling automobile accomplishes the task of helping your little one nod off by projecting hearts and stars onto their walls and ceiling. The gorgeous glow effect of the red and blue LED colors will soothe your sleepy child.
The additional features of illuminated headlights and tail lights can ease a child's fear of the dark as well.
The best part?  No need to sneak in and turn the car off once your child is asleep and risk waking them up.The lights automatically shut-off after 45 minutes to create the complete darkness for sleeping recommended by pediatricians.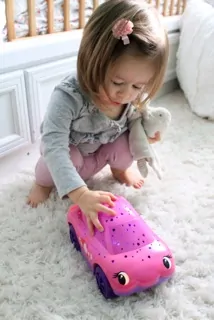 Our daughter was thrilled with her car and began driving it around her room immediately! At 20 months old she was able to push the necessary buttons to turn the lights on or off.  A hidden power button beneath the car makes it easy for parents to keep the lights off during the day in order to preserve battery life.
The pink and purple design and fun heart decals added the perfect dash of girl to this race car. I was worried a race car might clash with her room decor, but the medium size of the car and its simple design kept it from standing out too much in her room.
When bedtime came and the lights were out we turned the LED projector on and stars and hearts dotted the walls and ceilings of our daughter's room.  She was enthralled.  We left the car on after tucking her in and were amazed to see that she didn't attempt to climb out of her bed once!
Instead, she lay still looking up at the ceiling until she drifted easily to sleep!
Twilight Carz are perfect sleep aides for restless sleepers, toddlers transitioning to big kid beds, or little ones who fear the dark.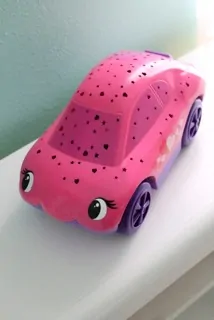 Some of the features include:
Friendly day and night companion
Rolling wheels for daytime play
Eases fear of the dark
Projects stars and lightening bolts
Illuminated headlights and tail lights
Light timer and features
45 minute auto shut-off ensures complete darkness during child's deep sleep, recommended by pediatricians
Projects in 2 soothing color options: blue, red
Requires 3 AAA batteries; batteries are included
Retail box dimensions: 6" x 10" x 7.75"
Twilight Carz are available in pink hearts or red lightning for an affordable price.  This multifunctional toy will bring enjoyment and deep dreams to your child.  Find out more about Twilight Carz at their website!
Win one here! Enter to win your very own Twilight Carz in the entry form below.
Hi! I'm Jenny! I blog at www.thesweetstuff.blogspot.com all about my home, family (husband and sweet baby girl), being a mom, crafting, cooking, my faith in God, and more. I love the outdoors, living in a small town on the Central Coast and being a mom!