This post may contain affiliate links. Read my disclosure policy here.
Family memories are precious… Too precious to sit ignored somewhere on your hard drive or scattered on various sites in the cloud.
We're thrilled to show you a simple way to pull together all your photos and videos and edit them easily into treasured memories for your whole family to enjoy together. This post is part of a sponsored campaign but as always our opinions are our own.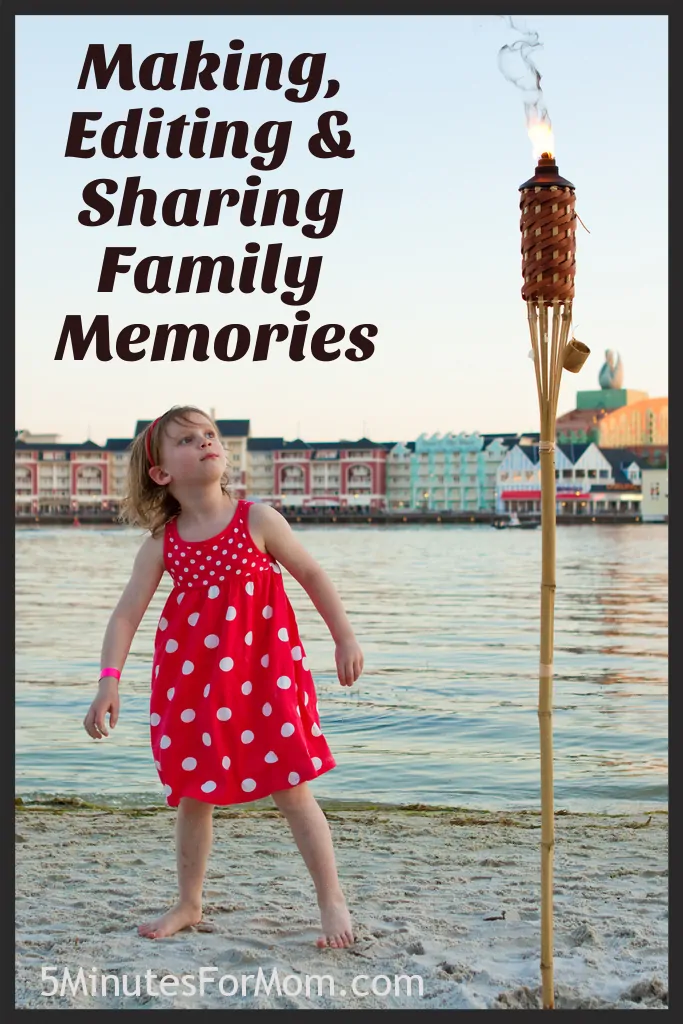 Pixorial is the simple photo and video solution for making, editing and sharing your family memories.
In fact, it's so easy to edit photos and videos in Pixorial, you can turn making videos into a family project.
Your kids can edit their own photos and make their own movies… Pixorial is that easy to use!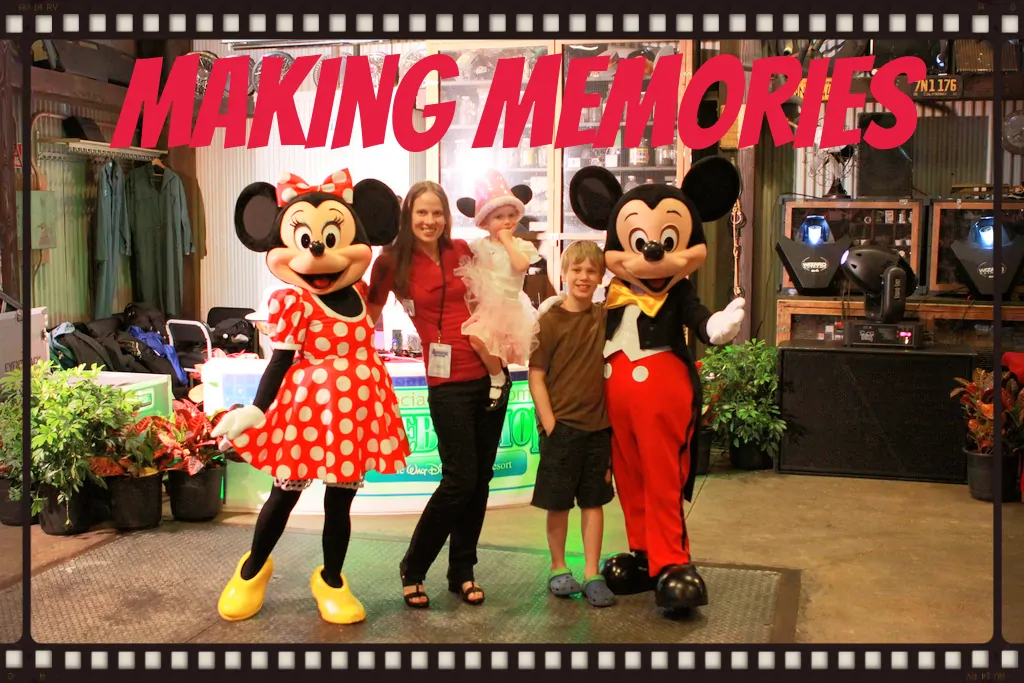 All In One Place
The toughest part of enjoying your photos and videos is that the files are located in different places and you need to use different software applications, websites and social sites to edit and share them with family and friends.
With Pixorial, it's all in ONE place.
All your photos. All your videos. All your editing functionality. And you don't go anywhere to share. It's all done in Pixorial.
Video: Making Magical Memories DisneySMMoms2010
Easy Universal Import and Sharing
You can easily transfer and centralize all your photos and videos using their easy universal import tool. You can pull in your files from all the different social sites such as Facebook, Instagram and Flickr as well as other cloud storage sites such as Google Drive, SkyDrive and Dropbox.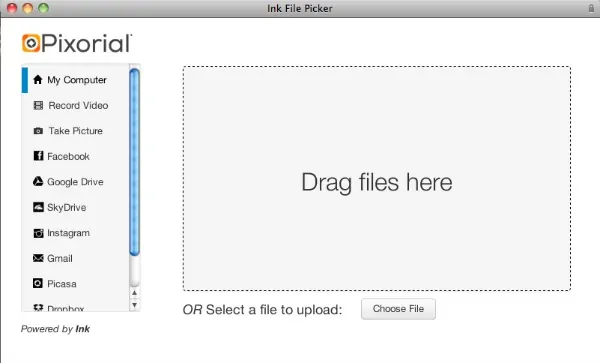 Pixorial takes the complexity out of sharing.
As well as sharing individual photos and videos, you can share entire albums. You can create as many albums as you want, add whatever photos and videos you want to those albums, and then share those albums with whoever you want.
Your friends can also add files to those shared albums for you to see. And don't worry… only you can delete your original files.
Your Kids Will Love Pixorial
The user interface of Pixorial is so simple, you and your kids will immediately be able to edit your photos and make movies with multiple clips, text overlays and music tracks.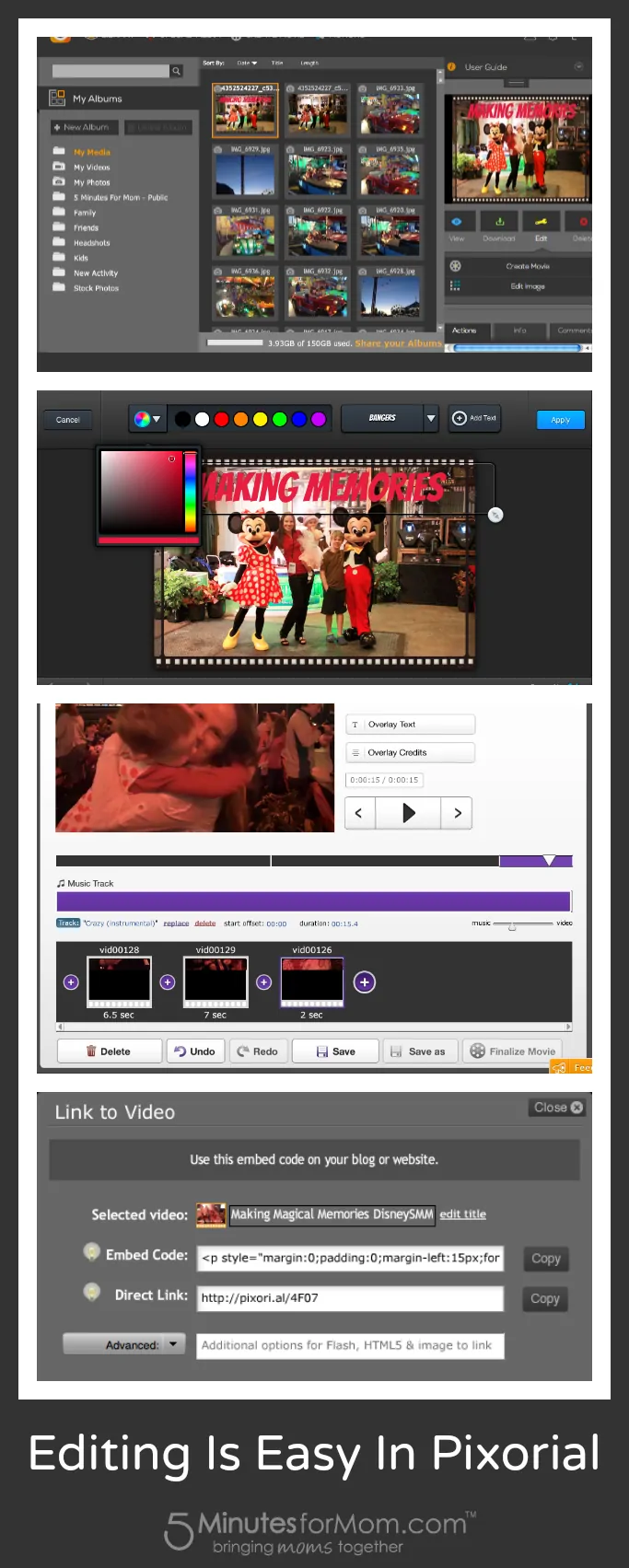 This is the ideal way to get your kids involved with photo and video editing and teach them how to safely share their media with friends.
Get a Pixorial Account for FREE
Anyone can sign up for a Free 7 GB account at any time. For a limited time, just visit THIS LINK and enter the promo code "FiveM4M" to get a complimentary Pro30 account (includes personal music uploads) for a year.
If you'd like to see one of my shared albums, you can view this Public album I made.
I hope you love using Pixorial to make, edit and share your family memories.
Disclosure: We are working on a sponsored campaign with Pixorial.
Written by Susan Carraretto, co-founder of 5 Minutes for Mom
Talk with me: @5minutesformom and Facebook.com/5minutesformom
Pin with me at http://pinterest.com/5minutesformom/