This post may contain affiliate links. Read my disclosure policy here.
All month long we've been focusing on marriage and family, with a series of posts inspired and sponsored by Big Mama Melanie Shankle's new memoir. Read my thoughts about Making Time for Mom and Dad and Anna's ideas for family fun night and ways to show your spouse you love him.
Jennifer Donovan, 5M4M contributor and 5 Minutes for Books Managing Editor, has read the book and is here to share her thoughts on The Antelope in the Living Room. She received a copy for review purposes.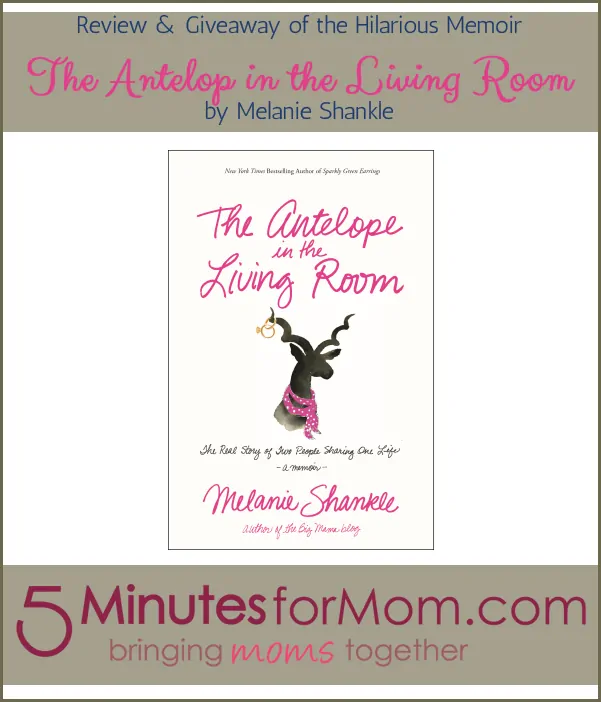 If you're like the thousands of people who visit the
Big Mama blog
, you know you can count on Melanie to be funny and practical and honest. I enjoyed her first memoir, but I can honestly say that this one is even better.
I laughed out loud several times. I also teared up as she shared honestly about her shortcomings, unreasonable expectations and her heart full of love for Perry and for God.
Getting married teaches a person a whole lot about themselves and about getting along with others. There are also everyday matters that get more complicated when you are sharing time, space and a checkbook with another person. Melanie muses on this list of things and so much more:
forgiveness
ugliness
shopping
sickness
in-laws and out-laws
gift-giving
decorating
Melanie has been married 16 years. She shares stories about hers and Perry's courtship, wedding, and marriage. I've been married 21 years, so I loved reliving those early married years through her eyes, as well as recalling some of my own challenges as I read about hers.
Many books by bloggers read like a republishing of their best posts. That's okay, but if you are a regular reader, you want something new. I may not have read the blog as carefully lately, but many of these seem like stories she hasn't shared, or perhaps they are just put together in a new way. I appreciated that.
This is the kind of book that someone who's been married for many years will appreciate, but I think it would make a great gift for a newly engaged friend or relative as well.
I love this book trailer. It truly represents the sweet and honest nature of this book:
Win it
About the Book:
New York Times bestselling author Melanie Shankle comes through again with her hilarious memoir of married life. Read The Antelope in the Living Room!
Melanie reminds you of the joy that comes when couples learn to laugh together. Welcome to the real story of two people sharing one life.
Order a copy of Melainie's book today.