This post may contain affiliate links. Read my disclosure policy here.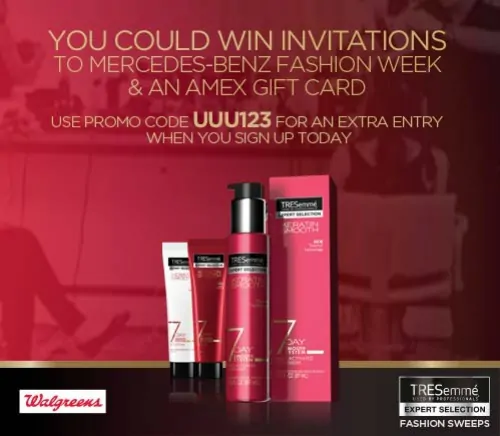 I've only been to one fashion show…but it was a good one! I was 8. I was in Paris with my parents. The fashion show was held at an old building in Paris. The fashion show was part of a conference that my dad was attending. Sadly, I can't remember the designer. I can't even remember any of the fashions or the models. What I do remember is that I wore my favorite party dress. I had to stand on a chair to see the models on the runway as we were in the back. I'm sure we sat so far back as my mother was probably worried my sister and I would cause a scene. She says we were mesmerized by the girls in their pretty dresses.
Are you constantly inspired by the styles and fashions coming off the catwalk? I'm not a fashionista by any means, but even I am intrigued by what I see on the catwalks. I want to know what the latest fashion trends of the season will be even if I probably won't wear any of them. If you love seeing the styles and fashions of the catwalk, TRESemme® and Walgreens wants to send you to September 2014 Mercedes-Benz Fall Fashion Week!   All you need to do is visit the TRESemme Fashion Sweeps site. The Tresemme Fashion Sweeps contest runs from 2/6–3/9. You can register for a chance to win a $4,500 AMEX gift card plus two invitations to Mercedes-Benz Fall Fashion Week from TRESemme®!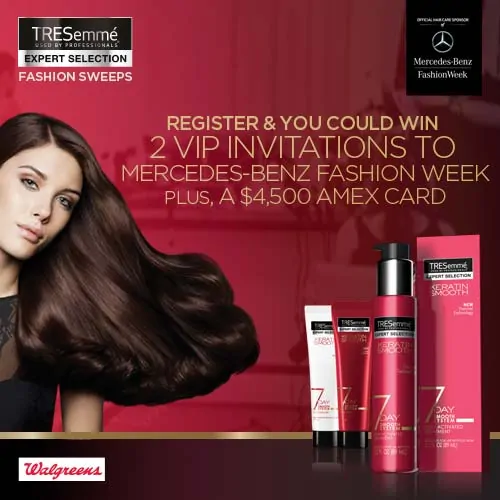 There are a few ways to get registered. You can:
When you have 10 points, redeem for a chance to win 2 VIP invitations to Mercedes-Benz Fashion Week.
Buy your favorite TRESemme at Walgreens. Every product you buy gives you additional points to redeem for great prizes.
Once you you have your points, go to the Rewards tab to redeem them.
Are you ready for the catwalk? Get an exclusive peek at the latest in fashion with TRESemme® at Walgreens and learn how to recreate your favorite styles and get a sneak peek of the latest trends right off the runway. Visit TRESemme's YouTube page to get your expert hair care advice.
Jill Berry @MusingsfromMe is a writer who stays at home or a SAHM who writes it depends on the day and her mood. While playing a writer on the internet, Jill has the gray hair AND blogposts from raising a kid, a preteen, and a teen. When not blogging at Musings from Me, Jill seizes family time whenever she can dinner as a family, movie night, marathon family game sessions, traveling you name it she wants to do it.