This post may contain affiliate links. Read my disclosure policy here.
Are you looking for some delicious game day recipes? These RITZ Blitz Game Day recipes will be huge crowd pleasers at your next party.
This is a sponsored campaign.
There are Super Bowl parties being planned across the US this weekend. A quick search via Pinterest or Google will give you a slew of game day recipes. I adore finger and party foods so all these lovely recipes are right up my alley. RITZ crackers is trying to make it easy for you to have some amazing snacks for this coming Sundays big event.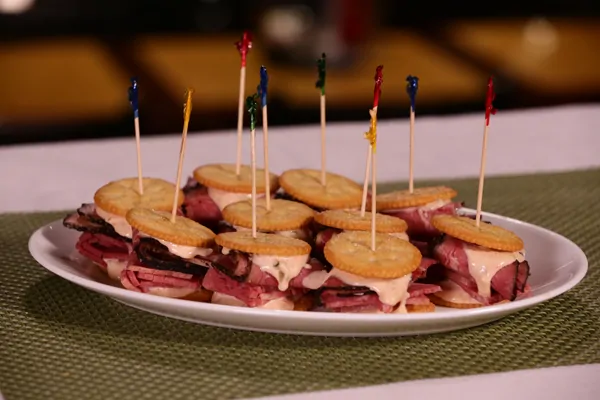 Since the big game is being held in New York this year, RITZ Crackers partnered with 4 iconic New York Restaurants to create exclusive snack recipes. This bite-sized version of Carnegie Deli's most popular menu item, the Woody Allen Sandwich, looks flaky, delicious, & easy and fun to prepare.
See the full line up of Game Day recipes at AllRecipes or view & print the Pastrami and Corned Beef Mini Sandwich recipe below.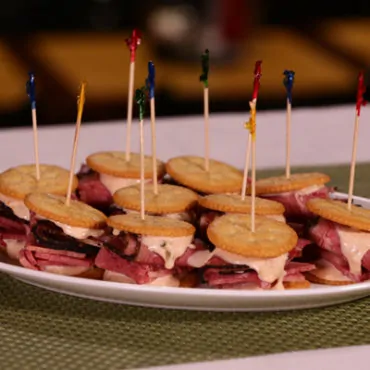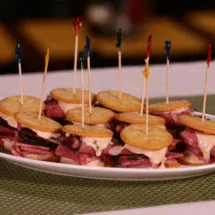 Ingredients
10 slices deli-sliced corned beef
10 slices deli-sliced pastrami
20 RITZ Crackers
2 tsp ketchup
2 tsp pickle relish
1 1/2 tsp fresh lemon juice
1/2 tsp worcestershire sauce
1/8 tsp coarse salt
Dash freshly ground pepper
Instructions
To make Russian Dressing, blend together the mayonnaise, ketchup, relish, lemon juice, Worcestershire sauce, salt, and pepper. Stir until smooth.

Place 10 RITZ Crackers on tray. Put about 1/4 tsp Russian dressing onto each cracker.

Cut corned beef and pastrami deli slices in half vertically.

Put two pieces each of corned beef and pastrami on each cracker.

Top with additional 1/4 tsp Russian dressing and remaining crackers to form sandwich.
For more info you can visit RITZ on Facebook and follow @RITZCrackers on twitter as well.