This post may contain affiliate links. Read my disclosure policy here.
This post has been sponsored by Bath Path. 5 Minutes for Mom contributor, Bonnie, shares about her love for lavender bath salts. She has been compensated to share, however, all opinions listed are her own.
Nothing says "relaxation" like a soak in a warm tub with lavender bath salts.  After a long day at work or some strenuous physical activity, lavender bath salts are the perfect way to help your body feel great again.  Bath Path is a new company (June 2013) that uses only high quality, natural ingredients in their bath salts, which are quickly becoming a popular choice on Amazon.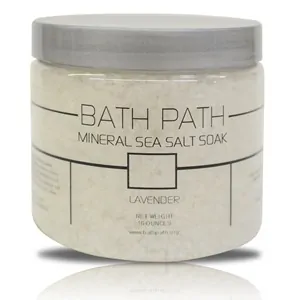 Bath Path makes their bath salts from Mediterranean Sea Salt and essential oils.  In fact, their products are so natural they say you could eat them without getting sick!  Bath salts can also help with various skin conditions, such as dry skin, psoriasis, and acne.  Lavender essential oil aids in relaxation, reduces anxiety and can help treat headaches.
As a mom, I appreciate the fact that these bath salts are entirely natural.  Since having children, I've become more conscious about what chemicals and products are in my house and around my children.  And if Mommy is using something, then of course her children want to use it too!  I've started hiding away my special bath soaps so that my girls can't find them, but I know if they did ask to use some of these bath salts, I could say "yes" without worrying about their safety in the tub.
One of the things on my list for our "someday house" is a big tub.  I love a soak in a hot tub at the end of a long, stressful day.  There's something about hot water and immersing yourself in it (up to your ears so you can't hear anything else in the house) that just melts all the problems away.  If my back is sore from carting a baby around all day, or if I have a headache from doing too much writing, a lavender bath is the perfect solution.

You can drop by the Bath Path website to find out more about their product, including testimonials from happy customers, and to enter their weekly giveaway for a jar of Lavendar Mineral Sea Salt Soak (USA only, shipping not included).  You can also follow Bath Path on Facebook and Twitter for tips (Did you know that natural bath salts can calm the nervous system and reduce fluid retention?) and updates about their latest giveaways and promotions.