This post may contain affiliate links. Read my disclosure policy here.
This post has been written by our writer, Bonnie Way. All opinions are her own.
I've joked with my husband that parenthood is just a chance to play with all your favorite toys again.  Or to play with the toys that you never got to play with as a child.  We pretend we're buying new stuff for our daughters when it's really for ourselves.  And I can totally see this set of Nanoblocks falling into that category of something I'd get for my daughters to play with myself…
Because children of all ages love playing with blocks.  Stacking small blocks together to form something bigger and better can engage a child (or parent!) for hours—and once something is built, it can be played for hours longer.  Nanoblock takes blocks to the tiniest size: "The smaller the blocks, the better the detail."
Now, with Nanoblock's very first licensed character, girls can make their very own Nanoblock Hello Kitty.  This set comes with over 110 tiny blocks, providing a fun challenge for any Hello Kitty fan.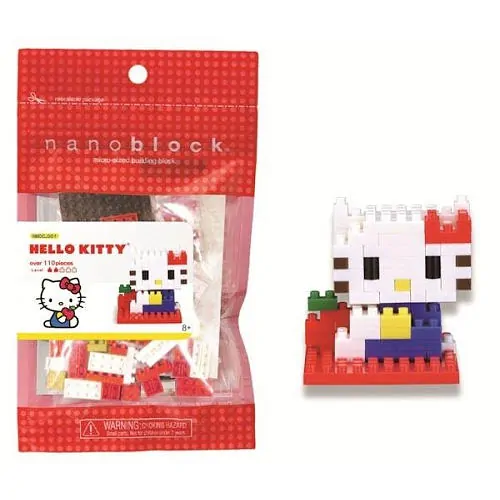 Nanoblocks originated in Japan and have caught the imagination of children everywhere since then.  The creators are constantly coming up with new models to challenge and delight.  As with every set, the Hello Kitty set comes with complete instructions for building the model.
My brothers had a huge collection of blocks when I was growing up.  I can still remember the sound of those blocks clinking together as we dug through his bin for just the right piece for whatever model we were creating.  Long after we'd lost the instructions and jumbled all the sets together, we'd be building new toys for ourselves.  So when I see this tiny kit, I see endless hours of fun.
My daughters are big fans of Hello Kitty, so I know they'd squeal with joy to see this under our Christmas tree—or in our mailbox.  I like the fact that building the blogs encourages their fine motor skills and creativity.  It also teaches them to follow the directions in the instructions and to be persistent if they can't figure out how to build it the first time.  Oh, and it teaches sharing, too, if you have more than one child (or mom or dad wants to play too!).
Enter to win
Enter to win this Nanoblock Hello Kitty set for your kids (or yourself!) by using the form below.
Nanoblocks are recommended for ages 8+ and NOT recommended for children under 3.